Pricing and Payments
Quotes vs Invoices: What's the Difference?
August 28, 2020
7 min. read
When it comes to the back end of running a service business, there's a lot to learn. From communicating with clients through different stages of a job, to billing your clients, to staying on top leads and customers, and finally cash flow, keeping your business organized can be a challenge.
If you haven't realized this yet––quote and invoice documents you use to communicate to clients are one of the best ways to stay on top of everything.
From an initial quote to a final invoice, what you send out and store internally can be one of the easiest ways for you and your team to stay in the loop.
So, what exactly are quotes and invoices? How are they different? How can you use them to optimize and organize your service business? Where can you get started?
You probably have a lot of questions, so let's dive in.
What is a quote?
A quote is the complete and final cost of what you plan to charge for a job before it starts.
Unlike an estimate, a quote is sent after you have visited a job site and have accurate information about material costs, property size and condition, and labor requirements.
Quotes should include all the costs associated with a job, including taxes, discounts, materials, and labor.
READ MORE: Find out if you should offer free estimates or charge for quotes
Once you send a quote to a client, they will need to sign off and approve it before you can start a job. Many businesses also require a deposit on the total amount before any work is done.
A quote should always come before an invoice. The total amount you bill a client for will generally be the same as the initial quote.
However, it may change if the scope of the work changed after the job was started, or if you've underpriced the work significantly. Either way, you would need to discuss this with the client.
What are the benefits of writing quotations?
1. Home service quotes help keep you and your prospects or leads organized.
If you're not writing your leads quotes, how are you able to keep track of who's who, which projects are which, and what leads are the most promising for your business to pursue?
For example, if you meet a prospect on the street and write them an estimate for a job on a business card and hand it over, how will you remember when to follow-up? What will you say in the follow-up text or email? Will you have their contact information for the follow-up as well?
Now, let's scale this scenario. What happens when you meet several leads in one day?
This can become an impossible task if you're not using hard copies of quotes. It isn't any easier if you're relying on pen and paper either.
Finding a digital quoting software solution, like Jobber, can make this much easier. If you're not ready to scale up to software, try using a pre-made, customizable estimate template.
Look for an option that empowers you to write professional and organized quotes; collect and store client information; and send automatic follow-up emails and texts to your clients for you.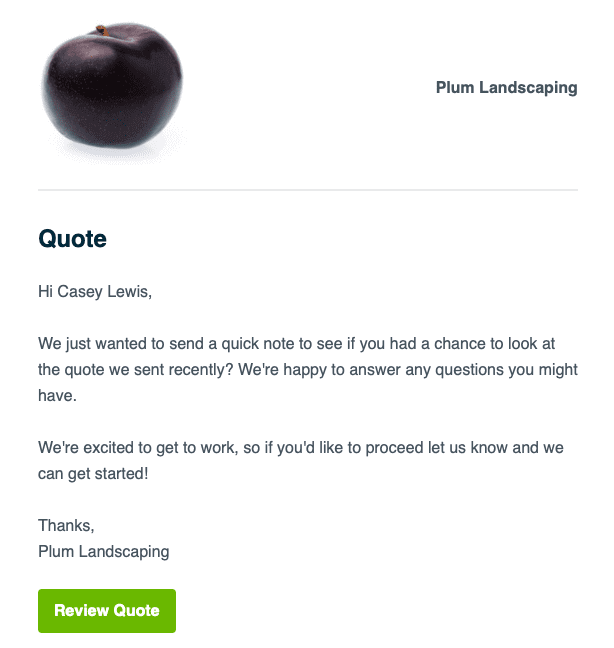 Keeping track of who you provided a quote to and when will help you to build a strategy around leads and prospective clients. This comes in handy when you start to focus more on strengthening your lead generation game, and upping your chances of turning more leads into committed clients.
2. Quotes help you monitor scope.
Sometimes, a job turns out to be a lot more work than you anticipated. This could either be due to unforeseen issues or increasing client demands. When this happens, quotes can come in handy.
Since quotes break down specific line items for a job, it's easy to reference each line item to see what the original scope of the project was.
In addition to that, you can use a quote to show your client what higher-scope services or packages are and what they will cost them. With optional packages, you're able to present a full range of options for your clients to choose from.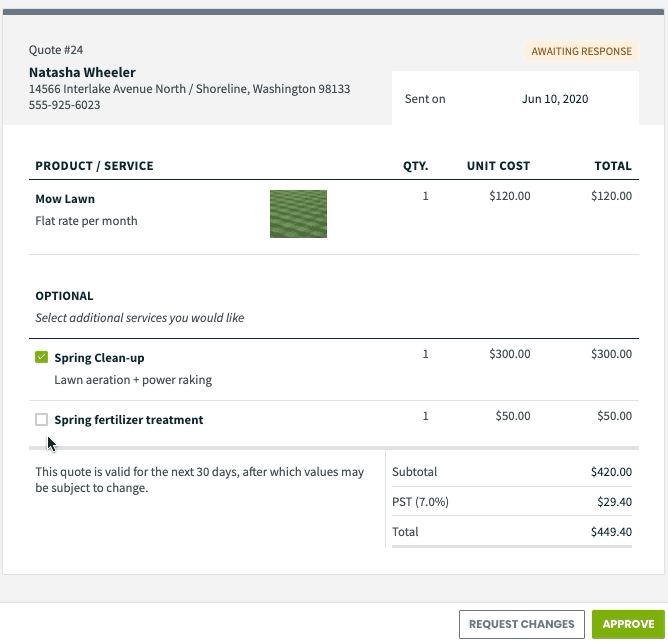 If the customer decides they want more work done, they're already on the same page as you, and you're able to get to approval faster by allowing your client to pick the package best for them.
3. Quotes are professional.
Branded, well-designed, and organized quotes make you look like a legitimate professional.
Clients want transparency when it comes to pricing and payments so they know they can rely on and trust you.
Quotes that showcase clear prices and optional add-on services can help you stand out from your competitors. They level-up your standard offerings to your clients, while showing them that you can provide custom services to suit their needs.
With the right quoting software, you'll be able to sell extra work without extra phone calls—your quotes will get updated automatically when clients accept any add-ons.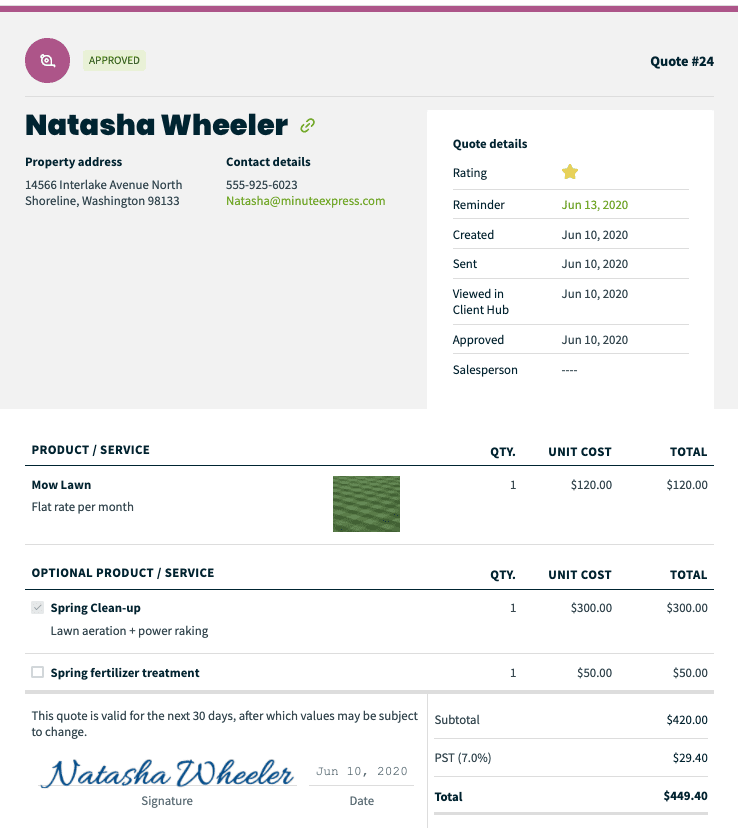 What is an invoice?
An invoice is a bill that you send to a client once a job has been completed. Unlike a quote, an invoice is sent after a job.
An invoice should include a complete breakdown of the costs associated with a project as well as payment information, such as a due date, payment methods, subtracted deposits, etc.
Once an invoice is sent to a client, they are expected to make a payment within the timeframe you provide (for example, within two weeks, 30 days, or at the end of the month).
If they don't, you may choose to charge a late fee or interest on the amount due, depending on your late payment policy.
READ MORE: How to write an invoice: 7 easy steps
Ideally, an invoice should be sent within 24-48 hours of a job being completed. Try to send it after you've completed the clean up and a final walkthrough with the client to ensure they're satisfied.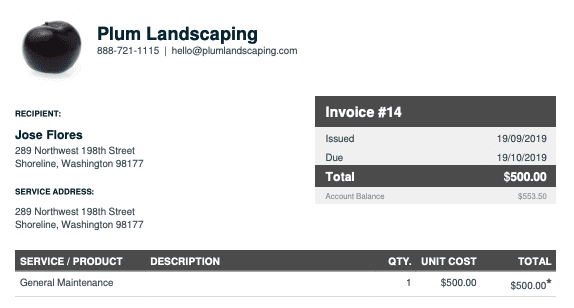 What are the benefits of using invoices?
1. Invoices keep cash flow organized.
Invoices are a great way to keep track of finished jobs, incoming payments, and overdue client bills.
By noting when an invoice is sent, setting specific payment due dates, and building a communication strategy for late or overdue payments, you'll have a solid understanding of what your cash flow looks like.
Plus, you'll know when to expect incoming cash, which will allow you to plan for expenses and work out a budget.
2. Invoices tell clients how to pay and when.
Legitimate invoices include information about how payments can be made, and when they are due.
When clients have straightforward and convenient payment options, like credit and debit card payments, they're more likely to pay on time.
Your invoices should specify how to make payments, when they're due, and what happens if a client pays late.
Be sure to offer a couple of different payment options to accommodate different types of clients. While some may prefer to send a check in the mail, others may want to pay with a card on the spot.
When it comes to setting up your invoice workflow, don't forget to do your research on payment options for cash flow.
3. Invoices help with late payments.
While no one wants a client to forget to pay an invoice, it can happen. People get busy!
Having a paper trail and a system to remind clients to pay their bills is extremely helpful. It takes a lot of the stress of remembering all your clients' tabs off your mind.
Plus, if you ever need to pursue payment from a client because things get messy, having reminder documentation in place will help you out big time.
Invoices and follow-ups are an important part of that paper trail.
They include information about payment amounts, due dates, payment methods, cancellations, warranties, and late fees. This helps set the record straight with your customer, and ensure that you have laid out your terms up front, just in case.
Being able to show proof that you sent an invoice (through text or email is best) can demonstrate that you clearly communicated the information to a client in case they have a hard time remembering something.
When to use quotes vs invoices
In short, you should always use quotes and invoices. If you don't have a system in place, try a free estimate template to start getting your feet wet.
As your business matures, quotes and invoices should be part of a larger process that includes estimates, follow-ups, two-way client communication, a CRM, and more.
Quotes should always be sent after an estimate, and before the job begins. Your quote is like a detailed price tag. It should tell a client what they're getting for exactly how much.
Invoices should always be sent once a job is complete, and never before quotes or estimates. Your invoice is like a receipt showing the client what they received and how much they need to pay for it.
The total amounts on your quotes and invoices should almost always be the same unless something about the job changes (like scope, material cost, or additional labor requirements).