How to Run a Successful Snow Removal Business
September 11, 2023
6 min. read
Snow removal is an unpredictable industry—you never know when the first snow will hit, and it's hard to prepare for every snowfall after that.
Mother nature may be out of your control, but getting your business ready in the fall can help keep your cash flow predictably steady. Instead of scrambling mid-season, be on top of your game using this guide to running an efficient snow removal business.
Try these 7 snow removal business tips:
1. Reach out to existing customers at the right time
If you already have a lawn care or landscaping business, chances are you have plenty of potential leads for your snow removal services.
The key is knowing when it's time to start talking to your customers about snow removal.
Chris Senger of Mow Town Edmonton suggests following nature's cues. Start marketing when the leaves are falling because that's when people start thinking winter is coming.
Senger learned this the hard way. He started emailing clients about his snow removal services in mid-September.
"They weren't ready to have that conversation, so I didn't get as warm a reception as I could have," he says.
When the weather starts turning, use email marketing to reach out to your existing customers about your snow plow services.
Jobber's Mailchimp integration lets you automatically sync your entire client list to your Mailchimp account. With ready-to-run email campaigns, you can promote your snow removal business with just a few clicks.
2. Make it easy for customers to request snow removal services
Let new or existing customers request work through your website, social media, or client hub, their online self-service portal.
With Jobber, you can customize your request form to capture all the information you need to create an accurate quote, like services needed, lot size, or driveway material.
When a new customer request comes in, schedule a site assessment instantly. Once you're at the property, you can attach photos or notes you'll need for the job directly to the client's file.
Jobber lets you manage your requests at a glance to see which ones are overdue for an on-site assessment or quote.
3. Send professional quotes and upsell your services
Create a snow removal estimate template in advance to speed up your quoting process and win more jobs.
Your estimate template should include:
Your company name, logo, and contact information
Your client's name and contact details
A breakdown of the services you'll be providing
Snow removal pricing, including labor, materials, discounts, and sales tax
How long the estimate is valid for
Your terms and conditions or snow removal contract
Space for the client's signature.
Here's what your quote will look like using Jobber's snow removal estimate template: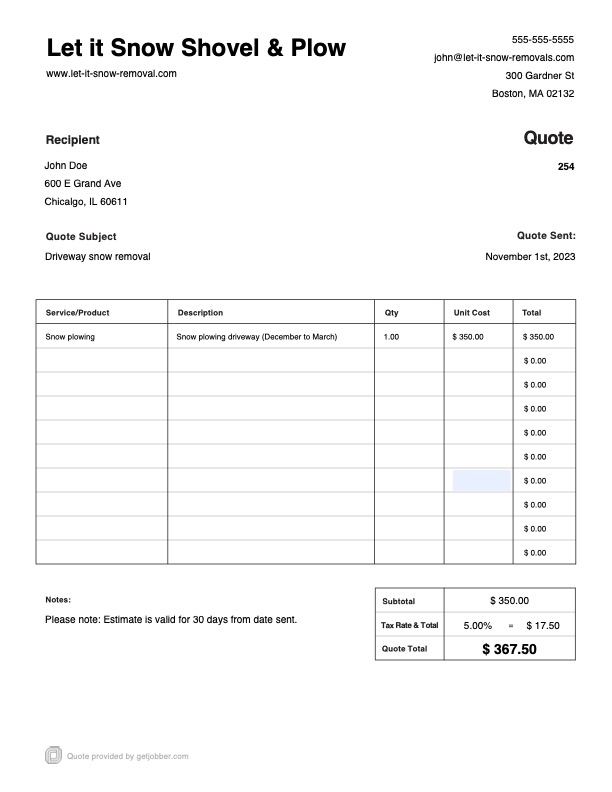 Or, use quoting software like Jobber to send professional snow removal quotes that include images from the site assessment—before you've even left the customer's property.
You can also suggest packages, like monthly or seasonal contracts, or additional services, like salting or sanding directly, in the quote. Your customer can select the snow removal services that best first their needs and watch their quote total automatically update before they approve.
Plus, Jobber sends automated quote follow-ups to customers you haven't heard back from, to help keep work moving forward.
4. Create a snow removal contract
Setting expectations with your customers from the onset can help avoid disappointments or conflict down the road.
For example, Mow Town tries to be there within 24 hours of a snowfall, but guarantees it will be there within 48 hours.
"We lay it all out in the email when we give them the quote for the year." Chris Senger, Mow Town Edmonton.
Your snow plow company's snow removal policy should include the following:
Service description
Property description
Agreed upon definition of a "snow event"
Timeline guarantees
You can write your own from scratch, or use one of our free, customizable snow removal contract templates. Just make sure to consult with a legal or financial advisor before sending a contract to your customers.
5. Dispatch and route your team efficiently
When a snowstorm hits, you don't have time to manually route jobs and email schedules to your crews. You need to be ready to immediately dispatch and route your crew efficiently.
Jobber's service routing software automatically generates the most fuel-efficient schedule for your snow removal crews based on the location of each service.
Your team can access their schedules, along with turn-by-turn directions to the next location through the Jobber mobile app.
And if you have to make a last-minute schedule change to an employee's workday, they'll get a notification on their phone with all the details.
Planning efficient snow removal routes can help your business:
Improve your crew's efficiency by completing jobs faster
Save money from lowered fuel costs and vehicle maintenance
Increase customer satisfaction with more reliable service
READ MORE: Top 10 snow removal apps to master winter
6. Update clients automatically
Sometimes a big snow storm means the snow starts accumulating quickly. You don't have time to reach out to customers one-by-one to let them know when they can expect your services.
Automated text messages and emails in Jobber saves you time and keeps customers informed about their snow plow service.
Here's how you can use Jobber's automated customer reminders and follow-ups:
Before the snowfall, send your customers an email about the anticipated snow event that includes instructions for your visit—like removing cars from the driveway.
On the day of the snow event, send a quick text message telling customers you're on your way or running behind schedule. This can prevent a flood of phone calls from impatient customers wondering where you are.
After the snow removal is complete, send a follow-up email to make sure your customer is happy with your snow removal service and ask them to leave a positive review.
7. Automate your invoicing and get paid instantly
Running a snow removal business means late nights that turn into early mornings. The last thing you want to do after a long night in the cold is spend hours in front of the computer invoicing.
With Jobber, you can automate your invoicing and send professional invoices to your customers. When the job is complete, simply click "Create Invoice Now" to convert your job details into an invoice that's ready to send to your customers.
Then make it easier for customers to pay you for your services with convenient credit card processing. Customers can visit their online customer portal to pay invoices via debit or credit card.
Or, automatically bill your customers for monthly or seasonal snow removal contracts to get paid without lifting a finger.
READ MORE: How to collect payment from a customer faster (with email templates)
Looking to take advantage of custom snow removal workflows this winter season? Jobber's success team is here to help with free 1-on-1 product coaching and unlimited support via phone, email, or the app.
Originally published in December 2017. Last updated on September 11th, 2023.