8 Snow Removal Business Tips for a Profitable Winter Season
October 8, 2021
7 min. read
Snow removal is an unpredictable industry, you never know when the first snow will hit.
Mother nature may be out of your control, but getting your business ready in the fall can help you keep your cash flow predictably steady. Instead of scrambling mid-season, you'll be on top of your game.
1. Get snow removal customers
If you already have a lawn care business, chances are you have plenty of potential leads for your snow removal services.
But don't stop there! Investing in a few well-timed marketing strategies can help you build a profitable snow removal customer list.
Know when to start talking to your clients about snow removal
Marketing your snow plow business is all about timing.
For Chris Senger of Mow Town Edmonton, he learned this the hard way. He started emailing clients about his snow removal services in mid-September.
"They weren't ready to have that conversation, so I didn't get as warm a reception as I could have," he says.
Instead, Senger suggests following nature's cues. Start marketing when the leaves are falling because that's when people start thinking: winter is coming!
Then use email marketing to reach out to your existing customers about your snow plow services.
Grow plans users can connect Jobber's CRM with Mailchimp to automatically sync customers' name and contact information. With ready-to-run email campaigns, you can promote your snow removal business in one click.
READ MORE: Win more clients with work request forms
Distribute snow removal flyers
When it comes to advertising your snow removal business, there's no need to reinvent the wheel.
Delivering flyers in residential neighbourhoods you already service will help attract more local customers. A denser route means less driving time, fewer fuel expenses, less wear on your vehicle, and the ability to fit more jobs into each day.
Community bulletin boards in local grocery stores, libraries, or community centres are also a great place to post your snow removal flyers to reach your target audience. Just make sure to ask permission before posting.
Include the following on your snow removal flyers:
Business name and logo
Description of your service offerings
Detailed contact information including email, phone number, and website address
Any business social media accounts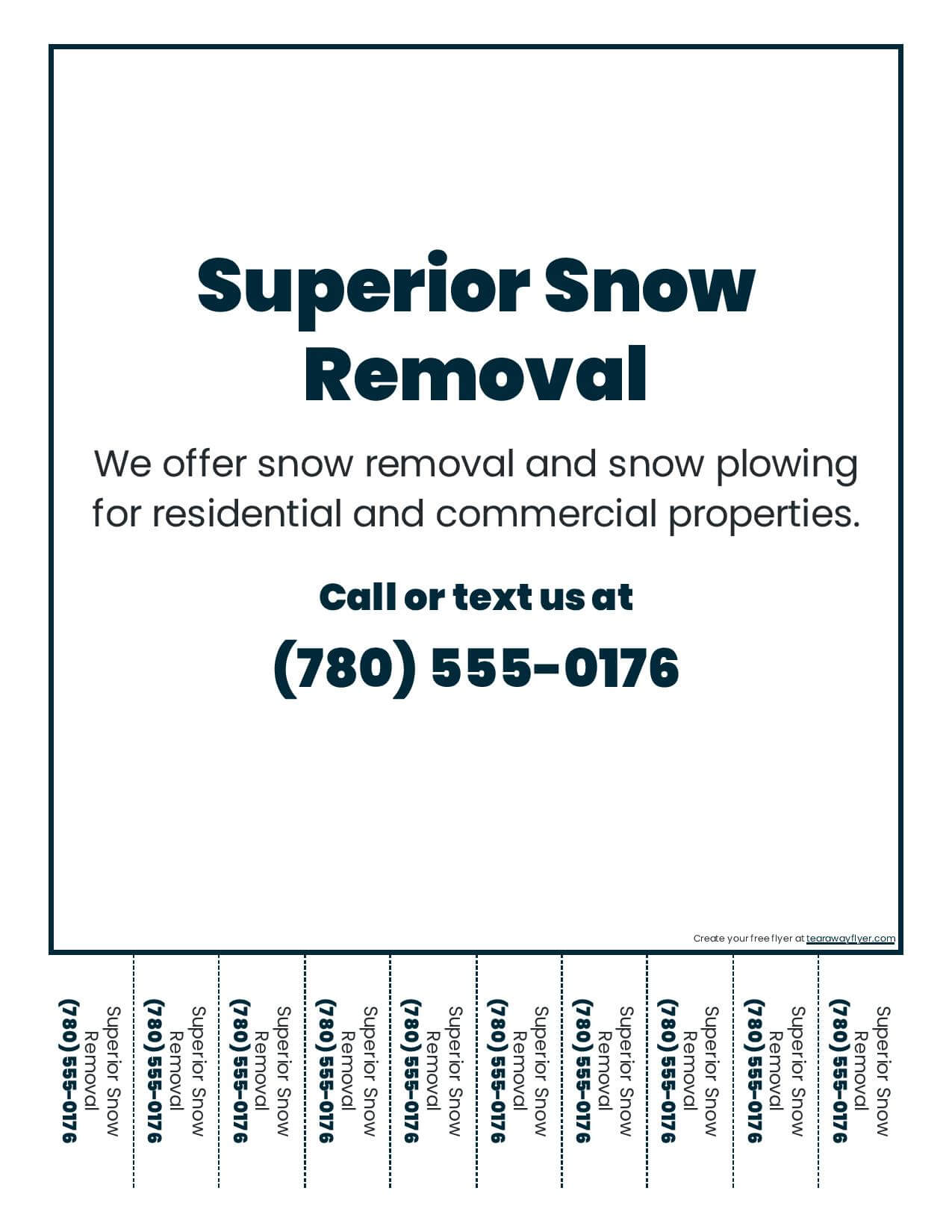 Post snow removal ads online
Your snow removal ads should be designed to reach your target audience. Consider where your dream clients spend their time online before posting your ad.
Facebook is still one of the most influential social media platforms, and a great place for snow removal companies to advertise their business. With Facebook ads, you won't waste money advertising to just anyone. You can target specific zip codes, age groups, or even major life events, like 'moving to a new house'.
For snow removal businesses looking to reach a local audience, Google Local Service Ads are a great fit. Your ads will appear for residents in your community (or surrounding areas) that are using the web to search for your services.
2. Update your services and pricing
Preparing a list of services and reviewing your pricing strategy in the fall will help you determine how much to charge for snow removal.
READ MORE: 10 Winter landscaping services to keep a steady income all year
Make a service list
Before your season starts, make a list of the snow removal services you'll offer. This list can help you with setting your prices and creating estimates for potential customers.
Examples of snow removal services include:
Light snow removal
Heavy snow removal
Ice removal
Residential snow plowing
Commercial snow removal
Salting or sanding
Optional add-ons such as priority service
Price your snow removal services
Now that you have your service list, decide on a pricing strategy. The most common pricing methods for snow removal are by property, by inch, per month or fixed contracts.
Is it time to increase your prices?
As a snow plow business, your ultimate pricing strategy is to be competitive and profitable. Ask yourself a few "yes" or "no" questions to determine if it's the right time to raise your rates.
Have your business expenses increased?
Are your prices aligned with your value?
Is your average quote closing rate above 50%?
Do you have more snow removal jobs than you can manage?
If you've answered yes to any of the above, chances are it's time for an update.
READ MORE: How to increase your prices (free letter template included)
3. Make a snow removal estimate template
Now that you have your service and price list, you can start quoting snow removal jobs.
Making an estimate template in advance can speed up your quoting process and help you win more jobs.
If you use estimating software, you can even save your services and prices as line items. That way they are always available and you can create professional, accurate estimates in minutes.
In addition to the service name and price, Jobber lets you add detailed descriptions of each service. So your customers always know what they are paying for.
Here's what a saved line item looks like in Jobber.

Make a snow removal estimate that includes:
Your company name, logo, and contact information
Your client's name, and contact details
A breakdown of the services you'll be providing
Optional line items for upselling additional services (available on Jobber's Grow Plans)
How long the estimate is valid for
Total cost to complete the work including labor, materials, discounts, and sales tax
A snow removal contract or terms and conditions
Space for the client's signature
4. Create a snow removal contract
Setting expectations with your customers from the onset can help avoid frustrations or disappointments down the road.
For example, Mow Town tries to be there within 24 hours of a snowfall, but guarantees it will be there within 48 hours.
"We lay it all out in the email when we give them the quote for the year." Chris Senger, Mow Town Edmonton
Your snow plow company's snow removal policy needs to include the following:
Service description
Property description
Agreed upon definition of a "snow event"
Timeline guarantees
Don't want to write one from scratch? Use our free, customizable snow removal contract templates.
5. Purchase snow removal equipment and supplies
The right equipment can make all the difference in getting the job done efficiently and effectively.
Using your service list, determine what kinds of equipment you'll need.
Here's a list of some of the equipment and supplies you may need to get going.
Snow removal equipment
Shovel(s)
Snow blower(s)
Snow plow
Plow guides
Snow deflector
Snow plow wings
Salt spreader
Snow removal supplies
Salt
Warm and waterproof boots
Reflective gear
Pro Tip: Use expense tracking on Jobber to enter expenses, assign them to jobs, and attach receipt photos.
6. Get snow removal insurance
There is a lot of liability involved in snow plowing, including slip and falls and equipment damage. Having a strong insurance policy in place will protect your business if accidents happen.
Invest in the right snow removal insurance before the season starts to keep your business covered including:
General liability
Commercial auto insurance
Tools and equipment insurance
Workers compensation
7. Set up hands-off billing
After a long day working in below-freezing conditions, the last thing you want to do is spend your evening invoicing. Snow removal invoicing software like Jobber helps you generate and send out professional-looking invoices faster.
If you prefer invoicing at the end of the month Jobber's batch invoicing helps you speed up the process. Just select all the jobs you'd like to create invoices for, and email them to customers with a couple clicks.
READ MORE: Recurring billing: Definition, types, & how to get started
8. Plan your snow removal route
Planning efficient snow removal routes can help your business:
Improve your crew's efficiency by completing jobs faster
Save money from lowered fuel costs and vehicle maintenance
Increase customer satisfaction with more reliable service
But it's no easy task. After all, how can you create a schedule and plan a route when you don't know when it will snow?
Investing in snow removal management software can help.
When a snowstorm hits, use Jobber's map view to select your affected clients and determine which service they'll need. Then, use route optimization to determine the quickest, most fuel-efficient route to each property. With Jobber, scheduling work for unpredictable weather events, and communicating it to your crew has never been easier.
Looking to take advantage of custom snow removal workflows this winter season? Jobber's success team is here to help with free 1-on-1 product coaching and unlimited support via phone, email or the app.
Originally published December 2017. Last updated on October 8th 2021.