How to Start a Tree Service Business: 11 Steps to Success
April 2, 2020
9 min. read
Starting a tree service business lets you be your own boss, set your own standards, build a team you can rely on, and achieve your own business goals.
But being a skilled arborist is only one piece of starting a tree service business. You'll also need a plan, guidance, and the right tools to succeed.
Use this guide as your foundation to start and grow your business from the ground up.
Here's how to start a tree cutting business in 11 steps:
1. Become a certified arborist
Becoming a qualified arborist will set you apart from other tree service professionals and help you book more work in this competitive industry. It will also help you stay safe in often-dangerous work environments.
To become an ISA-certified arborist, visit the International Society of Arboriculture (ISAs) website and apply for eligibility.
Do I need a license to start my tree service business?
You don't need a tree services license to become an arborist—just experience on the job.
Getting your arborist certification will help you build a strong reputation as a professional tree service provider and develop skills you'll use on the job.
2. Write a business plan
Writing a business plan helps you start your tree service business on the right foot and make decisions in line with your goals.
A business plan will also help attract investors if you need financing to get up and running.
Your tree service business plan should include:
Cover page with your business name, logo, and contact information
Executive summary that gives a quick overview of your business, how much money you need to get up and running, and what sets you apart from the competition
Business overview with a summary of your business history and structure
Tree services list and pricing strategy showing what your business will offer customers
Market analysis identifying who your potential customers are in your service area, what tree services they need, and how much they're willing to pay for tree care services
Competitive analysis that describes what makes your business different from competing arborist businesses in your service area
Marketing plan that shows how you'll attract potential customers to your tree care business
Financial plan that details the money coming into and going out of your business for the first year (including a budget, sales forecast, and any staffing costs)
3. Get business financing
If you don't have money already set aside, you'll need business financing to buy insurance, purchase tools and equipment, and advertise your tree care services. Consider options like:
Business loans: Apply for a small business loan or line of credit from your bank, or through an online lender like Fundera or OnDeck.
Government funding: Get a small business grant, loan, or find an investor through the Small Business Administration's funding programs. You'll also want to check with your local government to see what federal or state-level business grants are available to you.
Credit card: Pick a business credit card with a low interest rate to help with cash flow while you're just starting out.
Small business grants: The Jobber Grants program offers $150,000 in available funding to recognize excellence in small home services businesses.
How much money do you need to start a tree care business?
Expect to spend $7,375+ to start your tree service business. Here's how the costs break down:
Business license and registration ($75–400)
Tree care business software ($400+)
Business insurance ($600–2,000/year)
Tree care tools and safety equipment ($6,000+)
Business cards, branded uniform, and website ($300)
If you need to purchase a bucket truck or work vehicle, you could be looking at another $30,000+.
4. Register your business
To legally operate your business, you'll first need to register it. Here's how:
Choose your legal structure: In the US, you can choose between a limited liability company, sole proprietorship, or partnership. An LLC is often the go-to business structure because business owners have limited liability if sued.
Register your business name: If you live in the U.S., you'll need to register your tree service business with local, state, and federal agencies. Run a trademark search to make sure your tree company name isn't already taken.
Apply for a business license and get the necessary permits. The requirements may vary depending on where you live, so contact your local municipality to clarify. (Here's how to register your name in Canada, the UK, or Australia.)
Register for taxes: Get your employer identification number (EIN) from the IRS so you can file taxes. You'll also need your EIN to open a business bank account.
5. Purchase tree service insurance
The work you do is dangerous, and you're regularly operating equipment that has huge risks attached. To protect you and your clients in the event of an accident, you'll need to invest in tree service business insurance.
Your small business insurance coverage should include:
General liability insurance to cover an injury on the job or damage to your client's property
Commercial property insurance to cover any damage to your property or tree care equipment
Business income insurance to keep your business up and running after an incident or disaster
Workers' compensation insurance to cover employee injuries on the job
Professional liability insurance to cover claims and lawsuits over professional mistakes
Commercial auto insurance to cover collision or damage claims to your company vehicle
You might find you need added types of coverage for different purposes. Work with your insurance provider to build a policy that's right for your tree service business.
6. Choose a business name and design a logo
Your tree company name is the first impression a customer will have of your business. Pick a tree service name that describes your services, is easy to say and remember, and stands out from the competition.
Then design a logo to match your business name. You can choose to work with a designer or create one yourself using an online logo generator like Looka.
Apply your business name and logo to your business cards, uniform, truck, website, and social media so customers can easily recognize your business.
Here's an example of what your tree service business branding could look like: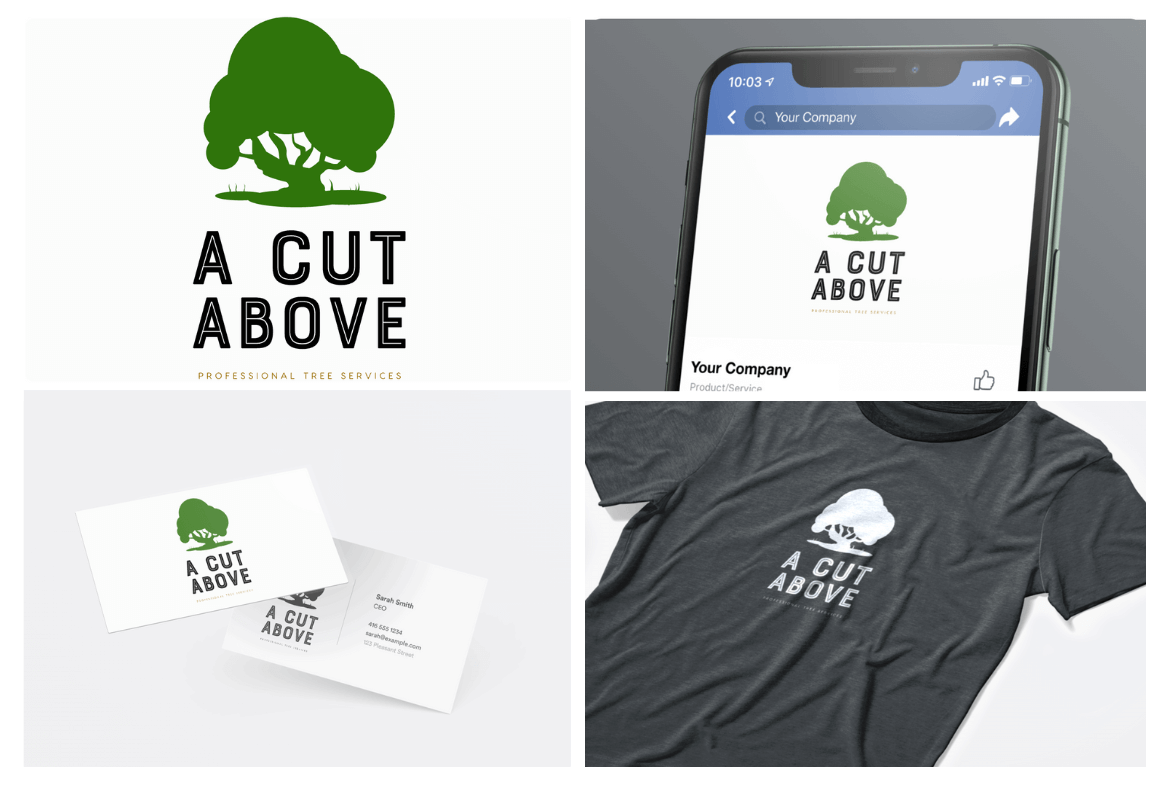 7. Price your services for profit
Create a tree service pricing strategy that takes into account what your competition is charging and how much you need to earn to be profitable.
Start by writing a list of the tree services you plan to offer, such as:
Tree trimming
Tree removal
Tree inspection
Tree pruning
Deadwooding
Stump grinding
Then use our service pricing calculator to add up labor costs, material costs, overhead expenses, and profit margin. Expenses should include gas, labor, and insurance premiums for your service area.
8. Set up your small business accounting
Invest in accounting software like QuickBooks Online to help you track expenses, run payroll, and view income at a glance.
Using small business accounting software from the start will simplify your tax filing and help you keep detailed and accurate financial records.
READ MORE: 30 small business tax deductions to save money when filing
Then open a business bank account and get a business credit card. This will make accounting easier and keep your personal finances separate from your business finances.
How much does a tree trimming business make?
Revenue and profits depend entirely on the size of your operation, how well you can manage costs and price services, and how much market demand there is.
For example, if you schedule five jobs that pay $500 every week, you'll earn $125,000 a year. If you can keep costs down and price smartly, you'll run a profitable business.
9. Invest in tree removal equipment
The equipment needed to start a tree removal business will depend entirely on the services you plan to offer.
Here's a list of common tree service tools and safety equipment you'll likely need to purchase:
Chain saw
Logging saw
Climbing saw
Pole saw
Ladders
Bucket truck
Brush chippers
Mini skid steers
Block trailers
Bush hogs
Stump grinder
Climbing ropes
Helmets
Bull ropes
Eye guards
Climbing boots
Ear protector
Clips
Saddle
Oil can
Wedges
Orange cones
Tree removal equipment can get expensive, so don't feel like you need to buy it all at once. Book your first few jobs, see what tools you'll need, and then go out and buy the equipment.
You'll also need tree service management software to accept online bookings, quote and invoice jobs, schedule work, communicate with clients, and get paid.
Jobber's tree service software makes you look more professional and helps you run a more efficient and profitable tree-trimming business.
10. Get your first customers
To get your business noticed and attract new customers, you'll need to invest time and money into tree service marketing.
Here are a few ways to get your first customers:
Build an arborist website that's easy to navigate and lets customers request new work online.
Claim your free Google Business Profile and add the tree services you offer, your service area, and your hours of operation.
Create your Facebook Business page, share content regularly, and include before-and-after photos of every tree service.
Set up a referral program and get more reviews from satisfied customers.
Print and distribute tree service flyers, postcards, or door hangers in neighborhoods where you want to work.
Ask customers to leave behind lawn signs with your business information once a job is done.
Advertise your business on Google with Local Services ads to reach new customers in your service area.
Join your local business association and attend community events to connect with potential customers and network with other business owners. (Make sure to bring along plenty of business cards.)
11. Hire your first employees and grow your business
When you're ready to add new tree service, expand your service area, and take on more work, you'll know it's time to hire your first employee.
Follow these steps to hire a skilled arborist to join your business:
Decide if you want to hire a subcontractor or employee and figure out how much you can afford to pay them.
Write an arborist job description that includes the role and responsibilities, as well as the qualifications and personal traits the ideal candidate should have.
Post your job description on online job boards like Indeed or LinkedIn, and make it clear how potential candidates can apply.
Book interviews with the best candidates and ask them interview questions to find the right match for your arborist business.
Make an offer to the top candidate and prepare for their first day, including onboarding and training.
Join the Tree Care Industry Association to help build safety and training programs, establish policies that help employees perform better, and evaluate your business against industry standards.
What is an arborist's salary?
The annual salary for a full-time arborist can range from $30,1800 to $64,210, or $31.33–24.90 per hour.
Ready to start your arborist business?
If you enjoyed climbing trees as a kid, love working with your hands, and have an interest in arboriculture, starting a tree service may be a great career opportunity for you. Use the steps above as your checklist to start and grow your tree care empire.
Originally published April 2o2o. Last updated on November 18th, 2022.