The Top Tree Service Marketing Ideas to Get More Tree Work Fast
Getting more tree work is tricky business. Arborists aren't known for being marketing pros. Many rely strictly on word of mouth, or they have an existing roster of customers and are busy enough with that.
But what if you're a new tree business in need of new customers? Or you want to make more money from the customers you already have?
You don't have to become a marketing guru (nor do you have to pay one) to get more tree work. You just need to put some thought into your process, and then choose 1-3 tree service marketing tactics from the list below to start.
Trust us. By starting small, you'll avoid wasting time and money, and you'll see better results.
Here's how.
First, Define Your Tree Service Marketing Strategy
Most tree care businesses rely on the same marketing tactics, but don't put any thought into a strategy. You wouldn't take down a tree without a plan. Why would you try marketing without one?
Take a few moments to write down the following. It doesn't have to be long or complicated. This is your tree service marketing strategy.
1. Who is your ideal customer? Knowing your customers plays a crucial role in choosing the right marketing method to reach them. Do you serve residential or commercial properties? What is their average income? Where do they spend their time? (i.e. online? In community centers?)
2. Who is your competition, and what sets you apart? At its core, marketing is about convincing buyers to choose you instead of the competition. Competition can be local competitors or bigger companies. Make sure you know who they are, what services they provide, what their strengths and weaknesses are, and most importantly, what sets you apart.
3. What are your marketing goals? Not all marketing goals are the same. Your goal could be to:
Grow your client list
Get more work from existing clients
Win bigger contracts
Position yourself as a specialist so you can subcontract for other tree care businesses
Each of these goals is about growing your tree business. But since they are all different, you'll need to adjust your marketing to match.
4. How will you measure what works? Always, always track where new leads and customers are coming from. This can be as simple as adding a "How did you hear about us" field on your work requests. This way, you'll know whether that $4,000 truck wrap was worth it…or if your top paying customers all came from one very happy referral.
Tree service marketing vs. advertising
One mistake small businesses make is confusing marketing and advertising.
Marketing is the process of determining what your service is, what it's worth, and how to bring it to the public.
It includes all of the paid and unpaid methods you can use to promote and differentiate your business, from your pricing to your customer service.
Advertising is just one branch of marketing. Advertising means paying to get your message in front of your target customers.
Since marketing is the foundation of growing your tree service, we recommend you start here with just one or two tactics at a time.
If you're reading to try advertising, check out our roundup of the best tree care ads.
Tree Service Marketing Ideas
Now that you have the basic strategy laid out, choose a few marketing strategies from the list below.
1. Define your tree care brand
This might not sound like marketing, but your brand influences whether or not new customers will choose to work with you.
For tree care businesses, your brand should communicate that you are professional, trustworthy, and easy to work with.
A professional brand includes:
A unique, recognizable tree company name
An official logo you can use on work trucks, uniforms, and invoices
Clean work trucks and equipment
Excellent communication skills
Processes that make you easier to work with, like online quoting and accepting multiple payment types
Setting these standards early on will help you get more tree work with the customers you want.
FREE TOOL: Use this tree service estimate template to start quoting better
2. Build an online presence with Facebook and Google
Your tree care business needs an online presence. It's how modern customers find services to hire.
Start with a Facebook Business Page and a Google My Business Page.
Setting up both is easy and free. It will also help you get found online and book more tree work.
You can do this all in about 30 minutes. Get the no excuses guide to creating your Facebook Business page here.
To create your Google My Business Page, simply add your company details to Google, choose a service area, and verify your listing. Easy.
3. Create a professional tree service website that converts
Your website is a place for you to tell new clients who you are, what you do, and how you can help them. Clients can also use it to book work online, approve quotes, or pay invoices.
Finally, and more importantly, your website positions you as a professional.
It makes you more trustworthy, shows clients that you take your business seriously, and shows that you're easy to work with.
That's why you need to create a clean website that includes:
Who you are and what services you provide
Your certifications and insurance numbers
Photos of your team and your work
An online booking form and client hub
Check out our roundup of the 10 best tree service websites to see these elements in action.
Building a website might seem overwhelming, but once you've done it, you can leave it alone while it continues to bring you new customers.
To learn how to create a website, follow this 10-step guide.
4. Grow fast and organically with referral programs
We've said it before: the tree service industry is based on trust. And customers trust referrals from each other more than they trust ads.
What better way to grow your tree service than to have trusted referrals come to you?
Of course, you can't just hope customers will refer you on their own. You need to incentivize them, and create a system that makes getting referrals easy.
Check out these referral program ideas, then learn how to start a professional referral program step by step.
5. Collect a steady stream of online reviews
Just like referrals, online reviews have a huge influence on your business growth.
But many tree service businesses don't bother to ask after a job is complete. If you don't ask for reviews, you won't get them.
The better approach is to use a repeatable process that guarantees more online reviews:
Step 1: Prime your customers before the job by letting them know that your goal is to get a 5-star review.
Step 2: Deliver great work. Even better, impress your customers with friendly customer service touchpoints, like on-my-way text messages.
Step 3: Ask for a review when the tree work is complete. Ask in person, via email or include a review link in your final invoice.
Step 4: Follow up if the client still hasn't left a review. You can follow-up by calling or sending an email. Alternatively, automate follow-ups by using tree services software to send automatic text, emails, and customer feedback surveys.
Don't forget – your crew members can give referrals, too! Incentivize them with a bonus or extra day off.
To learn more about how to automate and foolproof your process, follow these steps to get more reviews.
6. Close more sales with email marketing
Because tree care is so seasonal, email marketing is a great way to stay in touch with customers year round and to encourage them to book work early.
You can use email marketing to stay top of mind with existing customers, promote new services or discounts, and increase sales.
Setting up email campaigns might seem like a lot of work. But really, it's as easy as putting all of your clients into an email list, and sending them a friendly email every few months to remind them of your services.
For more detail on getting started with email marketing, read the Email Marketing Starter Guide for Service Businesses.
7. Get tree work fast with Local Service Ads
Technically, this is an advertising method, but if you need to get more tree work fast, this can be a cost-efficient way to dip your toes into ads.
Google LSA, or Local Services Ads, are paid ads that appear at the very top of Google search pages when someone is searching for a local business. For example, if someone searches for tree services in Boston, they may see the following: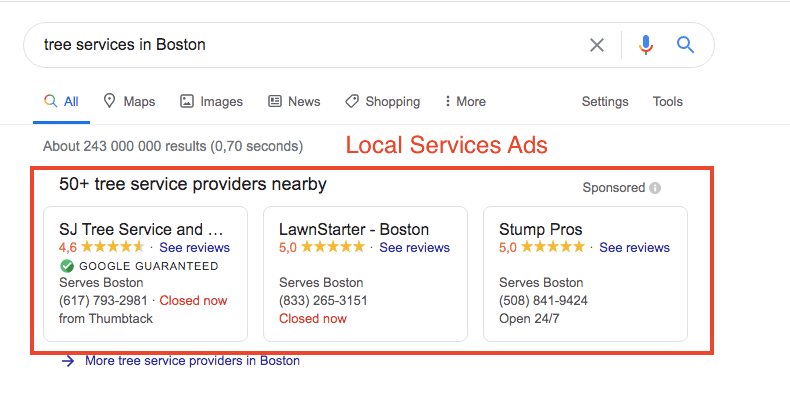 Start Marketing Your Tree Service Business Today
Tree service marketing is crucial to growing your business, and a marketing plan will help you get there.
Just make sure you're clear on your marketing goals and methods to achieve these goals. This means that if you need more leads, use a method like Google LSA. If you need more work from existing clients, use something like email marketing.
And remember, less is more: start with no more than three marketing tactics to stay focused, and adjust as needed.