Pricing and Payments
Outstanding Invoice Guide: How to Prevent Overdue Payments
March 3, 2023
5 min. read
Every business owner has outstanding invoices, and some go overdue. That's hard to avoid.
But when too many of your outstanding invoices pass the payment deadline, your cash flow is at serious risk—and so is your ability to grow your business.
Follow this guide to understand why an outstanding invoice might go unpaid, then learn what you can do to prevent late payments.
What is an outstanding invoice?
An outstanding invoice is a request for payment that your customer hasn't paid yet. Outstanding doesn't always mean overdue—it just means the invoice is waiting on payment.
Outstanding vs unpaid invoices
Unlike an outstanding invoice, an unpaid invoice (or past due invoice) is an invoice that a customer has failed to pay in time for the deadline.
Once the invoice payment deadline passes, you can consider that invoice unpaid, past due, or overdue.
You can't always stop unpaid invoices, but improving your accounts receivable process and customer communication can help prevent them. Here are the best measures you can take to get invoices paid:
1. Accept multiple payment methods
How do you collect payment from customers? Do you offer multiple ways to pay, including online payment methods? Help customers pay you faster by accepting multiple forms of payment.
Let customers pay by debit card, credit card, online payment processing, and bank transfers. Many customers don't carry cash or checkbooks anymore—and some prefer bank transfers to handing you a credit card.
Or, collect payment with your phone or a mobile card reader. Once you've provided your service or product, have customers pay on the spot and send a receipt instead of an invoice after you leave.
2. Ask for a deposit
Collect payment upfront on higher-priced services or products by asking for a deposit. When a customer pays part of the bill at the start, they've already invested in your relationship—and are less likely to miss the final payment.
Deposits also give you guaranteed cash flow that can help cover your operating costs.
Follow these steps to ask for a deposit before you start the work:
Choose what you'll charge (e.g., 20% of the total job cost, 100% of material costs, a fixed $250 fee)
Check your state's requirements or ask your accountant to ensure you're operating within the law
Request the deposit before the job starts in an email that outlines the deposit amount, due date, and how to pay it
Include deposit payment guidelines in your invoice payment terms
READ MORE: 8 ways to improve cash flow for your small business
3. Let customers pay in installments with financing
Instead of only letting customers pay for a service up front, you can offer financing to customers to help them pay in installments. Financing gives your customers an easier payment option when they want a service but can't afford the total price right away.
Choose between these two options before you can offer customer financing:
Fund the payment plan yourself and manage payment collection on your own
Use a consumer financing partner that will run credit checks, make credit offers, collect payments, and manage legal risks for you
4. Set up recurring payments for repeat customers
If you provide ongoing services to customers on a regular basis, like weekly lawn mowing or bi-weekly cleaning, set up recurring payment processing to get paid automatically after each visit.
Some businesses accept recurring payments by cash or check, but the lowest-stress option is to save a customer's debit or credit card information in your payment processing software.
Here's how easily you can set that up using Jobber for your invoicing and payment collection:
Like a subscription, your customer will get charged automatically every time a service is completed. This way, you don't have to wait for customers to receive an invoice before paying you.
5. Put payment terms on your invoices
To prevent confusion for your customers, write payment terms on your invoices that state when and how you expect customers to pay. Include these terms at the bottom of your invoice template so you never forget to include them.

6. Send payment reminders
Sending an invoice is only the first step of your invoicing process. Once you send it, you need to follow up regularly and consistently until the customer pays.
Here's how to get your outstanding invoices paid faster with follow ups and reminders:
Create a follow-up schedule. After how many days will you start reminding customers to pay? How frequently will you follow up after the first reminder? Many businesses plan for 60 days of follow-ups in their 90-day accounts receivable collections process.
Choose a communication method. If you typically email your customers important updates, send payment reminder emails. For customers that don't reply to your emails or texts, phone calls are your best option when payment is overdue.
Automate your reminders. Save time by setting up texts and emails that go out automatically on the schedule you create.
Use field service invoicing software like Jobber to send automated follow-ups that prompt customers to pay their overdue invoices. Jobber will send out automatic emails and texts asking them to pay, so you don't have to.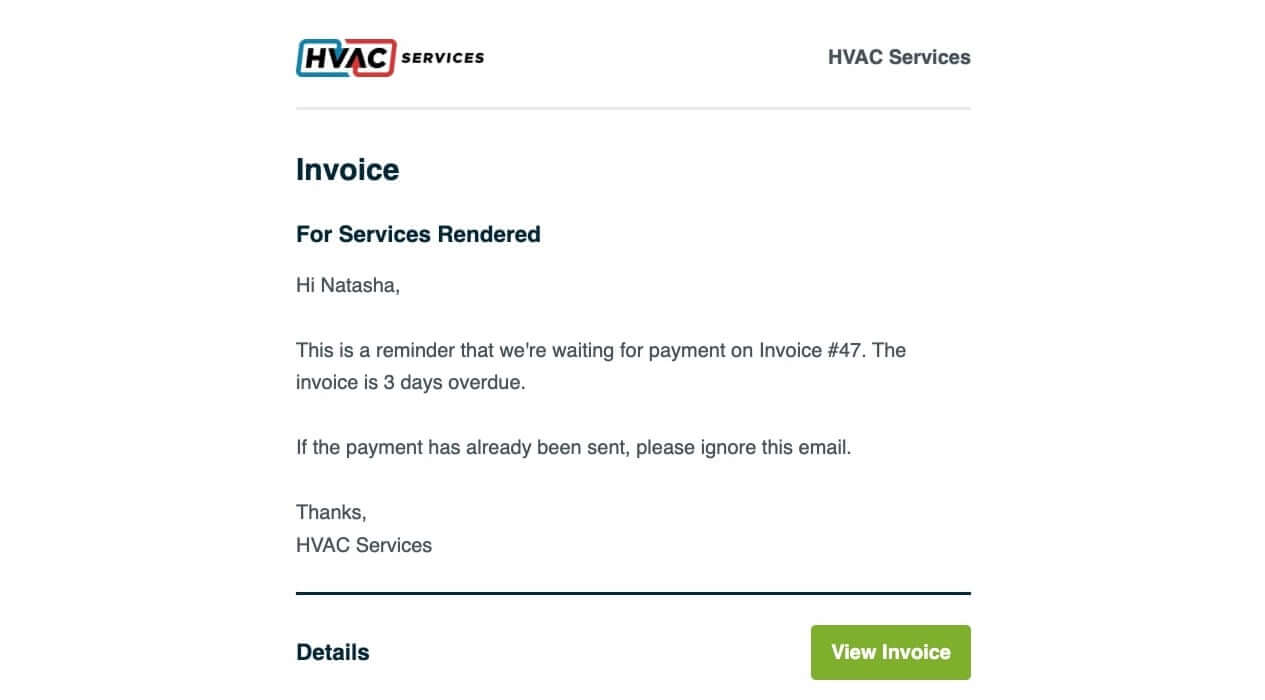 How long can an invoice be outstanding?
An invoice can be outstanding until the payment deadline that you've set has passed, whether that's 15 days, 30 days, or more.
Generally, it's good practice to set your payment deadline for 30 days after the service was provided (known as a net 30 payment deadline).
Get your invoices paid with the right tools
Stop outstanding invoices turning into unpaid invoices early on by setting payment terms, making your payment process easy, and following up with customers.
Invoicing software can make that a lot easier. With features that let you track invoice statuses, automate your follow-ups, and simplify your payment process.
That means better cash flow—and more flexibility to market, improve, and grow your business.
Originally published in December 2021. Last updated on March 3, 2023.