The Window Cleaning Supplies You Need for Your Business
February 22, 2021
8 min. read
When you run a window cleaning business, efficiency equals profits.
The best window cleaning tools will let you work faster and with fewer mistakes, so you can get paid and move on to the next happy customer.
The good news is, you don't have to invest in a truck-load of fancy equipment.
A traditional window cleaning kit consists of several tools you can easily pick up at your local hardware store. If you're ready to take on bigger residential and commercial jobs, we'll show you a few specialty tools, too.
We talked to Stephen Richardson, aka SteveO the Window Cleaner, a professional window cleaner and business owner who regularly reviews window cleaning products on YouTube.
Check out his favourite window cleaning tools and product recommendations in the video below. Then, read on to learn how each one will help you get the job done right, and get the job done safely.
Equipment needed for window cleaning business:
With these tools, you'll be able to run an efficient, profitable window cleaning business, from the moment you create an estimate and complete the job, all the way to getting paid.
Let's dive in.
1. Squeegees
Squeegees give windows a perfect, streak-free dry, and chances are you'll use several as part of your everyday window cleaning toolkit. With the wide selection available, what should you look for?
A squeegee consists of three parts: the handle, the channel, and the rubber. Some traditional window cleaners prefer the weight of a brass handle, which helps to maintain blade pressure on the window. Newer squeegees are made with light-weight aluminum and plastic, and have quick-change features, so you can work more quickly with less strain on your wrists. Since you'll use more than one squeegee, you can try one of each and see what feels best for you.
Stephen's pick for beginners and pros is the Unger ErgoTec Ninja channel and handle, starting at $38. It's comfortable, doesn't bend, and comes with an easy-to-replace rounded rubber. "It gives the best results, but is easy to use," he says. "Overall, a great channel for a newbie."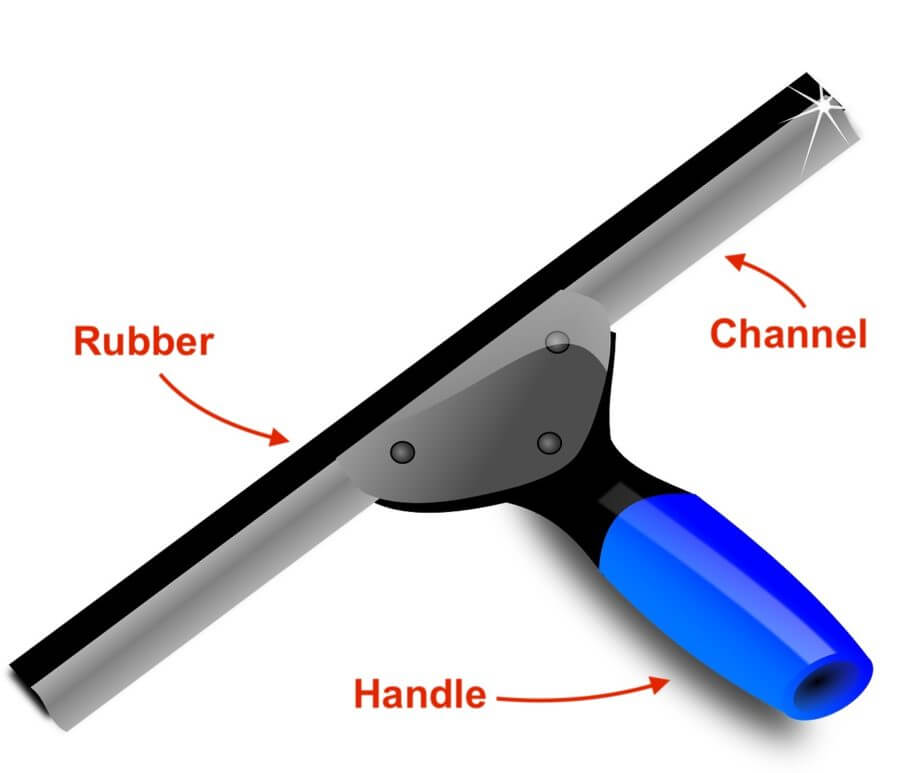 2. Extension Poles
Window cleaning poles are a must for cleaning tall, hard to reach windows without ladders or lifts. Most are made with ultra-lightweight carbon fiber or aluminum. Look for ones with ergonomic grips, easy locking mechanisms, and replaceable tips.
Stephen's pick is the 12 ft Unger Optilock Pole ($74) which he says is the "best bang for your buck to get into small spaces."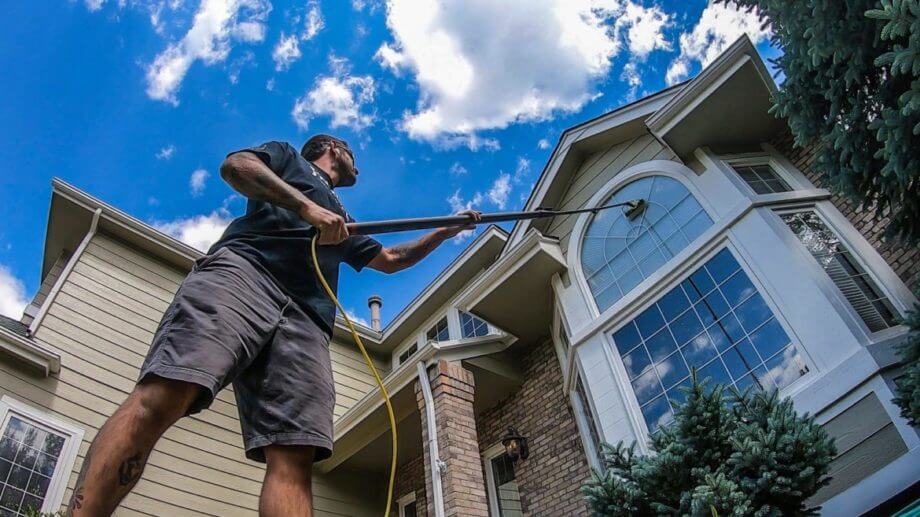 3. T-bars and sleeves
The T-bar or window cleaning wand delivers your cleaning solution to the window surface. It consists of the wand itself and the sleeve or mop.
Different sleeves to different jobs. The most common are microfiber sleeves, which hold a ton of water and usually feature scrub pads on the ends for tough spots. You can also find bronze wool attachments for getting tougher grime off— just don't use these on tinted glass! Common sizes range from 24" for storefronts down to 6", which are most useful for french window panes.
Stephen's picks for professional window cleaners include the telescoping Sorbo Swivel T-Bar, (starting at $13.25) and the Moerman Microfiber Sleeve or Ettore Pro+ Microfiber Sleeve (starting at $13.84) "It will maintain the most water of any sleeve I've tried," he says. "Trust me on this. I've been using this for over a year and a half and it's still great."
4. Scrapers
For really caked on grime, keep a scraper handy. Stephen likes the 6" Unger Ergotec Ninja Scraper (starting at $49.69). It includes a holster so you can attach it to your belt and whip it out when needed.
5. Solution and buckets
When it comes to solution, keep it simple. A dish soap, such as Dawn or Palmolive, mixed with water is extremely cost-efficient and will give you a professional clean. In terms of buckets, you can grab a few inexpensive ones from any hardware store. Get at least one rectangular bucket that is large enough for your widest T-bar.
6. Towels
Towels are another window cleaning supply that allow you to be extremely cost-efficient. Both microfiber cloths and surgical towels are cheap and great for detailing without leaving lint or streaks behind.
Stephen also recommends having a few common bath towels in your truck, which can be used in a pinch as drop blankets and for cleaning up the client's home before you leave.
7. Tool Belt
A good belt allows you to carry your most-used tools with you wherever you go. Once again, there's no need to get fancy.
Stephen uses a carpenter belt from his local hardware store, which he says is comfortable, has good padding, and the price is great. Pick up a squeegee holster, or bucket-on-a-belt, to keep your most-used tools close at hand.
8. Ladders
While extension poles will help keep your feet on the ground for most jobs, there are times you'll need a ladder to get a good scrub on a tall window. This is no place to scrimp. A good ladder can literally save your life.
Cover your bases with a 20-foot Werner extension ladder and a standard 3-foot step ladder.
9. Estimating and billing software
In order to run an efficient and profitable window cleaning business, you'll also need tools to create bids, send invoices, and get paid. That's where field service management comes in.
Field service management software allows you to manage schedules, client info, bids, invoices, and billing, all from your desktop or smartphone. While you could write estimates out on business cards and send invoices by hand, these practices are messy, prone to mistakes, and can make you look unprofessional in your customer's eyes.
FREE TOOL: Try our free window cleaning estimate template
Stephen uses Jobber for his business, 20/20 Window Cleaning . "Under every single client we have inside Jobber, we can see every quote we've ever written, every job we've done, and all of their info," he says. "I've done bids for a long time, and this has made it a lot easier and more professional for us."
See exactly how Stephen creates professional window cleaning bids below:
Using Jobber, Stephen can:
10. Water purification systems
The tools above represent everything you need to run a professional, traditional window cleaning company. If you're ready to move onto bigger jobs, you'll definitely want to look into a water fed pole and water purification system.
These systems use extension poles with a brush head that dispenses 100% purified water. Because the water is completely clear of chlorine, minerals, and bigger particulates, it dries perfectly clear, no squeegee required. The benefits of using a water fed pole system include no ladders, extended reach, and perfectly clean windows with less effort. Water fed poles are also easy to learn, even for beginners.
"Once you have one, you'll have the answer to anything and everything. There's no job you can't do," says Stephen.
That being said, our window cleaning expert warns against buying one right away as part of your window cleaning starter kit. "You need to be established before buying one. Learn the traditional tools first." Depending on your needs, a water purification system can cost you up to $3,000. You'll also need to purchase brushes, replacement resin, and filters.
If you are ready to invest, there are two types of water purification systems to choose from. Stephen helped us break them down:
DI Systems: DI systems deionize water using resin in a tank. The resin includes positive and negative charges that eliminate all minerals and TDS (total dissolved solids), leaving you with 100% pure water.
RO/DI Systems: This 3-step water purification system is required if you work in an area with extremely hard water (TDS readings over 200). It works by combining a reverse-osmosis water filter, a carbon filter, and a DI tank to remove all water impurities.
"Water fed poles are the future of window cleaning," Stephen told us. "They've been around for the past 10 years, but in the past 5 they've really exploded and they've made our jobs so much easier."
11. Window screen cleaning tools
Another upgrade option for your traditional window cleaning supplies kit is a screen cleaning kit. Here are 3 ways to clean window screens:
Microfiber sleeve and solution: To keep things simple, remove and clean screens using your regular microfiber sleeve, cleaning solution, and a bucket.
Pressure washer: Use a gentle pressure washer to loosen grit and dust. Just make sure the pressure washer is gentle enough to be safe for screens.
Professional screen cleaning tool: A screen cleaning machine pushes water through bristles so you can get perfectly clean screens with less effort. While this tool isn't necessary, if you have lots of screens to clean in a short amount of time, it may be worth the money.
The #1 Window Cleaning Tool to Grow your Business
Stephen's tested out dozens, if not hundreds, of high-tech window cleaning supplies, tools, and gadgets. After all that, he's got one last piece of advice:
"We put so much emphasis on tools and techniques, but the truth of it all is that those things don't matter," he says.
Ultimately, you are the most important tool in your toolbox. How you present yourself, how you speak with clients, and how you make them feel is what decides if they will give you the job and want you to return to their home or business.
"The most important thing is knowing your self-worth. You're getting the jobs, not your tools."