What is field service management software?
Field service management software gives you the tools to manage field service jobs at all stages—quoting, scheduling, invoicing, and getting paid.
It's one centralized place to organize customer and job details, communicate with your team and customers, get service visits into your schedule, and analyze how your business is doing.
There are a variety of field service management software built for different industries and team sizes. Look for ones that will provide real time savings for your business, and help you provide a professional customer experience.
Field service management software like Jobber offers:
Automation: Automates administrative work like generating invoices, and sending customer reminders and follow-ups.
Collaboration: Gives your customers and team self-serve access to the information they need to keep jobs moving forward.
Mobile: Includes a highly-rated mobile app for easy access to job information from the field.
Real-time info: Helps you keep a pulse on your business at all times with real-time dashboards and notifications.
Integrations: Syncs with your essential business management software, including QuickBooks Online.
What field service management features does Jobber have?
To help your service business run smoothly, Jobber gives you access to these features:
Quote
Create winning quotes
Quickly create professional, interactive quotes that are easy for customers to approve online. 

Plus:
✓ Watch quote totals increase as customers add your suggested upgrades
✓ Customers can apply for consumer financing directly from the quote
✓ Jobber automatically sends a follow-up to customers you haven't heard back from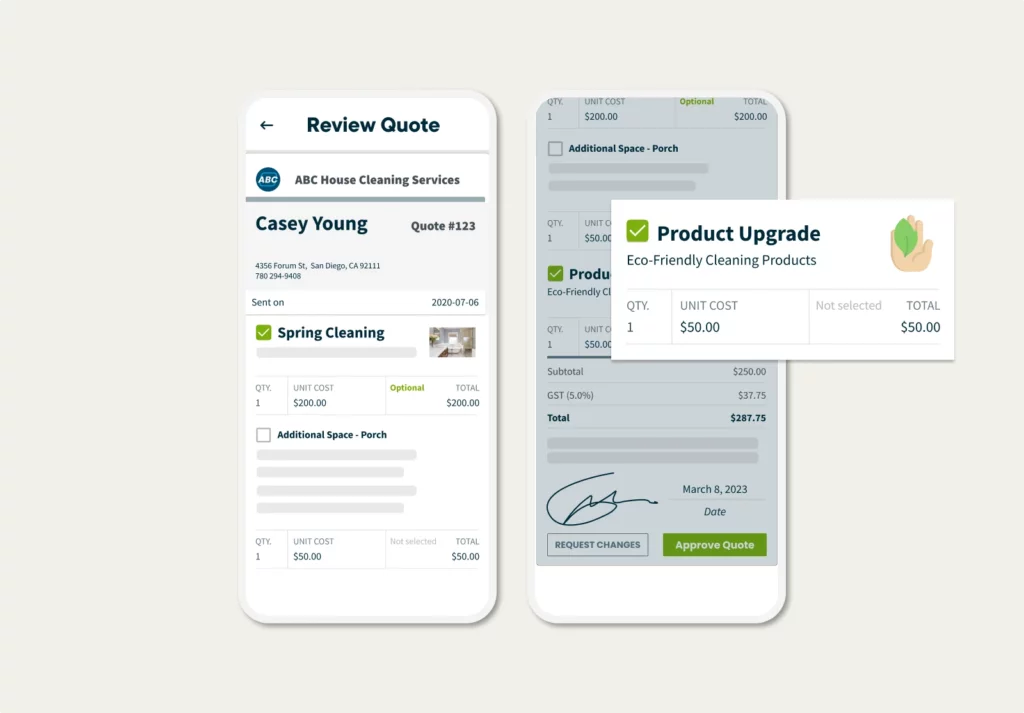 Schedule
Make scheduling and tracking easy
Book and manage field service jobs in a customizable calendar, assign them to the right people, and share appointment details with your team and customers.

Plus:
✓ Let customers book an appointment with you online
✓ Easily click, drag, and drop any visits that need rescheduling
✓ Automatically generate the most efficient driving routes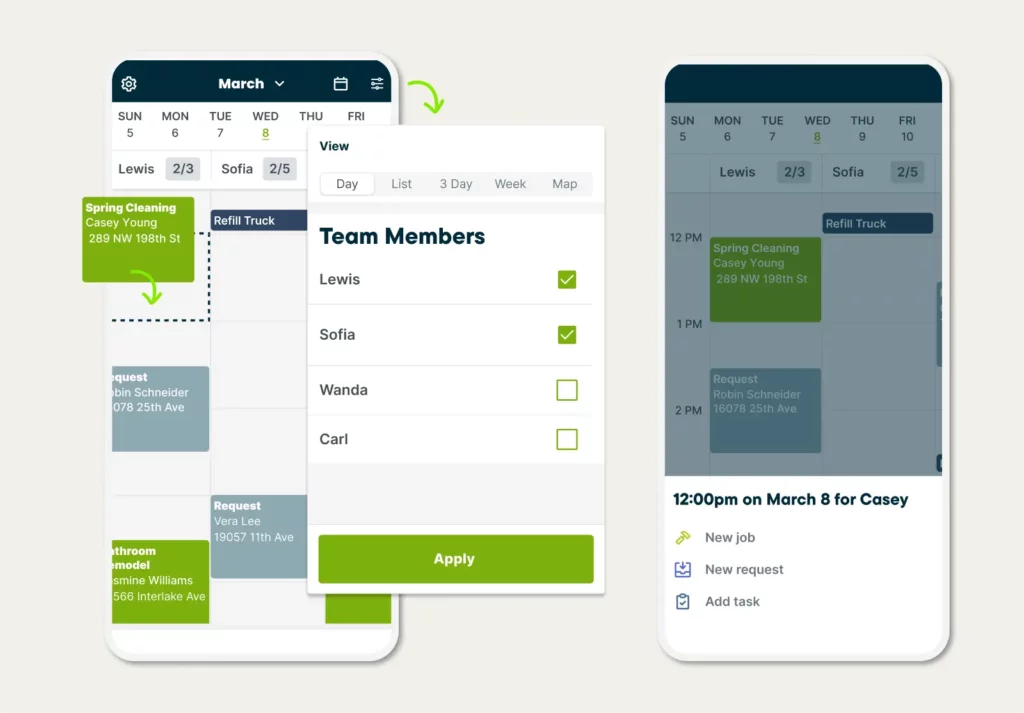 Invoicing and Payments
Get paid 4x faster
With one click, generate a professional invoice complete with accurate job details and convenient payment options, ready to send to the customer.

Plus:
✓ Know the status of all your invoices at a glance
✓ Let Jobber automatically follow up with customers on late payments
✓ Collect payment online, in person, or automatically from a card on file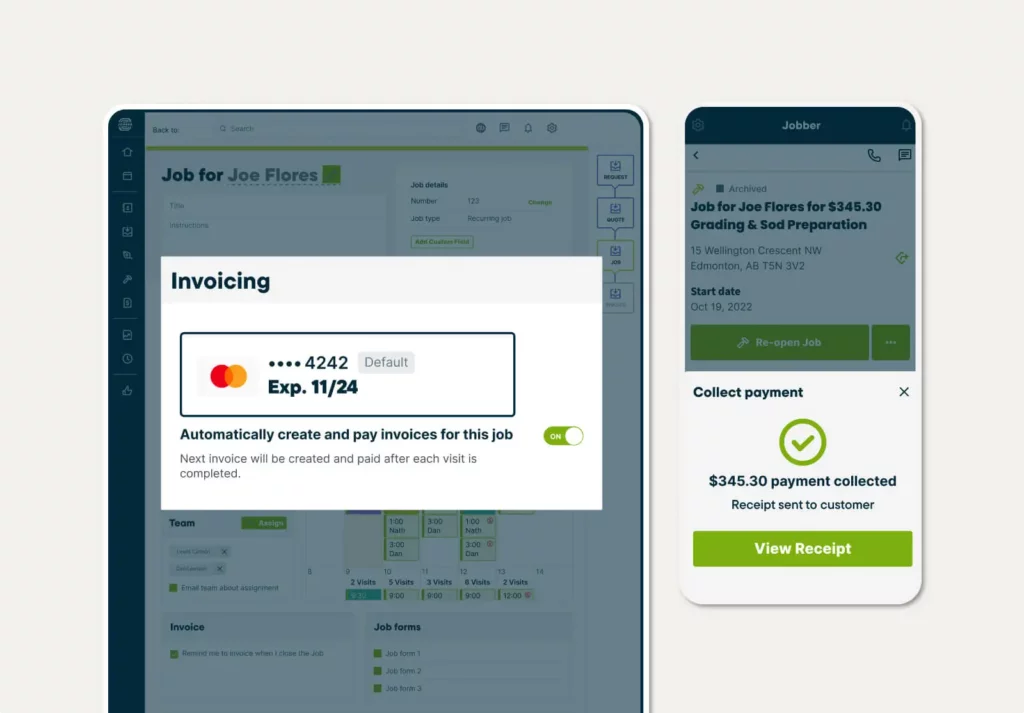 Impress Customers
Stay connected with customers
Automated emails and texts keep customers updated as work progresses, so they never feel ignored. Or, text with customers on the go knowing that conversations are stored in Jobber for your reference.

Plus:
✓ Automatically remind customers of upcoming appointments
✓ Send a one-click text message letting customers know you're on your way (or running late)
✓ Provide an online portal for customers to access job information, request work, and more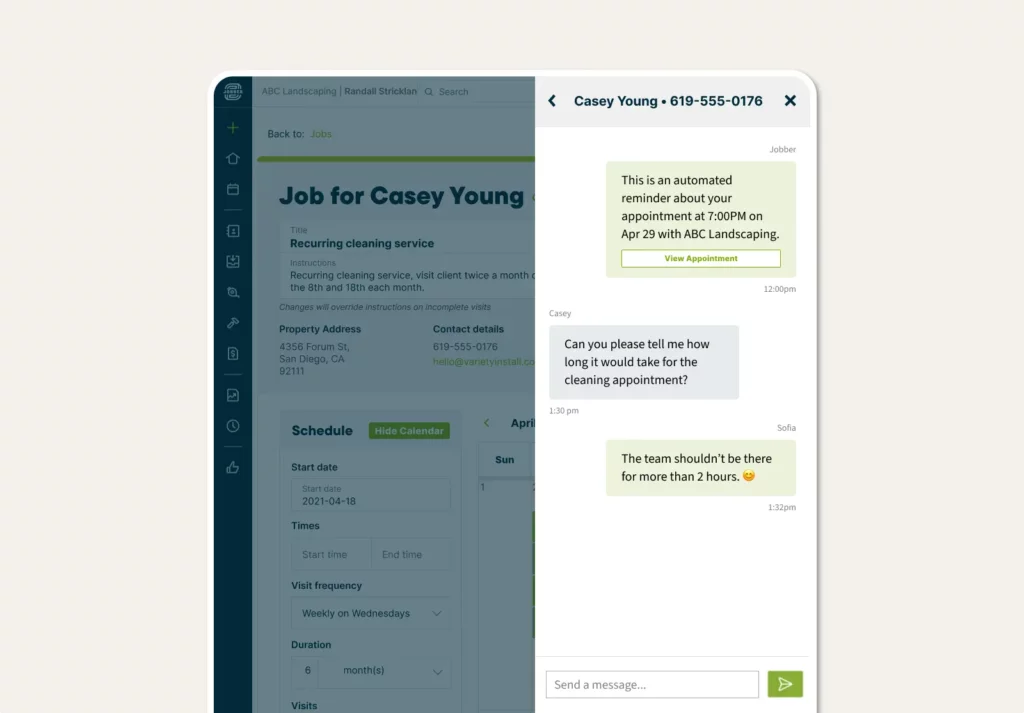 Know Your Business
Keep a pulse on business performance
Jobber shows you exactly how your business is performing in one glance. See an overview of your entire field service workflow and get recommended actions to keep it all running smoothly.

Plus:
✓ Track your progress through the day's work
✓ Get notified of new activity from your customers or team
✓ Access 20+ built-in business reports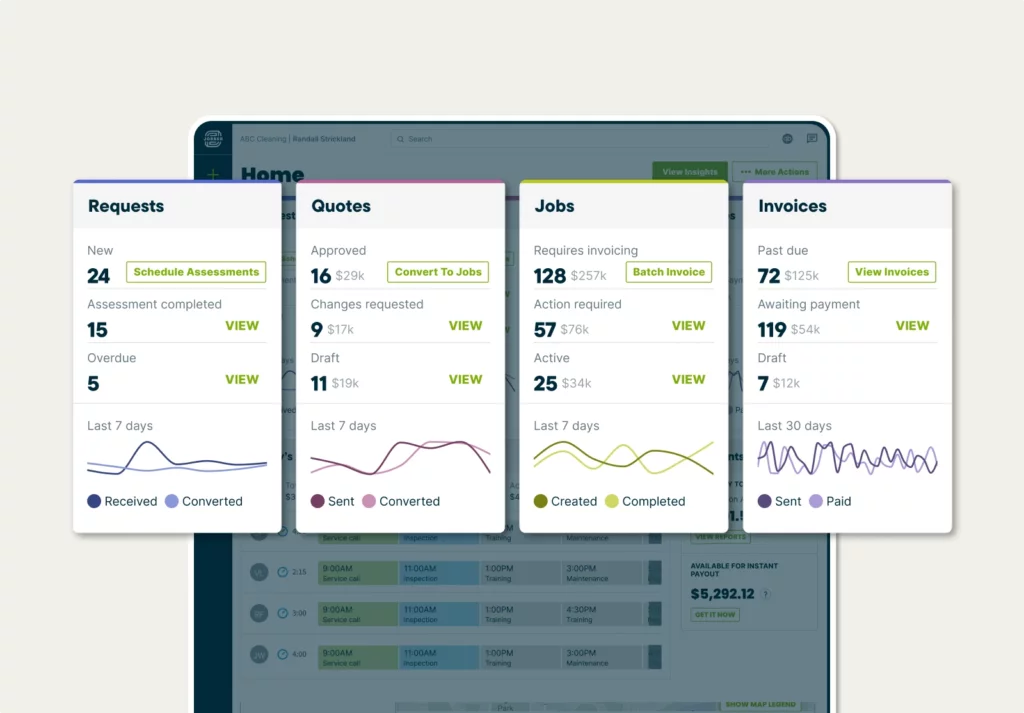 What are the benefits of field service management software?
Field service management software reduces your workload by simplifying your day-to-day operations. Most field service management software automates or saves you time on scheduling, quoting, invoicing, payment collection, and customer communication.
These features save you from hours of paperwork, emails, and phone calls. When you have less administrative work on your plate, you have more time to run and grow an efficient business.
Here are the benefits of using Jobber as your field service management software:
Reduce administrative work at every stage of the job
Impress customers with a professional online experience and reliable communication
Keep a pulse on your business and get notified of items that need your attention
Who is field service management software for?
Field service management software is for businesses that work on-site at customer properties—like cleaners, plumbers, landscapers, electricians, HVAC technicians, and more.
This type of software is built for any mobile service business that needs to estimate work, schedule and dispatch field workers to a job site, and communicate with crews and customers from on- and off-site.
| Find out if Jobber works for your industry
What features should you look for in field service software?
Here are the features you should look for in any field service management software:
Ease of use. Every new tool takes some learning, but software that's too complex can eat into your workday and waste more time than it saves.
Task automation. Strong field service software can turn repetitive tasks—like appointment reminders—into automatic, effortless work that runs in the background while you focus on growing your business.
Customization. Choose software you can adapt for your business's specific needs. If it's too hard to customize to fit your current workflow, it might not be worth the hassle or costs.
Analytics and reporting. Need detailed insights into your revenue, expenses, or overall efficiency? Pay close attention to the analytics and report customization that the software offers.
Integrations. Does the software connect and communicate with other apps that you already use? For example, look for field service software that integrates with QuickBooks Online if you're already using it for your accounting.
Customer support. A great support and setup team will get you onboarded quickly and help you get the most from your software. When researching field service software, read app reviews and see what users say about the customer support team.
How do you compare different field service management solutions?
When comparing field service management solutions, take note of what features each of them has and see which one aligns best with your current business needs.
Choose software that helps you solve the biggest problems in your business. For example, one might have stronger quoting tools than scheduling tools, while scheduling is what you struggle with the most.
Some field service software is built for large businesses and might be too complex if you're a team of one or two. Or, if you plan to scale, consider which software will support your growing team without costing you too much.
If you want to see how Jobber stacks up to other field service software, check out all of our comparison guides here. It also helps to compare user reviews on app store websites.
Integrations that fit the way you work
Jobber connects with your favorite apps and software to save you time.

Availability depends on location and plan
See All Integrations
Over
200,000

home service pros trust Jobber
"
It all clicked when I started seeing less of myself in the office…
"
…and more time out in the field, which is where I need to be.