Free Pressure Washing Invoice Template
Use this free pressure washing invoice template to create and download a customized invoice for any job. Just add your company and client information to our invoice generator, then download your professional invoice as a PDF that's easy to send to clients.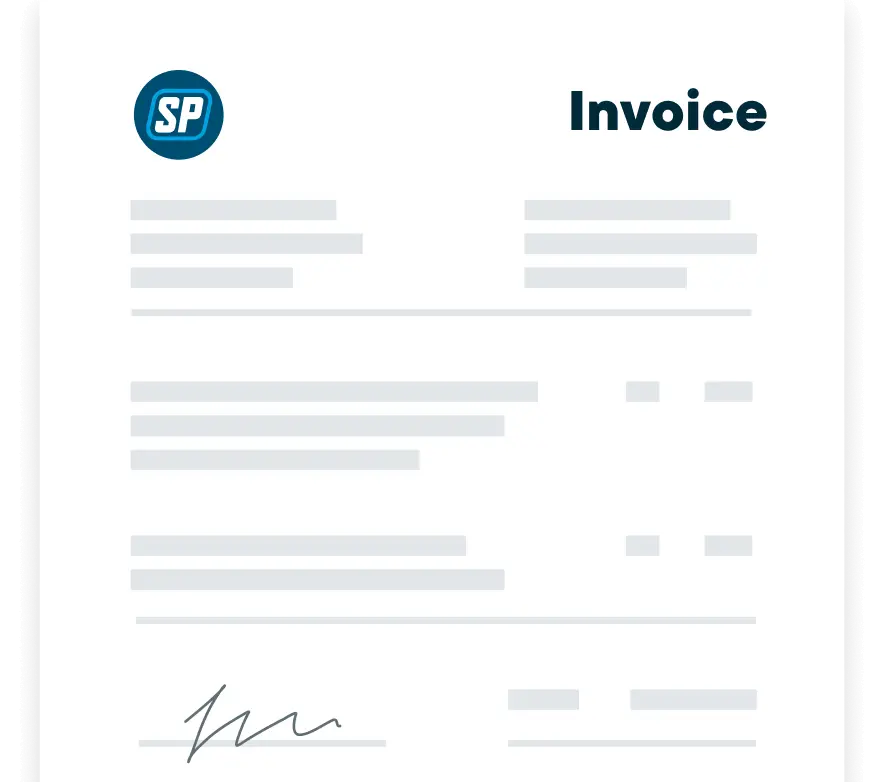 Create a pressure washing invoice fast with our free invoice generator
Struggling to format and edit invoices in Word, Google Docs, or Excel? Save yourself the hassle and make a clean, easy invoice in a few clicks with our pressure washing invoice generator.
Save your custom invoice template
Looking for an industry-specific invoice?
FAQ
Here's

what to include on an invoice

for every pressure washing job:

• An

invoice number

for record-keeping purposes (e.g. Invoice #1001, #1002, etc.)

• Your

pressure washing business's name

, logo, phone number, email, and mailing address

• Your client's name and contact details

• Line items that detail the type of power washing work you provided (e.g., windows, sidewalks, decks, driveways, corporate buildings, roofs, or other surfaces as outlined on your

pressure washing estimate

)

• The costs associated with each line item, factoring in approximate square footage,

labor costs

, overhead costs, any special discounts or rates, and sales tax

• The date the invoice was issued and the payment due date (making the due date as clear as possible without confusing terms like "Net 30")

• Subtotal before taxes, discounts, and service fees

• The total amount owed, including applicable taxes and discounts

• Payment terms that include the payment deadline, instructions, accepted payment methods, late payment fees, and any service warranty disclaimers

• A note thanking the customer for choosing your pressure washing services

Here's a pressure washing invoice example that was created using Jobber's invoicing software:

Not sure how to format your invoices like the sample pressure washing invoice above? Use our online invoice generator—it already has every section you need! Just add your personal details and job information and you're ready to go.

Using a

pressure washing invoice template

can help you stay consistent and save you hours of typing, copying, and pasting. Here are some tips for creating an invoice:

• Use a simple, professional layout with your company branding

• Include your company contact info and customer contact info

• Describe the pressure washing services you provided, with pricing

• Make your

invoice payment terms

and conditions clear

• Include your subtotal, applicable taxes, discounts, and fees before the total

To start sending out invoices right away with a simple, customizable template, use our free pressure washing invoice template.

Our

pressure washing invoice generator

helps you create customizable, professional invoices for any job, in minutes. It's a blank form that you can easily fill in with the services you provided.

Once you add your customer and job information to the blank template, you can download your invoice as a PDF and send it to your client easily.

The invoice generator is part of a larger free toolkit where you can store client information, convert their

pressure washing estimates

to invoices, and get paid for your work. It's perfect if you're just

starting a pressure washing business

or exploring software instead of pen and paper.

A pressure washing invoice template helps you

write invoices

quickly without having to start from scratch every time. When you spend less time creating invoices, you can invoice your clients and get paid faster.

With an invoice template, you can:

• Stay organized and never miss crucial information on an invoice

• Cut down on repetitive data entry and save time

• Ensure you get paid in full and on time

• Look more professional than with handwritten invoices

• Easily track rates, prices, material costs, expenses, and accounts receivable

• Make filing easier with digital copies of all invoices

• Protect your business with detailed payment terms and conditions

You can find templates as fill-in PDFs, Microsoft Word or Google Docs, Excel or Google Sheets spreadsheets—or using our easy invoice generator. These templates are essential to keeping your business efficient and consistent.

With a free pressure washing invoice template, you can simplify your process and turn hours of invoicing into minutes.

You can choose to charge

hourly

,

per square foot

, or at a

flat rate

for your pressure washing jobs. Most pressure washing businesses and

window cleaners

bill per square foot.

Typical pressure washing rates are between $0.30 to $0.80 per square foot. You'll want to price commercial or industrial jobs differently, since they'll require more time and you'll be using special supplies and equipment.

Before you

price pressure washing jobs

, you should figure out:

• Your overhead costs

• The equipment and supplies needed (type of power washer, chemicals, hot water vs. cold water)

• The type of property

• The size of the property (square footage of windows, decks, sidewalks, driveways, garage floors, fence, gutters, or other surfaces on the

work order

)

• The accessibility of the property

• The condition of the property (if there are rough surfaces, mold, grime, dirt, grease, moss, or stains that will take extra time to clean)

• How your competitors price jobs

There's a big

difference between quotes and invoices

.

A

quote

describes what the finished work will look like and how much it'll cost to complete. This is the first step in any job. Your pressure washing quote should show the client what they can expect, and you don't start the job until they sign off on it.

An

invoice

is the final bill you send to the client for the completed work. This is the last step of the job. The amount on your pressure washing invoice might be different from the amount on the quote, depending on how much the work changed during the job.

That depends on how you're doing it! If you're using pen and paper, it could take a while to write down your contact details, add the customer's information, write in all your line items from memory, and add prices for each line item.

You can speed up this process by using an easy-to-fill pressure washing invoice template—all you need to fill out is information specific to your job and customer.

Use a PDF invoice template that looks professional and includes your pressure washing company logo, colors, and contact information.

You should

send an invoice

as soon as you can after the job is complete. Ideally, pressure washing businesses shouldn't wait longer than 48 hours after the job to send the invoice.

Sending invoices late can delay you from getting paid and lead to confusion. Just make sure you and your client agree that the cleaning is completely done!

Clients should typically pay their invoices within two weeks of the service date. This isn't always possible, though, so try testing payment deadlines and see what works best for your business's

cash flow

.

If a client doesn't pay within 30 days, it's time to take action on that

unpaid invoice

.

Pro Tip:

You might want to

offer financing to your customers

to get some payment up front.

Invoicing software helps busy service providers like you collect payment for work using invoices that you can create, send, and track online.

Jobber's

pressure washing software

makes it easy to create an invoice from your desktop or mobile device. With Jobber, you can convert job details into customer-friendly invoices and automatically follow up on overdue payments.

Here's what you can do with invoicing software:

• Create professional invoices that feature your logo and company branding

• Automate invoice follow-ups with customized emails and texts

• Set reminders to invoice after each visit, or create a custom reminder schedule

• Keep track of which visits have and haven't been invoiced

• Send multiple invoices at once with batch invoicing

• See which invoices are paid, awaiting payment, and past due

• Get paid faster with

credit card processing

and

consumer financing

options

•

Communicate with clients

using email and SMS

•

Schedule teams

, route work, and track time and expenses

Learn more about how Jobber can help you

create invoices and get paid faster

.
Over
200,000

home service pros in 50+ industries trust Jobber
"
If you can make a quote on the spot, you're 10 steps ahead of the competition.
"
Jobber changed the game because it's right at people's fingertips.