40 Must-Have Appliance Repair Tools (With Prices)
September 12, 2023
6 min. read
Appliance repair jobs can have you fixing all kinds of equipment—from washers and dryers to refrigerators. Having a diverse set of tools in your bag keeps you prepared to deliver quality service and work safely.
To help you find the right tools and budget for them, we've compiled a list of appliance repair tools for all types of jobs, along with descriptions and average prices.
When you're ready to shop, download this appliance repair tool checklist to keep track of what you've purchased and what you still need.
Disclaimer: The tool prices listed are approximate ranges. Pricing will vary by brand, store, quality, and whether they're new or used.
Essential tools for all appliance repairs
These are tools you'll need to keep around no matter what kind of appliances you work with. For this whole set of appliance repair tools, screwdrivers, and pliers, expect to spend from $245–510.
1. Multimeter ($30–40): Use a multimeter to diagnose and troubleshoot an appliance's electrical issues by measuring voltage, current, and resistance.
2. Cordless electric drill ($20–80): Keep a portable drill to make disassembling and reassembling appliance parts easy.
3. Rubber mallet ($4–10): Unlike a hammer, a rubber mallet can deliver force without damaging surfaces—and that's useful for adjusting or seating appliance components.
4. Putty knife ($4–10): Use these knives to scrape residue, apply filler, or remove appliance components.
5. Wire cutters ($20–50): When repairing or replacing electrical components, you'll need to cut wires or small pins with a strong pair of wire cutters.
6. Wrench set ($40–100): Keep wrenches of various sizes to tighten and loosen nuts and bolts in appliances.
7. Nut driver set ($12–30): These drivers fit over hexagonal nuts or screw heads, offering better grip and turning leverage than standard screwdrivers.
8. Handheld steam cleaner ($35–50): Steam cleaners get grime and sticky residue off of appliance components when you're finished a repair.
9. Shop vacuum ($60–100): This is a powerful vacuum that cleans debris, dust, or water from appliance interiors or surrounding areas during repair.
10. Appliance rollers ($20–40): Rollers help you safely move heavy appliances like refrigerators or ovens. You can also use a slip-resistant mat or glide underneath appliances to move them without scratching the floor.
Screwdrivers
Keep each of these screwdrivers in your tool bag for all kinds of appliances ($7–20 in total):
11. Flathead screwdrivers help you turn screws with a linear, single slot, which you'll find often in older appliances and electrical connections.
12. Phillips screwdrivers have a cross-shaped tip for screws with a cross recess common in many modern appliances.
13. Torx screwdrivers have a star-shaped end made for torx screws. Torx screws are common in electronics and some newer appliances.
14. Duck bill screwdrivers come with a wider tip for turning screws in tight spaces or holding flat components.
Pliers
Pick up a set of pliers for $15–45, and make sure it has each of these:
15. Needle nose pliers are long and thin-tipped, making them ideal for gripping, bending, and cutting in tight spaces. You'll use them to manipulate wires and pick up small parts.
16. Slip joint pliers have a pivot point that can be moved to increase the tool's jaw size—this is handy for gripping appliance parts of various sizes.
17. Cutting pliers are mainly designed to cut wires and thin metal parts. These pliers have sharp blades near their base to easily snip through materials during repairs.
Refrigerator repair tools
When you or your appliance repair technicians are assigned to a refrigerator repair, make sure you have these tools in your van, and set aside $80–155 if you're buying all of them new:
18. Condenser brush ($15–30): Clean the condenser coils in a customer's refrigerator with a condenser brush to improve cooling in the system.
19. Refrigerator defrost timer ($15–25): This timer controls the defrost cycle in refrigerators, preventing excessive frost buildup.
20. Evaporator fan motor wrench ($15–35): Designed to fit and remove the bolts securing the evaporator fan motor, this wrench is essential for motor replacement and repair.
21. Evaporator fan blade puller ($35–65): This tool helps you safely remove the fan blades from motors in refrigeration units.
READ MORE: 34 essential tools for HVAC work
Washer and dryer repair tools
To repair malfunctioning washing machines and dryers, keep these tools around (and budget $115–200 for all of them):
22. Socket set ($45–65): Keep a collection of sockets and a ratchet to work with nuts and bolts in a washing machine.
23. Belt tension gauge ($20–40): This gauge measures the tension in drive belts so you can ensure they're neither too tight nor too loose for optimal machine performance.
24. Drum roller kit ($25–55): These kits come with drum support rollers, axles, nuts, and more replacement parts you can use for worn-out dryers.
25. Dryer vent brush ($10–20): Use this brush to clean lint and debris from dryer vents, prevent blockages, and improve dryer efficiency.
26. Tub nut wrench ($15–20): Also called a tub spanner wrench, this wrench is designed to remove and tighten the central nut that holds the washing machine tub in place.
Oven and range repair tools
Pick up all these tools to equip yourself for oven and range repairs ($55–105 in total):
27. Temperature probe ($20–35): A temperature probe ensures an oven is reaching the right internal temperature.
28. Oven thermometer ($5–10): Unlike built-in temperature probes, an oven thermometer provides a secondary check on the oven's actual temperature, helping confirm its accuracy.
29. Gas leak detector ($30–60): A safety tool that detects traces of gas emissions, gas leak detectors are used around oven fittings and connections to alert you of potential gas leaks.
Supplies and consumables
To be prepared for every appliance repair job, stock your van with these essential supplies and consumables ($80–195 in total):
30. Bucket: $2–25
31. Duct tape: $3–15
32. Extension cord: $15–25
33. Flashlight: $10–25
34. Insulation tape roll: $5–10
35. Magnetic bubble level: $10–15
36. Soldering wire: $5–25
37. Step ladder: $25–45
38. Wire nuts: $5–10
Digital tools for running your business
As an appliance repair business owner, you have to organize service calls, track service agreements, keep customers happy, get more appliance repair leads, manage your finances, and much more.
To save yourself time and run a more efficient business, consider these must-have appliance repair apps and business tools:
39. Appliance repair service software: Instead of using spreadsheets and messy calendars to organize your schedule and job information, use software that's built to help appliance repair businesses like yours manage day-to-day work with less effort.
Jobber is appliance repair software that helps you estimate jobs, schedule work, manage customer information, and get paid all in one place.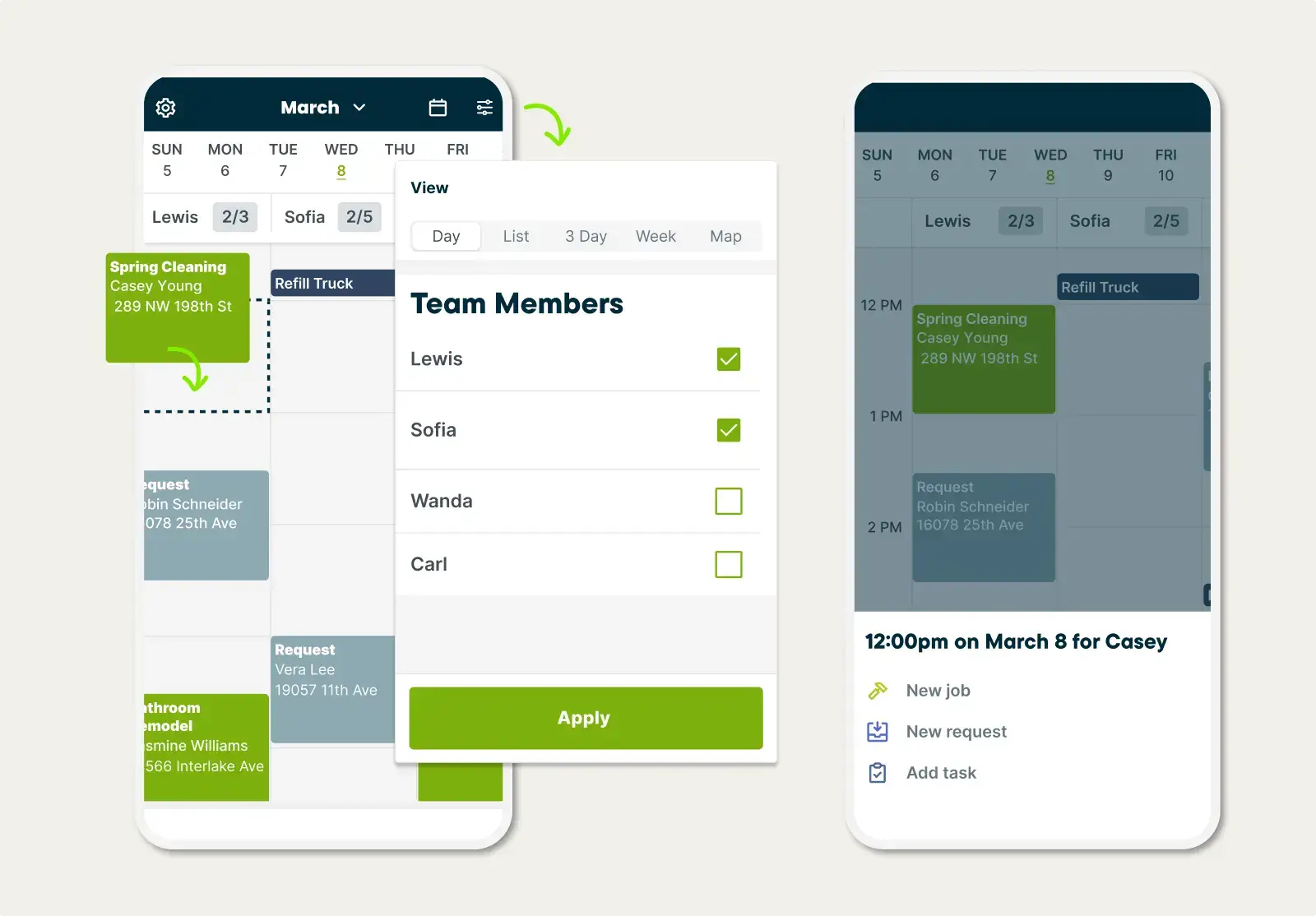 40. Accounting software: Improve the speed and accuracy of your bookkeeping and payroll with accounting software like QuickBooks Online. QuickBooks Online lets you manage income, expenses, payroll, and financial reports from anywhere.
Plus, QuickBooks Online integrates with appliance repair software like Jobber to eliminate the need for double entry work and save you time.
Based on the services you offer and your own business needs, your tool bag may end up being different from this list. Refer back to this list as your business grows and more work comes in.
Originally published in September 2021. Last updated on September 12, 2023.