Pricing and Payments
Price Bundling: When, Why, and How to Offer Stellar Service Packages
February 23, 2022
7 min. read
Ever been enticed by a package deal, like an oil change offer that includes checking your tire pressure and topping up fluids for a single, low price? Or a two-for-one coupon to your favorite restaurant?
Like you, many of your customers love getting the most bang for their buck. And this is something you can take advantage of when it comes to pricing and bundling your products and services.
If you don't already offer bundle pricing—or you want to do it better—read through this guide to learn whether it's right for your home service business.
What is price bundling?
Price bundling is when you bundle together similar products and services so that you can offer them to clients at a single price. The cost of the price bundle is typically lower than if the client were to purchase each of the products or services on offer individually.
This type of approach can be used for a variety of different businesses—including service businesses. Here are some common price bundling examples used in different service industries:
Lawn care: Mowing, trimming, watering, fertilizing residential lawns, and winterization packages
Pressure washing: Exterior pressure washing and gutter cleaning
Residential cleaning: Interior or exterior spring cleaning packages
Snow removal: Snow removal, including salting or sanding walks
You can also include products as part of your price bundles, like salt, sand, cleaning supplies, or fertilizer depending on your industry.
What are the different types of price bundling?
There are a few different options when it comes to bundling prices. In home service businesses, the two most common ways to bundle products and services are through:
Standalone bundles
Tiered pricing
Both types of bundles are considered mixed bundling, where you group similar products or services together and offer them to customers at a lower price.
The type of price bundling you offer depends on your marketing strategy and goals. Standalone packages are typically made up of common products and services that your customers tend to purchase together anyway. This works well for exterior home pressure washing and window cleaning.
Tiered pricing is similar, but offers clients multiple options at different prices and it gives them the option to select premium services. Think bronze, silver, and gold or good, better, best pricing.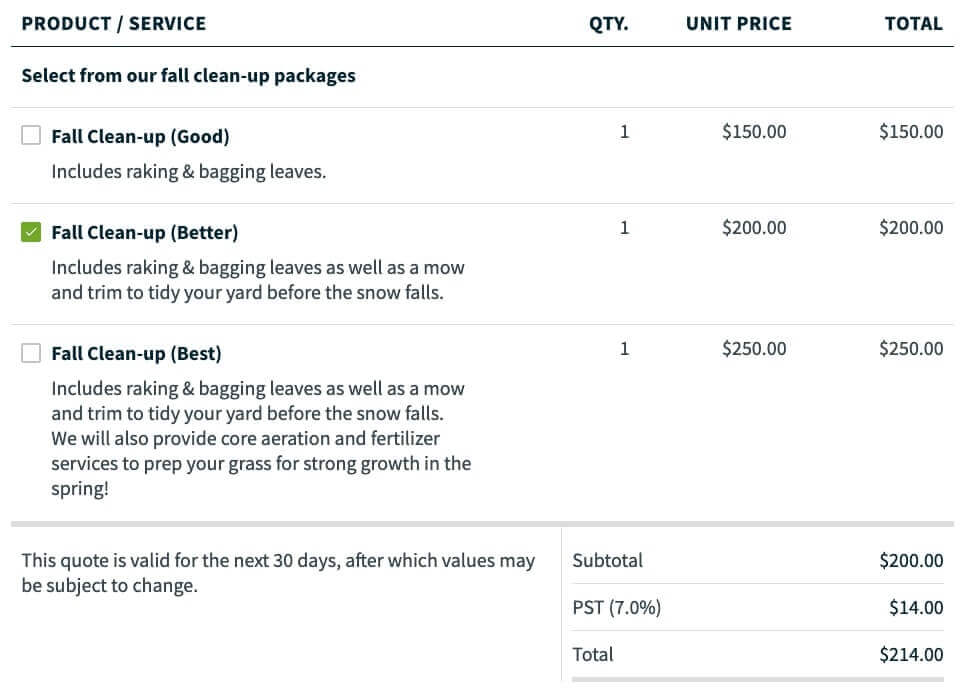 For example, tiered pricing could look something like this for a pressure washing business:
Lower price: exterior pressure washing with window cleaning for $250
Middle price: exterior pressure washing with window and eavestrough cleaning for $350
Highest price: exterior pressure washing with window, eavestrough, and deck/patio cleaning for $450
Bundles can be offered on a continual basis, seasonally, or as a single event, like for a holiday. They can also include offering a complementary product instead of charging an additional amount.
The benefits of price bundling
Bundle pricing comes with many benefits to service providers, including:
1. Provide upselling opportunities
Service and product bundling is a great upselling technique you can use to increase the overall value of individual jobs. As long as your packages are well-planned and provide actual value to clients, there's a good chance they'll encourage your current customers to spend more.
READ MORE: 10 ways to increase revenue from existing customers
2. Boost your profit margin
The more customers you have and jobs you book, the higher your profit margins. Since price bundling is often considered a win-win for you and your clients, it's the ideal way to build a successful pricing strategy that supports healthy ongoing profit.
The more your clients spend, the more you make. And, as long as they're getting value from the additional expense, they'll be happy to pay a little more to receive an additional product or service they need.
3. Attract new leads
Package deals are also a great way to attract new leads since they offer discount pricing right off the bat. It's hard for potential customers to resist the temptation to spend less to get more, which means you have a greater chance at winning them over with competitive pricing.
The downsides of price bundling
Service and product bundles do come with some disadvantages. If they're not done strategically, price bundling can:
1. Reduce your profit margin
Plan packages carefully. You need to ensure that you're still making money even though you're offering products and services at a discounted rate. That's why it's so important to ensure that you choose popular services that go well together. Packages are about volume—meaning you make more money by selling more of them.
If your packages are priced too low, or if they aren't very popular, you'll end up losing money on them instead of making money.
2. They may need to be adjusted frequently
If any of your bundles include products, you need to keep an eye on your pricing and adjust it on a regular basis. The cost of products is typically out of your control and can be affected by inflation, demand, and other factors. If the cost of a product you offer in a package deal increases significantly, you'll have to reevaluate and adjust your bundling price.
The same goes for your service packages. Even if you don't offer a product as part of a bundle, you may need products to complete a service. If the cost of necessary products fluctuates, it will affect how much money you make from the job.
Keeping an eye on your bundle pricing strategy to ensure it remains profitable can be time-consuming. And, changing costs can confuse or upset clients if they happen too often.
3. Customers may not want all the extras
While some customers will see a lot of value in bundling, others won't.
For example ➡️ those on a strict budget or who really only need one simple service may not appreciate being overloaded with extra product and service options. It's not a one size fits all solution for your business.
This is especially problematic if you only offer bundles for certain services. Customers who aren't looking for additional bells and whistles may choose to hire a more straightforward service provider instead.
How to bundle and package your services
Follow these steps to start offering price bundles to your customers:
Step 1: Look at your most popular products and services
It makes sense to bundle your most popular services together, as long as they're a fit. Be sure to ask yourself:
What service do customers hire me for the most?
Which services go hand-in-hand?
Is there a product I could bundle with this service?
Does it make sense to offer any of my most popular products or services as a bundle?
Step 2: Consider your pricing
Next, you need to figure out how much to charge for your price bundle. Take a look at your service pricing first: how much are you already charging for these individual products or services? How much profit are you making on them now?
The thing about price bundles is that you need to offer them to a customer at a discounted rate, which means you can't just offer them together at their regular cost.
From there, you need to determine how much you can afford to charge for them as a bundle. It helps to estimate how many you will need to sell in order to make up for the profit lost from lowering the rate.
FREE TOOL: Try our free service price calculator
Step 3: Add price bundling to your estimates and quotes
If you use job quoting software, adding bundles to your estimate templates and quotes is easy. One way to advertise your upsells and bundles without going for the hard sell is to include them as an optional addition in your quotes and estimates.
For example ➡️ include the service the client requested in your itemized quote and then list a few potential add-ons underneath for the client to consider. If they decide they want to add a product or service, they have the option to do so at a discounted rate. And, if not, they can move forward with the original quote.
You can include price bundles and packages to your quotes with Jobber's quoting features. Easily add packages to a quote and present them at different prices.
Your clients can then choose the best option for them, reducing your back and forth emails:
Is price bundling right for your service business?
Whether price bundling is right for your small business depends on whether:
You have like products or services you can combine
It makes financial sense for you to offer packages
You can easily adjust your estimates and quotes to include price bundles
If you decide to move forward with this tactic, remember to bundle strategically: pair related products and services, and monitor performance as you go.