Entrepreneur Inspiration
How Marianna's Cleaning Co. Doubled New Leads with Google's Local Services Ads and Jobber
December 3, 2021
4 min. read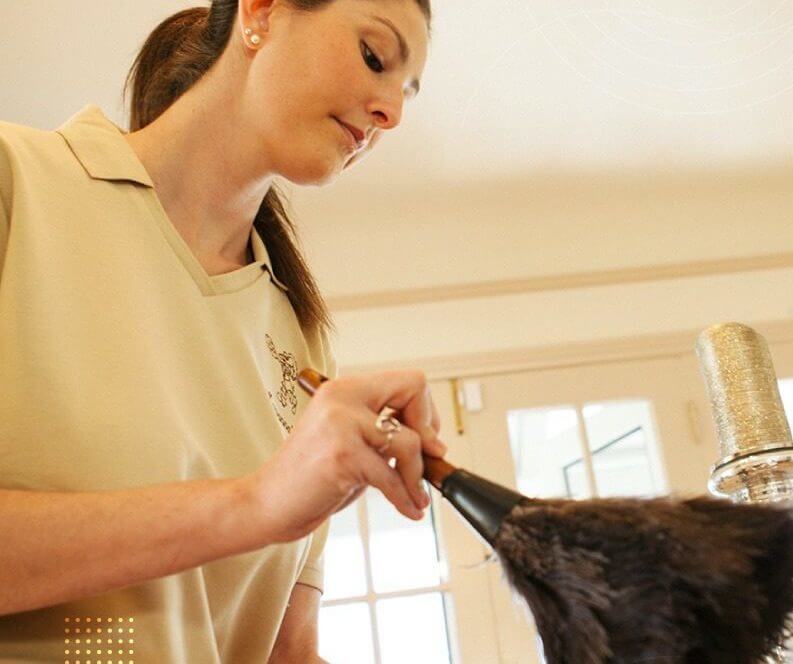 Marianna's Cleaning Co.
Marianna's Cleaning Co. has been a successful residential cleaning business in the Los Angeles area for decades. Find out how they nearly doubled new leads by integrating their advertising efforts with Jobber.
Marianna's Cleaning Co. has been servicing homes in the Los Angeles area for over 30 years. In its early days, their team was handing out flyers to get new business.
It worked, but flyers have their limits.
Now, Marianna's Cleaning has doubled its leads, and they believe it's thanks to offering online booking right from Google Search.
Teresa Nolazco and Arturo Rivas, who lead the business development and marketing side of the company, explain how they did it through Jobber's integration with Google's Local Services Ads.
By booking leads directly from Google search, Marianna's Cleaning Co. was able to:
✅ Nearly double online bookings
✅ Get higher quality leads
✅ Save their sales reps time
✅ Make online booking easier for clients
"We have almost twice as many reservations this year"
Marianna's Cleaning Co. has been using Google's Local Services Ads to reach new customers and establish trust with new leads for the last four years.
With Local Services Ads, Marianna's Cleaning shows up at the top of Google search results when clients search for cleaners near them. The Google Guaranteed badge gives Marianna's extra credibility, since clients can see that they've been vetted by Google.
While online ads helped Marianna's get more visibility, there wasn't an easy way to turn interested leads into booked clients.
Enter: Jobber's online booking integration with Google's Local Services Ads.
With online booking powered by Jobber, clients can book an appointment right where they find Marianna's Cleaning—at the top of Google search results.
Now, their ads stand out even more: any time of day or night, clients can learn what services they offer and book a time that works for them.
The result: "We've received 62 online bookings this year, versus 35 in the same four-month period last year," says Arturo. "That means we have almost twice as many reservations this year."
"This integration came at the right time," he says. "It fits perfectly with what we used to do every day."
Using Jobber to manage new leads with less effort
All these new leads brought attention to another challenge: keeping leads organized.
Before the online booking integration, Local Services Ads only allowed new leads to message or call Marianna's with their request.
With Jobber's integration, new booking requests from Google are automatically saved in Jobber.
That means no manual entry, and all client info is copied over to the same platform that the company uses to schedule jobs and send invoices.

Now, the sales team doesn't need to create a client profile from scratch whenever they get a new lead.
"Whatever information the client gives to Google populates automatically in Jobber," Teresa says. "That saves us time from creating a client profile, typos, things like that."
Online booking helps Marianna's Cleaning Co. instantly connect with new customers and book jobs faster, leveraging Jobber to seamlessly manage the job from start to finish.
From there, they can use their full suite of Jobber features to complete the job, invoice the customer, and get paid. Jobber keeps customers informed every step of the way, with automated emails, text messaging, and an online self-serve portal.
"It really makes it easier for clients"
The experience of quickly booking work right from Google search offers the convenience that so many customers expect these days.
It mirrors the online shopping experience customers are used to, making it easy for clients to book the services they want.
In turn, it's helped Marianna's Cleaning attract the clients they want. Clients who appreciate great service and are a good fit for their business.
"It's the same person who is ordering UberEats and DoorDash," says Teresa. "The quality of the lead is great."
Maintaining control of their team's calendar
The combination of Jobber and Google's Local Services Ads creates convenience on both sides.
As easy as it is for clients to book new work from Local Services Ads, Jobber also makes it easy for Marianna's to have control over how many bookings to accept, and at what times during the week.
With their booking capacity set to 40 appointments, they never have more work than they can handle.
Arturo has also set a 24-hour minimum lead time to prevent same-day bookings.
"If you want to provide a good service, you definitely need that time to organize your team," he says.
Staying organized and growing the right way
Online ads can help your business reach new customers and book more work.
But you can't just sit back and watch those leads pour in.
"If you just set up the integration by itself, it's not going to guarantee you sales or bookings," Arturo says.
You need a reliable system to stay on top of them and convert them into happy, repeat customers.
By using Jobber to manage and impress their new leads, Marianna's Cleaning Co. isn't just growing fast—they're growing in a sustainable, manageable way.