Training Cleaners: 8 Tools to Take Your Employees From Beginners to Experts
November 23, 2021
10 min. read
Good employees are at the core of any successful cleaning business. To help your employees do their best work, though, you need to invest time and effort in training them.
They might be brand-new cleaners, or your longstanding crew needs to brush up on processes and procedures. Whatever the reason, your cleaners need training, and these tools will help.
How to train cleaning employees:
1. Develop standard operating procedures
Before you do anything else, write a standard operating procedure (SOP) for every cleaning service you provide. This gives your employees step-by-step instructions for different tasks.
Training topics for cleaning staff can include:
READ MORE: How to sell your house cleaning services
Your SOP should also include any special sanitization, disinfection, or green cleaning procedures that your cleaners need to know about. You can also cover admin tasks, like clocking in, claiming travel mileage, or even just answering the phone.
Think about all the tasks that your cleaners complete in a week, then write down instructions for each one to create your cleaning training manual. Explain why you do it this way, too—it'll help new hires remember!
Pro Tip: Include policies for property damage, cleaning insurance coverage, and other potentially sensitive topics. They're hard to think about, but planning ahead will prevent future headaches.
How do I create a standard operating procedure?
To create your SOP, follow these steps:
Set a goal for the procedure so you know what you're explaining and why.
Decide what format will work best for your procedure, like manuals or checklists.
Using language your team is comfortable with, write down all the steps in each process.
Share it with the team in print or digital format.
Make sure everyone is following the written process every time they complete a task.
Update the SOP as the process evolves over time.
2. Create job forms and checklists
Building on your SOPs, you can use forms and checklists to help cleaners follow instructions, manage their time, and remember everything they need to do. This keeps your service consistent and your clients satisfied.
For example, work completion forms are a type of form that helps cleaners get client sign-off on visits, provide proof of work, and keep detailed and accurate records of job information.
You can also give your teams cleaning checklists, which are itemized to-do lists for each of your processes that give new employees the know-how and confidence to do the job right.
READ MORE: Level up your website like these cleaning businesses
Here's what a cleaning checklist looks like in Jobber:
You can also use job forms to create a cleaning training checklist for all of your new cleaners and make sure they've completed every step of the training process. Here's what that could look like: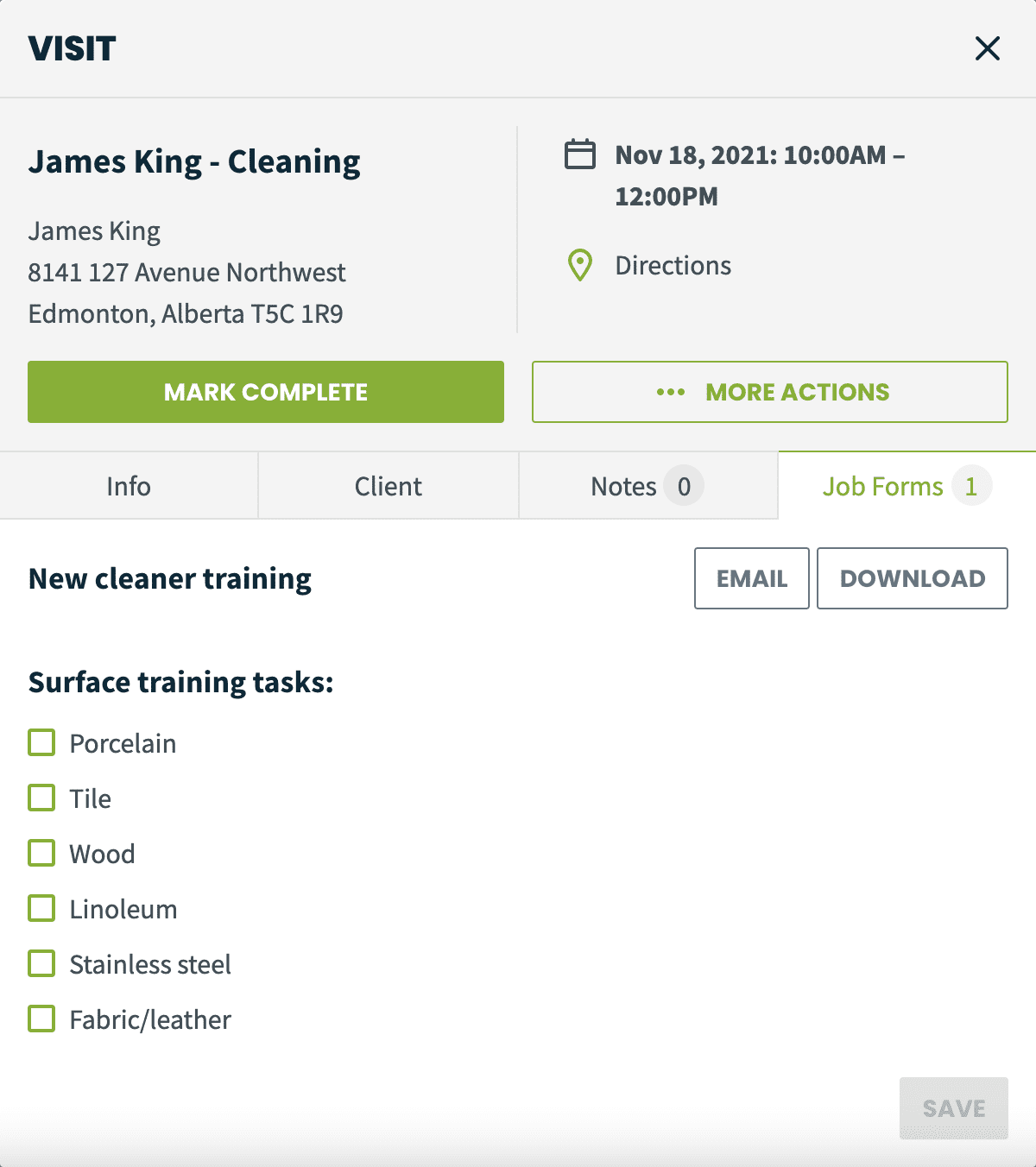 3. Write an employee handbook
Training for cleaning staff doesn't just cover procedures—it also covers company policies. That's where your employee handbook comes in handy. You can introduce it during training, but employees will refer to it for a long time after.
This document should be easy to read and understand. Share complex ideas in simple ways, like with photos, diagrams, and lists. You might even want to write it in multiple languages, depending on what your cleaners speak.
READ MORE: Run your cleaning business better with these apps
Your employee handbook should cover:
Company overview and history
Brand messaging (mission, vision, values, brand promise)
List of supervisors and contact information
Working hours (and what constitutes being late)
Payroll details (schedule, check/e-transfer)
Procedures for taking personal time, sick days, and vacation
Details about benefits, bonuses, incentives, and perks
Expectations and code of conduct
Update your handbook every so often to reflect who you are as a business. If you keep running into common issues that aren't covered by handbook policies, add those in, too.
Pro Tip: Your employees should sign a form saying they read the handbook, both when they're hired and whenever you update it. This covers you in case you have to fire them for compliance issues.
READ MORE: How much to charge for house cleaning
4. Provide new cleaners with a training schedule
Plan your cleaning service training schedule ahead of time so cleaners know what tasks they'll learn and when. Schedule one service or discipline a day to avoid overwhelming new hires.
Start with the basics, like how to clean specific surfaces (e.g., porcelain, tile, glass). Many residential cleaners start with the bathroom because it has several different surfaces.
From there, you can move on to more complex tasks. For a residential cleaner, this could be kitchen cleaning, followed by dusting, spot cleaning, and vacuuming.
READ MORE: Learn how scheduling affects employee turnover
You should also pair new cleaners with more experienced cleaners. This gives new hires the chance to learn from someone who's been doing the job a lot longer and ask questions when needed.
Want to start training early? Begin during the interview process with a paid audition. This cuts down on training time for the people you hire—and shows you who can handle the hard work.
Pro Tip: Give short quizzes at the end of each day to test the employee's knowledge (for example, what's the best way to clean the inside of a microwave?). This helps you make sure they have the tools they need to do the job well—and you can clarify if needed.
How long should training cleaners take?
When you're training cleaners on the job, expect to spend two weeks (or 10 business days) showing them the ropes.
Allow another two weeks for the training to sink in and be applied, as well as a 60- to 90-day probationary period in which a cleaner is always supervised.
5. Give opportunities to practice people skills
Your clients need to trust your cleaners to enter their homes when they aren't around, so creating a strong working relationship will keep those clients coming back again and again.
Your team can help build that trust by working on their people skills. Clear communication and conflict resolution will help your cleaners get along with your clients and with each other.
Start by introducing the new cleaner to the client whose house they're cleaning. Once they know each other's names and faces, they'll feel more comfortable and start building a relationship.
READ MORE: Build your management skills with this reading list
To help maintain that relationship, teach your cleaners to be respectful. No matter what the situation, your team should never criticize a client or their home—even if it's a big mess.
You can also give your cleaners the power to delight your clients with discounts or service upgrades. A happy client will refer their friends and leave a positive review for your business.
Pro Tip: Just like your cleaners are getting to know your clients, you should get to know your cleaners, too. When they feel seen and understood, they're more likely to give you their best work and stick around long-term.
WATCH NOW: Use these strategies to keep your employees motivated
6. Introduce your workplace safety program
Training cleaning staff is about more than just training them to complete different tasks. They also need to know how to keep themselves safe on the job.
Your cleaning company training program should cover workplace safety considerations like:
PPE: Your cleaners should have gloves, eye protection, and other personal protective equipment (PPE) that will protect them from vapors, spills, and injuries. Some cleaning supplies can be harmful to your cleaners, so give them safety equipment and show them how to use it.
First aid: In case of an accident, cleaners need access to first aid supplies—and should know how to use them. Provide first aid training for at least one person per team, and keep your own first aid kits and fire extinguishers handy in case of an emergency.
Risk assessment: Your employees need to be able to identify, reduce, or get rid of any risks at a client's home during a visit. You can create a simple risk assessment or safety checklist to help with that.
Equipment: If your team uses special equipment, they might need to be licensed or certified to operate it. Keep copies of all equipment maintenance and operator's manuals, as well as a logbook for workers to sign and confirm that they've been trained.
READ MORE: Get more clients for your cleaning business
Cleaners might also need training to meet chemical safety standards.
In the U.S., you'll need to meet the Occupational Health and Safety Administration's Hazard Communication Standard (OSHA HazCom). In Canada, it's the Workplace Hazardous Materials Information System (WHMIS).
These systems tell your employees which labels and symbols correspond with which hazards, as well as what precautions to take when they're handling toxic substances.
By including your safety program in your cleaning training program, you can get employees on board with safety long before they find themselves in a potentially risky situation.
7. Offer additional education and courses for cleaners
Every professional cleaner needs to know how to clean properly and safely while avoiding property damage or cross-contamination between homes.
And while your training will show your team how to do their work well, they can dive even deeper into training for cleaning services with organizations like the ISSA Cleaning Management Institute or American House Cleaners Association.
These training courses for cleaning staff will teach the best and safest ways to provide cleaning services. They'll also certify your cleaners, which is an added bonus that'll impress your clients.
READ MORE: Learn how to get cleaning contracts
Don't have the money to get industry-level certification yet? Not to worry. You can find other cleaning resources and course materials to build your own cleaning staff training manual.
8. Evaluate performance regularly
There's one last tool that will help your cleaning training stick—regular evaluation. Check in every so often to make sure your team is still using their training to guide their work.
Use these activities to review and reinforce your cleaning services training:
Check-ins: Schedule weekly one-on-one pop-in sessions where you're available to supervise work, answer questions, and share feedback.
Feedback surveys: Send feedback surveys after every job so the client can tell you how your cleaners are doing. If they mention that something wasn't done right, you can speak to the employee and talk about how to do better next time.
Mystery shoppers: Use a mystery shopper program to evaluate your cleaners. Pick a few clients and give them a discount for grading your team on their performance. Your team should also know the program exists so they have an extra incentive to do well!
Callbacks: No matter how well you've trained an employee, they may still have to return to a client's home to redo something. Look at these callbacks as opportunities to review your training with the whole team and keep that learning fresh.
Use positive reinforcement for all of these evaluation practices. So instead of taking something away when your cleaners mess up, give them something for doing well. You'll get much better results!
READ MORE: How to build a business where employees want to work
Training cleaners will help your business
Training sets a standard for how you like tasks to be completed, whether your cleaners are experienced or not. It also sets expectations, prevents miscommunication, and has benefits like:
Job safety: Your cleaners are working with chemicals every day—some are harmful, and others can even be deadly if they're mixed. They're also carrying equipment and moving furniture, which can cause physical injury. With the right cleaning staff training, your team can avoid risk and do their jobs safely.
Work quality: Employees who know how to do a job correctly will do it right the first time. This prevents callbacks that cost your business money. Well-trained employees will also be more efficient, provide better customer service, and represent your business in a way you can be proud of.
Employee retention: Your cleaners will feel more confident in their roles when they know what they're doing. As a result, they'll be more loyal to you and your business. Added bonus—when you keep your team, you'll spend less time hiring new cleaners!
READ MORE: Where to find employees who will stick around
Now that you know how to train cleaning staff, you can create an effective employee training program that will set up your business, your cleaners, and yourself for success.
And when you do, whether you're just starting your business or you have years of experience under your belt, you'll be taking the first step toward working on your business instead of in it.
Originally published March 2017. Last updated on November 23, 2021.