Sales and Marketing
15 Brilliant Customer Referral Program Ideas (With Examples)
March 31, 2022
11 min. read
A great customer referral program idea can turn your word-of-mouth marketing from an afterthought into your #1 source of new customers.
We've put together 15 practical customer referral program ideas for home service businesses, and tips on how to promote your program.
Get customer referral program ideas:
Why you need great customer referral program ideas
A strong referral program idea that's aligned with your business and your clients will help you attract qualified leads. The better the idea, the easier it will be to communicate and the more likely it will work.
And when you have lots of ideas, you can experiment and find out what works best through trial and error.
READ MORE: How to build an effective customer referral program
Top 10 customer referral program ideas for service businesses
You need to communicate your referral marketing program effectively and consistently if you want existing customers to bring you new business.
Here are ten referral program ideas you can use to get the word out and encourage your customer base to recommend your business.
1. Ask for referrals in your customer thank-you emails
Tell your clients to refer a friend or family member in the thank-you email you send right after the job is done. Adding your referral program information in your thank you notes for customers builds the program into your existing communication.
At the end of your email, write one or two quick sentences explaining how an existing customer can send a referral and what reward they can get. Include a link to your referral program landing page, if you have one.
Why it works: When you genuinely thank a customer with a personal message, it strengthens your relationship and reminds them why they chose your business in the first place. With that at the top of your customer's mind, they'll be more likely to recommend you to people they know.
READ MORE: How to ask for referrals [scripts and examples]
2. Leave referral cards at the jobsite
After every job, leave a card at the job site that promotes your referral marketing program. When you hand a customer the card, tell them about the referral reward and how they can get it.
Create a card that's similar to a business card—that includes your company name and branding—but with information about how your referral marketing program works.
Summit Chem-Dry uses this referral card to spread the word about their cleaning referral program: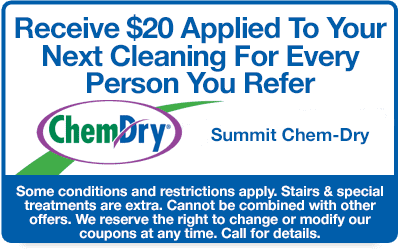 If referred customers need to use a referral code or submit their information on your website, include the code or your website link on the card.
Be sure to follow up with your current customer over the phone to see if they've read the card and are interested in recommending your business.
Why it works: Referral cards are a great companion for word-of-mouth marketing. Giving out something customers can keep in their pocket helps them remember your program. And once you create the card and print enough copies, passing them out is easy.
READ MORE: How to build a brand for your home service business
3. Run a referral contest
Referral contests create excitement around recommending your business by offering a large prize for a select few customers.
Tell your customers that if they refer someone they know, they'll be submitted for a random draw to receive a grand prize. Or, you can offer them the prize if their referral becomes a paying customer.
Jobber ran a referral contest that gave new customers the software free for two months. The incentive became two-sided if the referral became a paying customer—so both customers would get two free months of Jobber.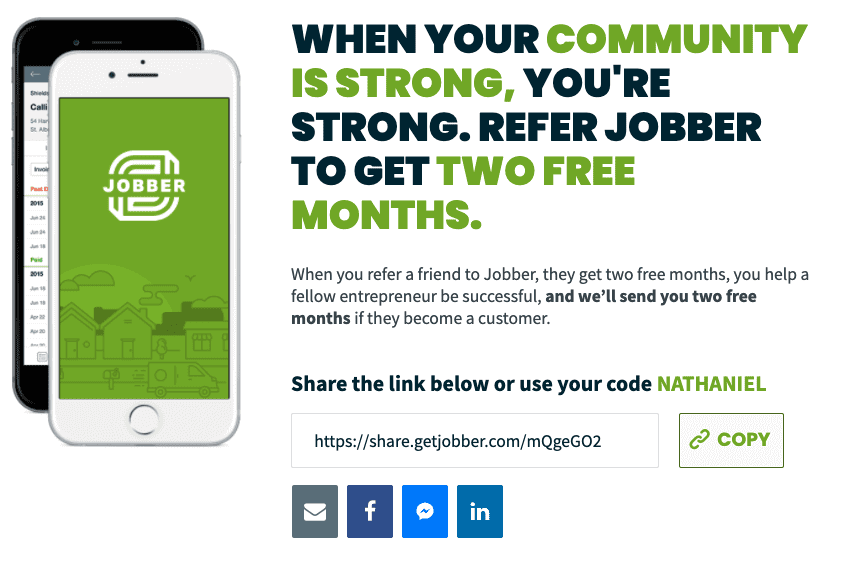 Choose a prize with lots of value—like a free house cleaning, $300 towards a landscaping job, or a $500 Visa gift card—as long as it's within your marketing budget and is worth the return on investment. Then, set a deadline so you can drive people to act faster.
Why it works: When you give customers the possibility of winning something big, they'll be more likely to spread the word about your business. And when something is scarce, it's usually more desirable.
4. Use your invoicing software to get referrals
Any software that lets clients submit referrals online will save you time and effort.
With referrals in Jobber, it's easy for your clients to refer their friends over email, text, or social media, as soon as the job is complete.
When you send an invoice through Jobber's client hub, your customer will see a button they can click to refer a friend. Then, they can easily share a referral link to their friends and help you win new business.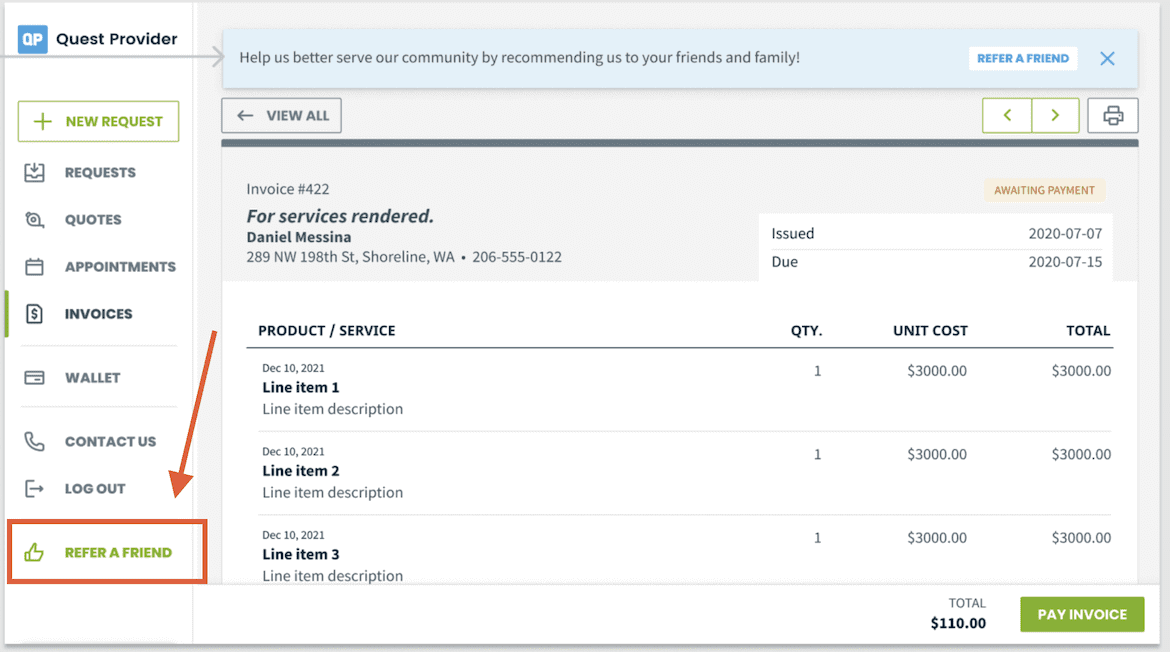 Why it works: Having your referral marketing program built into your invoicing software creates an always-on referral process. Jobber automatically prompts clients to share booking links with their friends and family, so you never miss an opportunity to generate quality leads.
5. Build relationships with other businesses
Businesses you work with already, either as subcontractors, suppliers, or providers of related services, can be a great source for new customers. Reward them for getting you new leads by offering gifts or sending your customers their way.
If you're a plumber, consider partnering with an electrical contractor. If you need to get painting contracts, build relationships with construction companies and real estate agents. When you run out of businesses to contact, ask your customers to connect you with the other home service companies they've hired.
Why it works: When you send a referred customer to another business, and they send some to you, you can become each other's exclusive partners in your respective industries. It's a mutually beneficial partnership where you help each other grow.
6. Collect online reviews
Positive online reviews can get you indirect referrals—they recommend your business to anyone who finds you online.
You should always be asking your customers to leave reviews after you finish a job. If you want your referral marketing to be more successful, make collecting reviews a more consistent process by creating a script that you can use every time you ask.
After every job, send a text message or email to your customer asking them to give you a star rating Google (here's how to create that link). Let them know that giving a star rating takes only a few seconds and has a huge impact on your business's success.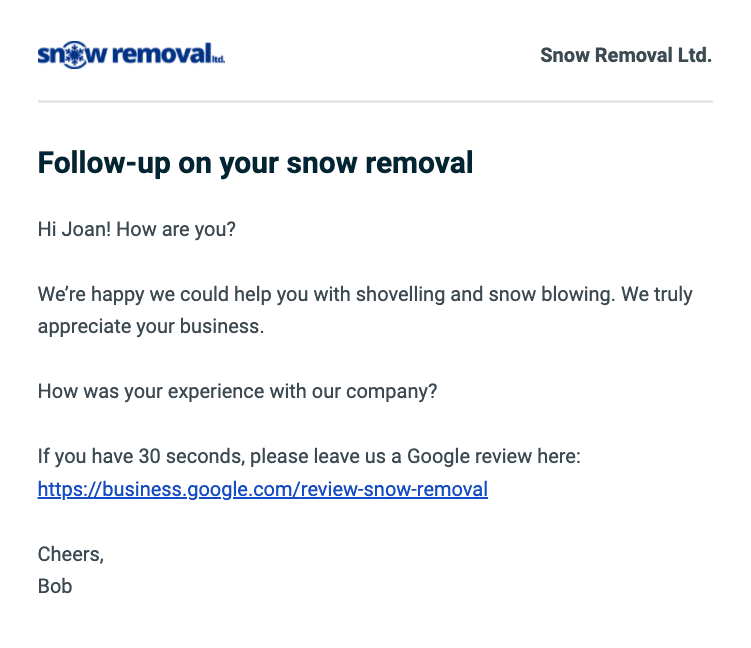 Try not to push too hard for a review—that can seem like a daunting and time-consuming task. Customers who love you will be happy to leave a review once they're on the page.
Why it works: BrightLocal's 2022 survey found that 77% of people regularly read online reviews when choosing a business. When customers look online for service providers in their area, many of them will choose based on who has the best online reviews.
READ MORE: How to ask for a review
7. Run seasonal referral campaigns
A seasonal referral campaign is a way to create more excitement around your referral rewards by tying it into a new season or a holiday.
These campaigns are great for seasonal businesses like lawn and tree care. For example, if you're a lawn care business that offers snow removal in the winter—but you struggle to get clients for snow removal—you could run a referral campaign that offers 50% off your plowing service for every successful referral.
You could also choose holiday-themed referral incentives, like a Valentine's day dinner for two or a Best Buy gift card to help your customers shop for the holidays.
Mint Mobile runs a referral marketing program on their business anniversary to celebrate their "birthday." This is a referral program idea you can use every year, and experiment with different incentives each time.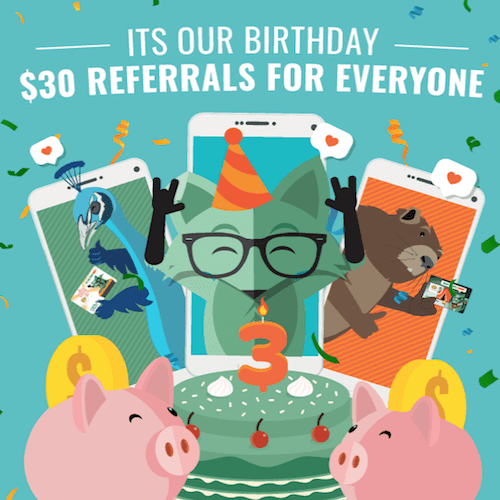 Why it works: Tying your referral program with a new season or a holiday is a great way to make the program look exclusive and exciting. Because seasonal and holiday offers are only available for a limited time, you can encourage customers to act faster by emphasizing the deadline.
8. Create a loyalty points program
A loyalty program turns your referral program into a game that encourages multiple referrals. Existing customers get points for sending you referrals, and those points turn into actual rewards—like a free service or a bundle of services.
For example, for each successful referral, you could give a customer 10 loyalty points. Here's an example of that points system for a lawn care business:
30 points: a free mow
50 points: a mow plus hedge trimming and mulching
80 points: all of the above plus weed control treatment
Why it works: This method incentivizes customers to refer more than one friend. The more they refer, the more points they get—and the more business you get.
9. Add social sharing links to your emails
Social sharing links let customers share their experience with your company on social media.
This kind of indirect referral marketing can reach hundreds of people in your customers' social networks.
Use a free social sharing link generator (like this one from Inntopia)—and insert a link to your website or wherever someone can find details on your referral marketing program.
Once you generate sharing links for each social media platform, you can add these links to your emails. With just one click, these links will let your customers share your company on their social media profiles.
Why it works: Social sharing links allow your existing customers to recommend you to a wide audience, without asking your customers to put in too much work. Plus, you only need to create these links once, and you can reuse them as often as you need to.

When you use Mailchimp for your email marketing, you can easily add social sharing buttons to your emails. Jobber's Mailchimp integration allows you to automatically sync your entire list of clients in Jobber to your Mailchimp account so you can email every customer about your referral program.
10. Promote your referral program in your email signature
Marketing your referral program in your email signature reminds customers every time they get an email from you. If you have one, include a link to the website page you're using to collect referral submissions.
Write a simple tagline that tells customers what they can get if they refer a friend. When you put the message in your email signature, put it in bold or change the font color so it sticks out.
This example from EverQuote uses two short, simple sentences to promote their referral incentive.
Why it works: It's a way to build your referral program into your everyday communication. Once you set it up, your entire customer base will always see that sending referrals is an option.
5 incentive ideas for your customer referral program
If you want your customers to refer their friends and family, you need to offer a reward that's worth their time and effort. Remember: you're asking them to do you a favor.
Here are the best incentive ideas for service businesses:
Service discounts. Discounts on your services are a practical, useful incentive to get your customers looking for referrals. You could offer a discount on a service they've already received, their next service, or an additional service they wouldn't normally pay for.
Product or service upgrades. Offer your customers a premium service or VIP treatment if they bring in a referral. You could offer a one-time free hedge trimming service, or a deep clean for the price of a regular clean. This might encourage customers to book your higher-ticket services again!
Gift cards and cash rewards. Giving gift certificates or prepaid gift cards is a good way to incentivize your one-time customers who won't need your services again. When you run holiday-themed referral marketing campaigns, promote your gift in a way that fits the occasion—like a $500 Christmas gift card.
Mystery gifts. You can create some excitement around your referral reward by keeping it a secret. Some companies offer a mystery box with assorted gifts, or one big prize like a $500 Amazon gift card.
Charitable donations. Partner with a local charity and donate money for every successful referral. For example, if a referral brings in $150 worth of business, you can donate anywhere from 5–20% of that first fee. You'll give back to the community, attract customers who care about social causes, and get some free publicity.
Tips for promoting your referral program
You need to promote your customer referral program often if you want it to succeed. Follow these best practices to make the program stand out to your customers:
Write an eye-catching headline. This sentence should catch your customers' attention and be enticed to participate in the program. Put the referral reward front and center so your people immediately know what's in it for them (e.g., "Get 50% off your next cleaning when you refer a friend").
Put it in all your marketing. Promote your referral program on your flyers, brochures, and in your door hanger advertising and postcard marketing. When you spread the word beyond your current customers, you might incentivize leads to become customers with the perks your referral program offers.
Ask customers at the right time. Only ask for a referral when you're confident that your customer has had a positive experience with your small business. A great time to ask is when you send your follow up email after providing service.
Implement your customer referral program ideas
There's no shortage of referral program ideas—you can offer your customers great incentives in lots of ways. The only way to know which idea is best is by putting them to action.
Once you've picked an idea and decided how to communicate it, it's time to put your back into it.