Sales and Marketing
Everything You Need to Know About HomeAdvisor
July 25, 2020
8 min. read
Starting a business is hard but finding high-quality leads can be even harder. A ton of different lead generation services have swooped in to try and fill this gap. They promise to match contractors and service providers with homeowners in need.
But are they really all they're cracked up to be?
Let's take a deep dive into one of the most popular lead generation services for contractors—HomeAdvisor.
Read on to learn whether it's right for you, and learn a bit more about some alternatives to help you generate leads and win more business than this website can.
What is HomeAdvisor?
HomeAdvisor is a service that matches homeowners who need home renovation, repair, or maintenance projects with contractors who can do the work.
Contractors pay around $300-$350 for a yearly membership, plus an additional $15-$100 per lead.
The service is free for homeowners to use.
How does HomeAdvisor work?
When a homeowner with a potential project lands on the HomeAdvisor site, they fill out a short questionnaire that includes project details such as service type, timeline, area, and more.
Once they're done, the information is given to a few relevant contractors who can then reach out to the homeowner with a quote.
As a contractor, you must create a profile that includes information like your services, location, and availability. You also need to have a state-level trade license and provide criminal and business background checks, as well as a credit check.
Homeowners can view the profiles of contractors that matched their projects. So, it's essential that your profile is accurate and up to date while using HomeAdvisor.
Once a homeowner's information is sent to a contractor, they qualify as a "lead."
The contractor must pay for the lead regardless of whether the homeowner chooses to work with them or not.
Pros and cons
While many homeowners seem to love HomeAdvisor, reviews from contractors are a mixed bag.
Pros:
You can get some high-quality leads that align with your service offerings
A lot of homeowners use it to find professionals
It can boost your website's Google (SEO) rankings
Cons:
You can end up paying a lot of money for low-quality leads that don't pan out
The annual membership plus cost per lead can be pricey
Their customer service has poor reviews, specifically related to refunds and cancellations
It can be extremely competitive depending on your area and industry
HomeAdvisor competitors
There are a lot of companies like HomeAdvisor out there. Some of HomeAdvisor's top competitors include:
Angie's List
Although Angie's List is considered a competitor, it's also owned by the same company as HomeAdvisor.
One thing to note is that they share leads. This means that if you're using both services, you could end up paying twice for the same lead.
Angie's List is cheaper than HomeAdvisor. But, it's more popular for one-off projects as opposed to larger home renovations.
Find a complete comparison of HomeAdvisor and Angie's List here.
Porch
Porch is another service that helps set up homeowners with contractors. However, they're starting to focus more on real estate-based services. For example, moving; buy and sell home preparation; repairs; or home improvements.
Since Porch focuses on real estate services, home service business owners who specialize in painting, windows and doors, landscaping, pressure washing, window cleaning, flooring, remodeling, roofing, and other areas that homebuyers or sellers need may see the most benefit from using it.
Thumbtack
Thumbtack doesn't focus on a single industry or niche. Instead, it serves everyone from dog walkers and make-up artists to plumbers and painters.
Read a complete review of Thumbtack here.
TaskRabbit
TaskRabbit is a very different lead generation platform because it appeals to a different service offering niche.
It's not exactly a direct competitor to HomeAdvisor because it focuses on task-based services, like putting together a piece of IKEA furniture, hanging curtains, or mounting a TV.
However, it can be useful for home service businesses looking to take on small projects, like planting flowers, cleaning a single room, touching up paint, or fixing a small plumbing issue.
Is HomeAdvisor worth it?
While HomeAdvisor does seem to work for some contractors, it doesn't work for everyone.
Many reviews point out the high cost of the service compared to low-quality leads. Even though it can seem like a low-maintenance option on the surface, it's not what anyone would call a fix-it-and-forget-it solution for generating leads.
Although HomeAdvisor does provide you with contact information and project details for prospective clients, you still need to do most of the heavy lifting yourself. Things like providing an accurate quote, following up, discussing add-ons, and more are still up to you.
Whether it's "worth it" or not really depends on your goals, budget, and marketing strategy.
Top HomeAdvisor lead generation alternatives
Some contractors choose to go with a service like HomeAdvisor simply because they aren't sure how to go about generating leads for themselves.
But, if you're willing to put in some time and effort, there are a variety of different ways for you to bring in new clients.
1. Use professional-looking quotes
It's easy to overlook the importance of professional looking quotes as one of the most important parts of lead gen work.
Just because you're in a rush to the next job, or your prospect hasn't handed over a deposit yet, doesn't mean you're not in the midst of getting a new client.
A lot of contractors make the mistake of not taking their quotes and estimates seriously. However, the clearer, more accurate, and appealing your quote is, the more legitimate and trustworthy you look to your prospects.
Your quote helps you get your foot in the door and show off your service offerings to new clients. So, when it comes to giving quotes to leads, do everything you can to make a great first impression.
Make sure you keep this in mind when writing up your next quote using pen and paper. Or, consider going a step further by using quote and estimate software.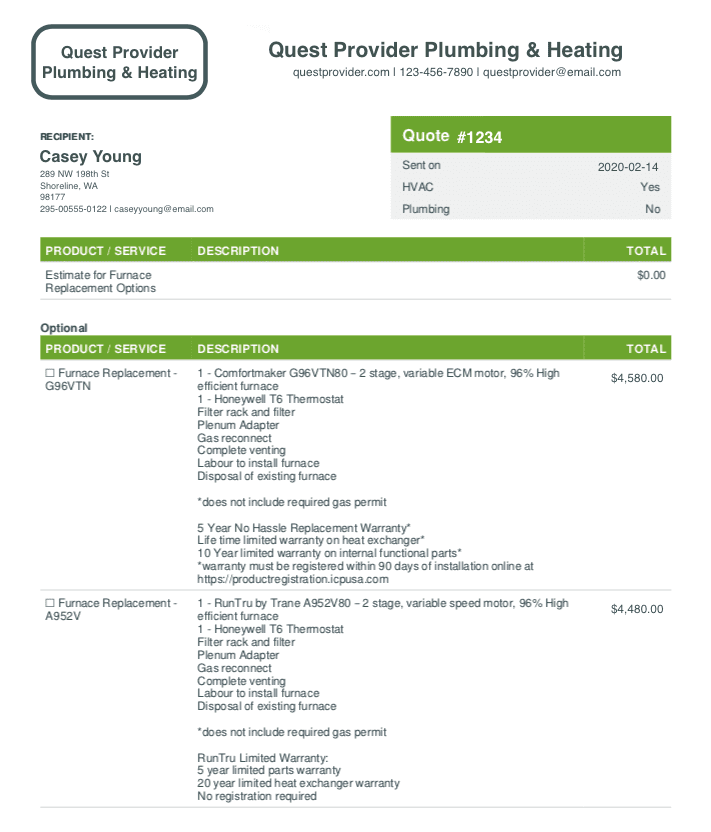 With the right software you can really impress potential clients. For example, Jobber's quoting software can help you:
Create clear, easy to understand, professional digital quotes
Show images of your products and services in your quotes
Showcase pricing and service packages to upsell more products and services
Allow your clients to approve quotes and pay for deposits with the click of a button
Increase your odds of winning bids over competitors by looking more organized and professional
Improve your pricing transparency for clients
Follow-up with clients automatically when you haven't heard back from them
All of these things can help turn leads into clients while helping you stay organized. Plus, you won't need to paying for additional marketing services that don't guarantee you business.
2. Referrals
Referrals are an excellent way to generate leads. They come from trusted sources (previous or current customers), and they can often become repeat clients. This makes referral marketing for lead gen one of the most cost-effective sources for new customers.
Referrals can help you to build a glowing reputation within a tight knit community of customers, which can go a long way because it's built on relationships and trust.
To really leverage what referrals can do for you, start building a referral program.
Established referral programs can be left on autopilot, which gives you time to focus on other things.
3. Google ads
Another way to generate leads is through Google Pay-Per-Click (PPC) or Local Service Ads (LSA).
They show up right in search results and target local customers, and you can set a minimum and maximum monthly spend budget to stay within your marketing limits.
The best thing about Google ads is that you have control. You can experiment with different wording, promote different services, and target different customers based on the season, your marketing strategy, or your budget.
To learn everything there is to know about Google LSA, take a look at the comprehensive Google LSA Q&A we created.
Once you've set up your ads, don't forget to direct leads toward the page on your website that has your online booking form.
4. Accessible online booking
If you don't offer online booking to your clients, you're probably missing out on quite a bit of work.
In a world where fast food, groceries, clothes, and more can be ordered with the click of a button, customers expect the same convenience for home services.
Jobber's Online Booking allows customers to book an appointment through either your website or social media pages. This means that your customers can get in touch wherever they follow you.
Plus, you'll get a notification any time someone submits a booking request, so you don't have to wait around refreshing your email, or worrying that you missed out on a prospect.
Offering potential clients the option of being able to move straight to booking instead of having to set up a call or send out an initial email could be the time-saver that sets you above your competitors.
Customizing your lead generation
In the end, how you go about getting leads and turning them into clients is up to you. But the most successful contractors and small business owners don't just stick to one path. Instead, they customize their lead generation strategy to fit their business, budget, and goals.
If you want to try a service like HomeAdvisor, make sure not to rely on it as your only source for leads.
There are plenty of options that you can go with to generate leads outside of relying on lead generation websites like HomeAdvisor.
Be sure to experiment with other options to build a strategy that works for you and your clients.