Pricing and Payments
Back to Basics: Mastering the Art of the Invoice Process
In basic terms, an invoice is a bill sent to your customers after you complete a job or visit. The invoice establishes what services you or your company provided, how much is due and when, and how your customer can pay.
Legally speaking, an invoice creates an account receivable. This is a claim for payment for services rendered or goods provided that is legally enforceable.
But the invoice process as a whole goes beyond these definitions. Invoicing is a way to close out a job in a professional manner that can pave the way for future business.
Back to Basics: Mastering the Art of the Invoice Process
Why send invoices?
Outside of an invoice's legal implications, sending invoices in an organized and timely fashion increases your chances of being paid promptly for a job well done and ensures your business maintains a healthy cash flow. It's as basic as your customer having a paper record of how much they owe you.
Here are other reasons why getting into the habit of sending invoices is a no-brainer for service providers:
It's a best practice that shows clients that you and your business are professional
It's a concrete record of work done: something for your customers to refer to when they're writing you a cheque, or completing an online payment, and a way for you to create an accounting record
It's another way to communicate with your client or customer, providing contact details, invoice payment terms (and due date) and accepted payment methods
When is the best time to send an invoice?
Knowing when to issue an invoice is half the battle.
Invoices are typically sent upon the successful completion of a job (learn more about invoicing before or after a job). In this case you know the client is happy, your work is finished, or any remaining work has been negotiated under a new agreement.
The amount of the invoice will be for the agreed-upon amount you indicated in your quote, your total hours billed, or the remainder of an agreed-upon amount if your client has paid a deposit already.
You can send an invoice by email, text message, mail, or you can deliver in person at the end of a job. Take care to find out what method your customer prefers and send your invoice in that manner.
Pro Tip: With Jobber's invoicing feature you can create multiple invoices in a few clicks, email them to your clients or create print labels if snail mail is your thing.
However you deliver your invoices, try not to let too much time lapse between finishing a job and invoicing for it. Tardiness can lead to confusion and delays in getting paid fast.
What should an invoice include?
These are the essential components of any invoice:
The word 'Invoice' near the top of your invoice
Date the invoice was issued and the date payment is due. Make the due date as clear as possible, avoiding confusing terms like 'Net 30'.
An invoice number for easy referral for your client and for your own records
Individual line items for work completed so the customer can see exactly what you provided
Date of service
Total amount owed
Payment instructions included either on invoice, or in the email when you send the invoice. Specify who to make the check out to, how to process an online payment or where to call for a credit card payment.
Say thank you. A professional and warm 'thank you' is always appreciated.
Pro Tip: With Jobber's online credit card processing feature, your clients can pay for their invoice online immediately.
What does an invoice look like?
Now that you know what's included in an invoice, you might be wondering: what does an invoice look like in practice? Here's what a professional business invoice looks like in Jobber: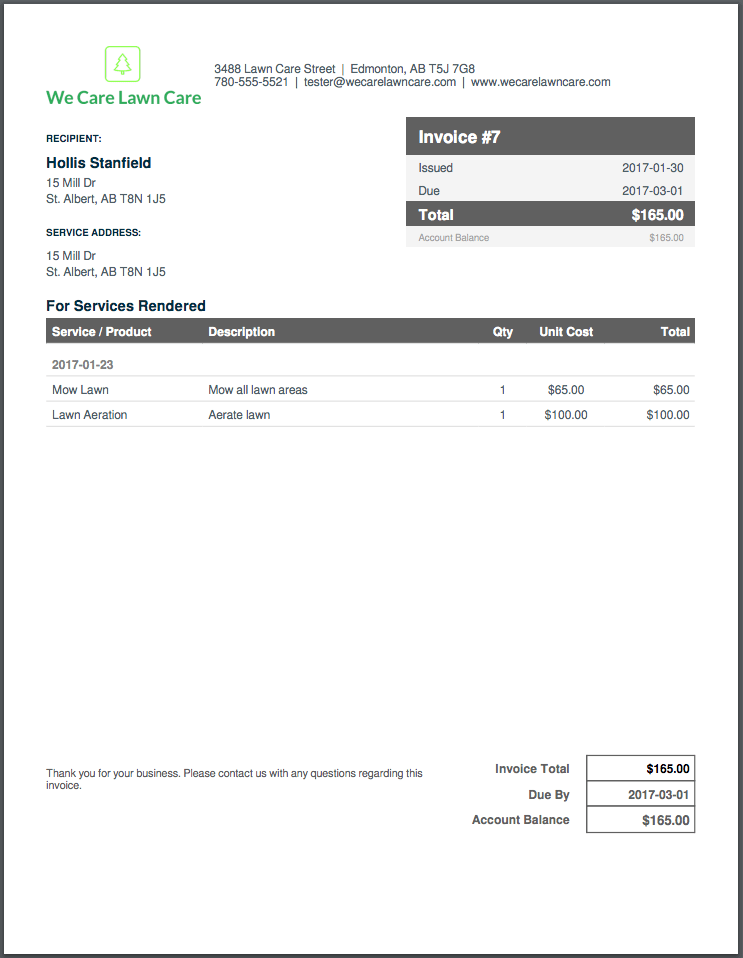 Make invoicing less of a headache
Now that you have a solid understanding of the invoicing process, what a professional invoice should include, and what an invoice looks like, here are a few tips on how to use technology to make your invoicing process even more streamlined.
Field service software like Jobber can streamline your invoicing process and turn hours of invoicing into a 10-minute task with our batch invoicing feature.
Jobber also allows you to integrate your invoicing process with online payment options like online payments with Jobber or Square, so your client can pay the moment they open up your invoice in their email or on their phone via text message.
Payments allow you to automatically charge a customer for a job well done. This is especially handy when you're doing recurring work, such as a weekly house clean or lawn mow.
Invoice through Jobber and sync with accounting software like Quickbooks Online. This means less time spent manually entering invoice outcomes after you've already spent time manually creating and sending invoices.
Editor's Note: This post was originally published in January 2017 and was updated in May 2021 for accuracy and to meet industry standards.