Pricing and Payments
Chargebacks for Field and Home Services Merchants: Comprehensive Guide
September 10, 2019
9 min. read
It happened. You're going about your day: checking client history, dispatching some crews, and checking invoice payment status when you notice that an invoice payment is "in dispute."
Yep. That's a credit card dispute… but what happened, what does that mean, and will you get paid?
Unless you challenge it, you won't get paid for your services. If you're not sure why, what to do next, how to challenge it, and how to protect yourself from disputes, then read on.
We're here to help! We're going to walk you through everything you need to know about chargebacks (also known as credit card disputes), what they mean for small business owners like yourself, how to deal with them, and how to move forward after one happens to you.
What is a chargeback or credit card dispute?
A credit card dispute (also known as a chargeback) happens when a consumer contacts their issuing bank to redact or challenge a charge. This might have happened because they are unhappy with a charge, they feel that they haven't been charged fairly, or they've discovered an invalid charge on their credit card statement.
You've probably been in this position yourself.
Ever read over your bank statement at the end of the month and you're confused about a "mystery" charge, so you call your bank to have it removed? That's a chargeback.
Or, have you ever bought something only to find out it's damaged when you open it at home? Instead of calling the store, you call your credit card company and have the charges waived.
That's also a chargeback.
Your clients can do the same thing to you if they don't recognize your business on their bank statement, are dissatisfied with your services, or feel that they weren't charged properly.
Your client's issuing bank files the dispute with you, not your payment provider (that's right! If Jobber is your payment provider, Jobber is not freezing your hard earned cash)!
This results in the sale being overturned or cancelled. As the merchant, you'll find an "in dispute" notice in your billing history. You might be charged a dispute fee. If the merchant loses the dispute, the payment is cancelled, and the dispute fees are charged.
Sometimes, the consumer's dispute request is justified––sometimes it's not. That depends on circumstance and evidence.
You can avoid chargebacks and we'll talk about in the last section of the article.
When does a credit card dispute happen?
There are numerous reasons for a credit card disputes, namely because of the Fair Credit Billing Act.
If your client is unhappy with a charge on their credit card statement, or skeptical about the merchant's (your) charge, they can file a dispute.
For example, they might feel that the invoiced amount didn't match the agreed upon price; they might be dissatisfied with the quality of service; or they might feel that they are paying for services that they didn't receive.
The dispute happens when the client calls their bank to complain. The bank creates a formal dispute, which reverses the payment amount from the merchant's business bank account. This results in a dispute fee.
The payment amount and the fee is frozen by your client's bank, which means your frozen payment is out of your online payment provider's control, until the dispute has been resolved.
What can merchants expect from payment providers during a chargeback?
If your client has disputed a charge on their credit card, then you will be notified through your payments provider.
If you're using Jobber, you will see this in your client's billing history box. The charge amount will be crossed out, and the payment for the specific invoice will be labelled in red as "in dispute."
The amount of that payment is taken out of their current balance.
A good payment software will allow you to click on the payment to see more information about the dispute.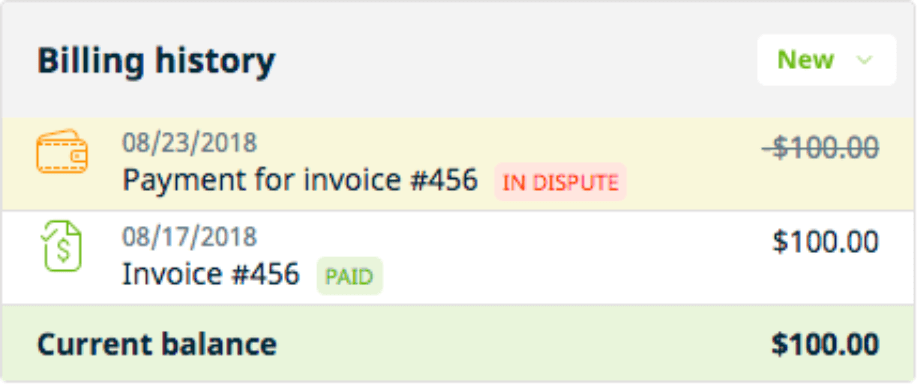 In addition, you should receive an email from your payment provider notifying you about a credit card dispute. For example, Jobber clients receive an email from a product specialist letting them know that their customer has disputed a specific charge with their credit card company.
At Jobber, we support you during this process. However, this could vary depending on your online payment provider! If you're a Jobber client, please email us at [email protected]
What small businesses and merchants can do about chargebacks
If you get notified about a credit card dispute, you have two courses of action as a business owner:
You can accept the dispute and give the payment back to your client
You can respond and challenge the dispute and try to get paid, and reverse the dispute fees
Regardless of what route you go, it's always best to reach out to your client first.
Disputes usually happen due to a misunderstanding:
Your client doesn't recognize the charge or your business name on their credit card statement
Your client forgot that they had service done
Someone else is reviewing their credit card history to pay bills
If you contact your client about the dispute and find out that it's a misunderstanding, then it's likely that they will reverse or cancel the dispute with their bank.
If you contact your client and find out that it wasn't a misunderstanding, there is still an opportunity to rectify the dispute by offering them alternatives, such as compensation, discounts, or a simple apology.
Accepting a dispute
You can accept a dispute if you agree with your client that the dispute was valid. In this case, the payment will be returned to them. The dispute will then be shown as lost in your online payment billing history, and the disputed amount and fees will not be returned to you.
Before moving forward with accepting or responding to a dispute, always verify that the dispute is accurate.
Double check your CRM for any notes you or your team might have made on the client's account, or during a site visit. Review the client's history, the quote you wrote for them, and the invoice you created for the job so you're aware of all the details before moving forward.
Accepting a dispute does not negatively affect your business, it just costs you a bit of money and frustration.
Challenging a dispute
If your client isn't willing to cancel the dispute or accept an apology, and you're certain that the dispute is unfair, then you are entitled to challenge the dispute. As a merchant, you can win a chargeback dispute.
If you choose to go this route, you must collect evidence to show their bank and support your case. Without evidence, then it's best to accept the dispute.
Make sure that you can provide relevant and brief explanation along with any pieces of evidence you provide.
Evidence can include:
Records of communication between you and your client (such as emails or text messages) that show that you provided the service or products.
Any documents the client signed pertaining to the service or product. Ensure they are PDF format.
A screenshot of your terms of service and/or refund policy, as would have been seen by the client.
Any evidence from software (such as Jobber) to show you provided the service. For example, GPS or timesheet entries showing your employees performed the service at the time and/or place of the service address.
Images that are a good enough size and quality to be printed and still be readable. You may crop images to the area of interest and use arrows or circle any key areas.
Jobber customers who experience credit card disputes can use our expansion team ([email protected]) to help collect evidence from inside your Jobber account.
How long does a merchant have to respond to a chargeback?
The timeline for a chargeback dispute is set by your client's financial institution. Disputes typically take 7-21 days from the date they are reported, but it can take over two months for a bank to review evidence submitted to challenge a dispute. Make sure you submit all your evidence as soon as possible by the due date assigned to your case through your client's financial institution
How to protect yourself from a chargeback: 7 pro tips
A chargeback might be out of your control in some cases, but there is a lot you can do to protect yourself against them.
Here are the seven best ways to protect yourself from a chargeback:
1. Start by working with a reliable online payment and merchant vendor, like Jobber
Jobber offers a lot of protection tips and features that are built into the software. For example, client quote signatures, easy record keeping within the CRM, and client communication record keeping help you stay organized.
2. Collect as much information as possible from your clients
Having your customer's name, email address, CVC number, full billing address, postal code, and shipping address can help you ensure a bank that the charge you made was legitimate based on client information accuracy and records.
3. Practice clear and frequent client communication
Disputes sometimes happen because of a miscommunication. However, if you're clear about the status of your clients' jobs, how much you will be charging, and when they will be charged, the chances of them disputing a charge based on misunderstanding will drop dramatically.
4. Keep written documentation or outside communication documentation of communication with clients
If you text your clients or hand-wrote them a quote, change order, or new invoice, then make sure you keep copies of all this information. We highly recommend that you keep copies of these documents as PDFs in your Jobber CRM so you can easily search and locate this information in the event of a dispute. You can also use Jobber to automate and digitize most of these tasks for you.
5. Include a clear description of your refund and cancellation policies in your terms of service, and make sure you have a refund and cancellation policy
You should also require your customers to agree to your terms of service, and sign off on them. Collecting their signature and keeping it on file in your CRM saves you loads of time and helps you stay organized. This will increase the likelihood that banks respect your policies in the event of a dispute.
READ MORE: How to create a company cancellation policy [with examples]
6. Some companies offer refunds and cancellation policies as customer service bonuses
Refunds and cancellation policies can double as safety nets for chargeback scenarios––especially for those that are founded on customer dissatisfaction. If you're clear about what customers are entitled to if they are unhappy with your service and have them sign off on this clause, you are able to hold more power and control in a chargeback scenario.
7. Make sure you're using GPS tracking to track where your employees are
GPS tracking can be used as proof that your employees were at their address when they said they were in case your client disputes this.