Get paid in-person
Take payments on the spot by swiping credit and debit cards in person. Use Jobber's Card Reader to look professional and stay organized while getting paid in the field. (US only)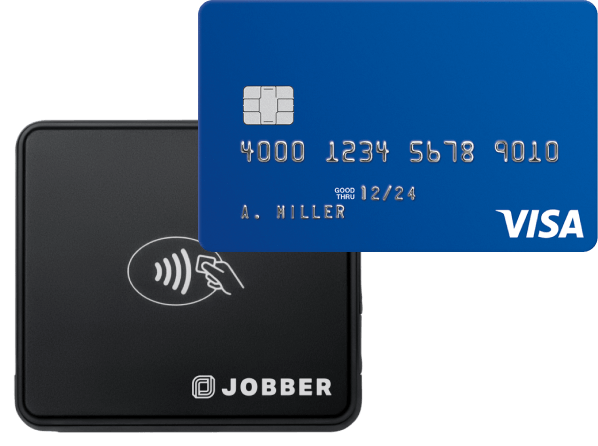 Get paid online
Send professional-looking invoices via text or email to your clients and let them pay online through your client hub.
Invoices get paid in one day on average, which is 10x faster than with checks.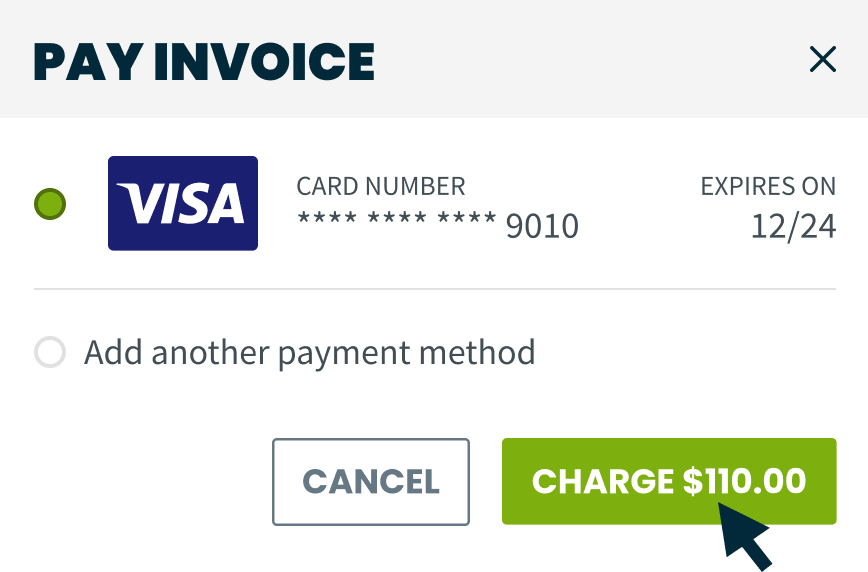 Get paid automatically
Make recurring revenue for recurring work by automatically generating an invoice when a job is complete, and charging your clients' credit card saved on file.
Get paid fast without lifting a finger.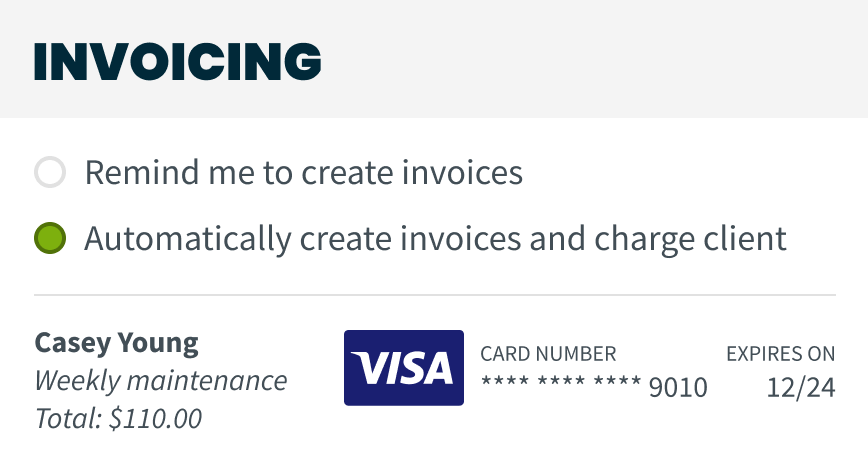 Get paid out instantly
You need flexible and fast cash flow to pay your bills, get gas, buy materials, and more. Sometimes waiting the standard 2 business days isn't going to work with your deadlines.
Control your cash flow with Instant Payouts. Get paid out in seconds for an additional 1% fee, 24/7—even on weekends and holidays.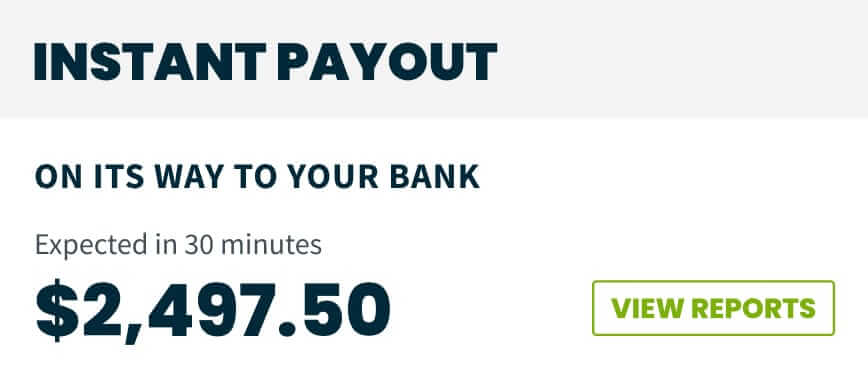 Payments Made Simple
Get simple card processing for your small business. Jobber's credit card processing comes with your account. All you need to do is get started. No additional monthly or set up fees—you only pay when you get paid.
Grow
2.5% for swiping with Jobber's Card Reader
2.7% for invoicing online
+30¢ per transaction
Connect
2.7% for swiping with Jobber's Card Reader
2.9% for invoicing online
+30¢ per transaction
Core
2.9% for swiping with Jobber's Card Reader
3.1% for invoicing online
+30¢ per transaction
Frequently Asked Questions
The Jobber Card Reader costs $59.99 USD plus tax and shipping. It's available on all plans, and you can order the card reader through your Jobber account. Currently, the card reader is only available in the United States.

Absolutely! The card reader connects to your phone using bluetooth so you can view and monitor payment processing. You must be connected to a cellular network to process a payment.

Yes! The card reader accepts credit and debit cards with chip, tap, and swipe, as well as phone payments with Apple Pay and Google Pay.


Jobber's credit card processing offers low fees and simple pricing, and it's a great fit for small businesses and field service businesses. Competing solutions can be much more expensive because of extra hidden costs. Jobber's card processing has transparent pricing with no hidden fees, no additional monthly cost, and no setup fees.

Speed up your cash flow window from the standard 2 business days to a matter of seconds. Pay an additional 1% per instant payout to avoid processing wait times, and get cash in hand immediately.

All Jobber users in North America have access to Instant Payouts. Some conditions apply including having processed over $10,000 using Jobber Payments and having processed over 10 payments.
14-DAYS FREE. NO CREDIT CARD REQUIRED.
Placeholder for feature experiment