9 HVAC Dispatching Tips to Improve Routing and Communication
February 3, 2023
7 min. read
Many HVAC dispatchers work with inefficient processes and a lack of tools to help them plan, schedule, and route service requests effectively.
Whether you're a dispatcher or service manager, reduce stress for yourself and your field technicians by building better communication, training, and technology into your HVAC dispatching process.
In this post, you'll find practical tips for effective dispatching—and how to win your time back with convenient HVAC dispatching tools.
What is HVAC dispatching?
HVAC dispatching is the process of sending heating, cooling, and ventilation technicians and installers to service your customers' HVAC systems.
Dispatching often involves scheduling the work you receive from customers, assigning jobs to field technicians, and routing them to the jobs in their schedule.
What does an HVAC dispatcher do?
An HVAC dispatcher assigns HVAC repair, maintenance, and installation jobs to HVAC field service technicians at their company.
Dispatchers communicate with HVAC crews over radio, phone, or computer to direct them to customer properties and ensure their timely arrival.
HVAC dispatchers are the call center for customers and HVAC techs alike—they ensure customers that help is on the way, and manage technician schedules so that all the work gets done.
Do you need an HVAC dispatcher?
Not every business needs a dedicated HVAC service dispatcher, but someone at your company should handle dispatching
While medium- to large-sized HVAC companies typically have a team of dispatchers, smaller businesses might only have an office manager or the business owner dispatching technicians.
You can still dispatch effectively while managing other front-office responsibilities. HVAC dispatch software like Jobber saves you from manually mapping out all service calls, and can even design efficient driving routes for your crews.
9 best HVAC dispatching tips:
1. Improve communication between technicians and the office
Create a consistent, repeatable process for communicating with HVAC technicians that you dispatch to service calls. A communication plan ensures dispatchers and technicians stay on the same page without getting overloaded with phone calls and texts.
Whether you use a radio, phone, or HVAC service software, here's how you can improve your dispatch communication:
Set a communication protocol. This protocol should define when, how, and how often technicians and dispatchers should communicate. For example, do techs need to check in with their dispatcher once the job is done?
Stay informed about job delays. Technicians should notify you when jobs go over their allotted time so you can manage customer complaints about delays. Have your technicians notify you over text—or keep tabs on the tech's location with GPS tracking (more on that later).
Send automatic schedule updates to your crew. Automating these updates will save you time and prepare your field techs for on-the-fly changes.
In Jobber, when you make a schedule change to an employee's current workday, they'll get a notification on their phone with all the details.

2. Schedule ride-alongs with your HVAC technicians
A few ride-alongs with HVAC technicians can show dispatchers what field workers go through in a day. Understanding a technician's typical workload, travel time, and customer interactions will help you schedule visits without overloading your crew to the point of burning out.
If you or your office manager is in charge of dispatching, go on two or three ride-alongs to get a sense of the time your technicians spend on the job.
If you run a larger team with dispatchers, make ride-alongs with technicians part of your HVAC dispatch training.
READ MORE: HVAC technician job description: free template and guide
3. Create a system to prioritize jobs
Make it easy to figure out which jobs should be prioritized in your crew's schedule. Assign each job an urgency level—either low, medium, or high urgency.
You should be capturing enough information in your work request forms or customer phone call notes to tell you how urgent a repair job is.
In Jobber, you can customize the color of different visits in your team calendar. This helps dispatchers recognize job urgency at a glance and make faster rescheduling decisions.
You can set a specific color for visits with certain keywords in their title, like "emergency repair" or "high urgency."
When you get last-minute emergency calls, you'll know which visits you can rearrange in the schedule to make room for those calls.
4. Give technicians access to schedules in advance
When your HVAC techs can see their schedule any time and from anywhere, they'll be more prepared for the day and deliver better customer service with the right information, HVAC tools, and equipment.
Use a shareable job schedule, like this one in Jobber, that lets you easily reschedule jobs or reassign them to a different field service technician:
At the start of each day, technicians can check their schedule for a snapshot of what's scheduled and who's working. From the office, you or your dispatchers can track the crew's progress throughout the day, and make changes on the fly when needed.
Bonus: Choose from five different schedule views in Jobber—including weekly, monthly, and a map view—to match what's most convenient for your dispatchers and techs.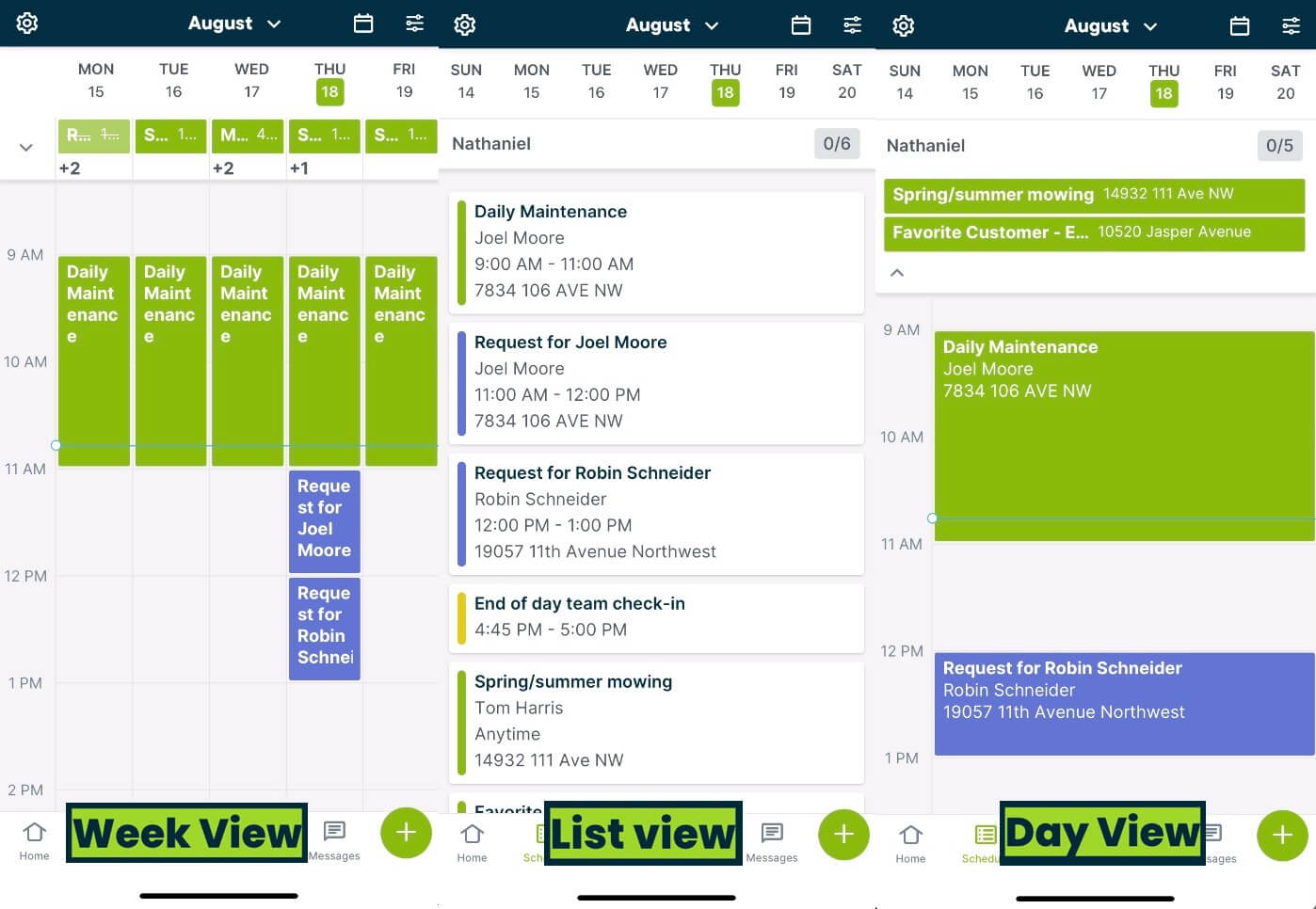 5. Make customer notes and details easy to access
As the bridge between customers and HVAC technicians you need to equip your techs with the right information before they arrive at the job.
Choose one place to store details about each service call, as well as special notes and images technicians need to review before a repair.
These details should be easy to share and refer back to—so instead of back-and-forth emails or paper documents, store them in your customer relationship management system (CRM) or HVAC scheduling software.
When a tech needs to access details about a service call, they can simply click on the visit in their Jobber calendar and see the original HVAC work order, notes, images, and other attachments: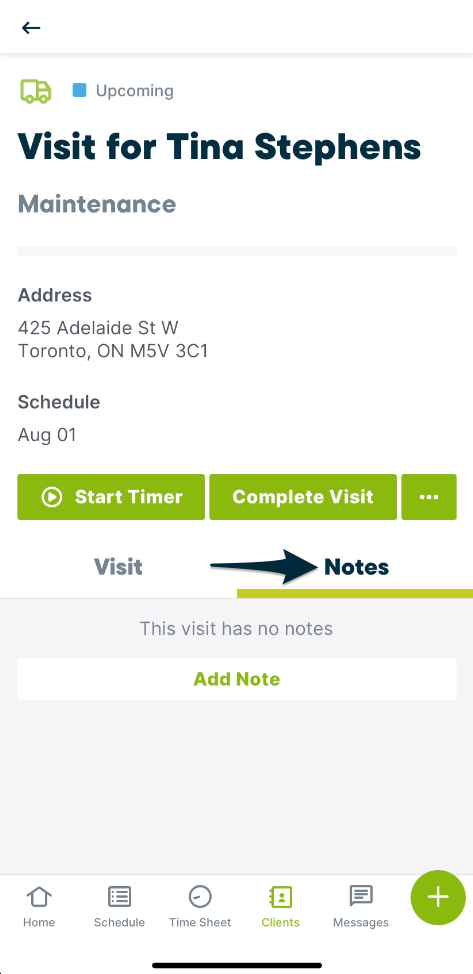 6. Dispatch technicians by location groups
Speed up dispatching by assigning HVAC technicians to the jobs that are closest to them. Location-based scheduling reduces driving time and makes more time for work in everyone's schedule.
Follow these steps to organize your crew by location:
Organize visits into groups based on location. You can group them by which part of the city or town they're in (e.g, northeast, southwest, etc), or by neighborhood if your services are more localized.
Assign one technician (or crew) to each location group. This way, your staff will spend less time driving from one job to the next.
Make this process easier by using route optimization software that maps out visits for you. For example, Jobber automatically creates the most efficient crew schedule based on the location of each visit—and lets you track your team's location as they're driving from job to job.
Once you assign a job to a team member, you can select Route From Here and let Jobber map out the rest of their day's work in the most efficient way possible.
7. Schedule consistent breaks
Everyone at your HVAC company has the right to rest—so be diligent about scheduling breaks in each HVAC technician's schedule.
To make it easier to manage employee breaks, you can:
Schedule breaks in advance. Setting a defined break time in each technician's calendar (e.g., 12:00-12:45) before even scheduling jobs ensures you never miss a break.
Figure out your team's peak productivity periods and plan your breaks immediately after them.
Allow input from the employees on their preferences about their work breaks. Note their preferences and schedule breaks that accommodate them as best as you can.
Breaks keep your team well-rested, prevent burnout, and might be legally enforced in your region. Check your regional and federal guidelines on minimum rest periods.
8. Monitor technician progress with GPS tracking
Track your crew's progress and location throughout the day using a GPS tracking tool. Knowing the location of your crew's vehicles can help you manage delays with less stress.
Using fleet management tools in Jobber, you can see when a technician is at a property for more time than expected. You'll improve your customer service when you can quickly inform their next customer about the delay.
9. Keep customers informed about upcoming visits
Successful HVAC dispatchers deliver great customer service by preparing each customer before their repairman or installer arrives. Use these strategies to keep customers in the loop as you dispatch your technicians:
Automate your appointment reminder emails and texts so that all customers get a reminder 1–2 days before the service call.
Get your field service technicians to send on-my-way text messages to customers. (Or you can automate those, too, using two-way messaging in Jobber)
In Jobber, you can schedule reminder emails and send standardized 'on my way' text messages before every visit without typing them each time.
Then, manage all these conversations in a single place. Using two-way text messaging, you can see what was sent, when it was sent, and which team member sent the message.