The Best Lawn Care Flyers to Inspire You [Free Examples]
June 10, 2022
6 min. read
As a lawn care or landscaping business owner, getting new leads is your number-one priority. Lawn care flyers are a popular way to do that.
Flyers are individually printed lawn care ads that are shared in a large area, like postcards and posters. Businesses in every industry send these ads every day—so you'll need amazing lawn mowing flyers of your own to stand out.
In this article, we'll show you what the best lawn care and landscaping flyers have in common, how to create your own, and how to use flyers to turn prospects into clients.
We've even included tips and advice from lawn care experts Ed Ramsden (Enviromasters Lawn Care) and Chris Gardner (Edmonton Lawn Pros).
Learn about landscaping and lawn care service flyers:
Best lawn care flyers: 7 examples
Let's look at seven examples of flyers for a lawn care business. These will show you what your flyers could look like and what to keep in mind when you're designing your own:
Example: Simple lawn care flyer with discount
Example: New neighbor lawn mowing flyer with coupons
Example: Lawn care service flyer with photos
Example: Tearaway lawn care flyer templates
Want a great-looking flyer, fast? Try a tearaway poster that you can put up in your target neighborhoods:
Example: creative landscaping flyer ideas
Don't have your own custom photos? Don't worry—you can still make an eye-catching poster using text and color. Here's an example:
Example: Landscaping fall cleanup flyer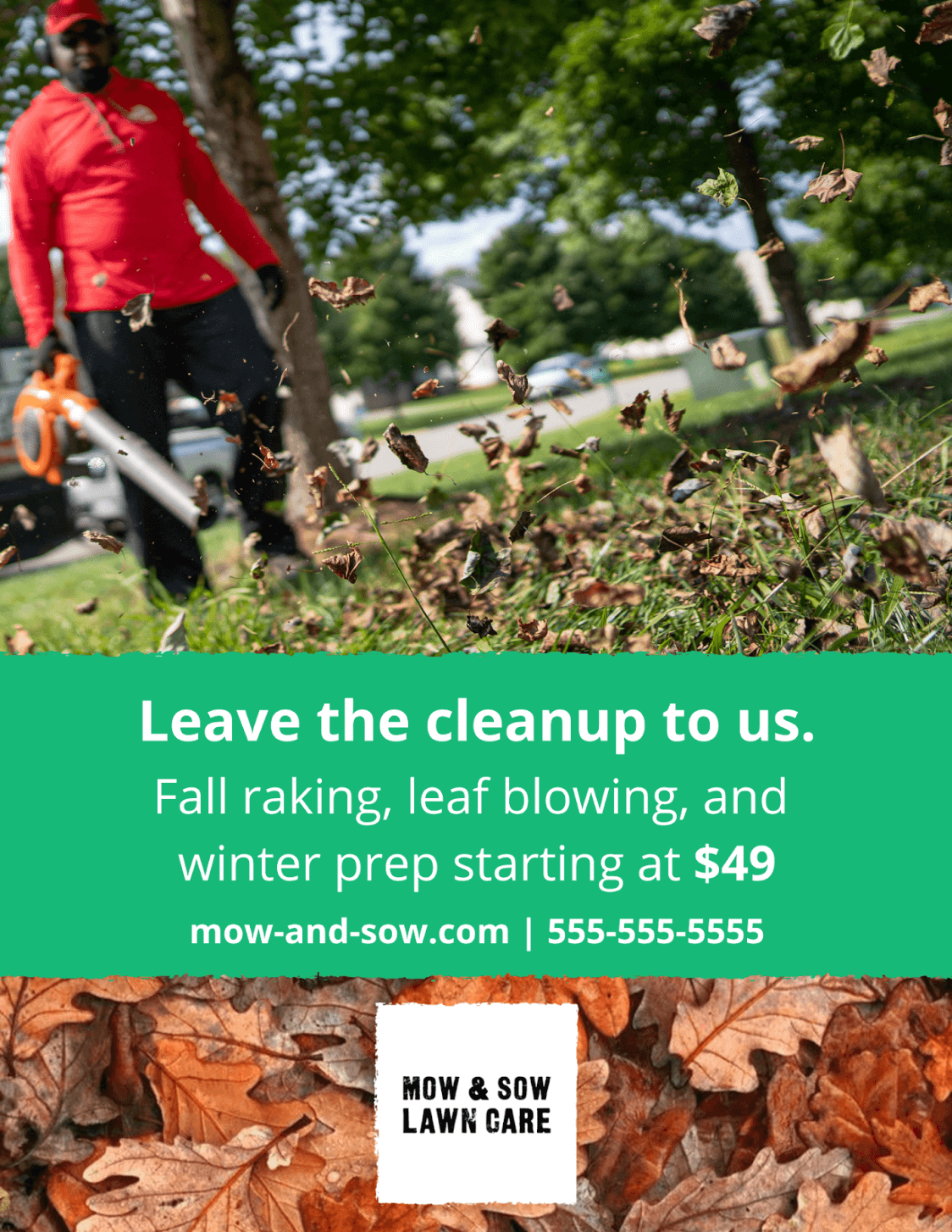 What to include on a lawn mowing flyer
When you're designing a lawn care or landscaping flyer, keep it simple but make sure to include:
Your lawn care business name and logo
Your contact details (phone, email, social media, landscaping website)
A brief list of your lawn care or landscaping services
High-quality photos of your work
A special offer or discount with a time limit
An exciting call to action (e.g., "call this number before July 4 for a discount")
Ed Ramsden tried different discounts every year. "One of our most compelling discounts was giving something away for free," he said. "Instead of 20% off aeration, we'd offer a free soil conditioner worth $45."
READ MORE: How to price lawn care services
If there's enough room on the flyer, you can also include:
READ MORE: How to start a weed control business
If you ask Chris Gardner, it's a good idea to include your client referral program in your flyers, too.
"Say your client tells their neighbor, 'If you use this company, we're both going to save money.' Have a referral program built in and capture double the customers."
How to design lawn service flyers
You're a lawn expert, not a designer, so it might feel challenging to come up with your own landscape flyer design. But it doesn't have to be—just try these grass cutting flyer design tips:
Use a branding tool like Looka to create your flyers. You can customize their templates or make your own design from scratch.
Need inspiration? Go to your mailbox and pick a flyer that makes you want to buy something. Figure out why you like it and how to make that idea work for your business.
If you have extra budget, you can get a professional to do it for you. Partner with a local or online print shop to design and print your lawn care or landscaping company flyers.
READ MORE: How these landscapers went from 0 to 60 customers a week
How many lawn care flyers should you order?
The number of flyers you should order depends on how many new clients you want, and how likely your flyers are to result in new clients.
For Ed Ramsden, 3% of the flyers he drops will lead to new clients. To decide how many flyers to order, he uses this formula:
Number of desired clients / 0.03
You may get more or fewer clients from your flyers. Try ordering a small amount at first, see how many clients you get, and order a larger amount next time.
You can also experiment with frequency. "Over the course of a month, I'd drop three times in one neighborhood," said Ed. "Messaging takes repetition."
How to use lawn care and landscaping flyers
1. Plan your timing carefully
Send out your flyers months before you actually want to start providing lawn mowing or landscaping services.
Chris Gardner would send out his first seasonal flyers two months before spring. These flyers asked potential clients if they needed a spring cleanup, aeration, or other services.
READ MORE: How to get your first 100 lawn care customers (and beyond)
2. Pick neighborhoods and distribute flyers
Plan your flyer drops in neighborhoods where you already have clients. This will help you optimize your route and keep your lawn care schedule efficient.
You have several options for distributing flyers in your target neighborhoods:
Pay your local postal service to deliver flyers to specific postal codes
Go door-knocking, hand out flyers to residents, and answer questions about your services
Put a flyer in the mailbox if residents aren't home
Leave flyers with clients after you finish working on their lawns
Some neighborhoods have strict rules about flyers and door-knocking, so check before you knock.
Pro Tip: Drive through your target neighborhoods and see how many homes there are. If the subdivision is brand-new and there's no grass on the lots, you're too early to provide lawn maintenance services—but it might be the right time for landscaping from the ground up.
READ MORE: How to price landscaping jobs
3. Track your success
Tracking your success rate will tell you if your time, effort, and investment are paying off. There are a few ways to track how many potential clients you're getting from flyers:
Ask all new clients how they heard about you
Use a different phone number on your flyers, then check your phone bill to see how many new clients called that number
Offer a campaign promo code that new clients can redeem for a discount
Chris found good results with promo codes. "I included 'mention X to get 10% off,'" he said. "This helped me track progress and know where leads were coming from as my client list grew. I got 50–70 new clients each year for this type of campaign."
Pro Tip: Use your lawn care CRM to keep track of which clients came from which flyer campaigns, promotions, or referrals.
FREE TOOL: Invoice clients faster using our free lawn care invoice generator
Originally published February 2020. Last updated on June 10, 2022.