Working with Clients
Reconnecting With Old Clients Email Template: The Ultimate Guide
November 17, 2023
8 min. read
When you own a service business, one of your biggest priorities is to keep steady, consistent profit coming in. And although bringing in new clients may seem like the best way to do that, you shouldn't overlook the potential of reconnecting with old clients.
After all, your old clients have worked with you in the past, so they're already familiar with your business, services, quality of work, and pricing. Sending a simple email could generate new income from existing customers without the high cost of a major marketing campaign.
In this guide, we'll walk you through how to reconnect with clients, the different templates you can use, and which clients you should contact in order to book more jobs and grow your service business.
Reconnecting with past clients email template
If you have some old clients that you'd like to get in touch with again but you aren't sure how to approach them to make a sale, customizable email templates can speed up and simplify the process. Use these templates when you want to:
Notify previous clients of new services, pricing, or packages
Let old clients know of a new customer referral program and discounts
Inform old clients of new service areas
Check in about recurring work for a new season
1. Email template for new services, pricing, or packages
Subject line: New [services, pricing, packages] from [Company Name]
Hi [Client Name],
It's [Your Name] from [Company Name]. It's been a while since we've heard from you, and we wanted to let you know about our new [services, pricing, packages].
Since you hired us for [relevant service] in the past, we thought you might like to know that we now offer [service, pricing, package] that includes:
[Mowing]
[Trimming]
[Fertilizer treatment]
All for just [price]!
If you'd like us to book you in for the coming season, please visit our website [link to online booking on your website], give us a call at [phone number], or send us an email at [email address].
We'd love to work with you again and hope to hear from you soon!
Thanks,
[Your Name]
2. Email template for referral programs and discounts
Email template subject line: New [referral program/discount] from [Company Name]
Hi [Client Name],
It's [Your Name] from [Company Name]. It's been a long time since we've worked together and we wanted to let you know about our new [referral program/discount].
For every referral that we get, we're offering past clients a discount of [X%]. That means that you could save up to [$X] on [mowing, trimming, landscaping, etc.].
All you have to do is:
Let your friends, neighbors, and family members know about us
Tell them to let us know who sent them when they book us for a free quote
After we complete a job for them, you can take advantage of your discount!
You can find more details about our referral program by visiting our website: [link to web page explaining your referral program]
If you have any questions, please send us an email at [email address] or give us a call at [phone number]. We hope to work with you again soon!
Thanks!
[Your Name]
3. Email template for new service areas
Email subject line: [Company Name] is now in [service area]
Hi [Client Name],
It's [Your Name] from [Company Name]. It's been a long time since we've worked together and we wanted to let you know we've expanded our service area to include [city, town, etc.].
Our full service list is available to any clients in these areas, including:
[service 1]
[service 2]
[service 3]
And more!
If you or someone you know could benefit from our services in [city, town, etc.] please get in touch via email at [email address] or give us a call at [phone number] — we'd love to hear from you.
Looking forward to working with you again in the future!

[Your Name]
[Company Name]
4. Email template for recurring, seasonal work
Subject line: [Seasonal/recurring work] with [Company Name]
Hi [Client Name],
It's [Your Name] from [Company Name]. I hope you had a great [winter/summer]!
Now that the new [fall/spring] season is upon us, we're starting to book past clients in for seasonal [lawn maintenance/landscaping/snow removal] and wanted to confirm whether you'd like to continue our contract for [year].
Feel free to let us know via email at [email address] or give us a call at [phone number].
We'd love to work with you again and hope to hear from you soon!
Thanks!
[Your Name]
[Company Name]
How to reconnect with old clients by email
You can send a reconnecting email to inactive customers one by one, or all at once with an email marketing service like Mailchimp. Mailchimp lets you easily create emails, choose who gets them, and send emails automatically.
When you connect Mailchimp with Jobber's field service management software, you can automatically sync your entire client list and design and send automated emails to your contacts.
WATCH NOW: Learn how to create an email campaign with Jobber's Mailchimp integration
You can also use Jobber's prebuilt "It's been a while" campaign to reach out to previous clients to remind them of the services you offer and see if they need any more work done. You can find this pre-built template under the "campaigns" tab of your main dashboard.
The campaign targets past customers who haven't had work done in the last 6 months based on their last completed visit in Jobber. You can customize it to include other criteria as well, such as all customers, customers in a specific area, or customers who invested in a specific service.
There's a pre-built message ready, but you can also copy and paste one of the templates above to make it more custom to you and your business.

Which clients should I reconnect with?
It's important to remember that not all past clients are worth contacting and reconnecting with. To maximize the possibility of a positive response, reach out to:
1. Inactive customers who paid their invoices
It goes without saying that you shouldn't try to get more work out of a client who has an outstanding invoice or who has had payment issues.
Chances are, you may face the same problems again in the future, adding more work to your plate instead of adding up to an easy paycheck.
READ MORE: 4 overdue payment reminder templates
2. Your most satisfied clients
A previous client who left positive reviews online or who got in touch after a job to thank you for the excellent work you did are worth checking in with. These clients already know you're a high-quality professional and enjoyed working with you, so they're more likely to consider working with you again.
Avoid contacting clients who left negative reviews or who lodged a complaint after a job was done.
READ MORE: 3 customer feedback surveys that make you look more professional
3. Clients who booked recurring work
This works well for home service businesses that often have recurring work. For example, clients who used your services for seasonal landscaping or yard maintenance. As you approach the new spring or summer season, it makes sense to ask them if they're interested in hiring you again.
4. Clients who could benefit from new changes in your business
If you've made changes to your business like adding a referral program, price bundling, or expanding your service area, think about which of your old clients could benefit.
For example, is there a past client who previously hired you for recurring services who could get more bang for their buck now that you offer a service package? If so, reach out to let them know. They'll appreciate the heads up and it will give you a great reason to get in touch.
Tips for reconnecting with old clients
When reaching out to old clients, use these tips to ensure that you're setting yourself up for success:
1. Organize client information in a CRM: Use a field service CRM to store and retrieve their information, like an email address, the services they hired you for in the past, or even something a little more personal like their pet's name. That way, you can send personalized emails to each client and ensure that you've got the right contact information.
2. Build customer loyalty: Send thank you notes to show customers you care. That way, you can keep ongoing communication with a client, and they'll be less surprised when you check in down the road to let them know about a new service, package, or offer.
READ MORE: How to write a follow up email: 7 templates for better customer service
3. Communicate well and often: Practice good customer communication management with current clients to impress them and give your business a professional edge over the competition. Send appointment reminders, and keep them in the loop during a job. They'll be more likely to respond to your follow-up emails in the future.
Here's what appointment reminders look like in Jobber: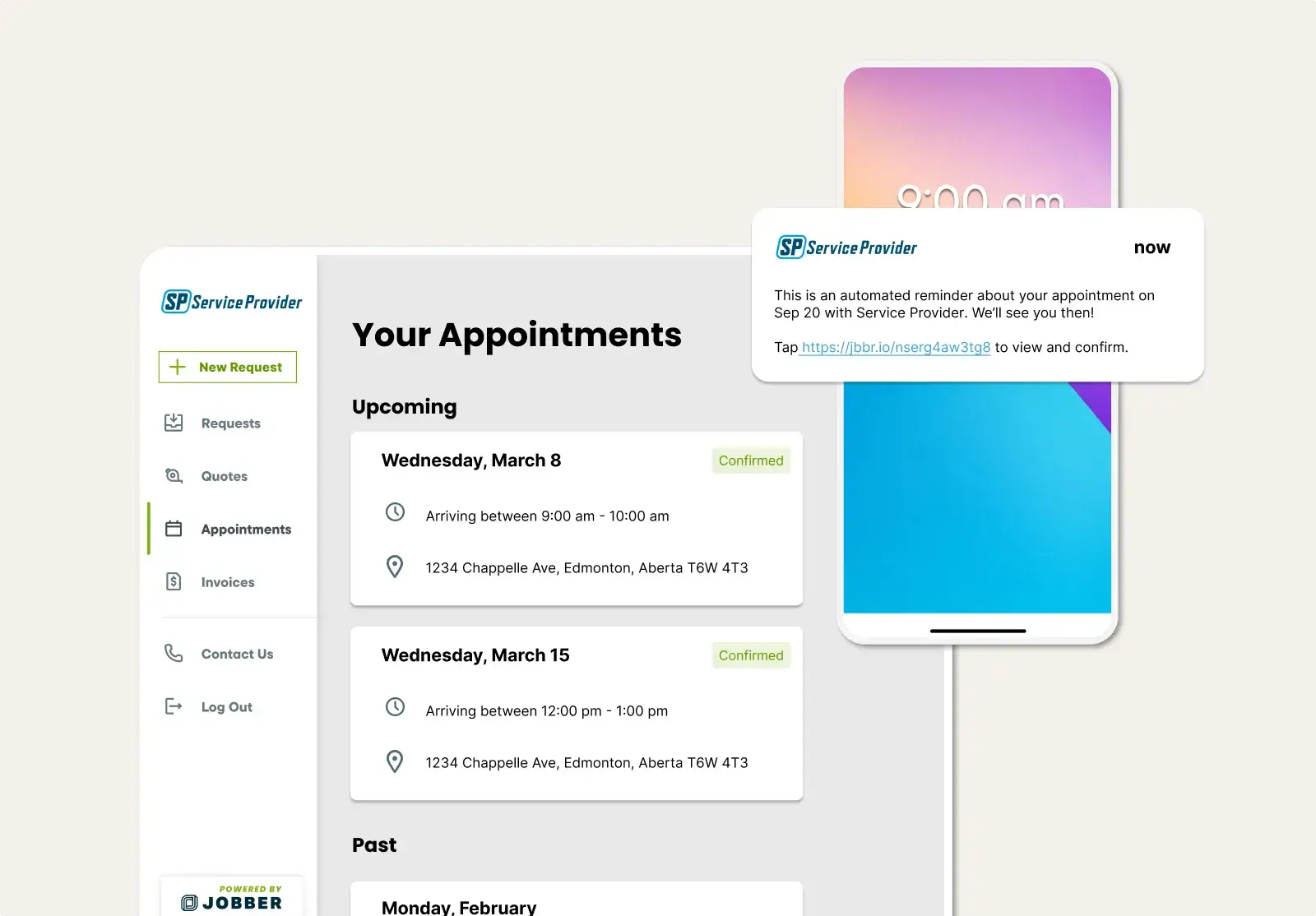 4. Make sure to offer value: Carefully select the clients you reach out to and send them relevant information or news about your business.
For example, if an old client hired you for a one-time landscaping job and you haven't spoken to them in a couple of years, they may not be interested in hearing about how you're now offering residential snow removal outside of their service area. Be sure that the information you're providing is relevant and helpful.
5. Follow up with your client: If you don't hear back, follow up—especially if they initially reached out to you for a quote or estimate. Your initial email could have been lost, missed, or forgotten.
It's worth sending a reminder if it means the difference between signing another contract or having to put in the time to find a new one.
Originally published in March 2022. Last updated on November 17th, 2023.