Pricing and Payments
What is Recurring Payment Processing? Definition, Types, and Benefits
December 16, 2021
7 min. read
Long-term, repeat clients are a dream for service business owners. You get predictable income, reliable cash flow, and straightforward scheduling.
But that only works if you bill and invoice them properly.
Setting up recurring payment processing is one of the best ways to ensure your clients pay you in full and on time, without all the administrative work.
What are recurring payments?
Recurring payments happen when a client gets charged automatically for a service they receive on a repeated basis.
Recurring payment processing gives business owners a way to get paid consistently without having to chase down clients. It also makes payment touchless and convenient for the client.
What are the different types of recurring billing?
There are two main types of recurring billing: fixed and variable.
Fixed recurring billing is when you bill the client the same amount of money at each billing interval. For example, you would charge $75 to mow a client's lawn, and the cost wouldn't change from week to week.
A magazine subscription is a common form of fixed recurring billing.
Variable recurring billing is when the amount you charge a client can change each billing cycle. For example, if you're a house cleaner, the tasks you complete for a client might change from one appointment to another.
Utility bills are typically variable recurring bills, where the amount you pay is based on your usage.
How do recurring payments work?
With recurring payment processing, you can bill clients on a weekly, biweekly, monthly, or annual basis. How frequently you bill a client depends on the services you provide and what makes the most sense for your business.
There are generally two methods you can use to process recurring payments:
Automatic payments: This is when you save a client's card on file and automatically charge it online. Transactions are processed on the recurring schedule you set for the service you're providing.
Recurring invoices: Instead of charging a client's credit card automatically, you can send invoices on a recurring schedule and let the client pay those invoices manually.
⚠️ You must have a client's permission to store their credit card information and automatically debit their account.
Is recurring payment processing right for your business?
Recurring payment processing is great for any business that offers recurring services. Those could be visits, maintenance, or inspections that need to happen on a regular basis.
Examples of recurring services include:
Weekly or bi-weekly lawn maintenance
Monthly and quarterly cleanings
HVAC maintenance contracts (bi-annual check-ups, preventative care)
There are no strict rules around who can use recurring payment processing. If you offer any kind of repeat service, you can set up recurring payments with permission from your client.
If you're not already offering recurring services or subscription services, consider starting now. They can create lifelong customers, provide you with monthly recurring revenue, and improve cash flow.
How to accept recurring payments
1. Get your client's written authorization
Before you ask a client to authorize recurring payments, create a brief outline that details:
The amounts you'll withdraw from the client's account
When that money will be withdrawn from their account
A schedule for future payments
This payment information should be on your payment authorization form, which your client needs to fill out with their credit card or banking information. The form has to be signed before you can charge a client's credit card on a recurring basis.
Written authorization protects you in case of disputes. Having a clear record of the agreed date of withdrawal or charge means you won't have to cover any bank fees if a client incurs any penalties due to a lack of funds.
READ MORE: A guide to chargebacks for field service businesses
2. Set a payment schedule
Before setting up recurring payment processing with a client, ask what payment frequency works best for them. You could charge them:
Monthly on the last day of the month
After each visit is completed
Once the job is closed
On a custom schedule
Setting a custom schedule can create a convenient payment experience for your client. For example, if they're more likely to pay you in the middle of the month versus the end, you can set recurring payments for the 15th of each month.
3. Set up an easy recurring payment processing tool
Use a payment service provider that securely stores and saves your client's credit card information. Jobber's credit card processing feature lets you do that easily.
You can automatically charge clients who have a card stored on their Jobber profile. Your client can even add their own cards to their profile, so they're ready for payment when you are.
Then, you can set the billing frequency to the payment schedule you and your client agreed on.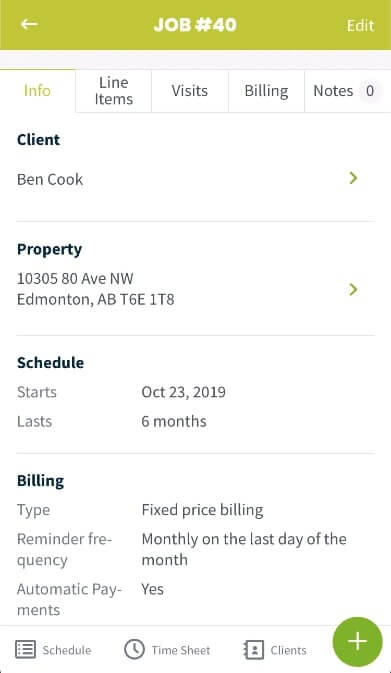 4. Send professional invoices
Whether your clients are recurring or not, you should always send an invoice right after a job is done.
Invoices provide a record of your services and outline the amount due, the day that it's due, and what services or products a client is being billed for.
On a recurring invoice, you should include details about the client's credit card payments, including a partial card number and type, so clients know where they can expect to see a charge.
READ MORE: Include these payment terms on your invoices to get paid faster
When you use Jobber, you get invoices created and sent automatically according to your client's billing cycle.
5. Document one-off jobs separately and ask for permission
Be prepared to invoice and charge clients for jobs outside their regular schedule. For example, if you regularly maintain a client's air conditioning system, you might need to complete a one-off repair between visits.
Don't assume that you can charge the card they have on file. They may want to use a different payment method for that unplanned job.
Ask a client's permission before charging their card on file. Make sure to provide a separate invoice confirming the amount, due date, service provided, and payment method.
Pros and cons of recurring payments
Benefits of recurring payments
• Consistent cash flow. Regular, predictable payments increase cash flow and give you consistent income. The more reliable your cash flow, the easier it is to run your business and turn a profit.
READ MORE: Outstanding invoice guide: how to prevent overdue payments
• Higher customer satisfaction and retention. Your customers won't have to remember to pay bills themselves. You'll offer a convenient service—and the easier it is to work with you, the better your chances of boosting customer retention.
• No late payments or unpaid invoices. When you can invoice and charge clients automatically, you send fewer overdue payment reminders. Plus, your clients won't accrue interest charges or penalties because they forgot to make a payment.
READ MORE: Should you charge late fees on invoices?
• Less admin work. Manually sending a weekly or monthly bill to each of your clients is a lot of work. Automatic, recurring payment processing saves you hours of sending email reminders and tracking payment statuses.
Disadvantages of recurring payments
Recurring payment processing isn't ideal for every client. Keep in mind that:
• You need permission to automatically charge clients. Before setting up recurring billing, you'll need to ensure your clients agree to it and understand the terms. This requires a bit of paperwork at the start.
• It doesn't work for all payment methods. Recurring billing only works for certain payment options, like credit cards and Visa debit cards. It doesn't work for cash or checks, and it may not be an option with some online payment platforms.
• It's harder to correct billing mistakes. If you accidentally overbill or underbill a client, an automatic process can make billing errors trickier to fix. Since you won't always be able to review automatic invoices before they're sent, you might not catch those errors.
• It's not meant for one-off jobs. Recurring payment processing only works for clients that need ongoing work, not one-time jobs. You'll still have to invoice and collect payments separately on jobs that don't have a consistent billing schedule.
Choosing the right payment processor for your recurring payments
Recurring payment processing is a great way to improve your cash flow and make some of your day-to-day work more efficient.
Make sure your clients are on board with written permission, only use it for ongoing clients, and choose the right technology to make your new recurring payment process as smooth as possible.
Originally published in June 2017. Last updated on December 16th, 2021.