Roofing Tools List: 34 Tools That Pros Need
October 26, 2023
7 min. read
Having all the best tools for roofing jobs will have you back on the ground faster—and ensure your customers are satisfied.
To help you find the right tools and budget for them as you start your roofing company, we've compiled a list of essential roofing tools for all types of jobs (with descriptions and average prices).
When you're ready to shop, download this roofing tool checklist to keep track of what you've acquired and what's still on your list.
⚠️ The tool prices listed are approximate ranges. Pricing will vary by brand, store, quality, and whether they're new or used.
Basic hand tools
These roof repair tools and replacement tools are must-haves for all professional roofers. Budget $245–650 if you're buying all of these hand tools for the first time:
1. Metal snips ($10–25): Use tin snips to cut through both tin or aluminum. Their narrow blades also help you cut tight spaces and curves. Use offset snips to long, straight cuts—they have elevated handles that keep your hands away from the material.
2. Roofing hatchet ($20–50): Designed for roofing tasks, this type of hatchet usually has a magnetized, adjustable gauge to help you place shingles easily, and a blade for cutting.
3. Hammer stapler ($30–45): This dispenses staples with a swift hammer action when you're applying tar paper or felt to a roof.
4. Roofing shovel ($30–55): You'll need a roofing shovel (also called a shingle remover) to strip away old shingles, nails, and other roofing materials. They typically have notched edges to get under nails and shingles.
5. Roofing cement tube ($5–15): Use this adhesive cement to seal leaks, secure shingles, or fill gaps—it's essential for repairs.
6. Pry bar ($15–40): Use a pry bar or tear-off bar to remove nails and old roofing materials.
7. Straight-blade utility knife ($5–25): It's simple, but a utility knife is one of the most essential tools for cutting shingles and other non-metal roofing materials like underlayment.
8. Hammer ($10–30): Hammers help you complete detail work and can fit into areas that a nail gun can't reach.
9. Galvanized roofing nails ($5–50/box): These nails are coated with zinc to prevent rusting—they're the best nails for securing shingles and other roofing materials.
10. Chalk line ($5–20): A chalk line dispenses a long piece of string that's covered in chalk. When you snap the string onto a flat surface, it draws a straight line in chalk—and that helps you ensure accurate placement and cuts on roofs.
11. Tape measure ($5–20): Don't forget a tape measure to ensure you're cutting roofing materials accurately.
12. Framing square ($10–25): A framing square or a speed square will help you cut right angles and straight lines on roofing materials.
13. Wheelbarrow ($50–120): Transport shingles, debris, or other roofing materials across the job site more easily with a wheelbarrow.
14. Broom ($10–40): A basic broom will help you keep the job site clean of debris and dust.
15. Tool belt ($30–60): Find a tool belt that will fit your essential hand tools  and keep them accessible while you work.
READ MORE: How to price and bid a roofing job
Power tools
Depending on the types of jobs you complete, a full set of electrical power tools can cost you between $295 and $665. Here's what you might need:
16. Pneumatic nail gun ($100–150): Using air compression, this nail gun drives nails into roofing materials quickly to make shingle installation more efficient.
17. Cordless drill ($20–80): Roofers use cordless drills to create holes and secure screws, especially in metal roofing or when attaching roof accessories.
18. Roofing nailer ($100–180): An electric or battery-powered nailer provides consistent nail depth when you're securing shingles, underlayment, or other materials
19. Angle grinder ($25–105): Use this corded grinder to cut through tough materials or when reshaping metal flashing. Its spinning disc makes quick work of roofing components.
20. Battery-powered blower ($50–150): This blower quickly clears debris and dust from your roofing surface to clean up the area.
Commercial roofing tools
Pick up these tools to work on commercial roofing jobs efficiently (and expect to spend $1,505–6,665 for all of them together):
21. Hot air welder ($200–1,000): Use this specialized heat gun to weld seams in roofing membranes like TPO and PVC, ensuring a watertight bond.
22. Metal cutter shear ($100–300): This tool is essential for cutting through metal roofing materials with precision, ensuring clean, straight lines.
23. Propane torch ($25–55): You'll need a propane torch to heat, meld, and seal bitumen roofing materials.
24. Roof seam roller ($30–60): Rollers come in handy when you need to press and smooth out the seams in roofing materials. 
25. Adhesive spray gun ($150–250): These dispense roofing adhesives in a fine mist so you can bond layers of materials together faster on large commercial roofs.
26. Ladder hoist ($1,000–5,000): A hoist lifts heavy roofing materials to your rooftop. Gas-powered hoists work just fine, but electrical and pneumatic hoists don't require fuel refills or as much maintenance.
Safety tools
It's a must to invest in proper protective equipment—especially when working at dangerous heights. Budget $345–925 for these safety tools to protect yourself and your customer properties:
27. Personal protective equipment (PPE) ($85–275): Protect yourself from injury with a hard hat, cut-resistant gloves, and ant-slip shoes.
28. Safety harness and fall protection kit ($50–150): Secure yourself in a harness when working on roofs to prevent falls and injury.
29. Rope grab ($50–150): This device attaches to a lifeline rope and the roofer's harness. It allows for vertical movement but locks instantly in case of a fall.
30. Roof jacks ($10–50 each): Jacks are metal brackets nailed onto roofs. They provide a flat, stable platform for planks, giving roofers a safer place to stand (especially on steep pitches).
31. Extension ladder ($150–300): Pick a tall adjustable ladder that's still compact enough to store in your work vehicle.
READ MORE: Roofer job description: how to write your own [+ free template]
Business management tools
Tools that simplify your quoting, scheduling, and customer service are just as important as hammers and nail guns.
Consider these business management tech tools that help you win roofing jobs and keep customers happy:
32. Roofing estimate template
Cost: Free
The roofing estimate template from Jobber lets you create and download a professional estimate that you can send to your customers in minutes.
Simply add your company and client information, roofing work details (like shingle type and cleanup tasks), and pricing. Then download your invoice as a PDF that's easy to send to clients.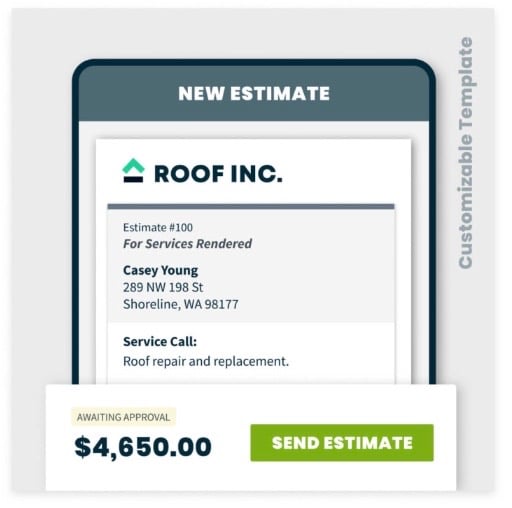 With this roof estimate template, it's easy to add in the specific details for that job, get the estimate approved, complete the work, invoice the client, and get paid faster—all with just a few clicks.
Or try roofing contractor software to include line item images and photos from the on-site assessment, convert job details into invoices, and automatically follow up with customers on overdue payments.
33. Accounting software
Cost: Starting at $22/month
Accounting software is essential for managing expenses, payments, payroll, and financial reporting. QuickBooks Online is ideal for roofing businesses that need to track:
Payments from clients
Payments to contractors or employees
Receipts to prepare for tax season and claim tax deductions
Plus, QuickBooks integrates with Jobber so you can keep your customer, invoice, and payment information accurate without any double-entry.
READ MORE: QuickBooks Online vs. Desktop: What's the difference?
34. Roofing contractor software
Roofing contractor software like Jobber helps roofers build professional estimates, schedule service calls, invoice, and collect payments—from the office or the job site.
Using Jobber, you can win more jobs by creating estimates that include line item images and photos from the on-site assessment.
You can even provide financing options directly from the estimate so that customers can pay for the repairs or replacements they need.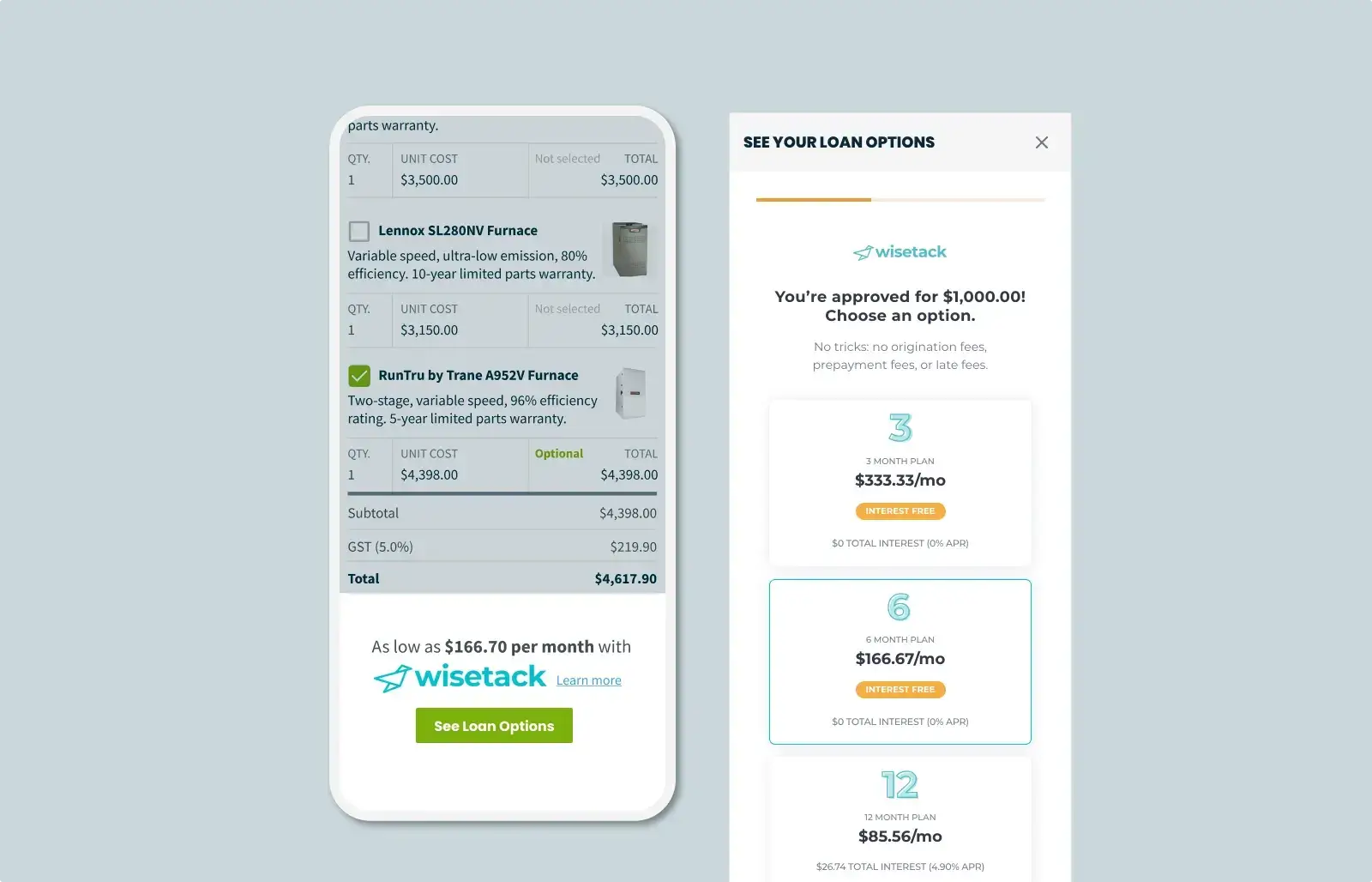 Once you've sent the estimate, Jobber helps you automatically send quote follow-up emails, collect a signature online, and easily access estimate details when the job starts.
You'll easily manage job details on the go, too. Through custom job forms, you can keep important information like roof measurements, takeoffs, and materials available at your fingertips so visits can be completed without any room for error.
Jobber is available at a range of prices, but you can try it for free with a 14-day trial.