Advertising Tree Service – A Complete Guide to Tree Service Ads
November 10, 2022
6 min. read
Investing in tree service ads can help you attract new customers, fast. And when you're paying to get your message in front of your target customers, you want to ensure you're getting the biggest bang for your buck.
Keep reading for our list of the best channels to advertise your tree service business—and tips to set you up for success.
Or skip ahead to learn how to start tree service advertising.
Try these 5 tree service advertising ideas:
1. Advertise your business on Google
If a potential customer is searching for an arborist, they're going to start their search with Google.
There are three ways to get your business found on Google—you can invest in Local Services ads or Google ads, or claim your free Google Business Profile.
Local Services Ads
Local Services Ads (LSA) appear at the very top of the search results page when a potential customer searches for a local service or local tree service provider—for example, "tree trimming Chicago."
They run on a pay-per-lead model, so you only get charged when you're contacted for a job.
Use Google Local Services Ads if you plan to advertise locally, are promoting your tree care business for the first time, or have a small advertising budget.
Pro Tip: Gain trust and credibility by getting your Google Guaranteed badge. This shows potential customers Google has verified your business and considers you trustworthy.
Google Ads
Google Ads appear in two different forms—search ads or display ads.
Search ads are text ads that appear on the search results page, just under the Local Services Ads. Here's an example of search ads.
Display ads can be graphics or videos that appear on result pages, reminding customers of your business as they browse the web.
Search ads and Display ads both work on a pay-per-click (PPC) model. This means you're charged every time a potential customer clicks on your ad—regardless of whether or not they contact you for a service.
You should run a Google Ad PPC campaign if you have a larger budget, or if you want to build brand awareness by reaching a bigger audience.
Google Business Profile
Claiming your Google Business Profile (formerly Google My Business) should be part of your initial tree service marketing plan.
It's a local SEO (search engine optimization) strategy that will help your tree removal business appear on Google Maps results and make it easier for customers to find you. Best of all—it's 100% free.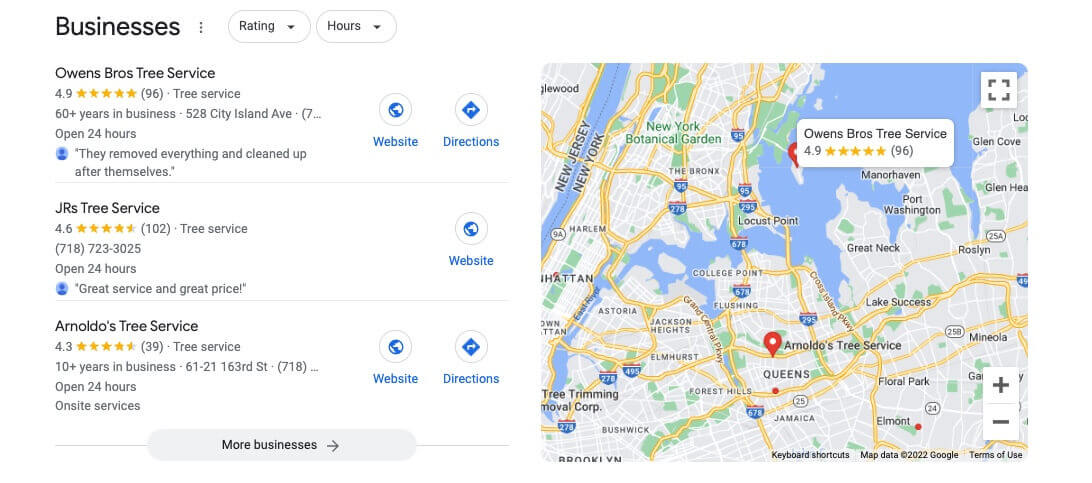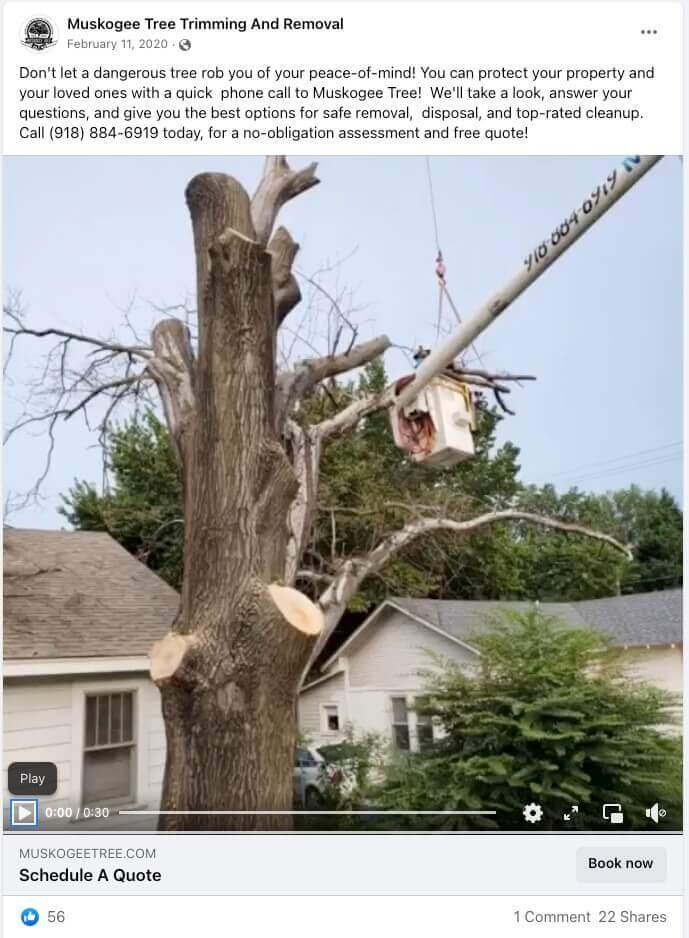 3. Get listed on lead generation sites
Listing your tree care services on lead generation sites can help you attract customers who are actively searching for your services.
There are plenty to choose from, like Thumbtack, TaskRabbit, Angi, HomeAdvisor, and Arborists Near Me.
Here's what a tree service ad looks like on Thumbtack:
Flyers and door hangers are cheap to produce. However, delivering them door-to-door can be time-consuming or expensive if you pay someone to deliver them for you.
On the other hand, postcards are affordable to send since they can be mailed out by the hundreds. They also offer a personal touch that makes potential clients feel valued.
5. Display lawn signs on customer properties
Lawn signs are an easy and affordable way to advertise your business to potential customers in your service area. Once a job is complete, simply ask the happy customer if you can leave a sign on their front lawn.
This tells neighbors passing by who to call if they need a tree removed or trimmed on their own properties.
Pro Tip: Encourage customers to put a lawn sign on their property by offering a small service discount.
How to start tree service advertising
Identify your target audience
To make sure your ads are reaching the right people, you'll need to define your target audience. To start, write down as much detail as possible about the ideal customer for your tree removal service business:
Where do they live (e.g., city, neighborhood)?
What type of home or business do they have?
What is their income?
What is their age range?
Do they have a family?
Where do they spend their free time (e.g., online communities like Facebook, in-person events)?
What kind of tree work do they need done (e.g., tree cutting, trimming, or removal)?
2. Focus on your unique selling proposition (USP)
What makes your tree care company different from the competition? Why should your ideal customer pick you? It may be that you're licensed, insured, and bonded. Or perhaps you specialize in high-risk trimming or removal.
Stand out from the competition by including the answer to these questions in your tree care ads.
3. Determine your monthly tree service ad budget
Decide how much you're willing to spend to get a new lead. This is known as your customer acquisition cost.
Next, think about how many new customers you need each month to grow your business. Then use this formula to get your monthly advertising budget:
Customer acquisition cost x desired number of new customers
4. Set your advertising tree service goals
Are you starting a new tree service business and looking for your first customers? Promoting a new service? Or looking to stand out from the crowd in a new region?
Setting clear and specific goals will help you understand if your ads are working the way you want them to, and if you're using the right channels.
For example, if you're looking to attract local leads on a tight budget, Local Services Ads should do the trick. If you're trying to edge out a big competitor, then you might need a combination of well-designed Facebook and Instagram ads to stand out.
Start advertising your tree service business today
Implementing an advertising strategy to your tree service marketing efforts is a great way to attract a new customer fast, especially if you're just starting out.
To be successful, set advertising goals and use no more than three advertising methods at once. You can always adjust your efforts over time.