Managing Your Business
What is Route Optimization?
June 13, 2019
6 min. read
Planning your field crew's daily route is tedious, time-consuming work. You can spend hours manually planning routes and still only shave a few minutes off of your commute.
Some business owners simply assign jobs in the order that they come in. This works fine…until you have two crews coincidentally show up next door to each other in separate trucks. (Yup, it happens!)
Driving from job to job is part of, well, your job. But you shouldn't be wasting time or money on inefficient routing.
In fact, properly optimizing your routes can have a huge impact on your profit margins.
Think about it: less time driving means fewer fuel expenses, less wear and tear on your company vehicles, and the ability to fit more jobs into each day.
So how do you plan efficient routes for every crew, every day?
By using route optimization software.
If you're still manually planning routes, don't worry. We'll go over what optimization is and how field service businesses can use it to improve efficiency, customer satisfaction, and profit margins.
What is route optimization?
Route optimization is the process of using software to determine the most efficient and cost-effective way to get from one visit to the next.
Instead of driving to jobs based on the order they came in, you can optimize routes in a matter of seconds to reduce mileage, increase efficiency, and fit more profitable work into your day.
Route optimization can be used for just one vehicle or multiple crews so you can maximize your team's reach, time, and performance.
Can you manually plan routes?
Route planning can be done manually. Some companies do this using a physical map and printed sheets. But unless you have just one vehicle and know your area like the back of your hand, manual routing is highly inefficient.
The more jobs and vehicles you have, the more complicated routing becomes. Each vehicle you add to your fleet exponentially increases the number of possible routes and the number of hours you'll spend working out the puzzle.
Route optimization software such as Jobber works by running every possible route scenario through an algorithm faster than a human ever could.
What are the benefits of route optimization software?
Route optimization helps get your employees to the right place at the right time. It can also yield significant cost savings and help protect your profit margins.
Here are some of the top benefits of using route optimization software:
1. Reduce fuel and vehicle maintenance costs

With the rising costs of fuel, minimizing time on the road is one of the easiest ways to reduce expenses and protect profits. Plus, you'll reduce wear and tear on your company vehicles and reduce the risk of accidents.
2. Respond faster to last-minute scheduling changes

Modify existing routes and immediately notify your drivers of schedule changes with a field service app. That way, if a job is rescheduled, cancelled, or a same-day request comes in, you can make quick decisions and still get to the job on time.
READ MORE: What is a virtual assistant and how can they help your business?
3. Fit more jobs into each day

More jobs means more profits, but overscheduling can lead to frustrated drivers and worse, unhappy customers. Route optimization helps you shorten service time and get more drivers to more jobs safely and efficiently.
4. Happier drivers

With more efficient routes, your drivers won't be criss-crossing their own paths, spending hours in the truck, or showing up late to jobs because they got stuck driving all the way from the other end of town. Happier drivers tend to be safer drivers, too!
5. Happier customers

The best way to improve customer satisfaction is to show up when you say you will. Route optimization helps you get to each job on time and accommodate more same-day calls for customers in need of immediate service.
6. Less time spent planning and manually routing

Your time is best spent getting new business, not on tedious back-office tasks. Route optimization software can free up your time to focus on more important, revenue-generating work.
How to optimize field service routes in just 3 steps
Good route optimization software is able to create routes in just a few clicks.
The best route optimization software goes a step further by sending those routes to drivers' phones via an app, giving them turn-by-turn directions, and automatically updating their route if their schedule changes throughout the day.
Here's how route optimization works in Jobber (log in or start a free trial if you haven't already):
First, make sure you've created jobs or visits in your calendar and assigned each visit to a team member.
Go to the Map View on your calendar and click on the pin on the map that represents your starting point. Usually, that would be your shop or wherever you and your drivers usually start the day.
Click on Route From Here. Within a few seconds, you'll see the most efficient route visually plotted right on the map.
That's all!
If you want to see a specific team member's route, click on their name along the top of the map and it will be highlighted in red.
If you need to customize the route based on a customer's restrictions, simply click and drag the visits into your preferred order. For example, if your CRM (Customer Relationship Manager) tells you that a certain client can only be visited after 1pm, you can quickly reorder the route to make sure their visit is later in the day.
How to find the right route optimization software for your field service business
There are many route optimization solutions on the market. The most important thing is to find one that is tailored to your business' needs. If you run a local pest control or cleaning business, for example, you don't need to invest in enterprise-level software designed for courier companies with thousands of fleets!
Here are some things to look for in good route optimization software:
1. It's designed for the needs of your home service industry. Good route optimization software should allow you to easily map one-off jobs and recurring maintenance jobs for all of your crews.
2. It makes it easy to visualize your day's work to create a more productive daily schedule. A map view of your team's day sheet can help you make strategic dispatching decisions.
3. It makes it easy to track your team's location throughout the day and modify existing routes as changes come up. Look for software that offers live GPS waypoints so you can quickly see and assign the closest team member to a job.
4. This is a big one: The software should be flexible for in-field use. This can either be in the form of an app or mobile-friendly website. With an app, your team can access their routes, receive notifications, and get turn-by-turn directions from anywhere.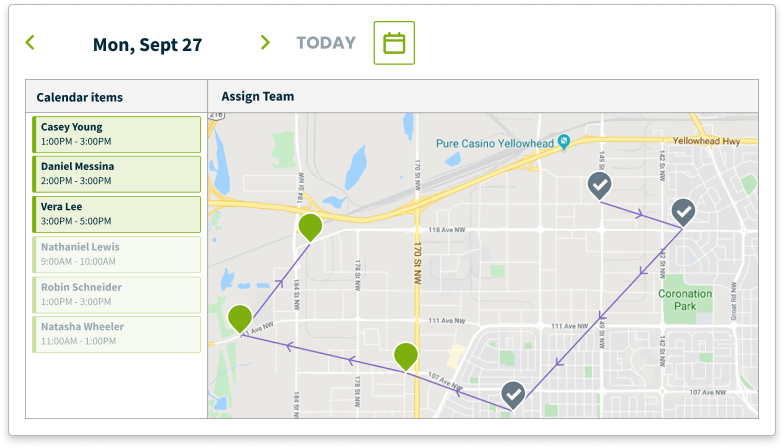 5. It integrates with your other software solutions (such as QuickBooks) to create a powerful and efficient addition to your business operations. Integrations also help you avoid duplicated data, which saves you time down the line.
6. It offers you more features than routing to truly help you improve your business efficiency. Jobber's comprehensive field service software offers color-coded calendars, client relationship management (CRM), invoicing, quoting, epayments, and more. When everything stacks, you can run an efficient business.
7. It helps you coordinate your arrival with customers. Jobber lets you send on my way text messages and even send the assigned technician's name and photo. Clients will feel comfortable knowing who is coming to their home to complete the service.
8. Finally, the best route optimization software options will be easy to use, and also offer support over live chat or phone so you can always get assistance when you need it.
Get started with route optimization
Life is a highway…but your time is best spent out of the truck and getting jobs done. Get started with route optimization software and see just how much more efficient, productive, and profitable your days can be.