How to Start a Window Cleaning Business – Everything You Need to Know
July 19, 2019
10 min. read
Starting a window cleaning business is an attractive venture in almost every sense: you get to be your own boss, there's no lengthy or expensive training, overhead costs are low, and there's tons of opportunity to grow.
Still, there is some legwork required to get started, from getting window washing insurance to learning how to price jobs.
To take the guesswork out of it all, we asked two window cleaning experts to share what they've learned from their years in the business.
Is window cleaning a good career?
In short, yes, window cleaning can be a great career. It's highly profitable, since you collect payment on the spot, revenue is recurring, and overhead costs are so low.
A typical day as a window cleaner includes canvassing, pricing jobs, scheduling visits, handling customer service, and day-to-day operations.
In order to excel at owning a window cleaning company, you need to excel at sales and customer service. You must also be physically fit and ready to handle some rejection, especially during your early days of cold calling and canvassing.
How much do window cleaners make?
The average window cleaning salary is $15-25 per hour, or $30,000-$50,000 per year, going up to $60,000 depending on your region. The average high rise window cleaning salary is higher, starting at $18 per hour. You can also think of your window cleaning salary in terms of jobs: the average residential job is $180. If you complete 3 jobs a day, that's $2,700 a week in revenue.
READ MORE: What's the difference between revenue and profit?
As a business owner, you can scale and earn more depending on the services you offer. For example, you can charge more for house cleaning packages or use water-fed poles and automatic invoicing software to do more jobs in less time.
How much does it cost to start a window cleaning business?
Starting a window cleaning business doesn't require a huge amount of capital. You can get started for less than $1,000 if you're working solo and already have a van or truck. Most of your upfront costs will go towards tools, clean uniforms, and the initial costs of establishing your business.
You can save money by operating out of your home and learning new techniques for free on YouTube.
Step 1: Find a mentor
If there's one thing you can do to set yourself up for success, it's to learn from others.
Both Dave and Steve's top advice for new window cleaners is to find someone who has done what you want to do, and reach out to them.
"You can shortcut your way to success by learning from other people who've done it before," says David. "I give a lot of credit to another Jobber user, who runs A+ Window Cleaners in Kamloops. The amount I've learned I have to give him credit for, and we've become friends through window cleaning."
The beauty of starting a window cleaning business today is that you can learn a ton from window cleaning influencers online.
Case in point? Check out Dave's real-talk blog post about the challenges of running a service business, and watch Steve's video below:
Step 2: Brush up on your customer service
Window cleaning is a service business – emphasis on service. Anyone can wash windows. It's your professionalism, customer service, and dedication to your clients that will set you apart and keep customers coming back.
Before starting your window cleaning business, brush up on a few service basics:
Appearance: Your vehicle, tools, uniforms, and documents need to be clean and presentable at all times. Little things, like wearing shoe covers when you go indoors, can go a long way. Remember, you'll be entering people's homes and businesses, so take pride in your work and always look the part.
Communication: Whether it's sending appointment reminders, texting quotes, or sending impeccable window cleaning invoices, there are lots of ways to impress clients and set yourself apart.
Efficiency: Your customer's time is valuable—and so is yours. The more efficient you can be, the more you'll impress customers and be able to fit work into your schedule. Things like online booking and electronic payments speed up daily activities so everyone can get on with their day.
Step 3: Establish your business and get insured
It's time to make your business vision a bonafide, legal entity.
Generally speaking, you can either register as a sole proprietor or incorporate as an LLC. "Incorporating is more expensive, but it creates a legal shield between yourself and your company," says Dave. "It's better from a liability standpoint, and it's the proper thing to do if you're going to grow and hire employees."
Next up, open a business bank account and sign up for accounting software to keep your bookkeeping crystal clean. QuickBooks is a popular option for small businesses to record expenses, track accounts receivable, and document all forms of income.
Finally, you'll need to purchase window cleaning insurance.
Window Cleaning Insurance: What do you need?
Whether you are using ladders or water-fed poles, accidents can happen. Insurance can protect your business from the worst. It also shows clients you're professional, trustworthy, and reliable.
Liability insurance: In case of a catastrophe, such as dropping tools on a client's new car.
Workers compensation insurance: This is a requirement if you have employees. Your region's workplace compensation board will take a percentage of your payroll in order to compensate your employees in the event of any workplace injury, whether it's a fall or a run-in with a dog.
High-rise window cleaning insurance: If you do high-rise window cleaning, you'll need additional liability and workers' compensation insurance. Some states also require certification, safety training, and specialized equipment.
Step 4: Buy your window cleaning supplies
The right tools will help you get the job done right. Luckily, traditional window cleaning tools are affordable and widely available.
A window cleaning starter kit includes:
A squeegee
Microfiber cloths and towels
An extension pole
T-bar and sleeve
A scraper
Cleaning solution and buckets(regular dish soap works great)
A ladder
A bidding and invoicing system

These starter tools can be purchased for a few hundred dollars if sourced well. Once you've gotten your business off the ground, you can invest in more advanced tools, like a water purification system and water-fed pole.
KEEP READING: Get our complete list of window cleaning supplies.
Step 5: Decide how much you'll charge
Unless you've worked in window cleaning before, learning how to price and bid window cleaning jobs may take some practice.
Most window cleaners don't charge by the hour. Instead, they charge by the number of window panes (each individual piece of glass) and the type of cleaning (construction, inside and outside, or inside only).
FREE TOOL: Try our free window cleaning estimate template
Average prices are $3 to $5 per window pane and $2 per screen. You will need to charge more for construction cleans and less for high-frequency clients (you'll make up the profits in the long-run). You can also charge for cleaning window tracks and window sills.
The more you bid, the more you'll learn. If you win 100% of your bids, you might be charging too little. If you're losing out, don't be afraid to ask what your competitor offered so you can begin to understand the market.
KEEP READING: Learn more about pricing strategies for service businesses.
Step 6: Find and attract new customers
There are two ways to get new window cleaning customers:
1. Canvassing and cold-calling:
Canvassing, or going door-to-door to storefronts and homes, is by far the most popular and quickest way to build your book of business. It may be nerve-wracking, but it works! For actual scripts you can try, read our window cleaning canvassing tips here.
2. Marketing:
With proper marketing, customers will find you, instead of you going out to find them. You don't need to hire an expensive agency or spend lots of money to get started.
Here are a few inexpensive ways to market a window cleaning business:
Build a professional home service website that lists your services and gives prospects an easy way to book work
List yourself in local business directories and online marketplaces
Create a Google Business listing
Offer window cleaning services to friends and family and ask them to leave online reviews
Network with local service businesses, such as landscapers, remodellers, and realtors. You can offer a two-way referral system to grow each other's client base.

Once you've started to build your book of clients, you can include re-marketing strategies, like following up with existing customers, email and postcard marketing, and creating a referral program.
Step 7: Hire a team
This step may or may not be a top priority when you start out, but is necessary as you grow and scale the business.
Revive Washing has seen their revenue increase with every new crew they've added. "We did $89,000 (CAD) in our first year, and $155,000 in our second with double the crews," explains Dave. "Where the big jump happened was this year, I was able to hire a production manager to basically help me run the crews and so this year our teams were 5 crews: that's 10 guys plus a manager, and myself."
If you're just starting out, keep your team close knit so you can train them well and ensure consistent quality and service:
"We have found that with four well-trained employees, you can do a lot of work. You can make it extremely efficient. With 4-5 people, our overhead is pretty small so we can make a very good living," says Steve.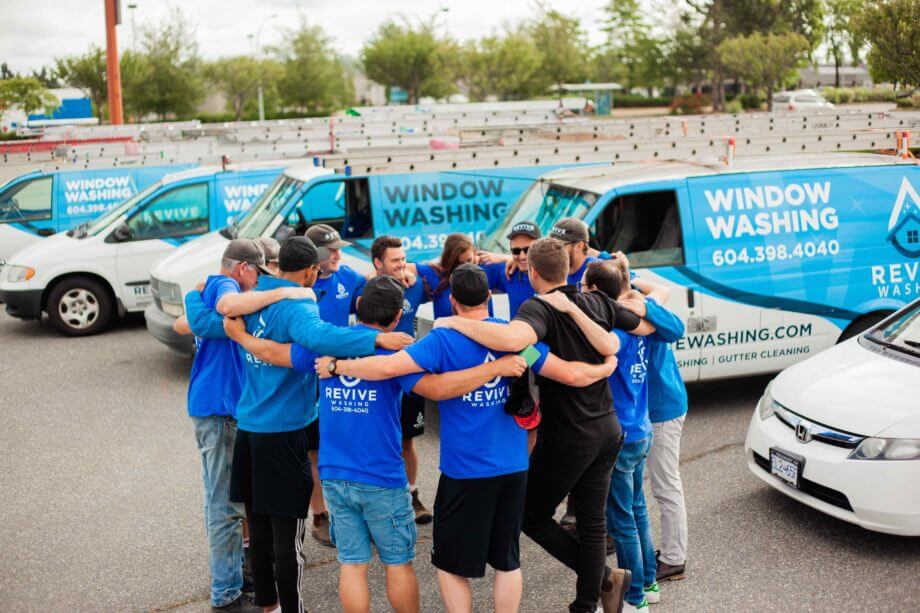 Step 8: Expand your service offering
Whether or not to offer additional services will depend on your region, business goals, and customer demand.
Revive Washing started out by just offering window cleaning, but soon customers were asking for gutter cleaning, soft washing, and pressure washing. Adding these services has increased their revenue and allowed them to work all year round.
"If we just did window cleaning, we'd really see a slow winter. Because we do gutter cleaning and house washing, it slows down. But at least it's not like going off a cliff," says Dave.
Ideas for additional window cleaning services to offer include:
Gutter cleaning
Soft washing
Screen repair
Christmas light installation

You can either advertise these services or only offer them on request.
Step 9: Systematize your business
Administrative tasks aren't the reason you started a window cleaning business. But neglecting them could be the reason you go out of business.
Letting client information slip through the cracks, missing appointments, and losing track of invoices will seriously damage your reputation and cash flow.
The earlier you take control of your business operations, the less financial loss and headache you'll have down the road. Window cleaning software is your best bet to get organized and stay organized.
Most important features of window cleaning software include:
Meet our industry experts:
Dave Moerman, Revive Washing
After spending 7 years building a successful house painting business, Dave launched Revive Washing, an exterior cleaning company that donates a portion of every job to support clean water projects across the globe. He's got a knack for business, sales, and marketing, and has used it to scale his business from 2 to 10 employees in under 3 years. Follow his business journey for a real look at what it takes to run a business.
Stephen Richardson, aka SteveO the Window Cleaner, 20/20 Window Cleaning
Steve has been in the window cleaning business for nearly two decades. He's now co-owner of Colorado's 20/20 Window Cleaning—but if you're one of his 15,000+ YouTube followers, you probably know him best as SteveO the Window Cleaner. A true master of his craft, Steve shares everything from window cleaning tool reviews to the sometimes harsh realities of owning a window cleaning business.