How to Estimate Lawn Care: 6 Steps for Quoting Profitable Jobs
April 28, 2022
7 min. read
Accurate lawn mowing and lawn maintenance estimates show your clients exactly what they're paying for—and they're essential to keeping your business running and growing.
We've put together a step-by-step guide on how to estimate lawn care jobs, create accurate quotes, and stay profitable for every job.
6 steps for making accurate lawn care estimates:
1. Make a pricing sheet
A lawn care pricing sheet is a list of all your lawn care services and their prices. When you have a record of your lawn care prices, you don't need to decide on pricing every time you make an estimate—it's already in writing.
This pricing is a reference point—it doesn't have to be set in stone. You can always make adjustments based on your client's property size, condition, and any additional materials.
READ MORE: How to price lawn care services [pricing chart and formula]
2. Assess your client's property size and conditions
Before you make a lawn care estimate, you need to know the square footage of your client's lawn and assess its conditions.
This is especially important for jobs that require new supplies. For example, to estimate a fertilization or weed control job, you need exact square footage to know how much fertilizer and other products to buy.
Here are a couple of ways to assess a client's property:
For most residential lawn mowing jobs, you can use Google Maps to measure the property size. Ask your clients about their lawn's conditions and exact requirements when you talk over the phone—or add a field in your online booking form to grab that information.
For bigger and more complex jobs, do a walkthrough of the lawn to get an accurate measurement and assess its conditions. You might find out that the property needs lawn aeration, edging, or a clean-up of grass clippings.
Use the square foot pricing on your pricing sheet as a starting point, then make adjustments based on the information you've gathered about the property.
3. Include additional services and materials
After you've estimated your service pricing based on the client's property size and conditions, add costs for any additional services and materials that fall outside your typical work.
For example, a client might ask you to use specific, eco-friendly materials that cost more. Or they could ask you to haul away leaves, dig or fill a hole, or clean up brush and debris.
If you discover add-on services or optional work that would enhance the job—like preventive weed control—add those to your lawn estimate. Including optional services is a great upselling technique that benefits both you and your customer.
Once you've identified the additional services and materials the job needs, you should:
Estimate these costs the same way you'd figure out the cost of a job. Consider the time each task will take, how much labor you'll need, and the cost of materials to buy.
Add the additional services and materials in your final quote.
If you do a walkthrough, take photos of the areas on your client's property that need extra work, and include them in your quote. Images help you show your client why you're including a certain product or add-on.
READ MORE: 4 ways itemized quotes can help you grow your service business
4. Calculate labor costs
Find out your labor costs so you can cover worker wages and price jobs properly based on the time and effort they need.
Here's how to calculate your total labor costs:
Determine the labor hours. Estimate how many hours the job will take. Then, multiply those hours by the number of employees on the job. If it takes three hours for two lawn care workers to complete the job, your labor hours will be 6.
Work out your hourly labor cost. Consider the hourly wages you're paying, along with employee overhead costs like taxes and worker's compensation. If you pay each worker $16.50 per hour and add 20% for employee overhead, your hourly labor cost per worker is $19.80.
Calculate the total labor cost. Multiply the labor hours by the hourly wage for a total labor cost of $118.80.
READ MORE: How to hire lawn care employees
5. Add overhead costs
When making a lawn care estimate, factor in overhead costs that keep your business running. This includes vehicle and fuel costs, insurance, taxes, computers, office rent and utilities, and other ongoing costs.
Instead of adding overhead costs separately to your estimate, include them in your service pricing—your customers don't need to know your overhead costs.
Some lawn care companies add 10–20% to their estimates to account for overhead costs. To get a more accurate measurement, you can calculate your overhead costs per hour using this formula:
Total monthly overhead ÷ # of billable hours per month
Let's say your overhead costs for the month are $3,600, and your team works 800 billable hours every month. Your overhead cost per hour would be $4.50.
To calculate your overhead costs for one specific job, multiply your hourly overhead rate by the number of hours your project will take. If you have a 3-hour lawn maintenance job, your overhead for the job will be $13.50.
You can charge more for jobs with special circumstances that increase your overhead. For example, if you have a client who lives far from where you usually work, charge extra for the added travel time.
READ MORE: 7 types of grants you can use for your lawn care business
6. Calculate your profit margins
Adding a profit margin to your cost estimate is how you earn money after you cover all your expenses. Your operating profit margin is how much you'd profit from one job.
Profit margins vary depending on the size of your business, your competitors' pricing, and the region you work in. An operating profit margin of 15–20% is a great goal for a small lawn care business.
FREE TOOL: Use our free profit margin calculator
To make that profit, you need to add markup to the labor, material, and overhead costs you've added up. Markup is the additional amount of money you charge your customer, on top of your total costs for the job.
Let's say your job costs are $120. If you charge the client $150, you'll make $30 in profit. That number is 25% of the job's costs (which is your markup) and 20% of your total earnings after the client pays (which is your profit margin).
If you want to reference past jobs to set your profit margin, here's how to calculate your operating profit margin on any job:
(Revenue – cost) ÷ revenue
Like your overhead costs, your markup shouldn't be included on the estimate. Add markup to your final price before you turn your estimate into a quote for your customer.
READ MORE: A complete guide to lawn care business profit margins
Use your lawn care estimate to make a quote
An estimate is a rough but educated guess at the cost of completing a job. This gives you some wiggle room in case any unexpected details pop up during the work.
Estimates don't generally include taxes or additional fees—they just cover the basic costs of the requested services. You can give your client a lawn estimate right after a walkthrough or phone call.
Once you've sent an estimate to a client and they've approved it, you need to put together a quote. Your quote should tell the client exactly how much they'll be paying for the job. Quotes include exact prices, taxes, fees, discounts, and any additional costs.
Here's what your quote should include:
Your company's name, logo, and contact details
Your client's name, address, phone number, and email
A detailed list of the services and materials you'll provide, with their associated costs
Optional line items for added services or tasks that would enhance the work
The total estimate for the job, including sales taxes and any special discounts, rates, or package deals
Terms and conditions, including the deposit amount and invoice payment terms
Space for the client's signature so you can start on the approved work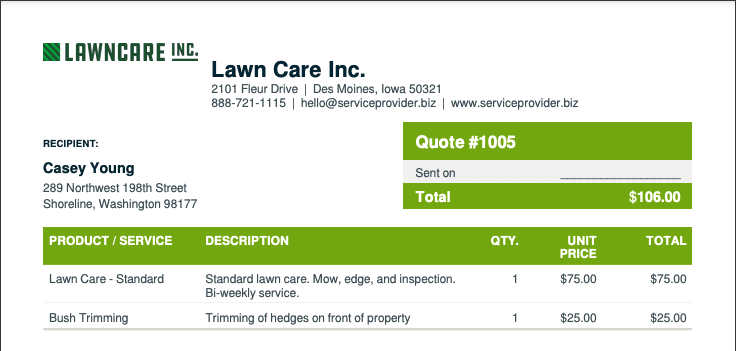 You can send a quote after your client has accepted and approved your estimate. Most of the time, the price given in a quote should be the same or very close to the invoice the client receives at the end of a job.
If you don't hear back within a few days, you can always follow up on a quote to see if your client has questions or concerns.
When you estimate a lawn care quote properly from the start, you'll know how to quote lawn services more easily and accurately—and get those quotes approved faster.
Originally published in February, 2020. Last updated on April 28, 2022.