Landscaping Services List: Quote Faster and Increase Profits [Free Download]
A landscaping services list contains the line items that you add to quotes and estimates, whether during or after a consultation.
This services list helps you track your services and price landscaping jobs. You can also send estimates and quotes to clients faster when you don't have to create line items from scratch.
But what types of landscaping services should you offer?
In this article, we'll share a list of 33 types of landscaping services you can offer when you're starting a landscaping business—and how you can increase profits on your services.
Get what you need to build a landscaping list of services, including:
Landscape design
Landscape design involves planning and designing outdoor living spaces before doing any digging or planting. You can offer design as a standalone service or as the first step of a larger landscaping project.
A few common landscape design services include:
Design consultation: You visit the site to assess the space and ask questions, then create a few rough ideas and finalize the design with the client. Standalone design consultations can be a good fit for DIY clients on a budget.
Hardscape design: This type of design incorporates the "hard" elements of an outdoor space, like brick and rock. For example, a hardscape design could include a plan for a brick patio, stone wall, or fountain.
Softscape design: Softscape covers any plants that will be included in an outdoor space, like trees, shrubs, and flowers. A client might want hedges lining their property, trees planted in specific spots, or flowerbeds laid out in a certain way.
Xeriscape design: This type of design concentrates on building outdoor spaces that need low or no irrigation. It tends to use either hardy, low-water plants like cacti or is designed to collect and distribute rainfall among plants.
READ MORE: How to start a lawn care business: the complete guide
Hardscaping services
With hardscaping, landscapers add features to a garden that are designed to last, like fountains, concrete benches, and even firepits. These are bigger installation jobs that take longer to complete.
Common hardscaping services include:
Patio installation: Constructing a patio on ground level involves building a base, adding a setting bed, and laying the paving. You may also want to add services like grading, planning, and detailing for a start-to-finish experience.
Deck installation: Above-ground deck construction starts with an on-site consultation where you take measurements. From there, you design and plan the deck, then build the foundation and structure. Homeowners are usually responsible for getting the right permits, but you can offer this as an added service.
Fence installation: Fences are posts connected by boards, wire, rails, or netting. To build a fence, you'll meet with the client, create technical drawings, dig holes for the fence posts, set the posts in concrete, and secure the framework to the posts. You might also offer finishing work like painting or staining.
Retaining wall installation: Retaining walls support soil at an angle that it normally couldn't maintain on its own. This type of installation needs planning and design to make sure the wall (and the soil) stay put.
Water/fire feature installation: Some clients want water or fire features like fountains, waterfalls, ponds, or fire pits. This type of service takes some specialized knowledge, but it can also provide more opportunities for your business.
Irrigation installation: Adding irrigation involves visiting the site, deciding on the best placement, and installing the system. To offer this service, you'll need to understand how water systems work and how technology can control water flow.
Path or driveway installation: You can work with clients to plan, design, and build custom paths and driveways. This often involves paving the area with brick, concrete, bluestone, flagstone, or another hard material.
READ MORE: 3 landscaping bid strategies to bring in more contracts
Softscaping services
Next up on your gardening services list is softscaping, which covers all of a space's horticultural elements. These services typically include:
Planting: You can plant a wide range of shrubs, trees, and flowers according to specific landscape designs. You'll need to remember the watering and sunlight requirements of different plants when creating your softscape design.
Sod/turf installation: Sodding is a fast way to create an instant lawn where there wasn't one before. It involves picking up, unrolling, and laying down strips of healthy turf (or sod), then watering heavily to help the grass take root in the soil beneath.
Lawn returfing: You can remove old grass that's too damaged to save, then install new turf. Some clients might need only small areas returfed, while others need their lawn completely redone.
Artificial turf installation: Artificial turf is for homeowners who want an always-green lawn that never needs to be cut. Installing this turf is just as big a job as the natural kind. You'll need to remove existing turf, if there is any, and lay down the new turf on top of the soil.
Grading: If a surface isn't flat and the client wants to plant new grass, you'll need to level the surface to prepare for planting. This can be a good add-on service if you also offer sodding or seeding.
Tree removal: Some clients may want to remove trees as part of their softscape design. You can cut a tree down yourself if you're trained to do it safely.
FREE TOOL: Try our free landscaping receipt template
Lawn care services list
Lawn care involves maintaining a client's softscaping so it stays healthy. Not every landscaping company provides maintenance, but it can be a great way to bring in recurring revenue.
Here are some common lawn care services to help get you started:
Lawn mowing: Cut grass to an even height using a push or riding mower. This service is often paired with edging and blowing to clear paths. When pricing your lawn care services, you can give clients the option of one-off or weekly visits.
Edging: This service creates clean lines between lawns and nearby pathways, garden beds, or other areas. You can offer edging alongside your lawn mowing services for a sharp, detailed look your clients will love.
Dethatching: Leaves and stems collect at the base of actively growing grass, just above the soil's surface, forming a layer called thatch. You can dethatch the lawn to help water and nutrients reach the grass's roots more easily.
Mulching: Mulch is made up of organic materials like grass clippings, leaves, straw, sawdust, and wood chips. You can apply it to the soil's surface to lock in moisture, reduce weed growth, and promote overall soil health.
Fertilizing: Fertilizer is a natural or chemical material that's added to soil as part of regular maintenance. It provides the right nutrients to keep plants healthy and green. Timing will depend on the season and the type of lawn, but your lawn care schedule should account for spring fertilizing.
Weed control: Regular weeding will keep weeds from growing out of control and taking over the entire space. Weeds grow fast, so you can offer hand-weeding or chemical weed control as part of your regular lawn care service.
Leaf removal: Leaves fall to the ground throughout the year, but especially in the spring and fall. You can offer a recurring seasonal leaf removal service, whether it's raking or blowing, to keep the lawn clean and green.
Trimming: When trees and hedges get overgrown, the outdoor space looks messy and can be hard to use. You can cut back the overgrown areas to make the space more appealing and help the client enjoy it more.
Pruning: This service involves removing dead or infected branches, twigs, or stems from trees and plants to encourage healthy growth.
READ MORE: Help your lawn care business grow with these apps
Yard cleanup: Some lawn care professionals offer yard waste removal, like fallen branches or other plant waste. This is a simple add-on service that keeps lawns looking great.
Lawn aeration: During aeration, you're poking small holes in the soil to keep it from compacting. This allows air, water, and other nutrients to seep in and help the roots grow. You'll want an aerator to help you save time and do the job right.
Overseeding: Spread new grass seed over an existing lawn without turning the soil to improve overall lawn health. This process adds color, thickens grass, and prevents weed growth. It also helps with insect damage, drought stress, and other signs of deterioration. You can offer this service alongside aeration when a lawn is looking run down.
Sod maintenance: If a client has a new lawn, they'll need ongoing maintenance to ensure the sod stays put and stays healthy. You can provide regular watering to keep the new sod healthy.
Artificial turf maintenance: Even though it doesn't grow, artificial turf still needs to be sprayed and maintained regularly to keep it in top condition.
Lawn pest control: Pests can affect a lawn's health and make it hard to enjoy an outdoor space. Think about offering pest control services to keep insects at bay, like grubs, fire ants, and armyworms.
Hourly labor: Your time is the most important part of any quote. It's usually bundled into your other services. But if you know a task will take extra time or you need another employee, add more hours for extra labor.
3 ways to increase profits on landscaping services
You can offer any of the landscaping services above as standalone options. But if you want to increase profit margins, think about bundling your services or offering different service tiers.
1. Bundle your services
You can combine several services into one package at a single price. This works best for services that go well together, and especially if you want to offer a discount for buying it all at once.
For example, you can sell sod installation and general maintenance as a bundle for a slightly discounted rate. This encourages the client to keep coming back to you for ongoing work.
FREE TOOL: Get our free landscaper salary guide
Below is an example of what a quote can look like with a service bundle included.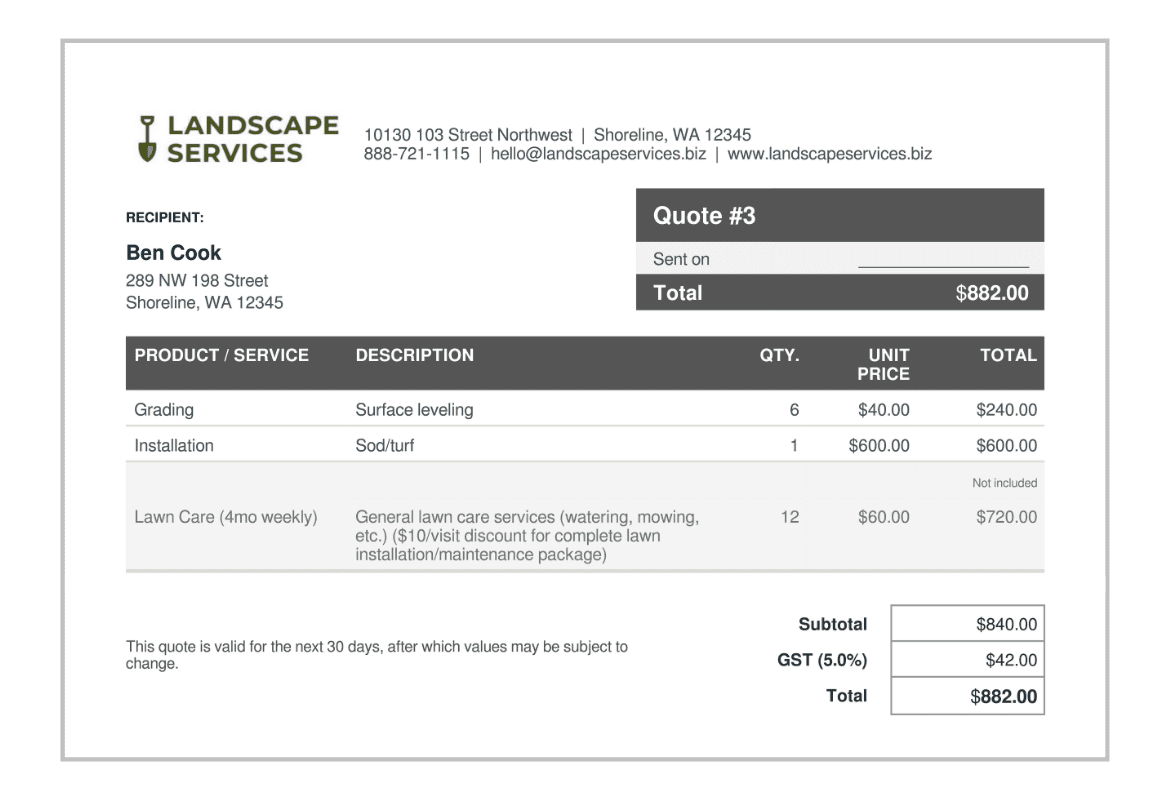 2. Offer different service tiers
It's common for landscaping and lawn care businesses to offer three different service levels or packages alongside each other, with good, better, best pricing that matches the value of each.
For example, you could offer three options for a lawn installation package:
🥉 Grading and sodding with 1,700 sq ft of bluegrass for $2,000
🥈 Grading, sodding, and four months' maintenance for $2,400
🥇 Grading, sodding, maintenance, and fertilizer treatment for $3,000
These packages work well for recurring services, which allows you to generate a steady income stream. It also makes you more competitive if other companies in your area are doing the same.
READ MORE: These lawntrepreneurs maxed out their client list in one season
You can also offer recurring service packages, provided multiple times each season. For example, softscape maintenance options could include:
🥉 Mowing for $99/month
🥈 Mowing and plant trimming for $149/month
🥇 Mowing, trimming, and fertilizer for $199/month
Pay careful attention to your pricing strategy here. Your price jumps should reflect the change in value so clients don't automatically choose the least expensive option.
Let's say you want clients to pick the silver package. The price should be just a little higher than the bronze, but the silver package should seem to offer way more value.
It also helps to visually call out the silver package as "most popular." Clients tend to choose the option that other people prefer.
READ MORE: How to get your first 100 lawn care customers (and beyond)
3. Use our free landscaping services list
Having a complete list of landscaping services makes it fast and easy to create landscaping quotes for your clients.
We've created a free landscaping list of services to help you do that. Here's how to download and use it:
Download the CSV spreadsheet to your device and open it.
Update the spreadsheet to include your product, services, and prices.
Save the spreadsheet as a new file (e.g., "Landscaping Services Price List").
Use your custom landscaping services list whenever you price landscaping jobs. Or, import the list into Jobber to add optional line items, packages, and images to quotes.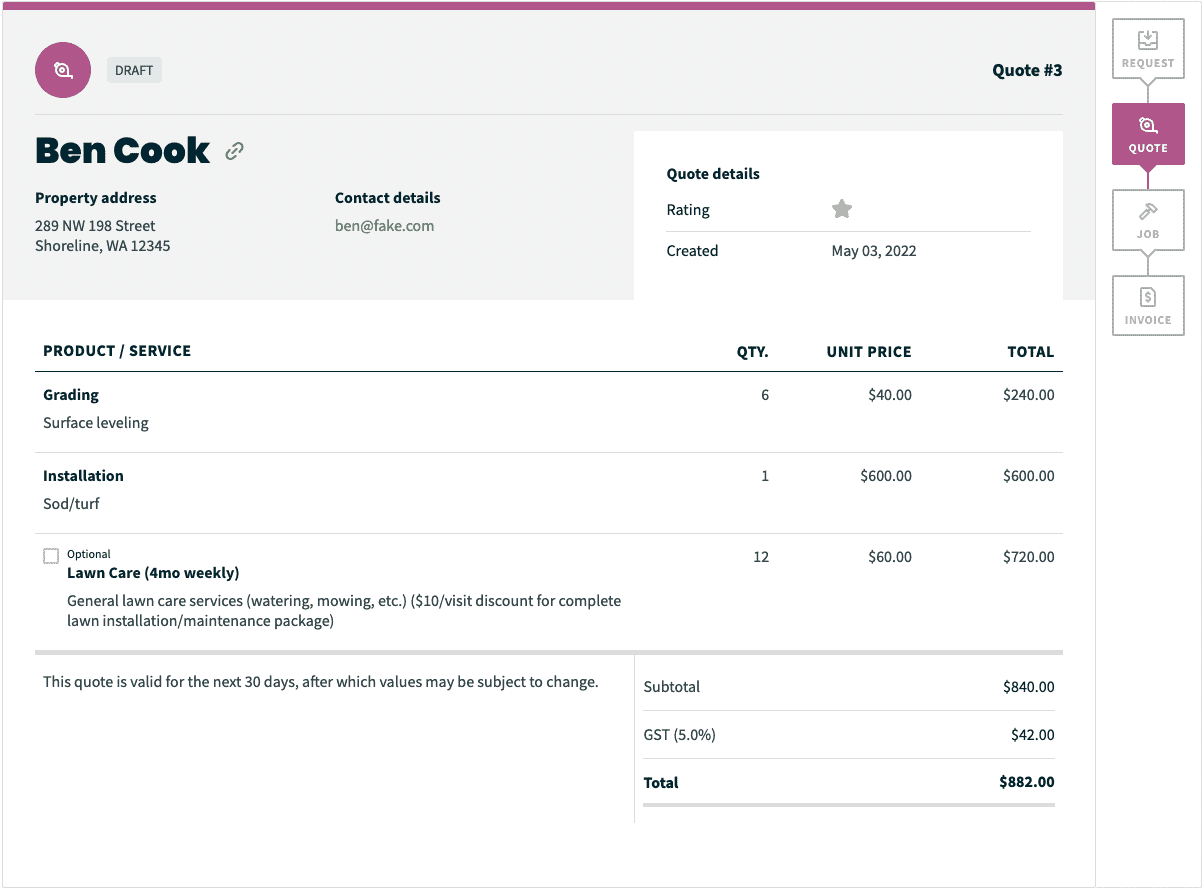 Only offer lawn care? Download our lawn care services list.
Building your landscaping services list and beyond
A landscaping services list is one of the first steps toward building a profitable lawn care business.
Whichever services you offer, price them for profit and use quote management software to build accurate quotes faster.
That'll help you book more jobs and quickly make a name for yourself as a quality landscaping and lawn care services provider.
Originally published June 2021. Last updated on May 3, 2022.