Sales and Marketing
Postcard Marketing 101: Get Started with These Ideas and Examples
October 11, 2019
7 min. read
Business postcards are making a comeback as a cost-efficient and highly targeted marketing strategy for service businesses. Here's how to decide if postcard marketing is right for you.
Postcard marketing is an old-school yet surprisingly effective way for home service providers to get more business.
Unlike 'spray and pray' flyer marketing tactics, business postcards are extremely targeted.
You can use them to earn more business from your existing clients, or generate entirely new leads by sending them to specific households that are most likely to want and need your services.
What is postcard marketing?
Postcard marketing is a form of direct mail marketing where businesses market their services via a promotional business postcard.
Promotional postcard content often includes coupons, announcements, new product introductions, and limited-time-only specials.
Think back to the last time you received a printed postcard in the mail that wasn't from a friend or long-lost family member. That was postcard marketing in action.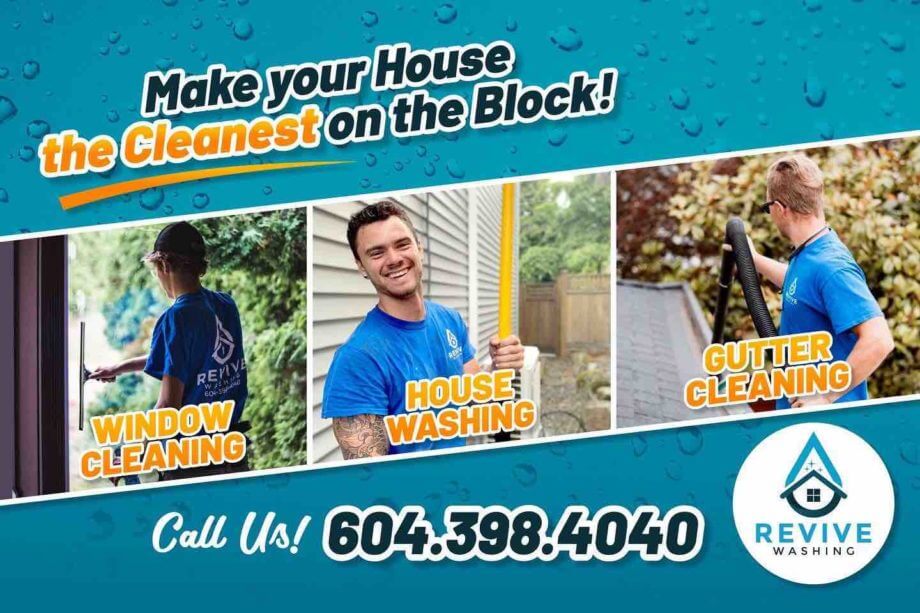 Does postcard marketing work for home service businesses?
Retail companies rely on flyers and coupons to attract new customers.
But postcards are especially effective for home service businesses, such as lawn care, window cleaning, plumbing, HVAC and painting.
Here's why:
Postcards are eye-catching. Unlike mailers in envelopes, business postcards already open, which improves the chances that customers will read them.
Postcards get read. 86% of consumers take their time to go through their mail and prefer it over a telemarketing call.
Direct mail has the best response rates (5.1%) when compared to email (0.6%), social media (0.4%), paid search (0.6%), and online display ads (0.2%).
Postcards have emotional value. Your customers are bombarded with emails, Instagram ads, and soulless direct mail. Postcards offer a nostalgic, personal touch that makes customers feel valued and helps your brand stand out from the competition.
Business postcards last. Have you ever scrolled past an Instagram ad, then tried to find it again later and couldn't? That doesn't happen with business postcards. Customers have something tangible to hold onto and remember you by. They can even pass these postcards on to other people, which helps you get more mileage from a single postcard.
Postcard marketing is cost-effective and scales well. Scroll down for postcard marketing prices.
Design is easy. It's easier than ever to design and send your own postcards thanks to postcard printing and mailing services like Mailchimp that manage the entire process for you, from postcard creation to distribution.
Postcard marketing plays well with all of your marketing, allowing you to reinforce your message and sell more. Combine postcard marketing with email marketing, social media ads, and your website to really drive your message home.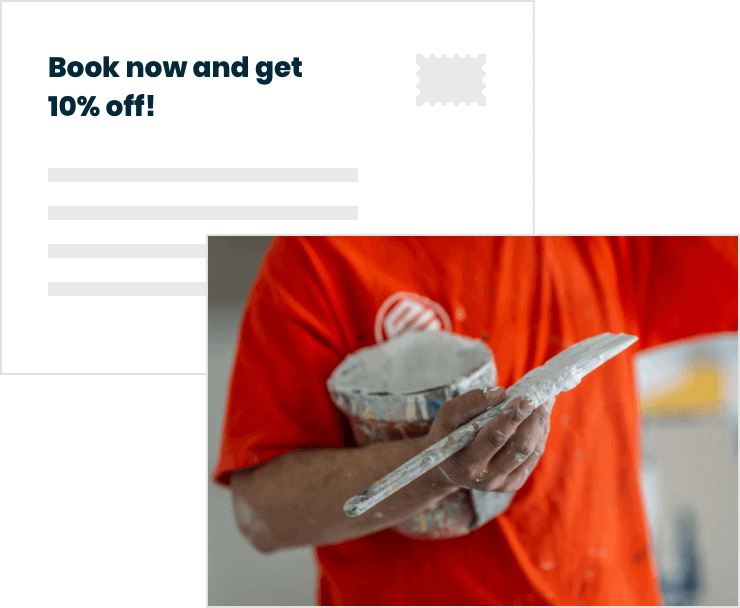 Business postcard ideas and examples
Generally speaking, there are two types of postcard marketing campaigns: one-off and recurring. If you're just starting out, try doing a one-off campaign to get the hang of it.
Eventually, you can do a mix of both one-off and recurring postcard campaigns to hit all of your marketing goals.
Here are some ideas and examples to get you inspired:
1. Promote a new package deal to get more business from existing clients
Create a one-off postcard campaign to promote a limited time or special offer. For example, if you run a pressure washing business, you can use your postcard to promote 25% off driveway cleaning when they book gutter cleaning with you.
2. Re-establish a connection with a "we miss your business" postcard
Take a look at your client list. Chances are, there are some customers you haven't heard from in a while. You can still win them back. Send a one-off, targeted postcard campaign with a personalized message that you miss them and would love to book work soon.
3. Introduce a new service add-on
This time, instead of just targeting your existing clients, you can send the postcard campaign to existing clients and new leads by creating lookalike audiences through your postcard mailing service.
4. Impress prospects with an enticing before and after image
Postcards are a visual marketing medium. Take advantage of that by including a great before and after image of your finest work and a 5-star testimonial on the back.
Combine this one-off postcard campaign with a link to a landing page built specifically to attract new customers. This double-whammy strategy will impress recipients, and help them to easily find you and book work online.
5. Re-engage customers with a seasonal offer campaign
Unlike one-off campaigns, recurring postcard marketing campaigns are set-it-and-forget-it. Postcard marketing services like Mailchimp let you automatically send postcards every one, three, or six months with no extra work.
You can take advantage of recurring postcard campaigns to re-engage existing customers and always stay top-of-mind. For example, run a quarterly campaign at the start of every season book work
6. Grow your lead list with a referral program
Another one-off or recurring postcard campaign idea is to promote your customer referral program. What's great about using postcards for this is that the client can literally 'hand off' the deal to their friend or neighbour. The postcard acts as a nice, tangible reminder of the deal.
7. Build an emotional connection with holiday or birthday greetings
Send your customers yearly birthday or holiday postcards to stay top of mind, differentiate yourself from your competition, and add a touch of delight to your clients' daily mail routine.
How to measure the success of your campaigns
It's not enough to send out a postcard marketing campaign if you can't track how it's affecting your bottom line. Here are two of the most common ways to measure success:
Calculate how many customers booked work relative to the number of postcards you sent. This is ideal for a customer re-engagement campaign where you encourage dormant customers to purchase your services again.
Track how many people visited your unique postcard link. This works for a new customer outreach campaign where you drive brand awareness.
Pro Tip: When creating a unique link to add to your postcard, consider using link shortening services like Bitly or Ow.ly. This way you can create a short, custom link that's easy for people to type.
How much does postcard marketing cost?
The exact cost of a postcard marketing campaign will depend on:
The quantity of postcards
Where you're sending the postcards to (postage costs differ between countries)
The businesses you use for printing and designing your postcards as well as writing the copy
To keep costs minimal while you get started, use a dedicated postcard marketing service. These usually include free templates, examples of copy, and flat fees for printing, postage, and mailing.
Mailchimp, one of the most recognized postcard marketing services, will mail your postcard for as little as $0.75c per card within the U.S.
Best practices to help you get started with postcard marketing
Now that you know what postcard marketing is, why it works, the types of campaigns available, and the cost categories that are part of any campaign, let's look at the best practices to get started:
Know your audience and build a quality list. It doesn't matter how amazing your postcard is, it's pointless if you send it to customers who aren't in the market for your services. Start by sending business postcards to your existing clients and leads by exporting your client list from your CRM to a postcard marketing service. Then, you can use that list to build lookalike audiences and make sure your postcards are reaching the right people.
Include an attractive headline, easy-to-understand copy, and a call to action, e.g., a link to your website. Because you have limited space to communicate your message, keep it short.
Create an eye-catching postcard with a design that complements your brand and copy. Many postcard mailing services offer free business postcard templates that will help you look polished and professional, even if you're just getting started.
Add a tracking mechanism to measure the success of your campaign. As mentioned, this can be as simple as creating and adding a unique and short link.
Create and send your first postcard marketing campaign with Jobber and Mailchimp
Mailchimp is an all-in-one marketing automation platform that offers email and postcard marketing features.
The platform lets you run personalized and targeted marketing campaigns and is designed to scale with your business. When you use Jobber in conjunction with Mailchimp, you can automate your postcard campaign creation.
To get started with your first postcard marketing campaign, simply connect your Jobber and Mailchimp accounts. Your existing clients or contacts in Jobber will then automatically sync with an audience in Mailchimp.
You can then access all your contacts from within Mailchimp and quickly and easily create a campaign without a single trip to the post office.
All you have to do is create your design, decide who you want to reach, and let Mailchimp send the postcard on your behalf. It's that easy.