6 Awesome Carpet Cleaning Websites (Plus Tips)
July 21, 2017
4 min. read
You're no web developer, but you can know when it's time to update your online presence.
Use this advice to ensure potential customers don't bounce off your page and into another carpet cleaning company's lap. Check out the sites below to see how other small businesses are already hitting it out of the park.
Provide testimonials and trust indicators
When you can't make a decision, you usually check out what everyone else is doing. The same rules apply when potential customers are looking for a carpet cleaning company.
You put a lot of effort into ensuring customers have a good experience. If you want those positive experiences to double their return on investment, request written feedback from clients that you can post on your site along with their first name and, if they're comfortable, a photograph. Testimonials are a great way to demonstrate your commitment to quality work and customer service.
Pro Tip: Automate emails to your customers after each visit with Jobber's client communication features.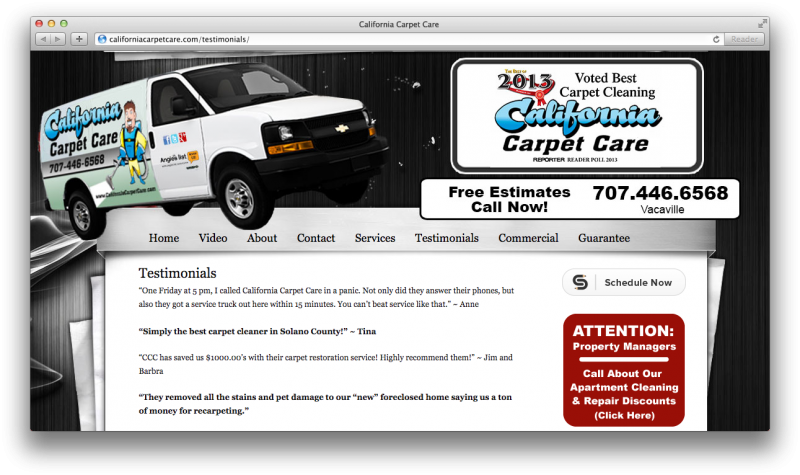 Other helpful ways to establish trust and credibility include showcasing reviews, industry awards, and quality guarantees. 416-SO-CLEAN offers a 100% satisfaction guarantee that demonstrates their confidence in the quality of their service. This satisfaction guarantee reduces hesitation for new customers.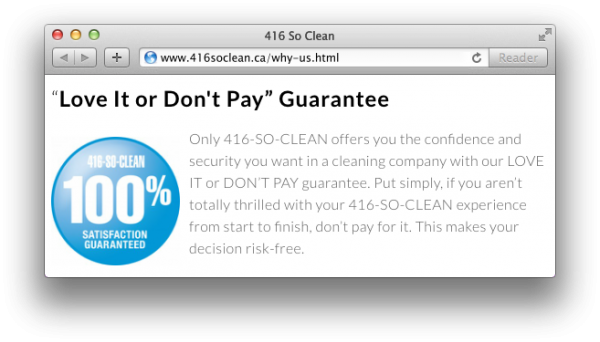 FREE TOOL: Get paid faster with our free carpet cleaning invoice template
Answer your customer's questions
Anything to do with home improvement or repair comes with a lot of questions. Questions may cover topics about your company like your process, supplies, or warranties. Other times, customers may have just general carpet cleaning questions. In both cases, you want to answer questions that your potential customers have.
Providing a Frequently Asked Questions page (also known as a FAQ) can help people who are on the fence about your company get the answers they need right away. That way, they move swiftly through the buyer's journey and get closer to making a purchase when they finally speak with you.
Toronto Steam 'n' Clean does just that. They provide a FAQ page that lets prospects know about:
Their $2,000,000 liability insurance
The screening process and training their employees go through
Their IICRC certification
Their cleaning method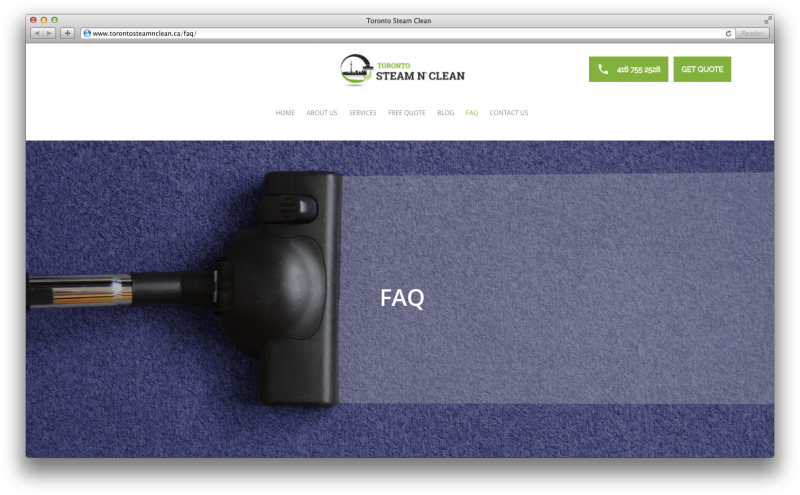 Provide a menu that is easy to navigate
People generally don't browse carpet cleaning websites for fun, so your site should be easy to navigate. In other words, your site needs to help people quickly get to where they need to go.
If someone is on your website, what are some of the first questions they want answered?
What kind of services do you provide?
How long have you been in business?
How much do your services cost?
How do I book your services?
These questions can be answered with a services page, an about page, a pricing page, and a phone number or request a quote button.
Green Leaf Carpet Cleaners makes it easy for customers to find answers to their questions (and get that much closer to contacting the company) with its easy to navigate menu. The main menu also has a drop down menu so customers can find specific, but relevant info: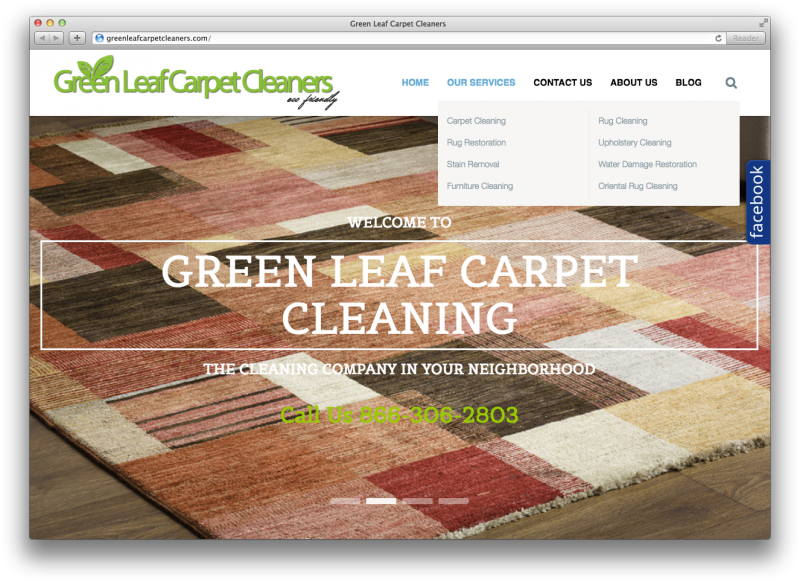 Make it easy for customers to request a quote
Your customers appreciate convenience. They want to know what you offer and how much it costs. Unfortunately, sometimes to provide pricing information, you need some questions answered by your client, so make it easy for potential customers to get the conversation started about pricing.
Carpet Cleaning NYC dedicates prime real estate on their site to a form that prospects can quickly fill out. The form is detailed enough without being cluttered. You can indicate the kind of cleaning you want whether it's carpet, upholstery, or rug cleaning.
Looking for an easy way to add a request a quote button to your website? Try Jobber's work requests, which collects all your client's contact information and job details, so you can get to work.
Include engaging photos and images
Well-lit photographs of bright, airy rooms help site visitors see what their house will look like once they invest some money into improving it. Choose images that are aspirational, clean, and engaging for your customers.
Preferably, you'd use before and after photos that show visitors exactly what your team is capable of doing. Family Time Carpet Cleaning does just that by including great shots of exactly what they can do for homeowners and businesses. Prospects can easily browse through these photos on their website.
READ MORE: Carpet cleaning company names to inspire your startup
Think of your website as the face of your company online. You want your website to deliver a strong first impression, so make sure it looks good, answers your customer's questions, and helps them book your services. Use these tips to elevate your brand, improve your online presence, and impress your customers.