Entrepreneur Inspiration
How Blush Artistry Keeps 23 Team Members Organized and in Demand
November 7, 2017
4 min. read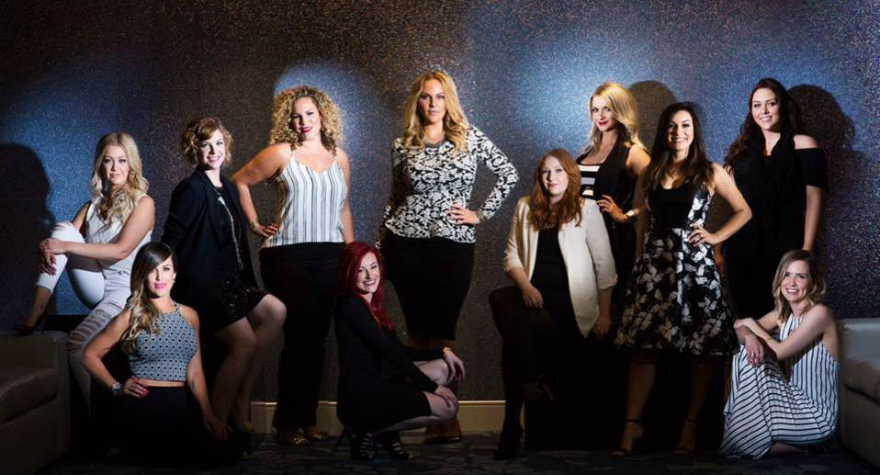 Blush Artistry
Heather Dick shares how she keeps her team of makeup artists and hair stylists on the same page.
Visit Website ››
Blush Artistry was established in 2005 in Edmonton, Alberta by Heather Dick. The artists, stylists, and instructors of Blush Artistry specialize in providing mobile makeup application, hair styling and lessons throughout the province. We asked Heather and Blush Artistry's social media manager, Shannon Gamache, about what it takes to market and manage a successful mobile beauty business.
Tell us a little bit about Blush Artistry
Heather: We have a studio in Edmonton where we can host customers and private parties, but most of our business involves visiting our clients, so we are mobile throughout the city and province. We can cater to any kind of makeup application and hair styling, and we provide services to all ages, faces, and hair, applying whatever look you'd like to create. A makeup application usually take about an hour start to finish.
Your website mentions group classes and lessons, how do those work?
Heather: Our classes and lessons are something exclusive to Blush Artistry [editor's note: Heather has been teaching for over 10 years]. Depending on the class you are taking, you can learn everything from basic everyday makeup application, which is great for teens and birthday parties, to very specific looks, like 'pinup makeup'. The one on one lessons are very interactive and fantastic for those who prefer a more personal experience.
What is the most valuable tool in your toolbox?
Heather: Because there are 23 of us, and we are all different artists and stylists, this answer would vary. For myself, I would say my brush belt. If I leave that at home, It's like a carpenter forgetting his tool kit. We are useless without our makeup brushes!
Outside of work tool, what would you never leave home without before a day in the field?
Heather: My phone. Not only would I be forever lost without GPS, but so would the Blush girls!
What is your secret for managing a mobile workforce efficiently?
Heather: Jobber is the secret. It keeps us organized, on top of invoices, locations, deposits—it truly is a brilliant tool for businesses with a mobile aspect. There are many features about Jobber that we love, but I'd have to say the prompts to follow up on quotes, and the full reports we can pull at the click of a button are my favourite.
What's Blush Artistry's top marketing channel?
Heather: Social media is huge for us. We use Facebook and Instagram mostly. At one time, we did use Twitter, but to be honest a lot of our business is for brides and we figured-out that we find our best audience in a more visual medium, and where sharing comes from friends. We hired Shannon to manage all of our social media pages and it's worked wonders.
Any tricks of the trade for social media marketing that you can share?
Shannon: We use hashtags to localize ourselves and make it easy for people to find us. #YEGmakeupartists for example, or something specific like #brides. We find those work better than just using beauty brands as a hashtag. Those may get you a lot of 'likes' but we're after quality, not quantity.
It's really all about putting good opportunities in the top of the funnel. We used to do some paid ads on Facebook, but we found that our success on the bridal work was so specific that it was tough to zero-in on both the right people and message, so about 99% of what we do now is all organic rather than paying for it.
Any best practices for what and when you share on social media?
Shannon: A lot of what we use social for is to help people discover us, maybe while they're doing research for a wedding, or party they want to host. We find it's really important to let them know early-on that they can expect a personal experience from us. So, little things, like we never copy and paste other people's content, or spam someone with bunch of posts—that's just so cheesy. We want people to know that we're a real person, and it's us that's sharing and responding and we always get back to a comment or a message within a day.
What have you learned about running your business that you wish you knew in the beginning?
Heather: Oh man, so many things. I would say having the correct tools to do the job is huge, and I don't mean makeup brushes! Before Jobber we were managing the company wrong, so wrong. Jobber has allowed us to cut down time on everything, hold onto our money, charge efficiently, and also allowed me to work from anywhere. Having Maui as an office (occasionally) is a HUGE perk!