Electrician Tools List: 40 Professional Tools to Buy (With Prices)
October 13, 2023
8 min. read
Picking the right electrician tools will help you get to work faster—and complete the job better—whether you're an apprentice, journeyman, or just starting an electrical business.
To help you manage your tool allowance or budget startup costs, we've compiled a list of the tools you'll need as an electrician, along with average prices.
Together, all of the tools in this list cost $900–2,565 in total, but you can start with just some and add more to your tool kit over time. Download this electrician tool list PDF and follow our guide below to buy what you need and be prepared for electrical work.
Complete electrical tool list:
⚠️ The tool prices listed are approximate ranges. Pricing will vary by brand, store, quality, and whether they're new or used.
Apprentice electrician tool list
Just starting your electrician apprenticeship? Check what tools your company has already, then purchase these basic electrical tools for around $180–385 (depending on the brands and types you choose):
1. Fish tape ($15–60): A roll of fish tape will help you route new wiring through walls and electrical conduits, providing a path to pull the wire through inaccessible spaces.
2. Tape measure ($5–20): Keep a tape measure in your tool bag to measure distances and sizes for all kinds of electrical tasks.
3. Crescent wrenches ($15–50): Pick up one or a set of these adjustable wrenches to fasten nuts and bolts in electrical installations.
4. Torpedo level ($20–35): You can use any kind of level to ensure accurate horizontal and vertical alignment during installs, but a torpedo level is portable and handy for tight quarters.
5. Multimeter ($30–40): Multimeters measure voltage, current, and resistance in electrical circuits. You don't need a high-end multimeter at this point—just make sure it measures AC and DC, amps, and ohms.
6. Cable cutter ($15–30): Cut, strip, and manipulate electrical wire with a pair of cable cutters so you can make precise cable connections.
7. Electrical tape ($1–10 per roll): Apply electrical tape to insulate electrical wires so you can prevent shorts and protect wires from environmental damage.
8. Cable ties ($5–15): Use cable ties to organize and bundle wires and cables neatly. These ties prevent tangling, reduce tripping hazards, and maintain organized wiring.
9. Socket set ($45–65): Sockets help you tighten and loosen nuts and bolts during installations, maintenance, and repairs.
10. Tool belt ($30–60): To keep all these tools in arm's reach while you work, purchase a tool belt you can comfortably wear during electrical work.
READ MORE: 12 electrician apps to make your job easier
Essential hand tools
At any stage of your electrician career, make sure you have a versatile set of hand tools. These hand tools can cost you anywhere from $145–745 if purchased new:
11. Wire stripper ($10–50): You'll need wire strippers to remove the insulation from electrical wires safely and without damage.
12. Wire crimper ($20–35): Use this hand tool to connect electrical wires, affix connectors onto cables, or conjoin two pieces of metal securely.
13. Hacksaw ($10–40): A small-toothed saw cuts through metal pipes, channels, or other hard materials precisely. Choose a hacksaw with an ergonomic handle to reduce strain.
14. Utility knife ($5–50): Keep a razor knife around to cut cables, wire insulation, and other materials neatly.
15. Hex keys ($5–20 per set): You'll find hexagonal screws and bolts often in electrical systems, so keep hex keys (also called Allen wrenches) in your tool bag.
16. Knockout punch set ($50–400): Use a punch set to create holes in electrical boxes or panels when you need to create additional wiring paths.
17. Reamer drill bits ($10–20): This drill attachment creates burr-free holes in electrical boxes and panels so you can protect wire insulation from damage during pulls.
18. Splicing connector ($5–50 per pack): To join a large number of wires securely, use a splicing connector. It acts as a docking station that creates stable electrical circuits.
19. Screwdriver set ($10–30): Purchase a screwdriver set with flat-head, square tip, and Phillips driver heads so you can handle screws across all types of electrical components. Look for insulated handles that protect you from electric shock and arcing.
20. Coaxial cable crimper ($20–50): This specialized crimper helps you achieve precise, reliable, and water-tight connections in coaxial cable installations with a compression tool, enhancing signal integrity and lifespan.
21. Pliers set ($65–90):
Channel lock pliers to turn and hold nuts and bolts, or to stabilize objects during work
Lineman's pliers for cutting, bending, and gripping electrical wires during installations and repairs
Diagonal pliers for cutting wire neatly without much and removing pins within an electrical component
Long nose or needle nose pliers for bending, cutting, and repositioning wires in tight spots
Chain pliers to pull chains, fixtures, pipes, and fittings
Power tools
Depending on the types of jobs you complete, a full set of electrical power tools can cost you between $395 and $1,155. Here's what you might need:
22. Power drill ($20–80): You'll use a drill to create holes, bore, fasten, and more—it's a must-have power tool. Look for a drill with adjustable torque and speed settings, or even safety features like electric brakes.
23. Hammer drill ($70–150): Hammer drills are vital for drilling into hard materials like concrete or masonry, ensuring secure anchor placements for electrical installations.
24. Impact driver ($50–160): Impact drivers provide higher torque than drills, which help you drive screws efficiently—even into dense materials—without stripping screw heads.
25. Power saws ($30–130 each): Use a reciprocating saw or a jigsaw to create detailed cutouts in panels or drywall, a circular saw for long, straight lines, and a hole saw for round holes.
26. Angle grinder ($25–105): Angle grinders help you cut, grind, and polish materials smoothly for installations.
27. Power crimper ($100–300): This crimper uses electricity to conjoin two pieces of metal or ductile material by manipulating their shape so they hold each other securely.
28. Heat gun ($25–60): Heat guns provide controlled, directed heat to help you shrink or manipulate materials and make secure, insulated connections.
29. Voltage tester or detector ($20–35): This device detects the presence of electrical currents in any circuits or components—both to test them and to prevent electrical shocks during electrical work.
30. Receptacle tester ($5–15): Plug one of these into an electrical outlet to check that the outlet is wired correctly.
31. Circuit breaker finder ($25–50): This quickly identifies which circuit breaker corresponds to a specific outlet or circuit.
32. Wire tracer ($25–70): Use this to trace the path of an in-wall or underground electrical cable and locate where it ends.
Safety tools
It's a must to invest in proper protective equipment—you can't complete a job when you're hurt or when property is damaged. Budget $117–190 for these safety tools to protect yourself and your customers:
33. Safety goggles ($10–25): Whether you're soldering, drilling, or connecting cables, safety goggles are a must-have to protect your eyes from flying sparks and debris.
34. Cut-resistant gloves ($7–25): Pick heavy-duty work gloves to protect your hands from cuts and abrasions while handling wires and other sharp objects.
35. Knee pads ($20–40): These provide cushioning and reduce stress on the joints during installations or repairs.
36. Flame retardant work shirt ($80–100): Most workwear stores carry flame-retardant shirts that prevent the spread of flames and protect your skin from burns.
READ MORE: How to run a successful electrical business
Business management tools
Tools that streamline your quoting, scheduling, and customer service are just as important as crimpers and multimeters.
Consider these business management tech tools that help you win electrical jobs and keep customers happy:
37. Electrician invoice generator
Cost: Free
The electrical work invoice generator from Jobber lets you create and download a professional invoice that you can send to your customers in minutes.
Simply add your company and client information, job details, and pricing, then download your invoice as a PDF that's easy to send to clients.
Or try Jobber's cleaning invoice software to convert job details into invoices, send multiple invoices at once with batch invoicing, and automatically follow up with customers on overdue payments.
38. Fleet management software
Cost: Varies by number of vehicles
Fleet management software uses GPS to locate, monitor, and track the efficiency of your work vehicles.
FleetSharp is a great option for mapping out more efficient routes and reducing fuel costs. This app lets you track vehicle activity, vehicle location, driver behavior (like speeding), mileage, maintenance alerts, and gas levels.
39. Accounting software
Cost: Starting at $22/month
Accounting software is essential for managing expenses, payments, payroll, and all your finance work. QuickBooks Online is ideal for electrical businesses of all sizes that need to track:
Payments from clients
Payments to contractors or employees
Receipts to prepare for tax season and claim tax deductions
Plus, QuickBooks integrates with Jobber so you can keep your customer, invoice, and payment information accurate without any double-entry.
40. Electrical contractor software
Electrical contractor software like Jobber helps business owners create quotes, schedule service calls, invoice, and collect payments—from the office or the job site.
Using Jobber, you can win bigger jobs by suggesting additional services or maintenance packages. Customers can pick the option that best fits their needs and watch their total update automatically before they approve.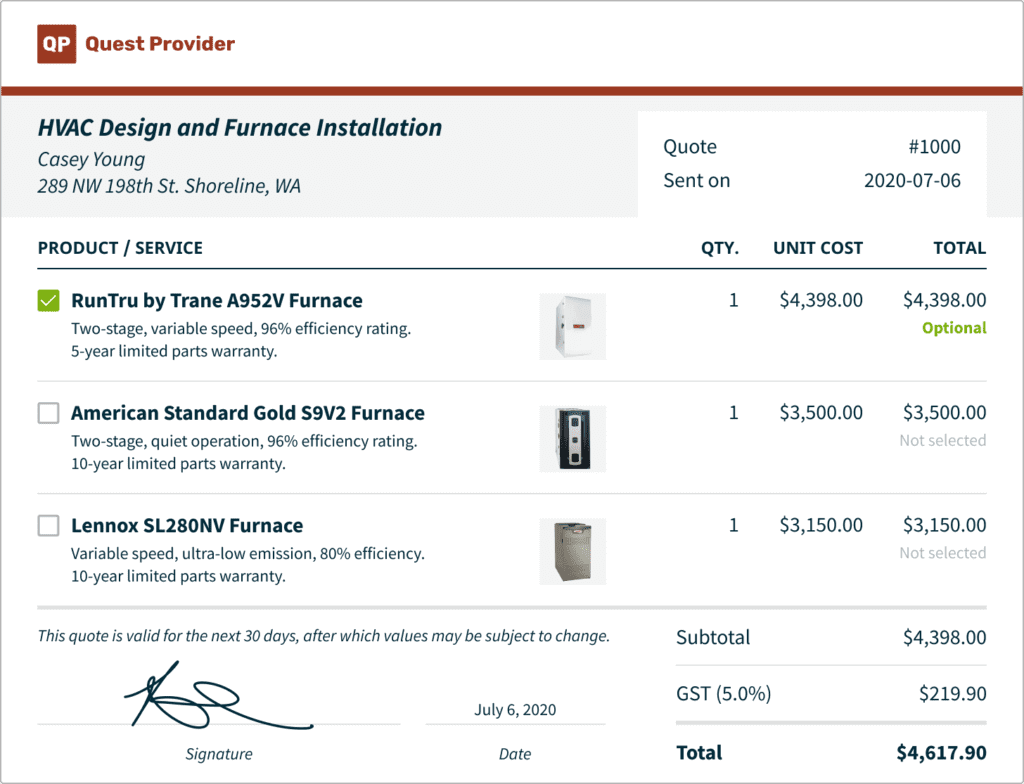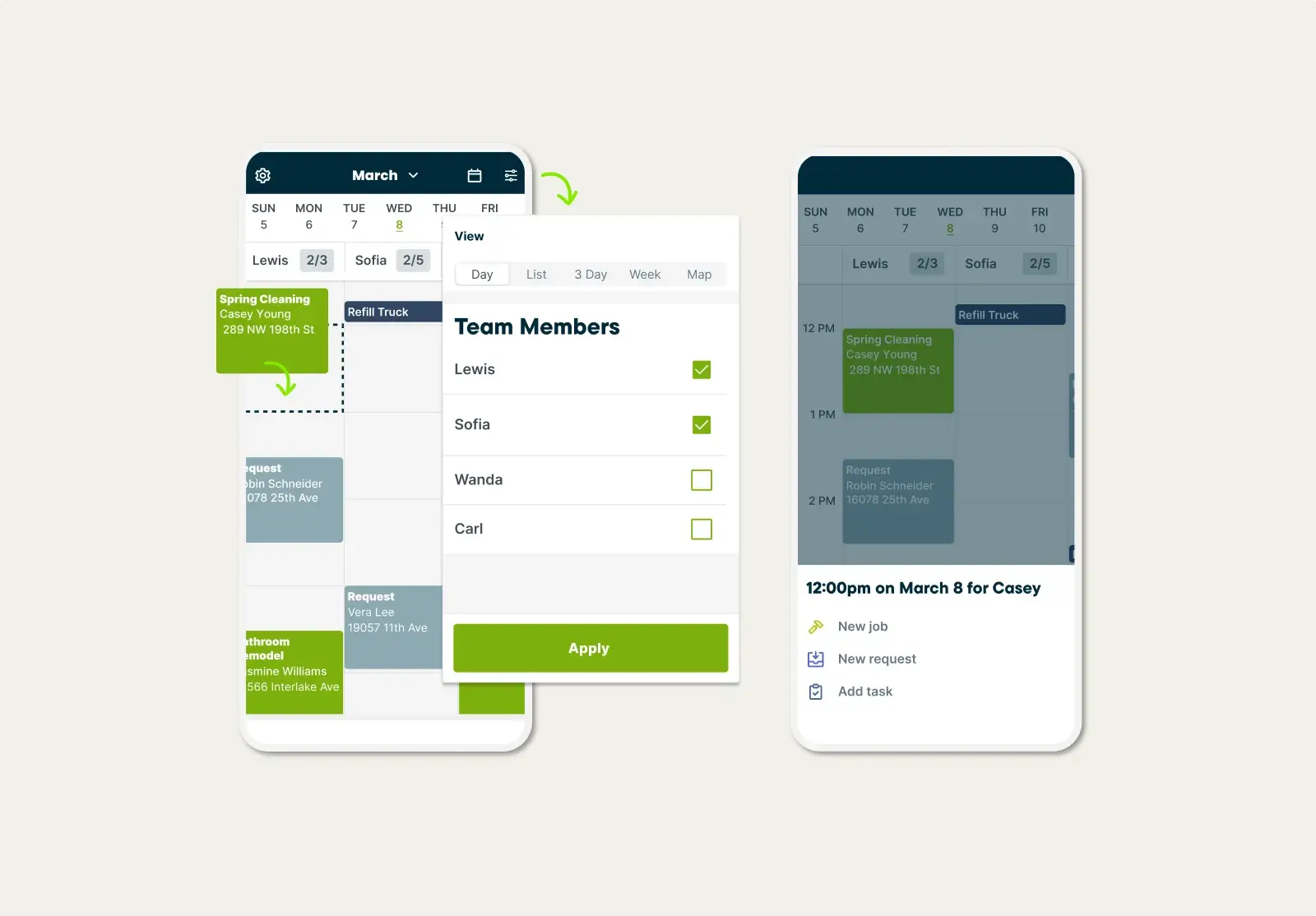 Jobber sends automatic team reminders to let your electricians know as soon as a job is added to their schedule—or if an existing visit gets rescheduled.