Entrepreneur Inspiration
Better Scheduling Led to This HVAC Business' Highest Year On Record
January 13, 2020
4 min. read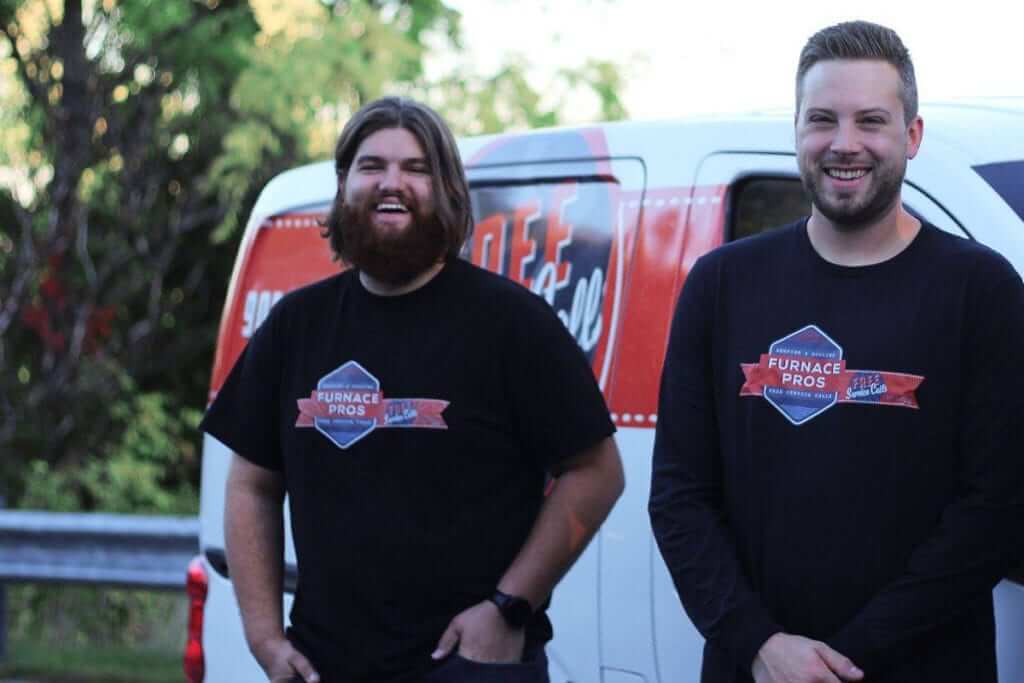 Furnace Pros Niagara
Learn how this family-owned HVAC company responds to emergency calls faster than their competition thanks to efficient scheduling and GPS tracking.
Brother-sister duo Jason and Julia Frey own and run Furnace Pros Niagara, a six-person company that installs, repairs, and maintains residential heating and cooling equipment.
Even though they're a small team, Furnace Pros Niagara has one of the best online ratings in Niagara, Ontario, Canada for HVAC services.
As a response-centered industry, Julia says the key to their success has been great customer service, including fast response times, dependability, and free service calls—all of which became much simpler with the use of technology.
"We're working with furnaces that break through the night, and the client calls us in the morning and needs us there that day to fix it. You need strong operational systems in place, such as Jobber, to be able to carry the weight of time management for you as the business owner."
Julia and Jason added Jobber to their business toolkit in 2019. Thanks to Jobber, Furnace Pros Niagara has:
Reached their best sales numbers to date
Streamlined their operations, giving them more time to focus on growth
Improved emergency response time with live GPS tracking
Captured their entire workflow for a job in one place, from storing customer information, to scheduling and dispatching, tracking employees, invoicing, and more
Here's a breakdown of how they did it.
"It's taken the stress of daily operations off our minds"
Having the technical knowledge and training to work in HVAC, Jason Frey saw an opportunity and started his company, Furnace Pros Niagara, in 2013. As his company grew, Jason became over-extended and needed help with operations. That's when Julia, his sister, quit her job as a paralegal and came on board as part-owner and operations manager.
Julia decided a software could help manage their bookings, so they began a free trial of Jobber.
"Being able to capture our workflow, from the moment of quoting a job, to ordering the supplies, to scheduling the job, and even having somewhere to hold the customer information. It was the streamlined ability of Jobber to capture all of that. It just made sense to bring it all into Jobber."
Julia says the biggest difference they've seen since implementing Jobber is greater structure and order in their business. Prior to Jobber, the company was operating on the fly, with Jason being in charge of remembering everything that needed to get done.
"There is only so much you can handle and only so much that you can grow into when you're a professional business operating things in your mind. Having Jobber has enabled us to efficiently and effectively run everything," Julia said.
"We hit our all-time highest month"
Since implementing Jobber in the spring of 2019, Julia said they are seeing their best numbers to date.
"We hit our absolute all-time highest month. And I know just from some of the bank records already that it will be our best year yet."
Jobber has also improved their operational efficiency, allowing Jason and Julia more time to plan for the future of their business.
"It has taken the stress of the daily operations from our minds and put it into one place. Having all that in a software has opened up creative space in our minds as business owners, that has enabled us to start dreaming and planning for the future and for the growth that we want to accomplish."
Their plan for the company includes growing their operation from two trucks to five and purchasing a corporate property of their own to be used as an office and garage. They hope to one day dominate the region's HVAC industry, and even expand into the USA using their dual-citizen advantage.
"Our business model is to get in the door"
According to Julia, the most important aspect of their service is fast response times. Julia never misses a call because she knows the first business that answers the call will get the job.
"Clients are coming from such a place of high pressure, because one of their most basic needs has stopped working, and so they're trying to get it booked as fast as possible. That is a very crucial phase in our workflow."