HVAC Software for QuickBooks Online: Run a More Efficient Business
QuickBooks Online is the most powerful accounting software out there for small businesses, including HVAC services. It works to make sure your accounting and billing needs are covered.
But QuickBooks Online doesn't do it all for your HVAC business. There are missing pieces to your workflow, leaving you more disorganized than you'd like to be.
Jobber helps HVAC business owners and administrators manage day-to-day operations.
Jobber also integrates with QuickBooks Online and extends your use of the platform so you can schedule work, dispatch teams, quote more powerfully, and upsell for every job. You can eliminate double entry, keep your records clean, and ensure every team member from office managers to technicians have consistent information.
Jobber and QuickBooks Online work together to help you run a more efficient and profitable HVAC business. Find out how below.
How are HVAC accounting software and operations management software different?
QuickBooks Online gives HVAC business owners and operations managers a simple and seamless way to collaborate with staff, clients, and vendors for accounting and bookkeeping needs. QuickBooks is an accounting platform, so it's not designed specifically to handle your operations.
Jobber is operations management software for home service businesses. It ensures your business operations are taken care of every step of the way.
Let's take a closer look at how both platforms differ and how they work together to help you run a more efficient HVAC business.
READ MORE: How one HVAC business added $120,000 to their bottom line with Quickbooks and Jobber
You can easily integrate Jobber with QuickBooks Online to handle your daily operations, win more work, and streamline accounting for your HVAC business.
Jobber empowers you to access your business data from anywhere at any time. So, forget about scrambling for notebooks in the office, following messy handwritten calendars. Your team has everything they need right on their mobile devices.
How can you schedule HVAC jobs and connect to QuickBooks Online?
Keeping track of your busy HVAC business schedule can be a nightmare. It's easy to make double-entry errors when all of your HVAC scheduling is manual because it's not an option in QuickBooks Online.
Jobber fills in the blanks where QuickBooks Online can't so you can schedule and create a job from the same place, and then invoice directly from Jobber.
Your workflow is connected and your invoice data will all be synced in QuickBooks Online.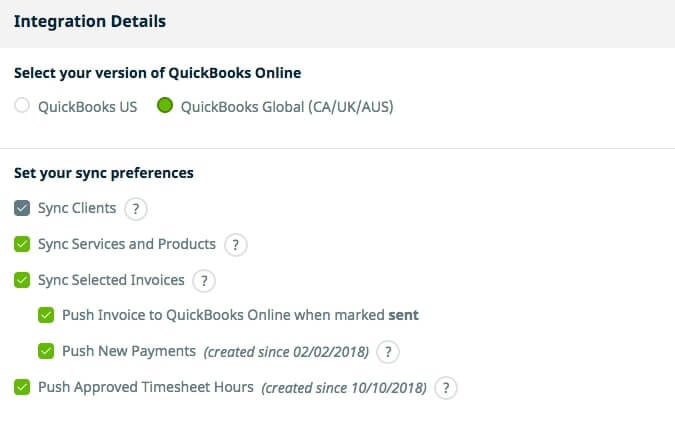 This is where you can choose your sync settings when getting started so information is transferred across both software.
Create a job, create a client, and assign it to your team in Jobber whenever you're working in the app. Any activity in Jobber can be synced to QuickBooks at any time and you can customize which activity you want to send to QuickBooks using your integration settings.
You don't have to go searching through multiple notebooks and marking calendars every time you schedule a job.
This automated process ensures your QuickBooks Online data is accurate and up to date. Everything you input into Jobber can be pushed to your QuickBooks Online account to eliminate double-entry and save you time.
No more messy calendars — just one organized HVAC workflow.
How can you dispatch HVAC crews with software?
You can dispatch crews to a job site right from Jobber. You can save a ton of time and avoid mistakes when you can dispatch your crews in the same place you schedule jobs and invoice customers.
Here's how it works:
Send a job request to your team
Quickly see their availability and assign the appropriate crew member
Get them to the job with route optimization
Give them access to job checklists, client information, and everything they need to get the job done right the first time
Once your crew is done at the jobsite they can quote and invoice directly from Jobber. When an invoice has been marked "sent" in Jobber, it'll be pushed directly to QuickBooks Online.
How can HVAC QuickBooks Online software help you upsell services when quoting?
Upselling services is a big part of an HVAC business' growth. It's the best way to increase your bottom line with the least effort.
When you automate your business processes, you can also automate upselling. You can ensure that you never miss an opportunity to offer more to your customers.
Jobber helps you set up a good, better, best quote by letting you add optional line items and images to your quotes. QuickBooks Online doesn't offer these capabilities.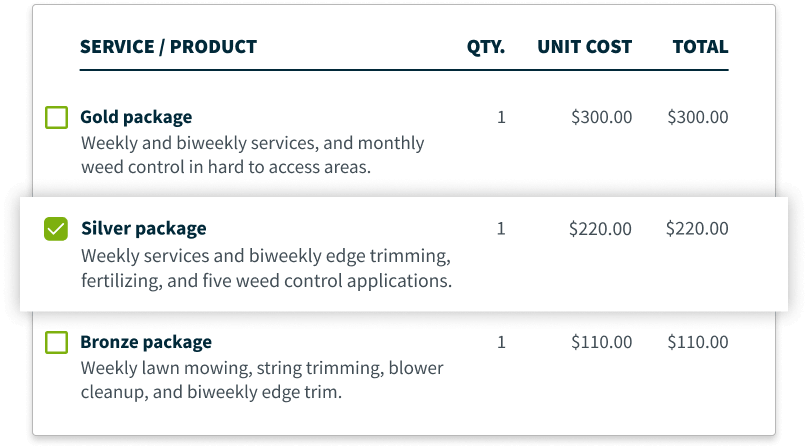 Optional line items give you the opportunity to upsell — your customers can purchase more expensive services or products.
For example, for a furnace replacement job, you can list various types of furnaces your client might be interested in. You can include a more basic service package and a more comprehensive service package for your client to choose from.
Plus, you can add images in a quote to give your customers a better idea of what they're purchasing. For example, you can attach photos of the different types of units you might install in a maintenance upgrade.
Advanced quoting improves your ability to upsell which can also improve your estimator's job-win rate.
How does Jobber integrate with QuickBooks Online?
With Jobber's QBO integration, you can sync:
Clients
Properties and Sub-Customers
Products & Services
Invoices
Payments
Timesheets
You get the full advantage of Jobber and QuickBooks Online when you use both software options.
Plus, your month-end process will be much quicker. Jobber helps reconcile accounting issues and moves your manual processes into a single, streamlined system.
Free up time for other work that matters. Use QuickBooks Online and Jobber and you'll no longer be weighed down by manual processes.