Entrepreneur Inspiration
How the Debt Free Landscaper Stays Debt Free with Jobber
June 17, 2020
3 min. read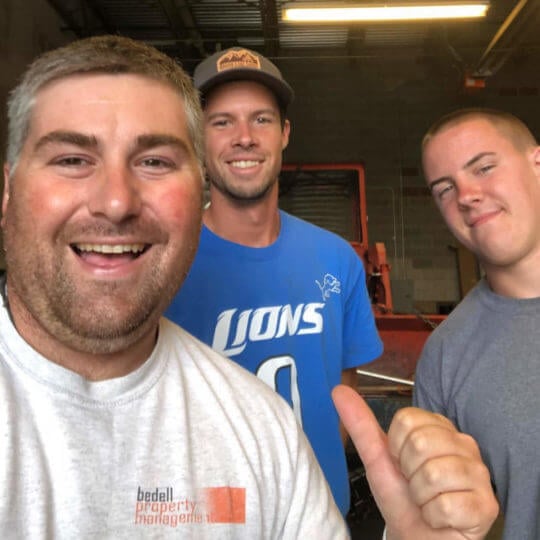 Bedell Property Management
Michael Bedell, also known as the Debt Free Landscaper and owner of Bedell Property Management, has saved 20+ hours per month and over $30,000 per year since using Jobber. Here's how.

Michael Bedell, owner of Bedell Property Management and founder of Debt Free Landscaper, has been using Jobber to organize and reduce cost in his business since 2013.
"In terms of money made because of Jobber, I'd say we're hitting the point of almost infinite return," says Michael.
Using Jobber, Bedell Property Management has saved 20-40 hours (a full work week) per month, and over $30,000 per year in administrative costs.
"That's hundreds of thousands of dollars saved, all for a couple hundred bucks a month or less. If you're a numbers guy like I am, the math is right there. It's a really easy logical decision to make."
Here's how Jobber changed the way he does business.
"I had it up to here with handwriting things"
"Years ago we were writing everything down on route sheets. It seemed organized, but it wasn't," says Michael.
"Guys were losing them, I was deciphering people's handwriting, and all at like 11 o'clock at night after I finally got them compiled. Talk about being a rat in a wheel. That's not a sustainable thing to do."
In addition to paper route sheets, Michael used QuickBooks for his business bookkeeping.
"While QuickBooks is an amazing tool—it can help you with tax filings, it's got many amazing reporting features—QuickBooks has never had a scheduling feature."
Coincidentally, Michael found Jobber through Quickbooks' integrations suite. "When I saw Jobber as a scheduling option, I couldn't click the button fast enough."
"With just a few clicks, everything's already assigned"
"Implementing Jobber was the first real revolutionary step in our business," says Michael. "That's when there was finally forward momentum. There was actually a well-oiled machine in terms of operations."
"We're instantly able to put all our clients in, run our schedule online, change things on the fly, and give guys GPS directions to houses."
"When we run payroll, with just a few clicks, everything's already assigned to the jobs it's supposed to be. I can run reports in QuickBooks and I didn't have to enter any of this data. It all came out of Jobber."
"I remember having a company meeting, and in that hour meeting, it went from skepticism, like, 'do we have to do this?' to, 'this is pretty sweet. So I don't have to call you and ask where stuff is anymore?'"
"Jobber made it easy for us to grow"
In terms of reducing costs, Jobber's streamlined workflow allows Bedell Property Management to run efficiently without hiring additional staff, saving them tens of thousands of dollars a year:
"You can replace having an office assistant with having the ability to track, log, invoice, quote, and manage your team from your smartphone or laptop."
But it's not just about money saved, it's about money earned.
Michael uses Jobber's streamlined workflow and customer communication features to deliver a higher value service:
"What we've done in our company is to present ourselves in a very professional, elegant, eloquent type manner," he explains.
"When you set yourself up in that position, [clients] expect a higher price. They feel like we're the best perceived value in terms of quality and assurance."
"It'll give you your life back"
"Since we've grown with Jobber over the past six years, they've continued to add more functionality and ways that it helps our business, and I know it will continue to do just that," says Michael.
"When you have something in your business that allows you to focus on being great, the sky's the limit. Every day you're increasing your efficiency. You're putting more money back into your pocket by not wasting time, by not being the rat in the wheel, and getting to focus on your wealth strategy and actually achieving the goals in your life."
"There's a million things to do, whether it's work coming in, equipment to fix, or problems to solve. Having something like Jobber is game changer because it'll give you your life back."