10 Winter Landscaping Services to Keep a Steady Income All Year
January 13, 2023
6 min. read
What do landscapers do in the winter? Offering winter lawn care services, holiday light installation, and other seasonal work can keep your landscaping business profitable from late fall to early spring.
We've listed 10 winter lawn care tips and landscaping ideas to help you make a steady income in cold weather—and to gain year-round customers who stay when the snow melts.
You can also watch this episode of our Ask A Business Mentor Series to get advice from green industry experts:
10 winter landscaping ideas:
1. Offer your customers winter lawn preparation
Your customers have invested top dollar to keep their property in tip-top shape throughout the summer months. Winter lawn prep is a sure-fire way for them to continue to care for that investment, even into late winter.
Offer a comprehensive winter lawn prep package that includes:
Draining all sprinklers and hoses to avoid freezing
Aerating the soil by dethatching the lawn
Pruning trees and shrub and wrapping plants in burlap
Removing dead grass and plants from flower beds
Keeping the lawn dry to prevent snow mold build-up
Removing and storing all patio furniture
Once February rolls around and the ground begins to thaw, offer debris removal and fertilizing to make lawn mowing easier in the spring and summer.
READ MORE: How to price lawn care services [pricing chart and formula]
2. Start a snow removal business
Many lawn care service providers transition their business in the winter months by offering snow removal services.
While snow plowing may seem like a natural fit, starting a snow removal business can require a substantial investment in snow plows, salters, and snow plow insurance. (Not to mention the added wear-and-tear on your work trucks.)
If you're not ready to front the added costs needed to plow parking lots, you could offer residential snow removal services to your existing lawn mowing clients. Using a shovel or snow blower to plow sidewalks and driveways.
READ MORE: 8 snow removal business tips for a profitable winter season
3. Install and take down Christmas lights
Homeowners are always looking for that gorgeous light display, without the hassle. Starting a holiday lights installation business can provide a couple months of income during the slow cold weather months.
Kirk Brown, Owner of Kirk's Lawn Care, saw Christmas lights installation as an opportunity to extend his business and bring in extra income over the holiday season. Dynamic Celebration Lighting offers all-inclusive holiday lighting installation, maintenance, takedown, and storage.
Using a professional website as the base for his winter business, Kirk attracts both commercial and residential clients with a high-quality photo gallery, and a simple quote request form.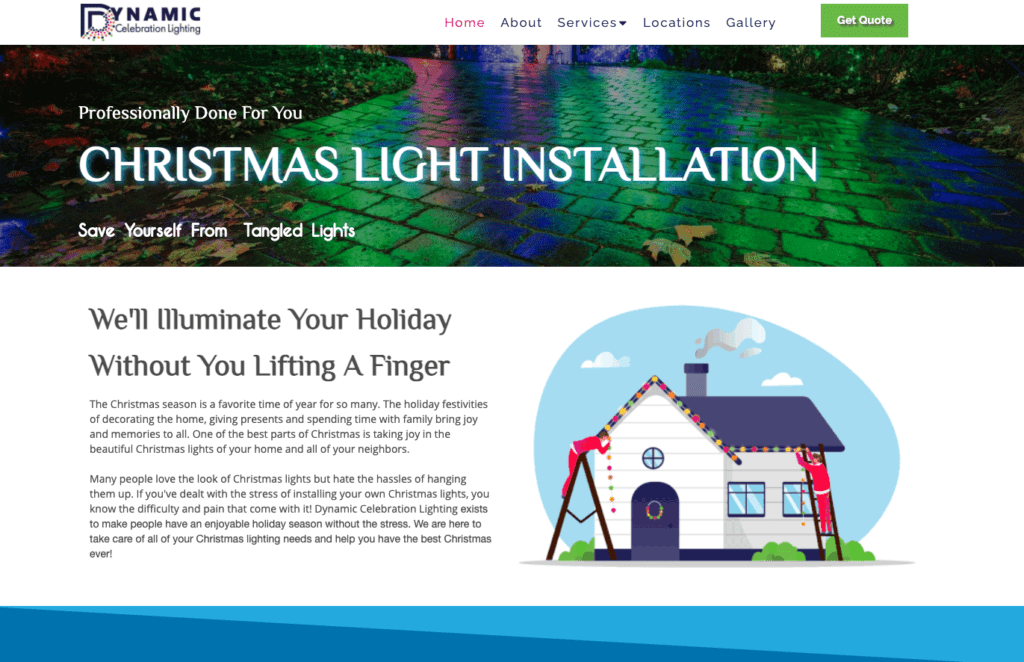 While installing holiday lights can be extremely profitable for professional landscapers or lawn care service providers, keep in mind it's a short holiday season.
Most customers want their lights up no later than December 1st and taken down no later than January 31st. Make sure to not overbook your services for these tight timelines.
READ MORE: 8 tips for a successful Christmas lights installation season
4. Prepare for your next lawn care season
Use the quiet winter months to reflect on your recent lawn care season and to update your lawn care business plan for the next.
Get a head start on your bidding, or tackle those time-consuming tasks such as hiring new crew members and marketing your landscaping services.
Hire and train the best lawn care professionals
Offering the best lawn care and landscaping services is the number one way to stand out from your competition. Spend your off-season hiring lawn care employees and training them for the spring season.
Pro Tip: Hire faster and attract employees who will stick around long-term with our lawn care job description and landscaper job description.
Build your client list and generate new leads
Developing a solid growth strategy can help you get a leg up on the competition and increase your revenue. Decide which lawn care advertising ideas you'll use, like designing door hangers and flyers, or connecting with homeowners through Facebook groups.
Robbie Ackley, Owner-Operator of Ackley's Property Services LLC, uses slower periods to practice customer outreach.
"We work to grow our business by sending out letters to commercial accounts about being put on their list of bidders."
Take advantage of all the free resources available at your fingertips to get your lawn care business ready for the next spring and summer season.
Pro Tip: Book new leads without lifting a finger. Jobber's online booking features enables users to receive leads directly from your landscaping website, your business Facebook profile, and Google Search.
5. Add winter mulching to your landscaping services
Winter mulching should be on your landscaping services list every winter. Mulch acts as a layer of insulation to keep the ground frozen and plants in dormancy, especially throughout brief, warm-temperature spikes.
For best results, offer mulching once the ground has hardened, or after the first hard frost, to protect perennial plants from cold weather damage. Winter mulching can also block weeds and pests from penetrating the surface of your soil.
READ MORE: Do landscaping companies work in the rain?
6. Provide weed removal service
Protect every client's lawn by providing winter weed removal services. While most lawn care providers offer weed removal as part of their summer services, many types of weeds actually thrive in the cold and begin their germination and growth in the winter.
Taking preventative measures will help stop the spread of weeds, and make your job that much easier once spring rolls back around.
With all the right tools already in your arsenal, weed removal can be a great addition to your lawn care business during any season.
READ MORE: How to start a weed control business
7. Help customers with leaf removal
Most people associate raking leaves with the fall. In reality, leaf removal is often needed well into the winter months to keep lawns healthy and prevent snow mold.
Best of all, clearing leaves off the grass often requires multiple visits, as some trees can take months to lose all of their leaves.
Reach out to customers with large or multiple trees on their properties. Faced with a bigger job, these customers are often willing to pay for recurring leaf removal services.
READ MORE: Lawn care contracts: 4 options for making a client agreement
8. Assist homeowners with gutter cleaning
Waiting too long to clean out leaves and other debris from your gutters can have costly impacts, resulting in roof leaks or structural damage to your property.
With no major investment in landscaping tools or equipment required (all you need is a sturdy ladder), gutter cleaning can be a winning addition to your lawn care services repertoire.
9. Plant trees and shrubs
Cooler temperatures make labor-intensive jobs such as planting young trees and shrubs much more comfortable. As long as the ground isn't frozen, winter is the perfect time to plant trees or shrubs for your customers.
While the typical range for plant installations is between $1,330 and $5,646, some professional landscapers will charge anywhere from $300 to $10,800. That means a few, large-scale planting gigs could get you through the slow winter season.
10. Add pressure washing to your list of services
Early spring and fall are great times to offer pressure washing services. Offer to pressure wash pergolas, fences, patios, decks, planters, and driveways, to clear off any grime or dirt that may have built up over the summer or winter months.
READ MORE: How to start a pressure washing business
Depending on the scope and surface area, the average pressure washing prices range from $56 to $827. And since pressure washers are fairly affordable (starting around $139), adding pressure washing to your service list is a small investment with big rewards.