5 Pressure Washing Ads That'll Help You Get More Contracts
January 25, 2023
5 min. read
Pressure washing ads are a great way to attract new customers and generate new leads fast—whether you're starting a new business, or you've been in business for years.
The key to success is picking pressure washing advertising channels that work for your business.
In this post, we'll walk you through the different types of ad options, provide examples of each, and show you how to advertise your pressure washing services effectively.
Try these pressure washing advertising ideas to grow your business:
Pressure washing Facebook ads
Facebook ads let you connect with new customers in your service area. You can use these ads to build brand awareness, give new leads a link to your online booking form, or send targeted promotions to people based on their location, age, and interests.
Here are three Facebook pressure washing ad examples to use for your business:
1. Boost a Facebook post (that is, pay to promote one of your posts) with before and after images to show off a job well done and reach a larger audience.
2. Create a video ad that shows the answers to commonly asked questions or addresses specific problems your customers may be facing—like how to clean specific surfaces.
3. Carousel ads let you combine up to ten images and videos in one ad. Use them to show off images of completed jobs along with reviews from happy customers.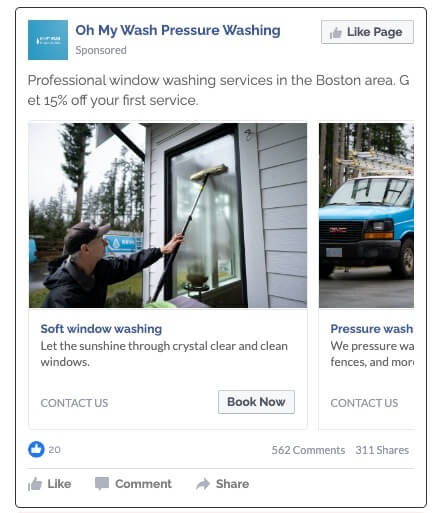 How to create a Facebook ad
Set up your Facebook business page and login to your ads manager account.
Determine your goal. Do you want to increase the number of visitors to your website or increase your leads? Knowing your goal is the first step to crafting an effective pressure washing ad.
Create your video or graphic. Use a before and after image generator or a design tool like Canva to create a graphic for your Facebook ad.
Craft your message. Add your phone number, website, and a compelling call-to-action that tells customers what to do next. For example: "Book now for 15% off your first house washing package."
Identify your target audience. Who are you trying to reach? Facebook lets you target users based on zip code, household income, or interests such as "homeowner."
Post your ad with a budget of just a few dollars a day to see how it performs.
Track your results to see which ad or target audience generates the most likes, shares, website visits, or leads—then increase your budget or make adjustments as needed.
Pro Tip: Create social media ads for Instagram and LinkedIn as well and track their performance to see which advertising platform works best for your pressure washing company.
Google's Local Services Ads
Use Local Services Ads (LSA) to attract new, local customers and to get more pressure washing jobs in your area.
These ads appear at the top of a search results page when a potential customer searches for local power washing services, using a keyword like "pressure washing business near me."
Local Services Ads run on a pay-per-lead model, which means you'll only pay when a customer contacts you for work.
They're easy to create because they don't require any graphics or text, and they're effective because they include your pressure washing company name, Google rating, operating hours, and a Google Guaranteed badge (if you have one).
Pay-per-click (PPC) ads
PPC advertising lets you bid on pressure washing–specific keywords (like "pressure washing business in [CITY] or "pressure washing services") to compete for ad space at the top of the search results—just below Local Services ads.
You'll be charged your bid amount every time a potential customer clicks on your ad.
These ads include a quick headline, description, and URL that sends potential customers to your pressure washing website to learn more, get a free quote, or book a job.
Advertising on lead generation sites
Ads on lead generation sites, like Thumbtack, TaskRabbit, or Angi, put your pressure washing business in front of customers actively searching for your services.
Here's what a pressure washing ad looks like on Thumbtack:
Thumbtack ads include your company name, pressure washing services, service area, star rating, and a customer testimonial. Your star rating and customer testimonials build trust with potential customers and help you win more jobs.
New customers can contact you through the site to request a service, and depending on the platform, you'll be charged per lead or a monthly fee.
READ MORE: The best lead generation websites for contractors
Door-to-door ads
Delivering pressure washing flyers, postcards, or door hangers door-to-door is an effective way to build awareness and get new pressure washing customers in a specific neighborhood.
Pressure washing flyers
Pressure washing flyers are an affordable and effective way to introduce your services to potential new customers in your neighborhood. Just drop then in the mailbox for your customer to receive later.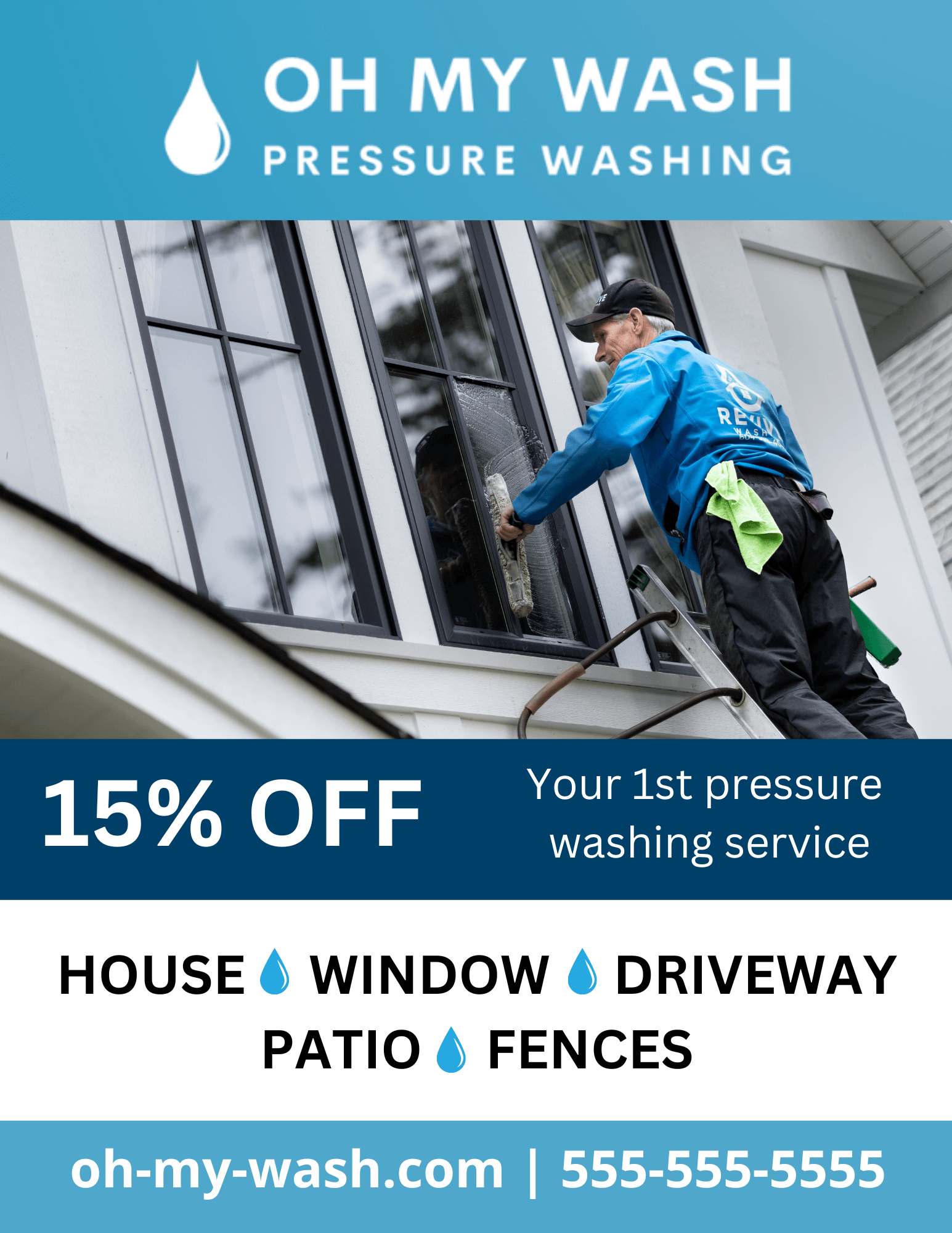 Your pressure washing flyer should include:
Business name, logo, and branding
Catchy slogan or headline
Pressure washing services
Contact details (phone number or website URL)
You can ask to hand out flyers at a local event to drum up new business, or deliver flyers to surrounding houses after a job is complete.
Dave Moerman, owner of Revive Services, calls this the 5-around strategy. Every time his crew washes a house, they deliver window cleaning flyers to the 5 neighboring houses on either side and across the street.
Or, you can create free tearaway flyers and post them on community bulletin boards in your local grocery store, gym, public library, or community center.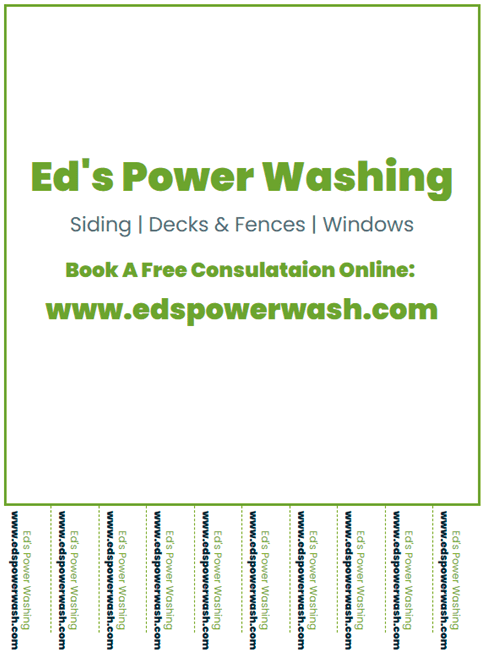 Postcards
You can use postcards to send promotions, seasonal reminders, or just to thank customers for choosing your business after their job is complete.
Revive Washing personalizes their postcards with a neighbor's name, pricing, and clear booking instructions. They also include positive customer reviews to encourage homeowners to book their services.
Paid advertising is just one of many pressure washing marketing strategies that can help you increase your brand awareness, get new customers, and grow your business.
Start by picking just one of the advertising channels above, set your ad budget, and track your performance. Once you determine which ads work best for your business, you can increase your ad spend to make the most of your campaigns.