Entrepreneur Inspiration
How to Build a Customer Base With a Strong Online Presence
November 22, 2017
4 min. read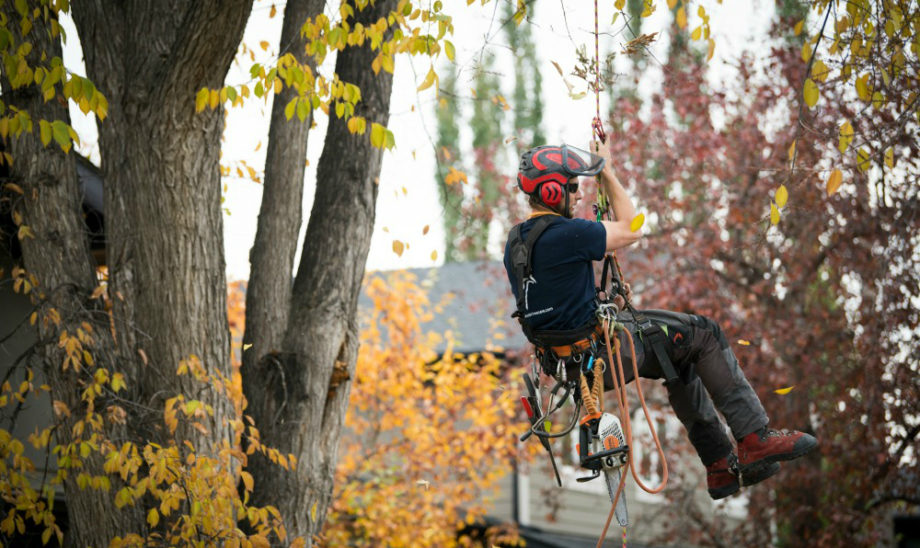 Adair Tree Care
How Matt Davis, owner of Adair Tree Care, is building a trusted brand one online strategy at a time.
Visit Website ››
Adair Tree Care provides tree care services to both residential and commercial customers in the Calgary, Canada area. Masters of growth in a highly challenging climate (too many puns to explore there), Adair Tree Care has become the region's most recognizable tree care services provider by carefully nurturing a distinct corporate brand based on deep expertise and consistent, quality communications.
Founded in 1997, the company's core offerings include tree pruning and removal, stump grinding, and emergency tree services. "Nobody here is much for sitting around behind a desk," says owner Matt Davis. "We love your trees."
That's a nice, clear message—We love your trees—but getting it to take root in a competitive marketplace like Calgary wasn't as easy as planting a seed and watching it grow.
From tiny acorns
Online, you don't decide what your brand is, everyone else does. But that can't prevent you from creating the best possible impression with clients and prospects.
"In the Calgary area (which is highly developed), when you're talking to someone who has a lot of large, old trees on their property, that pretty much means nicer neighbourhoods and a premium clientele," says Davis. "So, there's a real expectation that you'll have great knowledge and supply a high quality experience from beginning to end."
Davis' team has the knowledge and experience bases covered. Davis himself is an ISA Certified Arborist, Qualified Tree Risk Assessor (TRAQ), and a Journeyman Horticultural Technician, and he also teaches the Tree and Shrub Care and Pruning Module for the Calgary Horticultural Society's Master Gardener Program. And his team has the necessary training to scale the great heights required in the tree care industry.
But even the most skilled tradespeople can sit idle if they don't know how to get the message out.
Davis took time early-on to learn the nuances of search engine marketing and social amplification as a method of how to build a brand in the market.
"Online marketing wasn't native to me," he says. "So I studied different tools and experimented to find out what could help grow the business in the most effective way." The strategy worked. Today Adair Tree Care's digital presence in the Calgary market is in full bloom.
Building an online reputation
Adair Tree Care's digital presence would make a fine case study in brand-building for any home service business.
Type 'Calgary arborist' into Google and you'll see that Adair Tree Care is the top business listing and organic search result. That's partly a result of knowing the difference between keywords (which businesses use to help consumers find them) and search terms (which consumers use to find businesses).
But more than that, Adair Tree Care registers high in organic search because they have done a good job of publishing and sharing content that is ideally targeted to the company's intended audience.
Have a look at their blog site and you'll see a broad range of seasonal and species-specific content. There's everything from tips for managing the seasonal drop of evergreen needles, to information on dealing with invasive insects and diseases, and even recommended local suppliers for trees and shrubs.
Adair Tree Care doesn't make money giving away this information, but they do it anyway because it helps people become more knowledgeable and creates positive associations with their brand.
"By the time someone gets to the point of actually thinking 'Hey, I need an arborist' they already know who we are and trust us," says Davis. "That's the key to standing out from the crowd."
Reaping the fruit of reviews
Beyond the content shared on their web site and supported through solid SEO, Davis uses social media selectively to encourage both informal sharing and meaningful conversations with their market.
Adair Tree Care's Instagram account is a visual record of the work they do and the tools they use to do it, a showcase for the results they achieve for clients, and an expression of who they are as people—all important elements for building trust in a brand.
"It's a tool, like any other tool," says Davis. "You just need to figure out how to use it for a given job."
The user's positive brand experience extends to Adair Tree Care's Twitter account (nice use of hashtags and links to valuable knowledge content), and Facebook page, which includes a healthy collection of pictures, videos, posts, reviews, etc.
Perhaps most significant though, is the way that Davis collects and responds to online customer reviews (hugely important as this is the first place many people look for advice on selecting an arborist). The comments from Adair Tree Care's customers on Yelp, Homestars, Google Reviews and elsewhere are almost uniformly positive:
"Right from the initial on-line request for a quote, to the actual tree removal, clean up, stump grinding and mulch removal; everything about this company exudes professionalism."
"We will continue to hire this company whenever arborist services are needed. We have found their staff to be knowledgeable, skilled and helpful. In addition, they are friendly, patient and understanding."
While the praise is most appreciated, Davis knows earning a few good reviews is just the starting point.
"It's good to get that recognition because we work hard and try to provide the best tree care service around," he says. "But growing our business in a sustainable way means not resting on our laurels. We've got to go out and keep getting better every day."
"Fortunately, that's easy for us, because we love trees."