Entrepreneur Inspiration
Crystal Clear Window Cleaning: Case Study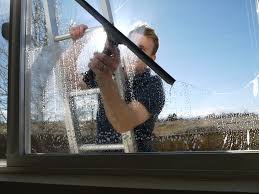 Crystal Clear Window Cleaning
We had the opportunity to talk to Justin Page, owner of Crystal Clear Window Cleaning, a professional window cleaning company.


Business Overview
Crystal Clear Window Cleaning was founded in 1990 by Justin Page in Centralia, Washington. This small window cleaning company prides itself on connecting with their customers through simple gestures that include remembering customers by their first name and having a positive presence in their community of Centralia.
Crystal Clear Window Cleaning and Jobber
I initially researched the idea of an all-inclusive system. I started out with a different software, I used it for a few months but it didn't have the workflow I wanted, I was always frustrated by that. I continued looking and looking until I finally stumbled across Jobber's window cleaning software. I was so impressed with the workflow and capabilities. As I started using Jobber I realized how the software is constantly being updated and that the customer support at Jobber is fantastic.
Before Jobber
Initially, we used spreadsheets, then online calendars and map quest for a while, so it changed over the years. Google calendars was a big one, we used QuickBooks for invoicing and a lot of other non-specific software. The several pieces of software we were using wasn't designed for what we were trying to do, unlike Jobber. Jobber has everything I needed to run my company, the other products worked but didn't work very well.
After Jobber
I don't have to spend a lot of time with Jobber because It's actually working, that's the funny thing. I use it an hour and a half a week and it probably saves me 8 hours of administrative work. The CRM aspect of Jobber is great, I also love having all my customers and job notes in one place. We do all our billing with Jobber our quotes and we can keep track of employees' hours. It's basically the brains of my business.
The Best Thing About Jobber
The calendar because it's the feature I use the most. I have a lot of recurring jobs so being able to put those into a calendar and map out each day I want them done and who I want on the job is great. By putting the information in there I never have to readjust it, it'll just stay like that for years. I basically don't have to do extra work or map out to my employees what needs to get done, they can just look at the clients profile and know what needs to be done. It's especially helpful If I get a new employee. Jobber saves me so much time it seems almost idiotic to do business any other way. I would waste a lot of my time if I didn't use a software like Jobber.