What does QuickBooks-friendly HVAC software do?
HVAC software compatible with QuickBooks can power your day-to-day operations—like dispatching HVAC technicians and invoicing customers—while syncing your expenses, payments, clients, and more to your QuickBooks Online account automatically.
Jobber is field service management software that helps HVAC businesses like yours manage scheduling, organize customer and job details, communicate with your team and customers, and get HVAC service visits into your schedule.
Why should I connect QuickBooks with HVAC software?
Pairing HVAC service software like Jobber with QuickBooks Online keeps your customer, invoice, and payment information accurate without any double entry.
Here's what else you can do with Jobber's QuickBooks Online integration:
Easily import existing clients, services, and HVAC parts from QuickBooks Online to ensure your records in Jobber are accurate from day one.
Control when and how important information is synced from Jobber to QuickBooks Online moving forward.
Automatically sync your timesheets, invoices, refunds, tips, and payouts from Jobber to QuickBooks Online.
Approve technician timesheets in Jobber and sync them to QuickBooks Online to use for payroll.
Automatically reconcile payouts for payments and tips collected through online payments in Jobber.
Get help from Jobber's award-winning customer support team 7 days a week.
What can you do with Jobber and QuickBooks?
Here's how connecting Jobber with QuickBooks Online helps you manage your HVAC accounting with less effort:
Invoicing & Payments
Collect payments and sync them to QuickBooks Online
Get paid online or in person for your HVAC work—with no additional monthly or set-up fees.

Then, automatically reconcile payouts in QuickBooks Online for payments and tips collected through Jobber.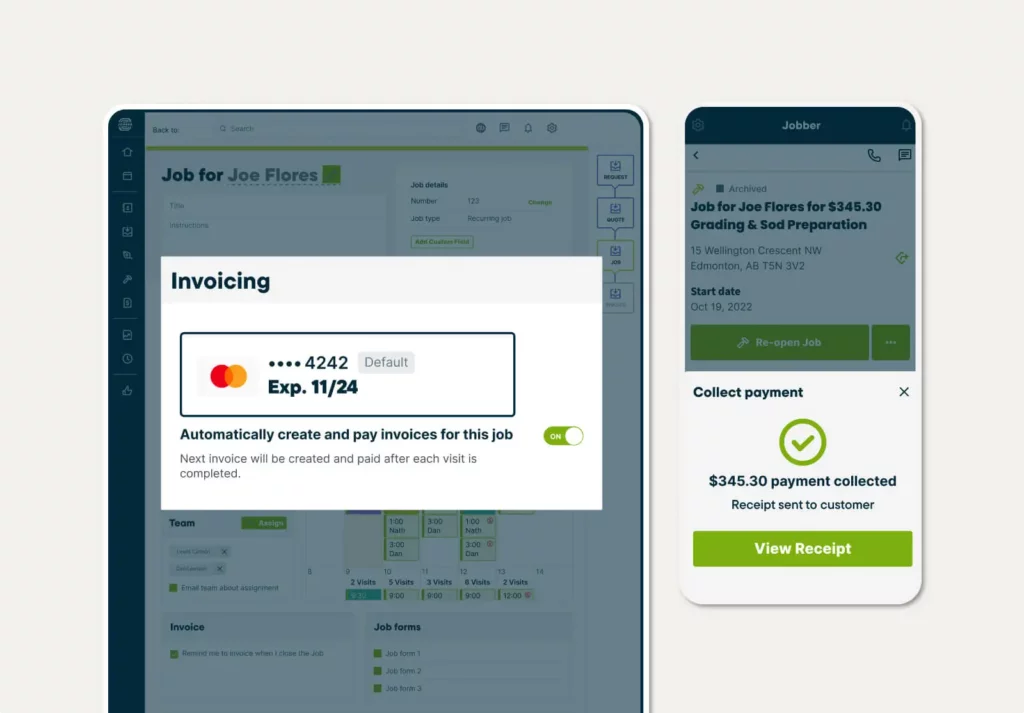 Timesheets
Prepare and sync accurate timesheets for payroll
Track time in the field with Jobber and sync back to QuickBooks Online for easy payroll.

With Jobber, your team can clock in and out of jobs—or automatically track your team's time by location—so you can prep payroll faster.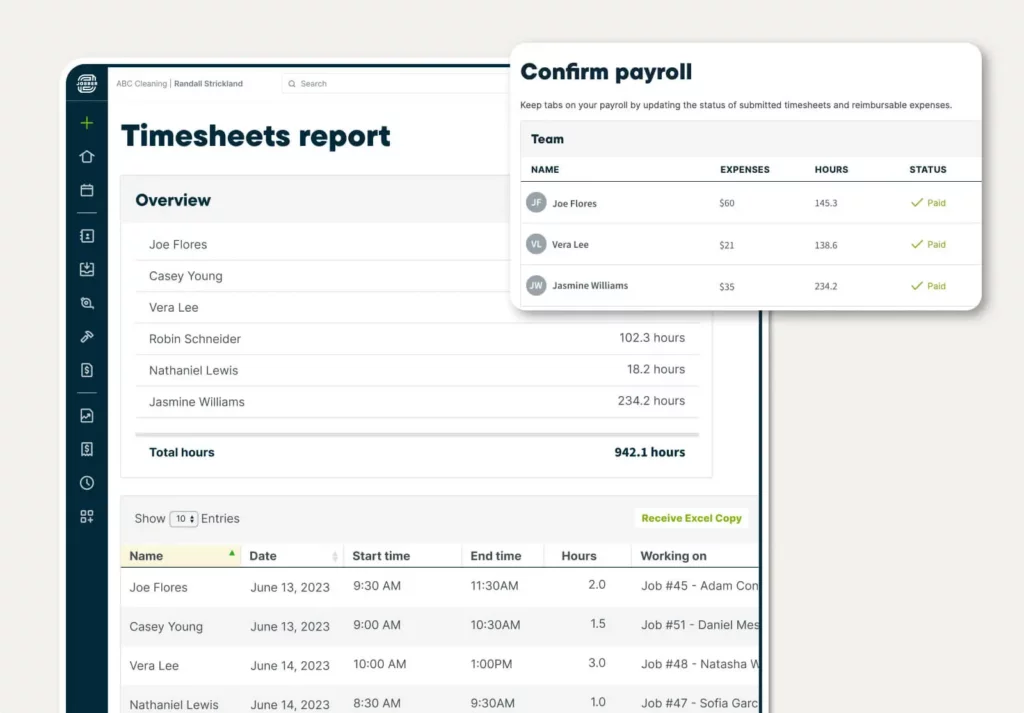 Client Manager
Keep organized client records
Jobber helps you keep client information up to date and detailed—complete with job and communication history—without headaches.

Save time by accurately syncing client details to QuickBooks Online without the need for manual entry.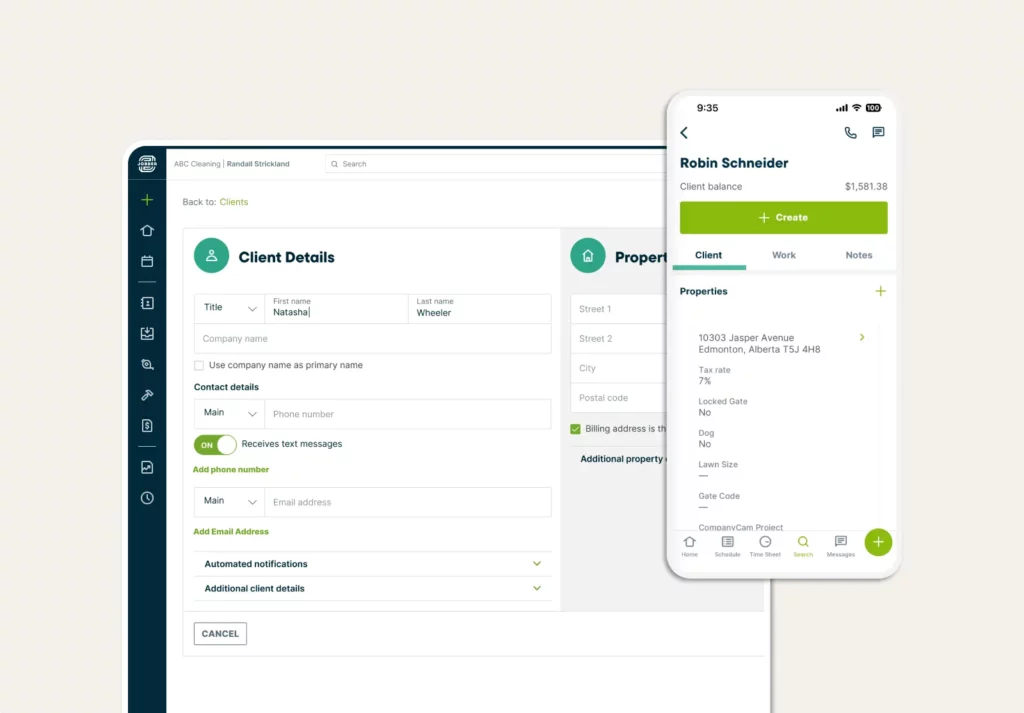 Financial Reporting
Monitor your financial performance
Access real-time financial data of projected income, taxation, payment, and invoice details.

Make better financial decisions informed by what's happening in your workflow, and sync with QuickBooks Online to cover your accounting needs.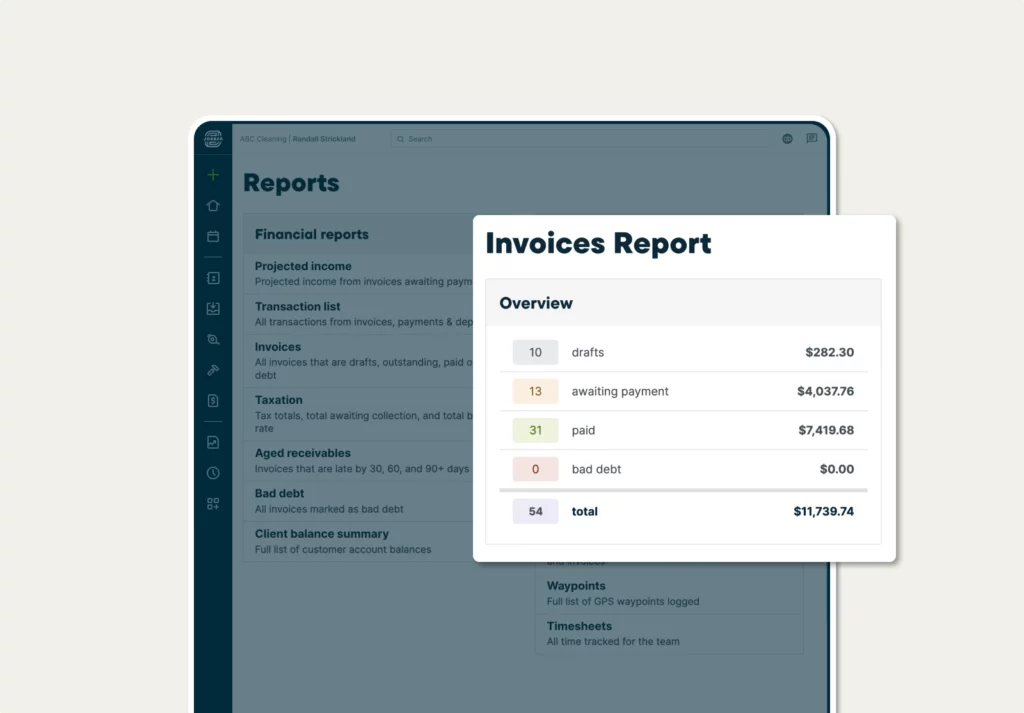 Integrations that fit the way you work
Jobber connects with your favorite apps and software to save you time.

Availability depends on location and plan
See All Integrations
Over
200,000

home service pros trust Jobber
"
It all clicked when I started seeing less of myself in the office…
"
…and more time out in the field, which is where I need to be.