Advertising Your Handyman Business: Three Effective Strategies for Liftoff
July 29, 2019
8 min. read
Spending time on your advertising skills is one of the best uses of your time while running a handyman business. Advertising does add to your overhead expenses, but it helps you grow your book of business and get your name out there.
Contrary to popular belief, you don't have to hire an advertising or marketing agency. We're going to share three of three easiest and most effective handyman advertising strategies that you can start working on now.
The best part is that almost all of your advertising efforts can be totally automated with handyman software, which means you can focus on other important responsibilities.
Let's dive in.
1. Postcard ads
Postcards give your advertising a personal touch. Plus, they are pretty easy to execute with the help of software. Marketing software gives you the tools to create a professional and custom postcard, without any experience as a designer.
You'll get control over the postcard design, the campaign, and the time frame of the campaign. You can work with a local design and print shop to get this done too, but it will involve a bit more energy, time, and back and forth, and trips to the post office.
Postcard marketing software, like Mailchimp, is a fantastic option because it can automatically sync with your handyman CRM. That means that you don't need to create a mailing list, search for contacts in your address book, and remember which contacts are the best opportunities to advertise to. Instead, you can create a mailing list based on all the information like invoice and account history, and it's all in one place.
Why use postcard ads?
Postcards are a great advertising strategy because they allow you to send personalized advertising materials directly to your prospects. It helps you stay top of mind and impress your customers and prospects so they choose you, instead of your competitors.
1. You have a lot of control
You can choose exactly when you want your postcards mailed to your clients, and can even set up a one-time campaign or a recurring mailing cadence. Recurring campaigns are especially helpful if you want to set and forget your advertising, or if you want to create specific seasonal promotion reminders, for example.
When you use software, you can schedule your postcards by simply choosing a date you want your campaigns sent to the printer. The software will track and estimate when your postcards are expected to reach your customers.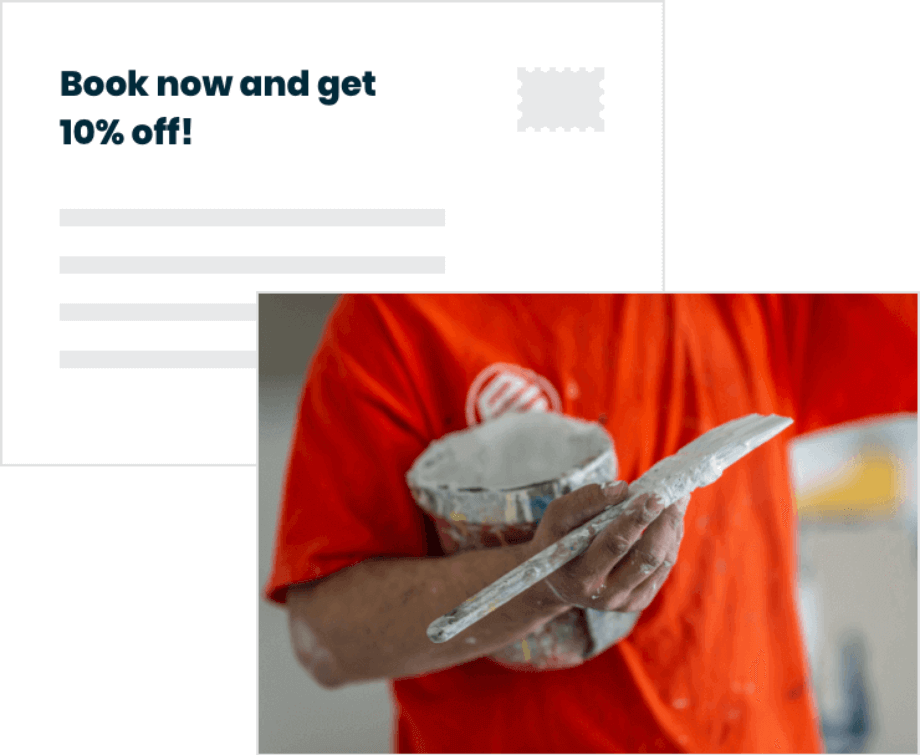 2. Postcards are affordable
Postcards are inexpensive advertising option––especially given how targeted you can make your campaigns. For example, you can print and send postcards for as little as 75¢/card depending on where you live.
If you chose to go the Mailchimp route, you won't even need to make a single trip to the post office. That saves a lot of time and energy on your behalf that you can spend on your clients.
Most direct mail options are extremely inexpensive, but they rely on targeting a large audience. If you mass direct mail, you're sending tons of material to people you're not even sure will want your services.
By using your CRM to help you send targeted mail, you can send postcards only to people you've prospected and worked with in the past, without wasting money on spam mail.
Postcard advertising ideas for handymen
Announcements: you're starting to offer new features, celebrating your business anniversary, collaborating with another local business, offering a giveaway prize
Say thank you: you want to reward your loyal customers or just stay in touch after each service call.
Promotional reminders: you're offering special deals to specific contacts like two for the price of one services, of half off your first service. Simply print a promo code on each postcard that corresponds to your promotion.
2. Partnerships
Partnerships are one of the best ways to reach your target prospects. Partnerships can include anything from a series of social media endorsement posts, to an advertisement in a closed newsletter contact list, to working with local businesses through an affiliate program.
Partnerships give you access to a whole new audience of prospects through new ways, like social media, direct mail, email, or word of mouth.
Try forming partnerships with other popular businesses, successful solo entrepreneurs, brands, and social media accounts.
We suggest forming partnerships with local realtors, and social media account owners to start.
Partnerships with local realtors
Working with other realtors in town allows you to massively boost your referral rate, according to one Jobber community member, Stephen Richardson, owner of 20/20 Window Cleaning.
Stephen explains that realtors offer an amazing amount of referral volume. They have a lot of contacts who are moving in and out of homes. That's a lot of work opportunities!
Some of the best ways to set up realtor partnerships include:
Creating sponsored content with postcard advertisements. You can send postcards to their client list and your client list. That way, both parties benefit.
Creating a referral program. For every client they refer to you, give them a small cut of the profit.
Working with them on social media content. For example, you can record a short video with a realtor teaching their prospects how they can prepare their home for a showing or moving day. The realtor can reference you in the post and put prospects in touch with you.
Social media partnerships
Social media can be intimidating, but you really need to start using it to your advantage. Ryaan Tuttle, owner of Best Handyman Boston, was able to use social media to expand his book of business.
It took him a couple weeks to learn how to use Instagram, post content, and start growing his following. But, what brought him the most success was collaborating with a local pet owner who had a stronger social media following.
Ryaan partnered with a local pet owner to help build a special accessibility ramp for their bird.
"We built a custom ramp for Rhea the Naked Birdy when she was just some instagram account," Ryaan explains.
Rhea's owner tagged Ryaan's Instagram account thanking him for his help, and the post went viral.
"We were getting 500-600 followers a day, and were watching it grow every hour. This partnership kicked off our following." Ryaan's account got so popular through that he started donating to charity for every thousand of followers his account got, which helped him even more!
"My reach right now is crazy, I have friends in France, London, Africa, and Australia…even a famous designer from Copenhagen," Ryaan explains.
It's all because of a social media partnership he did with a pet owner on Instagram. His connections have helped him host local workshop events, get access to special products from around the world, and get his business in the public eye.
For Ryaan, social media is all about business and partnerships. "People see social media and interpret it on a personal level. Interpret it on a business level. It's about growing your business, reaching out, and making connections. I don't think people spend the time to do that. But you can use tech, or an Upwork freelancer to run the account, and you don't have to do anything."
The best place to start is by opening a social media account and start exploring groups, hashtags, and locations in the search bar. It won't be long before you start finding popular accounts in your town that you can reach out to and form business relationships.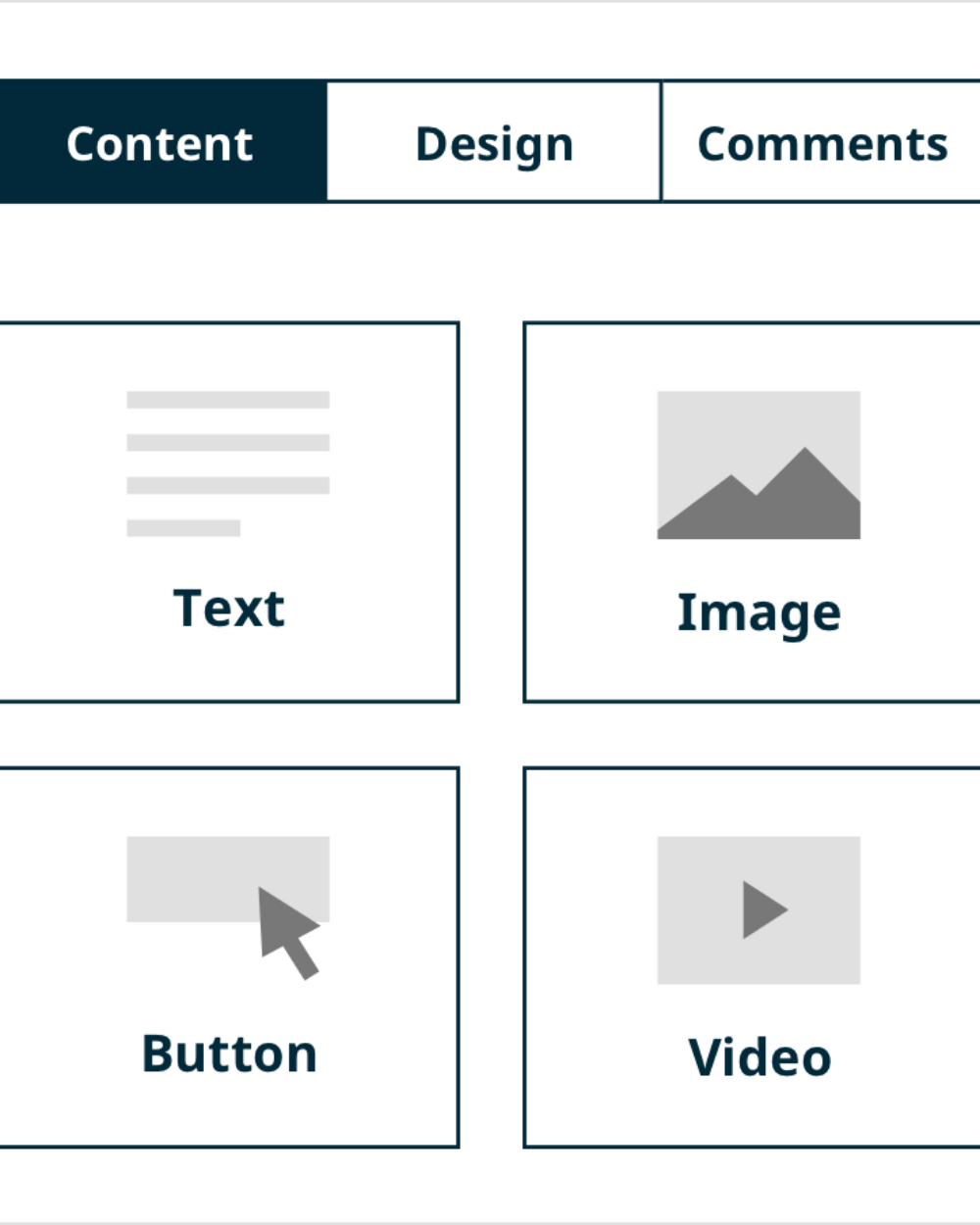 Why use social media ads
Social media ads give you the advantage of creating highly targeted ads directly at the people who need your services the most. You can create ads that target people's interests, habits, and personas. That gives the advantage of only spending money on ads that actually work, which means a clear return on your investment.
You can run ads directly through social media networks, like Facebook Ads Manager, for example. If you're new to social media ads, using software can help you out.
For example Mailchimp's advertising features simplify everything so you can learn the ropes and become an expert. It offers powerful targeting options, custom templates, and 3-step process make digital advertising easy for beginners.
READ MORE: 17 best handyman apps with the highest ratings
How handymen can use social media ads
Because these ads are displayed to your prospects in their social media feeds, you have to make sure that the content of the ads are relevant and helpful. It should contain a photo or video, and explain your services in the description so that if someone sees it, they know exactly what you offer and how to get in touch with you.
Social media ads are great for brand awareness and promotions. For example, you can use ads to share client reviews, your proudest projects, client testimonial videos, seasonal discount reminders, handyman licenses and certifications you have, and special offers. The sky is the limit so long as you're creative!
READ MORE: Hire qualified employees faster with a handyman job description
How to get started with social media ads
If you're keen on diving into the deep end with social media ads on your own, check out this Buffer guide and this Hubspot guide for Facebook ads advice. This Hootsuite guide for Instagram advertisements is also very helpful.
If you want to start with something easier while you run your business, try using Jobber's Mailchimp integration. You'll be able to easily create social media ads by syncing your client list from Jobber over to Mailchimp.
The only things you need to do next include deciding on your budget and audience, designing your ad with a premade template, and submit the ad on Facebook or Instagram. It's designed to be easy to use so you can start advertising and measuring the results.
Advertising your business doesn't have to cost you an arm and a leg, nor does it have to be left to the professionals. Once you get started and get the hang of things you'll be excited to see how much it can help you grow your business, margins, and network.