The Best Handyman Websites and What They Get Right
August 3, 2023
8 min. read
The best handyman websites tell visitors about your services and working area, share customer reviews, and provide potential customers with an easy way to get in touch. All while you're busy on the job site.
In this article, we'll go over nine of the best handyman website examples and what you can learn from each to help you build your own.
Best Handyman Boston's website is easy to use, helping potential customers quickly find the services they offer and the areas they serve.
The website showcases their team's expertise and credibility by including customer testimonials and a photo gallery of completed projects.
Plus, they make it easy for homeowners to get in touch with a "Request Estimate" button on every page.
What their handyman website does well:
Lists the specific locations they service
Lists the repairs and maintenance services they offer, including property maintenance plans
Provides their insurance and licensing information
Offers customers an easy way to request an estimate
Includes an FAQ section that addresses common inquiries
Everyday Handyman's website matches their company branding perfectly—from their logo in the corner of every page, to the colors, fonts, and images they use throughout.
They make it easy for new customers to reach out and provide existing customers with access to their own online portal to quickly find quotes, invoices, and billing history online.
What their handyman website does well:
Provides existing customers 24/7 access to client hub, their online portal to request services, approve quotes, check appointment details, and make payments
Includes a comprehensive list of the various handyman services they offer
Makes it easy for customer to reach out with an online form
Zach of all Trades' website is easy to navigate, making it simple for visitors to find the services or pricing information they're after. They offer clear contact information and a straightforward booking process to create a positive experience for potential customers.
By embedding Jobber's quote request forms on their website, they're able to collect customer's contact details, the services they want, and their availability.
Here's what it looks like:
What their handyman website does well:
Provides an easy way for customers to book work and get in touch
Outlines the different types of handyman services they offer
Includes a photo gallery with before and after images of completed jobs
Shares customer reviews and testimonials
Handy Tec's website offers potential customers a full list of their residential services, as well as information about the technicians they hire and their handyman process.
Their website features a modern design, simple color scheme, and clean layout that shows they're a professional and trusted business.
What their handyman website does well:
Provides a full list of handyperson services, sorted by room
Offers an easy way for customers to book services online
Includes a link to their 5-star Google reviews
Putnam Handyman Services's website has a sleek homepage that features scrolling images of their recently completed projects. Site visitors can also easily view their services, service area, contact info, and financing options.
What their handyman website does well:
Includes a complete list of the areas they service in New York and Connecticut
Provides information on their financing options and the application form
Shares the interior and exterior handyman services they offer
Gives customers an easy way to request services via an online quote request form
HandyMangum uses customer reviews and testimonials to show new leads just how much clients love their handyman business. Their website is easy to navigate and features a complete service list and photo gallery of past work.
What their handyman website does well:
Shares their impressive 20 years of experience to build trust with visitors
Includes testimonials from previous satisfied customers
Provides a complete list of their home service offerings
Handyman on Purpose's website displays their phone number and a button to request a quote on the top of every page, making it easy for customers to reach out. Their site also features a service page, photo gallery, and a simple navigation for users.
What their handyman website does well:
Includes a complete list of the handyman services they offer and their service area
Provides a photo gallery of completed handyman projects
Answers customers frequently asked questions in their handyman blog
Greenwich Handyman calls themselves "luxury home improvement specialists" front and center on their homepage. The rest of their website lives up to that name, with images of high-end remodels, live reviews and testimonials, and a quick and easy way to schedule an appointment.
What their handyman website does well:
Provides a complete list of the handyman and property management services they offer
Makes it easy for customers to request an appointment through an online form
Showcases their experience and attention to detail right on the homepage
Handyman Mark's website features a professional design and user-friendly navigation that makes it easy for site visitors to find the services they need and contact information.
The site also features free home maintenance and repair checklists that users can download to ensure their home is in top condition.
What their handyman website does well:
Lists their BBB rating and calls out that they're veteran owned and operated on their homepage to build trust
Includes an image gallery of completed projects
Provides a quote request form so customers have an easy way to get in touch
What the best handyman websites have in common
The best handyman websites include the following elements:
Company branding: Make your website look and feel professional by incorporating your company logo, colors, fonts, and images on every page.
Detailed business information: Make it easy for potential clients to get in touch by including your phone number, email, business address, and business hours on every page of your website.
Service areas: Clearly indicate the cities, towns, and neighborhoods your business services.
Easy navigation: A clean menu bar improves the user experience and helps customers easily find the information they're after—like your services, or photo gallery.
Online estimates: An easy way for customers to request quotes or book work online
Project portfolio: Showcase your skills and expertise with photos of completed jobs.
Insurance and licensing information: Give customers peace of mind by letting them know you're licensed and insured.
Comprehensive service list: Show customers you can help them with their needs by providing a complete list of the handyman services you offer, like exterior painting, interior painting, light fixture installation, drywall repair, minor plumbing, and other odd jobs.
Customer reviews: Reviews and testimonials help customers feel confident about investing in your services. They show that you have professional experience and prove you care about quality work and customer satisfaction.
Call to action: Include buttons that tell users what they should do next—like request a quote, book a service, or call for more information.
How to build a handyman website
You can choose to create your site yourself, or hire a professional to build it for you.
If you decide to DIY your handyman website, here are the steps you'll need to follow:
1. Choose and register your domain name
Your domain name is the URL where your handyman website lives. If you're using a site builder, you may be able to register a domain during the setup process. If not, you can use a registrar like GoDaddy. Just remember—you'll have to renew your domain name registration every year.
2. Choose a website builder
Pick a user-friendly website builder like WordPress, Squarespace, or Wix to build your handyman site without any coding knowledge.
3. Customize your handyman website design
Once you've decided on a website builder, choose a template or theme that best suits your business and is easy for site visitors to use. You'll want to make sure the template includes a simple navigation menu.
Then customize your web design using your home service branding—add your logo, colors, fonts, and imagery to every website page.
4. Add the essential pages
Add content and images to key pages including:
A home page with eye-catching images of completed jobs, the service you offer, and a brief description of your business
An about us page that tells visitors about your experience and the story behind your business
A services page that lists your complete home repair offerings
A contact page that includes the areas you serve and tells visitors how to get in touch
A testimonials page that shares positive reviews from happy customers
A blog page with useful, regularly updated handyman content
5. Optimize your website for search engines
Search engine optimization (SEO) helps your website appear higher on the search results page, making it easier for potential customers to find your handyman services online.
To optimize your website for search engines:
Include terms people would use to search for your services, like "handyman in North Carolina"
Create web pages specific to each service you offer, like painting services, furniture assembly, and carpentry
Include all of the locations you serve
Make sure your website is mobile friendly and easy to navigate
Here's what Best Handyman Boston's website looks like on a mobile device: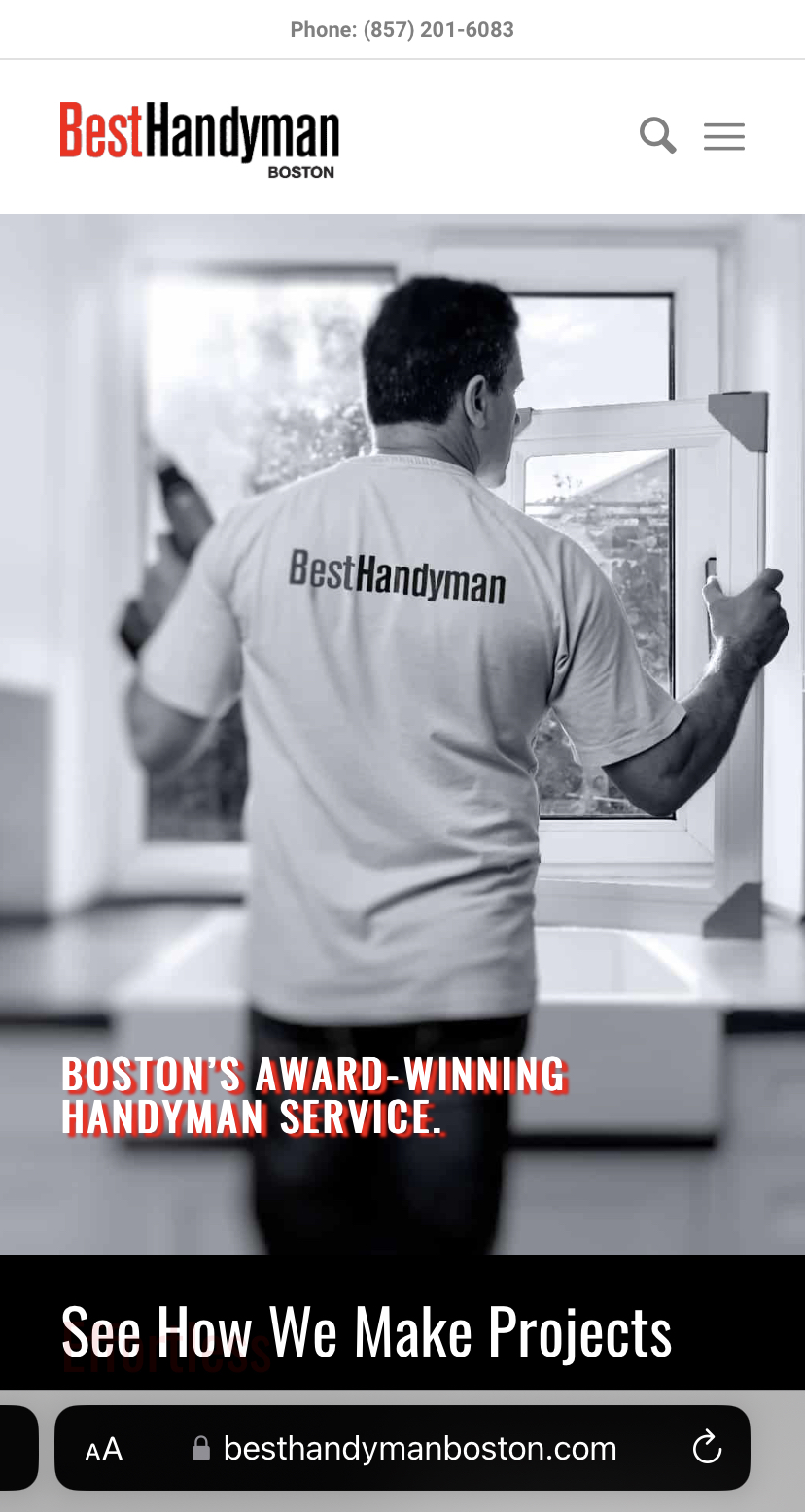 Pro Tip: Find out if your handyman website can be viewed from a mobile device with Google's mobile-friendly test.
6. Promote your handyman website
Use handyman marketing strategies like social media, lead generation sites, and local directories to promote your website and attract potential customers. You'll also want to add your website URL to business cards, vehicle wraps, or flyers, so customers know where to go to learn more about your business.
A strong website is like a good salesman generating more leads for your business. Use the handyman website examples and advice above to build your own website that works just as hard as you do.
Originally published in July 2021. Last updated on August 3rd, 2023.