How to Get More HVAC Service Contracts and Grow Revenue
December 12, 2022
5 min. read
Knowing how to sell HVAC service contracts helps you secure long-term customers, keep cash flowing all year, and grow your business.
Your challenge is to convince homeowners that HVAC service contracts are worth the commitment.
In this guide, we'll show you how to show customers the value of HVAC service agreements, what to include in your agreements, and how you can package them to win over customers.
Practice your HVAC service contract sales pitch
When you master your pitch on HVAC service agreements, you can get customers to choose you as their go-to expert to inspect, diagnose, and maintain their heating and cooling systems all year.
Incorporate these benefits into your sales pitch to sell preventative maintenance contracts to HVAC leads:
Cheaper utility bills due to improved HVAC system efficiency
Comfortable indoor temperatures all year round
Heating and cooling systems that last longer and require fewer costly repairs
Quick responses to emergency HVAC failures (especially in extreme weather)
Cleaner HVAC ducts, air filters, and coils that improve indoor air quality
Regular inspections that catch small issues before they grow into bigger problems
Faster turnaround times for spare parts than HVAC manufacturers usually provide under warranties
After every one-off HVAC service job, ask your customer if they've considered routine maintenance to prevent future problems—on the phone or in your customer service follow-up emails. Then use the benefits above to explain why maintenance contracts are a no-brainer.
READ MORE: 7 HVAC sales tips to book more jobs (+ sales scripts)
What to include in an HVAC maintenance agreement
Your HVAC maintenance contract should set expectations with your customers—including the type of work you're doing, how often they'll see you, and your scheduling and payment processes.
Here's what your customers need to know about their HVAC service agreement:
Frequency of visits. State clearly how many planned maintenance visits your customer can expect. Your visits could be twice a year, for instance, or annually with check-ups scheduled once every three months.
Services included. List every HVAC unit that needs servicing and describe the work you plan to perform (e.g. standard tests and inspections, cleaning, or rewiring).
Invoice schedule and payment terms. The payment terms of your HVAC maintenance contract should tell customers what payment methods they can use (credit card, check, or cash), how they'll be invoiced, and when payment is due.
Before you write a contract for your customer to sign, review your service agreement details over the phone or in person. This gives you an opportunity to answer any questions or concerns they might have about the work.
How much should you charge for regular HVAC maintenance?
You could charge anywhere from $75 USD to $500 USD for an annual HVAC service contract. The average annual HVAC contract price ranges from $150 USD to $500 USD. Commercial HVAC preventative maintenance contracts typically cost even more.
Contract prices are usually lower for standard air conditioner or furnace maintenance. You should charge more for systems that are more complex and time-consuming to maintain, like split, ductless, or packaged heating and air systems.
Pro Tip: Your pricing will depend on who you're competing with—so call HVAC companies in your service area to ask for estimates on annual contracts.
READ MORE: How to price HVAC jobs
How to bundle and upsell HVAC maintenance packages
Your HVAC company can make more revenue from service agreements by offering price bundling and tiered pricing options.
Bundle your HVAC maintenance services
Start by offering every customer routine tune-ups for furnaces, air conditioning units, and any other HVAC system. Tune-ups include work like topping off refrigerant, cleaning air filters, checking for leaks, adjusting gas pressure, and testing thermostats.
Then add one or more of these additional services to create different HVAC service plans:
Same-day emergency service
Priority service over other HVAC customers
Spare HVAC equipment or parts offered at a discount price (e.g., 20% off blower motors, compressors, capacitors, or air filters)
Discount pricing for new HVAC installs (e.g., $200 off a new unit)
Upsell higher-value maintenance packages
Using good-better-best pricing options, you can give customers the power to choose the additional services they want—and you can close higher-priced jobs.
For instance, your good pricing tier could include HVAC system tune-ups only, while your better package offers same-day emergency service and priority repairs. Your best package would include all those services plus a discount on spare parts.
READ MORE: Free HVAC parts markup chart [+ markup calculation guide]
To easily present these tiered options to customers, you can create a quote in Jobber that includes optional line items—like this example: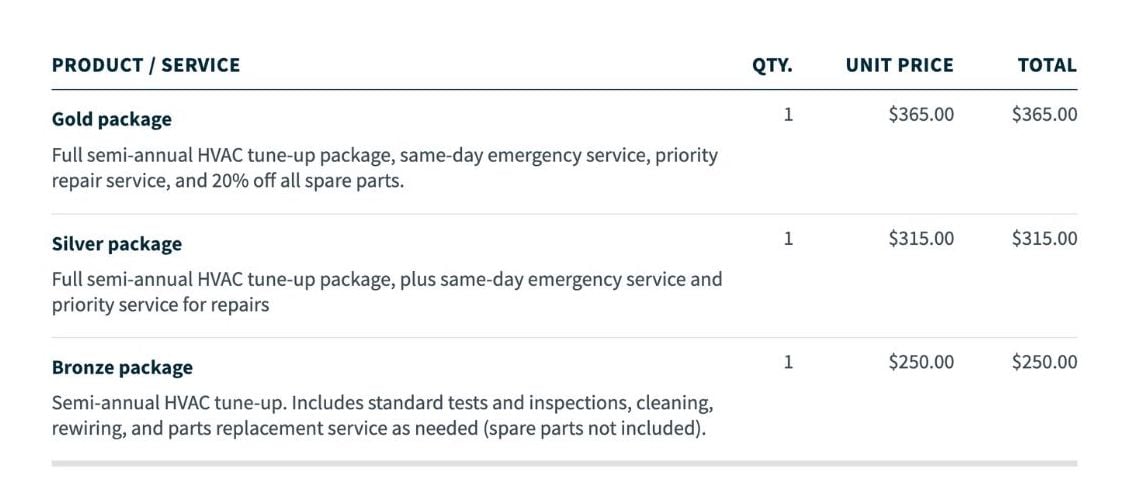 When viewing a quote sent with Jobber, a customer can click which service package they want. Once they sign the quote, you can convert it to a job, assign it to your service techs, and share all the job and client details for their site visit.
How to get HVAC contracts approved
Once you've sent your HVAC service contract, keep following up with your potential customer until you get approval. Reach out every 2–5 days with a quote follow-up email to remind customers to sign the HVAC contract.
In your reminders, ask customers if they have any questions about the contract terms. Stay patient and empathetic when talking through a customer's concerns or doubts—they need to trust you before committing to this long-term commitment.
Then, using Jobber, you can collect your customer's signature online through client hub and make the service agreement official.
Using HVAC service software, you'll easily keep track of every contract waiting to be signed. Staying organized before you start every HVAC maintenance agreement will help you hit the ground running as soon as you close the sale.
Originally published in May 2019. Last updated on December 12, 2022.