How to Get HVAC Leads: 6 Ways to Attract New Customers
September 8, 2022
7 min. read
Every time you get an HVAC lead—someone who could become a customer—you improve your chances of booking more work. With the right lead generation strategies, you can turn hundreds of strangers into potential customers.
Here are the six best ways to get leads as an HVAC business owner using digital marketing, word of mouth, and traditional advertising.
1. Make online booking easy on your website
Adding an online work request form to your HVAC website can help you turn casual visitors into leads.
On your booking form, let customers request or inquire about new work at a time that's convenient for them—without having to call or email. Later on, you can use the information they submit to easily create an HVAC estimate.
To increase your chances of getting leads from booking forms, you should:
Make your unique selling point clear on your homepage—whether that's your competitive pricing, lightning-fast emergency services, or your years of experience.
Add a booking button with an eye-catching color to the very top of your website and on every page.
Use action-oriented text on your booking button, like 'Book Now' or 'Get a Free Estimate.'
Keep your booking form short by only asking the questions you need to book a job.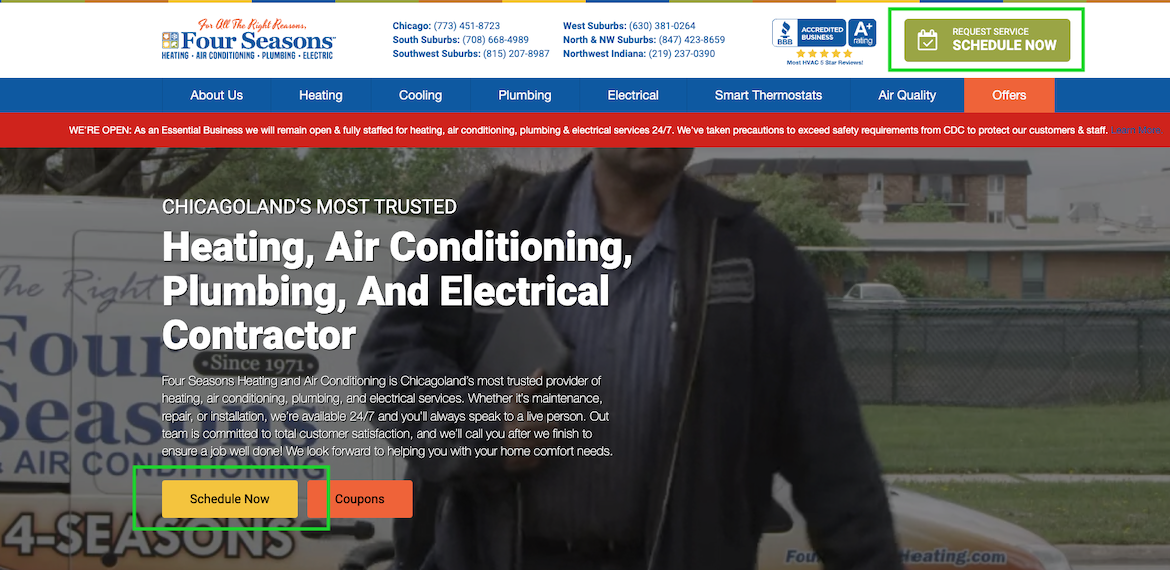 2. Pay for leads on HVAC lead generation websites
Lead generation websites, like Thumbtack, Angi, and HomeAdvisor, can help you get more leads by connecting you with people looking for HVAC services.
These services get you leads that need an HVAC contractor immediately and are ready to book work. Here's how to get the best HVAC leads from lead generation sites:
Choose the best lead generation site for your business.
List your full range of services and your service area on your business profile.
Respond to messages quickly to win more HVAC jobs.
Ask every customer to leave a review once the job is complete.
Many HVAC contractors start with Angi or HomeAdvisor, two popular lead generation sites that match you with residential and commercial HVAC leads in your area for a small fee per lead.
Thumbtack is another option—you can join it for free, and you only pay when a potential customer reaches out directly to you.
3. Create and optimize your online business listings
The more places your business is listed online, the more leads you'll get. Here are the most popular places for HVAC companies to create online listings:
Google Business — A free Google Business Profile is the easiest way to help local searchers find you and turn into leads. Fill out your company contact information, add your service categories, and collect reviews from your customers that show your business is trustworthy.
Bing Places — Bing is the second most-used search engine in the world with over 1 billion searches per month. Claim your HVAC company listing on Bing and add contact details, photos of your work, and a call to action button (like 'Contact us') that takes leads to the booking form on your website.
Yelp for Business — With over 90 million visitors each month, Yelp can get you on the map and reach more people who need HVAC services. A potential customer can call, find a link to your website, or request a quote directly from your Yelp listing. Once you verify your free listing, get even more leads by running Yelp Ads.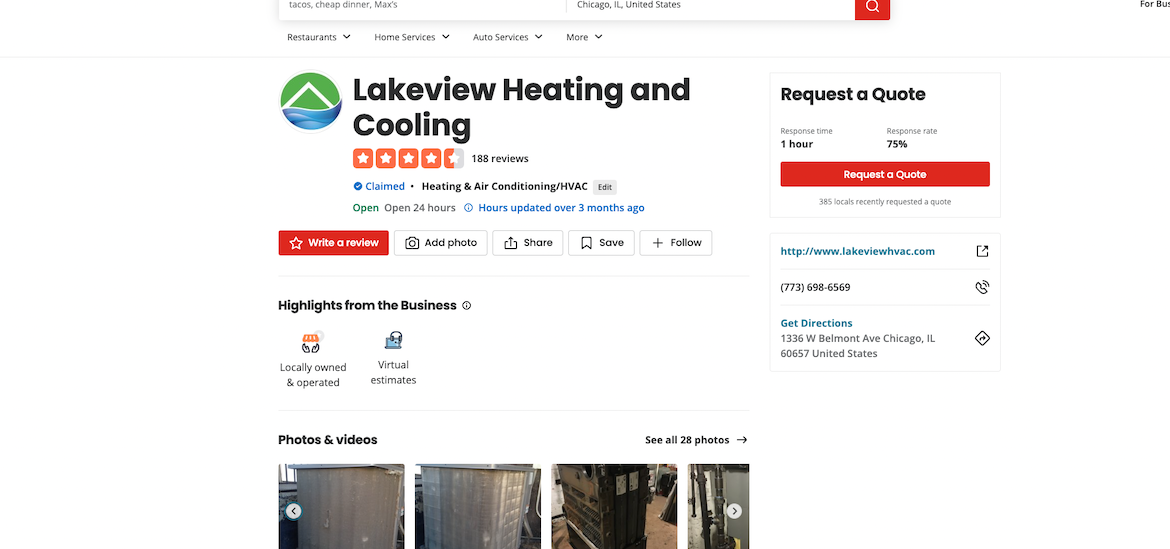 Pro Tip: Use WhiteSpark or BrightLocal to find even more online directories to list your HVAC company.
Having lots of positive customer reviews on your online business listings is key to building trust with potential customers and getting new leads.
Check in with customers after the job is done to make sure they're happy with your service. Then, send a text or email with a link from Google, Bing, or Yelp that lets them leave a review.
4. Get HVAC leads from Google searches
When potential customers need HVAC services, most of them will search Google with terms like "hvac service," "air conditioning repair," and "furnace maintenance."
Here's how to use search engine optimization (SEO) and Google's advertising channels to help those searchers contact you and become leads.
Improve your local SEO to appear in search results
Optimize your website, business listings, and social media profiles using SEO strategies for contractors. This will help you appear higher in search results when a customer searches for HVAC technicians in your service area.
Follow these steps to improve your HVAC SEO:
Identify what search terms (aka keywords) people should search to find you. Use region-specific keywords like "air conditioning repair chicago."
Include these keywords in your page titles and meta descriptions—but don't overuse them.
Make the content on your website helpful, especially if you write HVAC blogs.
Add your HVAC company name, address, and phone number to every page of your website.
Keep your website design simple and make it easy to navigate on desktop and mobile.
Find reputable, high-quality websites (like your local chamber of commerce or a trades association) and ask to have your site listed on theirs.
Successful SEO requires a lot of work—so when you have the means, consider hiring a freelancer or agency for SEO services to help you attract more leads.
READ MORE: How to create a website for your service-based business
Run Google Local Services Ads
Google Local Services Ads are digital ads you can use to promote your HVAC services to people in your service area. Local Services Ads include your contact information, operating hours, and an average rating from your customers.
These ads appear in Google Search results above organic results and regular Google ads. Unlike other Google ads, Local Services Ads only target people in your service area, and you only pay for leads that contact you.
For example, a potential lead who searches for "furnace repair in Chicago" may see something like this: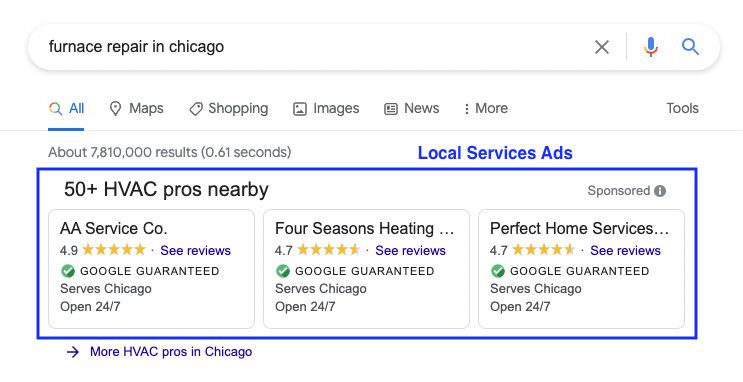 You also get a Google Guaranteed badge, which shows every HVAC lead that you've been vetted by Google as a trustworthy business.
When a lead clicks on your Local Services ad, they'll see all your business details, reviews, and a Call button that lets them contact you directly from the ad:
Create pay-per-click Google Search ads
Google Search ads let you pay for advertising space at the top of Google results. When people search for your preferred HVAC keywords, like "miami air conditioning repair" or "24/7 furnace services," your Search ad will show up just below Local Services Ads.
These are pay-per-click (PPC) ads, so you'll only pay when a lead clicks on your HVAC ad to learn more about your business or to book your services.
Because Google Ads runs an auction to choose which ads it shows (and in which order), you and other HVAC businesses need to bid for advertising space.
To create a Google ad that stands out from the rest, come up with a few three- to four-word headlines that include the unique services you provide.
5. Use QR codes on all your marketing materials
Putting QR codes on all your HVAC marketing materials is an easy way to send potential customers to your website and turn them into leads.
Without having to search your company name on their phone, a lead can scan the QR code to instantly visit your website and book you for work.
Here's where you should add your QR code to get new leads:
Use a QR code generator to create a code that takes leads to the work request form or contact page on your website.
6. Ask your existing customers for referrals
Your current customers are the best spokespeople for your business. Creating a simple customer referral program that rewards customers for spreading the word can get you higher-quality leads than any other strategy.
Follow these steps to ask for referrals and reward your customers:
Create a standard follow-up email you can send to every HVAC customer asking if they're happy with the work.
At the end of the email, write one or two quick sentences explaining how the customer can send a referral and what reward they can get.
Offer your customer a reward for booking your services, like a service discount, gift card, or a donation to their favorite charity.
READ MORE: 15 brilliant customer referral program ideas (with examples)
You could also build referrals into your invoicing process. When you send an invoice with Jobber, your customer will see a button they can click to refer a friend.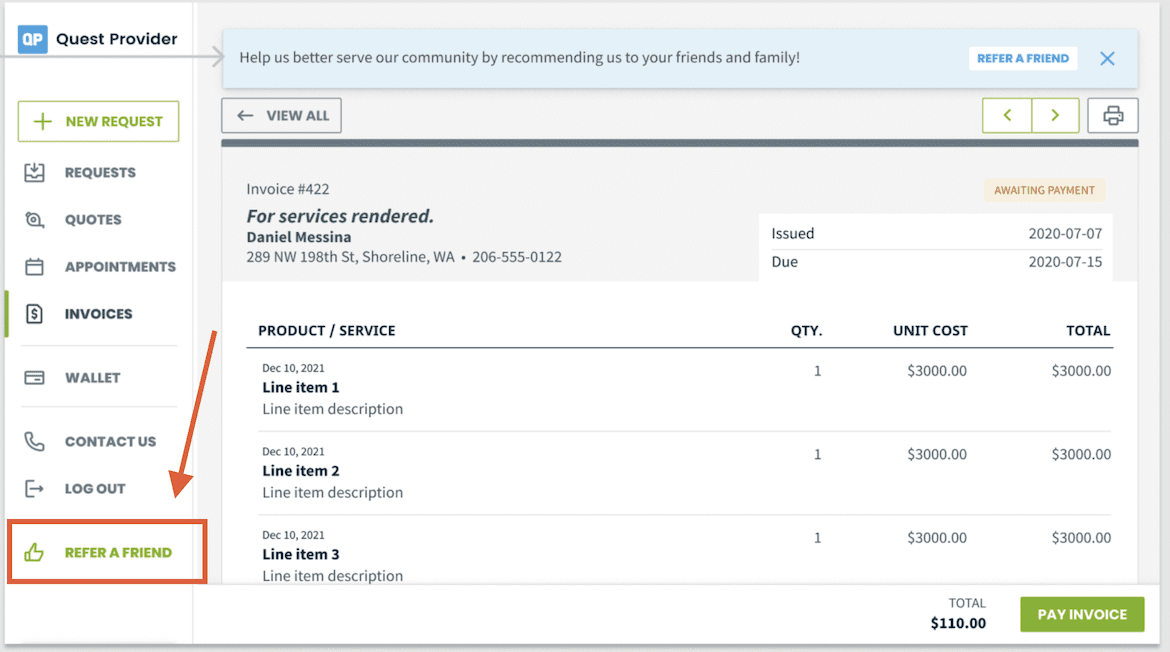 Then, your customer can easily share a referral link with people they know and help you get a new HVAC lead.
Jobber automatically prompts your clients to share a booking link with their friends and family, so you never miss an opportunity to get great leads.
Originally published in May 2021. Last updated on September 8th, 2022.