Sales and Marketing
How to Ensure Your Service Business Is Found in Google Every Time
July 14, 2016
16 min. read
You already know that appearing organically on page one of a Google search will help your business generate leads, right?
But figuring out how to make that happen can often feel like a daunting task.
After all, your job as a small service business owner is already a tough one.
I mean, every day you're out there in the field working hard, managing clients, staff, projects, service calls, company finances and a multitude of other tasks. How can you possibly add another complex function such as online marketing to your role?
Of course you accept that learning new things and developing new skills goes with the small business owner territory, but sometimes it feels like adding one more spinning plate could be one too many.
Up to now, word-of-mouth has worked really well, it's helped you get to where you are, but you realize you've got to step it up and begin to embrace marketing your services online if you are going to grow.
So where to start?
Answer: Search Engine Optimization (SEO) or Local SEO to be more precise.
What Is Search Engine Optimization?
Search Engine Optimization is basically, the means by which you optimize on-page content (your website) so that search engines can easily scan and deliver your pages in user search results. Off page SEO techniques also play a vital role.
Local SEO is taking the same basic SEO principles and developing them for local search. Off page elements are particularly important so that Google and other search engines see your website as relevant to local searches for your services. (We'll get into that a bit later).
Local search is where it's at for small businesses. If you provide a local service then you want to appear in local search results. Based on the information you make available on your website and on other websites like local directories, Google will determine your suitability to a given search.
Here's an example:
Imagine someone from Twinsburg Ohio needs a plumber, goes to Google and searches for "emergency plumber twinsburg". If your local SEO is up to scratch then it's likely Google will return your Emergency Plumbing web page in the results.
Here's a great example of a Plumbing business from Cleveland Ohio (not far from Twinsburg) doing Local SEO the right way and achieving awesome results.
This company appears top of Google page one and commands the entire right hand side.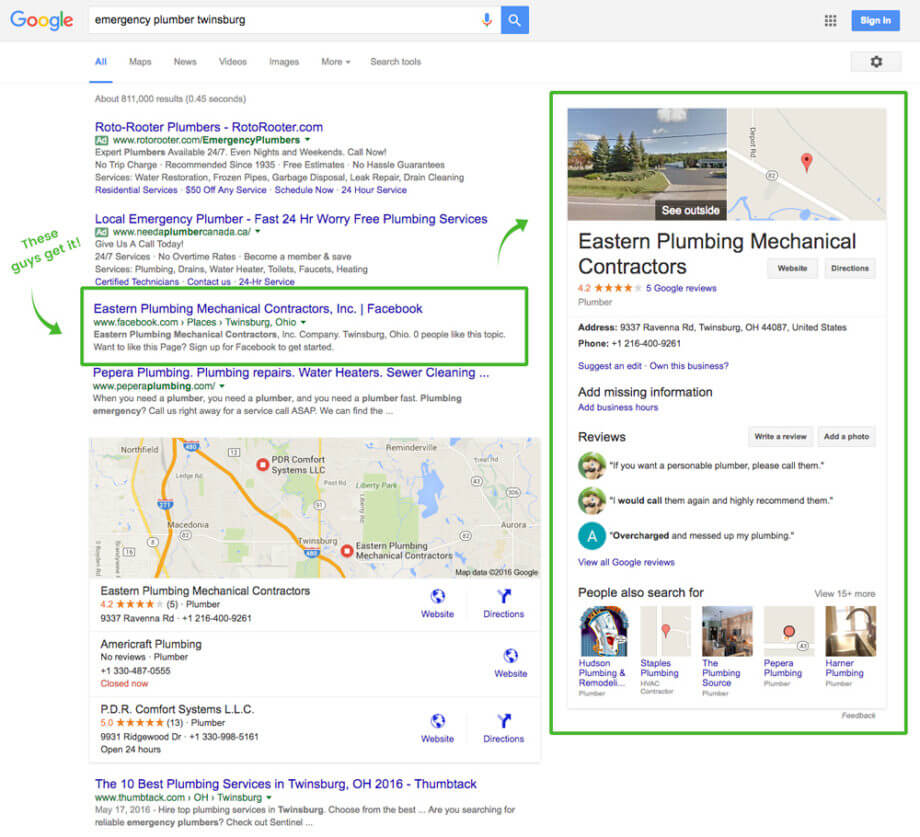 The good news for you is many small service businesses, tradespeople, craftspeople and such, are really not doing a very good job promoting their businesses online which leaves the savvy service business owner who recognizes the advantages of doing so with a distinct advantage.
Now, I won't kid you, SEO can be complicated and it's a moving target with Google applying and updating well over 200 different ranking factors on a daily basis (a few updates each day), but there are certain things that remain pretty constant and every small service business can put in place with just a little commitment and a small budget.
What I will go into below is by no means a complete guide to SEO/Local SEO, nor will it guarantee you results, however, if you can apply and develop these principles I'm about to show you on a consistent basis, you'll be doing what the vast majority of service businesses are ignoring.
If you are going to tackle SEO yourself then consider the following an introduction. If you want more detail then check out this beginners guide to SEO. Then, if you intend to hire an SEO professional to help you, then you'll have a base of knowledge upon which to have that discussion.
Getting Started With Local SEO
Your Website
Firstly, I'll assume that you already have a website and you have access to the backend where you can manage your content. If not then you'll need to start here.
Get a web designer/developer to build you a site on a solid server environment using something like WordPress. If you are serious about your business then you need to get serious about your web presence.
Once you have your site built on your own custom domain with a reliable host then you are in a good position to move forward.
If you fancy building your website yourself then by all means go for it, but be prepared to take lots of time away from your day to day stuff to learn what's required to do a professional job.
For busy business owners like you, I'd suggest you make the budget available for the project and hire a professional to build the site for you.
There are plenty of cheap hosting and web design options out there but in my opinion cheap is expensive so get a strong referral with a mid level price tag.
Here's a few things you need to be aware of when choosing your package;
All website hosting packages are not the same. Make sure your web designer is not adding you to a cheap, slow shared hosting provider with limited bandwidth and storage.
Make sure your web developer provides support. Websites need to be kept up to date and free of bugs so your site runs smoothly.
You need to look good so choose a premium theme that's mobile responsive, avoiding the free ones. Your web designer will explain the options.
Get a comprehensive breakdown of what's provided by your web designer and take the time to ensure you understand what you're getting.
Make sure your web designer adds marketing functionality to your installation. If they know their stuff they'll recommend tools like Sumome for lead capture, and Aweber or Mailchimp integration for email marketing.
Digital marketing is not about building a website, that's just the start. Your website is a tool you can use in marketing your services. Note the difference before hiring your web designer.
Social Media sharing functionality is an obvious important element to include. There are many integration options so make sure to have that conversation.
Your decision in hiring a web designer should not only be limited to the above, there are lots of other factors to consider like testimonials, credentials, experience etc, so take your time and choose wisely.
Your Website Content
Now we get into the real nitty gritty…
Once you have your website built on a solid platform with marketing functionality taken very strongly into consideration, it's time to add the content that your customers are searching for.
On-page SEO and Off Page SEO are two methods of optimization that we work on so that our content appears relevant to given searches on Google and other search engines.
Here are 9 tips to help you get started.
1. Always Write Content for People First
Find out who your buyers are and what they need. Yeah ok they need their grass fertilized, their windows washed, their AC unit serviced, that's the technical bit. But what makes them buy?
There is an emotional reason people make a buying decision, even when it comes to having their heating system serviced and as service business owners we've got to find this out.
When we do so, when we find out our customers needs, fears, wants and desires we can go about satisfying them through our written, video and audio content. The mistake most technical people make is we go on and on and on about the technical stuff and quite frankly, it's boring.
We've got to get to the "why" of our customers buying decisions and create content around that. Sure, produce the technical stuff too, but I'd suggest you go for a ratio or 4:1 emotional:technical.
If you don't know what's important to your buyers then go find out before you write anything.
2. The Importance Of Keyword Research
One of the first things you'll need to do is find out what terms people are using to find both the services you offer and those offered by similar businesses to yours.
Go to Google and do a search for services that you offer, making sure to include a location in your search term where you currently provide services.
Using the above as an example; "emergency plumber twinsburg", allows our Twinsburg Ohio plumber see who ranks in his local area and what the quality of his competition is like.
You can see from the page one organic results below that directories are favoured in the search results. This is important and we'll get into that point a little later.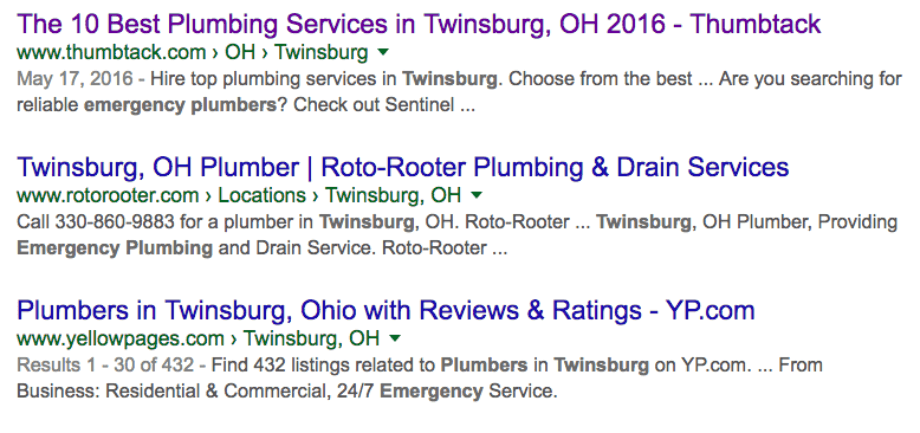 Then using Google Keyword Planner, enter keywords related to your services. Try keywords 3 or 4 words in length and look for average search volume of 100 or above. Mind you, that's just a general rule of thumb.
You might find a keyword you want to rank for that has only 20 or 30 searches per month but that not necessarily a problem because it may be highly targeted to your niche.
Of course this is only an introduction and keyword research is a lot more complex than that. Check out this beginner's guide from Moz.
3. Why URL Structure Is Important
Consider one of your chosen keywords and create a new page on your website. When you do so, a URL will automatically be created. You will likely need to edit this as poorly constructed urls can negatively impact rankings.
A url for a page on a website or our plumber in Twinsburg might be;
http://yoursite.com/plumbing-services-twinsburg-ohio
Here's a few things to keep in mind before publishing a new page or post on your blog;
Keep your url short
Include your chosen keyword in your url
Don't use underscores "_", use hyphens "-"
Make your url readable
Never change a url of a published page without using 301 redirects.
Aside from the technicalities of poorly optimized url, a long winded url is difficult to read, especially for example in a social media share.
Check out this guide to url structure from Google to learn more about the dos and don'ts.
4. Headlines Are What Get Clicked, Make Them Count
Good headlines get clicked. It is the part of your content that most people see first whether that's on social media or in the search results or somewhere else, and it needs to communicate the essence of your article.
And even putting that very important fact aside, optimizing them for search is an important element in good SEO practice.
Here's an example:
Which one of these headlines do you think someone searching for an AC service company will be inclined to click on?
"15 Compelling Reasons To Have Your Air Conditioning Serviced Professionally This Summer"
"Why You Should Have Your Air Conditioning Serviced"
Bit of a no brainer right? Headlines are important so make sure you use tools like The Headline Analyzer from CoSchedule to work a good headline for every page.
Find out more about writing headlines that get clicked in this article from Copyblogger.
5. Write Meta Descriptions That Sell
The meta description is the short piece of text that appears in the search results that explains in short what exactly your article or page is about.
Even though in 2009 Google said they don't count it as a ranking factor, we should not ignore it. The meta description as a rule of thumb should contain your chosen keyword and entice your reader to find out more about your content.
The meta description is like your search results sales copy and as such it needs to be optimized to receive that valuable click. If you don't add one manually when writing your article Google will grab one automatically and invariably it will not be ideal.
Yoast created a WordPress plugin that helps with basic on-page SEO. Find out in this article from them more about how to write meta descriptions.
6. Include Internal & External Links To Show Relevance
In short, internal linking to other pages and posts on your site from given pieces of content, tells Google how your content ties together. This forms your page structure and is a vital consideration.
It lets search engines know how pages and posts are related and the extent that internal linking is done well, influences how relevant your website appears to them for a given search.
As with internal linking, external linking also informs Google of the relevance of your content. Incoming links from high ranking domains gives you major kudos in Google's eyes. Poorly ranking domains with links to your content tells Google your content sucks.
Although not as powerful as incoming links from high rank domains, you'll also want to add links in your content to supporting material on other high ranking domains related to your industry
If you want to nerd out on link structure then check out this article from Web SEO Analytics.
7. Why Writing Long Articles Helps You Get Found
Long articles work, and what I mean by work is they drive high levels of engagement. At a time when Google seeks to know more about why people like certain content, time-on-page is an important factor they consider.
So when they see that visitors stay a long time on your pages either listening, watching or reading your content they consider that content highly relevant.
On the flip side, if visitors land on your content through a Google search and they hit the back button within a couple of seconds, then that tells Google your content was not relevant to their search and you page goes down in the results.
Long articles on their own don't necessarily work, your content has to be good (address wants, fears, desires etc) to keep people interested, but as a general rule of thumb long works better than short.
Neil Patel is a digital marketing seasoned campaigner, so if you want to find out more about why long articles work so well you should check out this article from him.
8. Blog Categories Show Google Who You Are
Having waaaay too many categories of article on your website is a common thing I see with many business blogs. It happens because not much relevance has been afforded to it in relation to being found in organic search results.
Many are not aware that selecting the right categories affects how Google sees your website. Categories act like a content list for Google and when you submit your sitemap (happens automatically in most cases) then you tell them what visitors can expect to find there.
When you have a disorganized mishmash of categories chosen willy-nilly every time you decide to write an article then it's likely Google will not have a clear picture of what your site is really about, so getting this right is important for you.
Learn more about Categories from my friends over a CoSchedule Blog
9. Why Google Loves Location-Based Content
Your buyers don't want to know about the different makes and models of Air Conditioning unit you supply. They don't want to know about air changes per hour, or kilowatt hours, or British Thermal Units.
They want to stay comfortable during the hot summer months and stay warm in the wintertime. Quit creating pages about Air Conditioning units! Start writing content that they value, like;
"How To Save Money On Air Conditioning Bills In Houston This Summer"
Can you see the benefits a visitor to your website might take from an article like this? It makes them a promise. It tells them the benefit they can receive from reading your article. It tells them you're focused on Houston.
Your buyers are homeowners, they have needs you have to meet in order for you to win their business so creating content like this serves their needs.
Another thing you can do that will help you rank well is create geo-specific project pages on your website. For every service you provide, and for every location you serve, create a specific project page detailing work your completed for happy customers to date.
Create as many project pages as you can without duplicating a keyword. So if you create a project for the long tail keyword; "Air Conditioning Installation Houston" don't duplicate this on another page elsewhere on your site. If you have another similar project you want to show, consider the keyword "Air Conditioning Replacement Houston".
Got it? Awesome! Here are a few guidelines to creating your project pages;
Make your project pages specific to jobs you have carried out in the locations you serve.
Make the job specific to keywords related to services you provide
Make the url, page title, meta description, category and tags reflect your keyword.
Embed a Google map for the location of the job in the article
Add the address of the project
Add a testimonial from the client and include their photo if you can
Link the testimonial to a separate testimonial page if one exists.
Link the project page to the related services page on your site.
Add images of the project and optimize them with your keyword
Add links to other similar projects
Add a main Call-To-Action at the bottom of the page inviting your visitor to contact you.
10. Registering With Local Directories
Registering with local (reputable) directories is a big one for SEO. You can see from the earlier screenshot that the top 4 results for "emergency plumber twinsburg" were all directories of one sort or another.
A total must to help land your site at the top of the organic search results is to register your business with Google Business. It's a simple process that only takes a few minutes to do, and is great for local SEO.
Once you register your local business with Google there are a number of things you can do on an ongoing basis to improve your listing. Learn more about how to set up your Google My Business listing in this guide.
There are a bunch of other sites you should add your business to and many will be specific to your locality so do the research and find the ones that are reputable. You'll find these by simply searching Google.
In addition to Google, here are some other major directories to consider;
While we're on the subject of business details, it's good for local SEO to have your business location map, business name, address and contact details on every page, usually the footer works well.
Add a text widget to the footer of your site and include on separate lines;
Business Name
Business Address 1
Business Address 2
Phone Number
Then add another widget to your footer and paste in the embed code for your Google Business location in the widget taking note of the size your map needs to be to fit the widget.
If you don't know how to do this, just ask your friendly neighbourhood web designer to do it for you.
11. Slow Page Loading Speed Kills
Whether you decide to pay for traffic via AdWords or take the SEO route, a slow ass site will kill your conversions and often the butt of the problem is a crappy server host.
Apart from Google penalizing your site for being slow, visitors will just click away if your site doesn't load quickly enough and often it only takes about 2 to 3 seconds for visitors to do so.
Go to the following resources to check your page loading times and if you have problems it's best to get a good SEO agency or freelancer to fix the issues. Some web designers won't know how to fix these unless they are highly skilled and experienced.
To check your page speed use the following tools;
Conclusion
Marketing has become easier for small business through technology to the point where small organizations and one-man-band businesses can compete with big budget competitors and win.
Promoting your business online can open a lot of doors but it takes real commitment to learning and implementing a working process. It means getting out of the trenches of daily technical work and working on our businesses instead of in it.
This is often is our greatest challenge as small business owners, however, if we are to grow our businesses and create the lifestyle and freedom we truly want for us and our families then we have to accept we can not do that without "moving upstairs" so to speak.
Focus your online efforts locally, consistently, as I've outlined above and I'm pretty sure you'll begin to make an impact. Commit to learning the do's and don'ts of SEO, implement what you learn and you'll see leads begin to come in.
Larry has written a free Online Marketing Guide for Jobber Academy Subscribers. Check it out and download the free guide here.