Entrepreneur Inspiration
Salas Tree Service: Growing a Successful Tree Care Business
September 9, 2017
5 min. read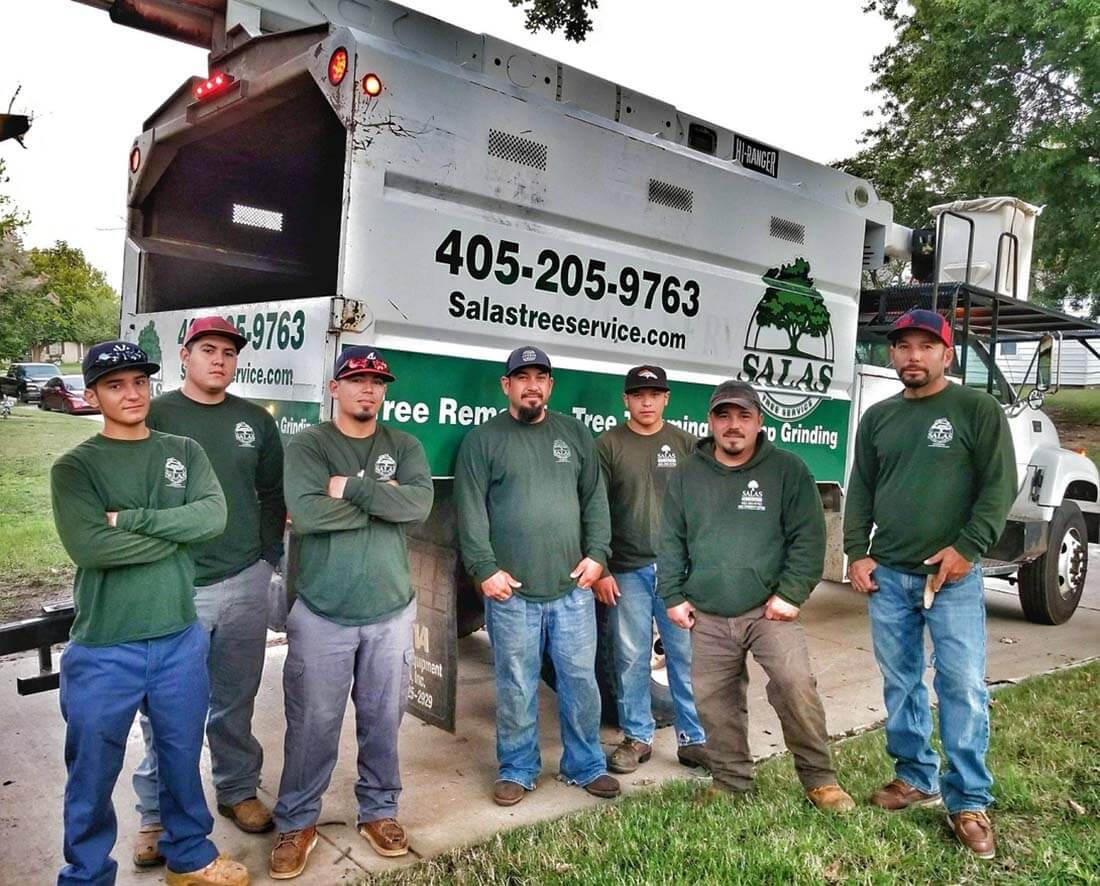 Salas Tree Service
The Salas Tree Service crew has mastered the art of building offline relationships that fuel their online presence.
Not everyone has what takes to work at treetop level heights, but for the folks at Salas Tree Service it's something that's in their blood. "You have to be a special type of crazy to do that," says Monica Lopez, the company's office manager.
The Oklahoma City outfit's services include tree trimming, pruning, shaping, tree removals of any size, stump grinding, chipper and bucket service, storm damage and emergencies, cleanup and haul-off, commercial and residential tree care. In other words, when it comes to tree care, they take care of it all.
So what's the story behind this award-winning local tree care company? The secret is that there's no silver bullet. It's a mix of in-person and online relationship building strategies.
A family affair
"With some of these trees, you're up 50-60 feet in the air. You've got to be brave and confident in your skills to do something like that," she says.
That kind of skill runs in the family at Salas. The seven member crew is mainly made up of family members—brothers, uncles and nephews.
Lopez is not just office manager, bookkeeper, scheduler, and marketer, she's also married to Joaquin Salas—business owner and "main climber." Joaquin Salas comes from a family of tree care professionals, with his two brothers also in the tree care business.
"There's lots of learning on the job. He started as a groundsman and trained to climb. Learning techniques, becoming confident, learning skills—it's not a game, you have to know what you are doing up there," says Lopez.
Geo-targeting for the win
Joaquin Salas began working in tree service at 16-years-old in San Jose, California. He moved to Oklahoma in 2003 and started Salas Tree Service in the Warr Acres area of Oklahoma City in 2005. And the business has grown just as the family has, initially through recommendations from satisfied customers, but Lopez says word of mouth can only get you so far. So where to turn to next?
Lopez says they experimented with many different channels to market their services and get the word out to new customers. "We tried Facebook, Yelp, Google—we had to narrow down to the ones that worked best for us," she says.
It turns out the answer was: location, location, location. More specifically, the company found the best bang for their buck with paid advertising by geolocation.
"Angie's list and Google—those are our two main vehicles of paid advertising," says Lopez. "We are also tapped into all the social media channels: Facebook, Twitter, Instagram."
The company has also experimented with a YouTube channel featuring some time lapse video of their tree trimming, stump grinding, and especially showcasing their tree removal work.
Getting their customers to advertise for them
Once prospective customers land on the company website they see all the recommendations and reviews all from trusted rating services, lending more proof to the power of online reviews.
They have 24 Google reviews, 154 Home Advisor reviews, 54 Facebook reviews, and 109 reviews on their website—and these numbers are likely already out of date, because the Salas Tree Service crew clearly does a great job of asking happy customers to share their experiences on an ongoing basis.
As well, the company received the 2015 and 2016 Super Service Award from Angie's List, and the 2015 and 2016 Best of Home Advisor Award, all displayed proudly on their homepage as another marker of trust for prospective clients.
Nothing beats meeting face-to-face
Lopez says social marketing is not just online—it's also done the old fashion way.
Three years ago she decided to volunteer with the Northwest Oklahoma City Chamber and serves as an ambassador for the goodwill arm of the chamber, welcoming new members and presiding over things such as ribbon cuttings and volunteering at Chamber events.
"We joined the Northwest Oklahoma City Chamber to better connect with our community, build relationships and learn about other resources in the area," Monica says. "We also wanted to get more exposure for our small business through regular attendance at chamber events."
Needless to say, it's been a worthwhile investment of Monica—and Salas Tree Service's—time.
When your community takes notice
In recognition for her community involvement, Lopez won the chamber's 2015 Chairman's Award and was also one of five to receive the Northwest Young Professionals Horizon Award. This kind of spotlight in a community is powerful when it comes to establishing a credible, professional business that stands out among the competition.
With solid roots in their surrounding community and now using social media tools to grow their online community, Salas Tree Services has steadily grown its customer base with both new and repeat customers.
That makes them a good case study of how word of mouth recommendations both from family and friends, along with online customer referrals can be two pillars to grow a sturdy business.
Lightning round with Salas Tree Care!
The most valuable tool in your toolbox?
Vermeer stump cutters and stump grinding equipment, and Vermeer wood chippers.
Outside of work tools, what would you never leave home without?
Ball caps and long sleeves shirts—even in the hottest weather—because arms get scraped up.
Favorite Jobber feature?
I like that I can pull Jobber up anywhere. On my phone or anywhere I happen to be. Before we were paper and pencil type of people and if you leave something on your desk and you get a call and you need it. With Jobber I can just pull it up in the car or on the tablet or whatever. One time I was out of town and I was scheduling calls and I could log in and I was in another state.
How does the team unwind after a long day?
Joachim Salas has a hobby farm and that's where he will unplug. Cattle, horses, chickens even a donkey. It may seem like a job, but that's what he likes doing!