Managing Your Business
When Is It Time to Move Out of Your Home Office?
You've started your business out of your home and things are going well. You're gaining momentum, hiring a few employees, and improving your cash flow. Then during one of the few moments you have to yourself, you ask yourself: "should I still be working out of my home office?"
If you're making money and things are looking good, then investing in an office space might sound like a great idea. It can also help improve your business' professional appearance, and help you hire and retain better employees
But, before you decide to move, think about your business from a big picture point of view. Moving can bring on a lot of extra overhead expenses, logistics, and administrative work. An office space isn't the right solution for everyone––even if you're sick of working from home.
So should you move out of your home office? Here's some advice we're gathered from home service business owners who made the decision to move.
When is it time to move out of your home office and into an office space?
Only move out of your home office if you have a good reason to do so, and not just for the sake of moving.
Moving to an office space can be helpful for business owners who are growing their team, need to add a layer of professionalism to their business, or feel that it will improve customer service. Always remember that office space rent adds to overhead costs. If you can't afford it now, then don't do it.
1. You want to look and be more professional
Getting and office helps you look more professional, there's no doubt about it. Employees and clients will take you more seriously if you have a clean, neat office space.
One cleaning business owner we spoke with explained how much getting an office space helped her with hiring better employees. She explained that when she got her own office space, people started to take her more seriously, and this was a big deal. Her industry had a reputation for lacking professionalism, and she ran into several issues when it came to hiring employees.
As a young business owner, interview candidates didn't take her seriously if she asked to meet them at a local coffee shop for their interview. She also ran into several candidates who didn't respect her because of her age. However, when she decided to move from her home office to an office space, she noticed her clients, interview candidates, and employees treat her differently.
For this business owner, opening an office added a layer of professionalism to the interviewing and employment process at her company. She had more of an upper hand during the interview process, and was able to hire more professional employees when she started working out of an office. Plus, her clients were able to search for her business online and see the exact location of where it operates. Moving into an office can add a whole level of trust and transparency to your business.
READ MORE: The Home Edit shares 22 tips for organizing your business
2. You need more space for your growing team
If you're the courageous leader of a growing team, then having your own office space is important for company culture and efficiency.
It's the place where your team will gather before work starts in the morning or when the shift is done for the day. In an office space you'll be able to run employee training sessions, store equipment and tools, host events, and keep all your files (and work) away from home and in one reliable space.
Opening an office outside your home is a great strategic investment if you're thinking of expanding your business and hiring a larger team.
Imagine giving your house key to your administrative staff so they can get to work on time if you're not around. Or, imagine giving one of your crew members the code to your garage door so they can get their equipment for an earlier than normal shift.
Sometimes it just doesn't add up to operate out of your home when you have a big team. You'll want some level of separation and independence from your business, and you just can't get that when you're operating out of your home.
READ MORE: What is a virtual assistant and how can they help your business?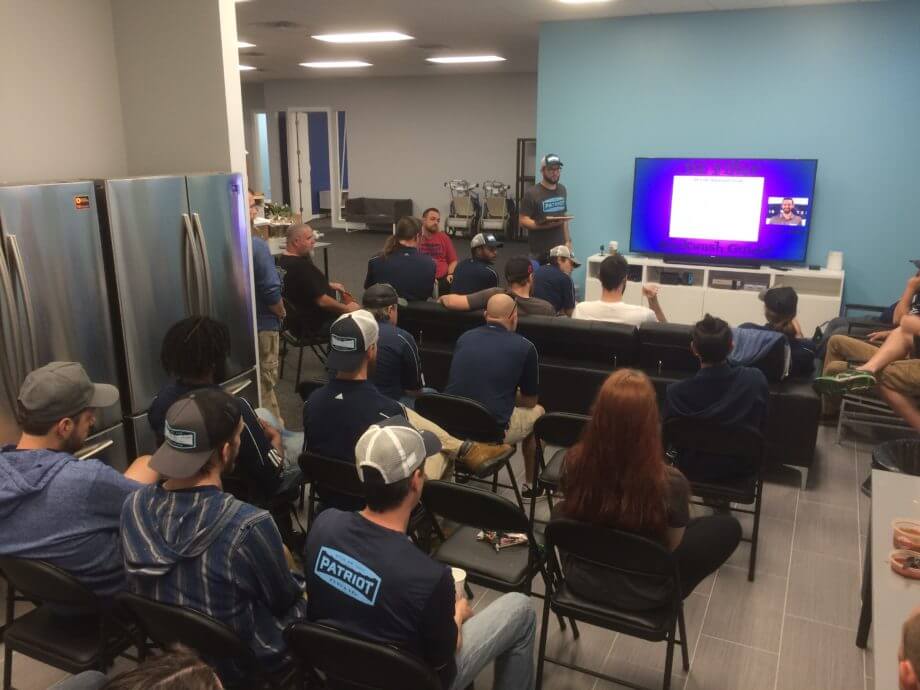 3. More space will help you provide better service
Unless you're sure that opening a new office outside your home will improve your customer service, consider continuing to work from your truck or home office for now.
Paying rent is expensive. If you have to take on significantly more jobs just to make rent, then it's not worth it. You'll quickly learn that your quality of service will suffer for it, your clients will be unhappy, and a bad reputation will quickly get around town.
However, if expanding out to a separate office means that you can hire more administrators, more technicians, buy and store more technical equipment, and offer your employees more training and culture opportunities, then it's probably worth the investment. Happy employees with good equipment will help you run a better business and provide your clients with better service.
4. You want to change the perception of your industry
If you feel like your industry is getting a bad reputation and want to do something about it, then moving into an office space might help your cause. Doing this can change the home service provider and client narrative around your industry.
Although this reason to move out of your home office is a bit more or a political one, it is a legitimate one for some business owners.
Clients sometimes have their minds made up about certain industries and service pros before they even meet them. There's a sound reason for it––some service pros act like they're in the Wild West. Some folks are disorganized, lack a fixed business address, and keep all their files in their trunk. This only truly matters if it affects customer service, but unfortunately, it usually does.
If you're part of the group of business owners who want to change the narrative and the way other service providers and clients talk about your industry, then moving into an office space might help support your cause.
An office or showroom space that you can bring your clients to, or operate an administrative team out of, can help guide peoples' perceptions in the right direction. It also helps show them that you're a professional who operates by the book in the public eye.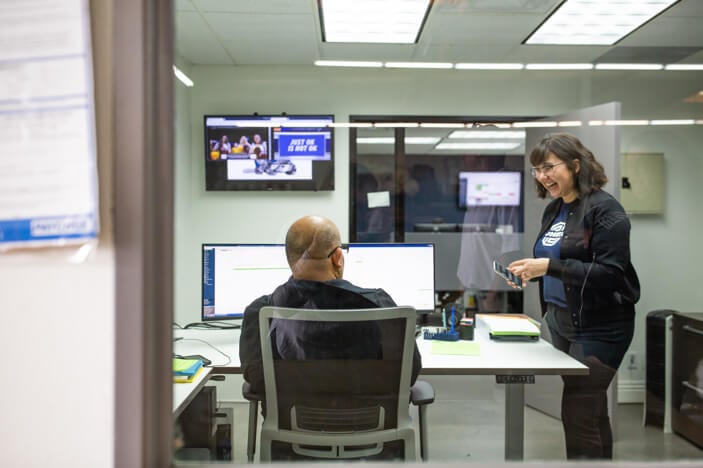 5. You can actually afford to move your home business into an office space
If you want to take your business to the next level by moving it out of your home, then make sure that you can actually save money to bring it together.
If you don't have the capital, or can't take out a loan because you lack the collateral, don't panic. You can always rely on your family and community to borrow money. Just make sure that you are borrowing money that you are able to pay back` consistently and within a short window of time.
If you're trying to get to this stage in your business but can't afford it yet, try to be frugal with your business spending. Make sure you're producing services that will help you save up to either get a loan, or afford first and last when you decide it's time to move.
An office space will contribute to significant overhead costs. So, if you can't seem to afford it right now while you're looking at your projected numbers, then definitely hold off until you're more profitable.
Paying rent should never come out of your personal salary, your employee's paychecks, or your budget for supplies, tools, and software to run your business.
If you can't afford moving out right now, don't worry about it. There are plenty of other ways you can look professional, provide excellent customer service, and help your business run efficiently. Using a field service management software, for example, can help!
So, are you ready to move?
A lot of business owners start a home service business with the mentality that they can make a lot of money in a short amount of time. However, several professionals in our community confess that this changes. It becomes a lot less about money, and more about creating a great service business.
You don't necessarily need to pour money into your business to be successful. It's more about knowing the business inside and out, and gaining a love for it that helps you succeed.
Ultimately, it's up to you and your business objectives. If you can handle the bumps along the way and enjoy them, you'll be able to profit from your home service business and make it into a professional operation down the line, whether you have an office space, or choose to work from home going forward.