Pricing and Payments
10 Simple Ways to Increase Revenue From Existing Customers
January 25, 2022
7 min. read
If a lot of your customers seem to be one-and-done contracts, chances are you're missing out on the opportunity to keep them around. Just because you specialize in a specific industry doesn't mean that your clients can't benefit from your services more than once.
Plus, getting new customers is a lot of work—it probably costs you a decent amount of money for each new lead, too. But targeting your existing customers is often easier to do and less expensive.
If you've never considered how to increase revenue from existing customers, now's the time to explore your options using these tips.
How do you increase revenue from existing customers?
1. Analyze your customer list for new selling opportunities
An easy way to do this is to create two lists: one of your services and another of your clients.
Take a look at each of your clients and the services they've hired you for. Then identify opportunities to cross-sell services to them, when it makes sense.
For example ➡️ Let's say you have a client who's hired you for regular lawn fertilization and maintenance. You've never provided an aeration service to them, but there's a good chance they not only need it but would be interested in it too.
Here's where you could send them an email with a customized list of services. Up your chances of getting the job by explaining how each service could benefit their lawn and why you recommend it.
2. Follow up and stay in touch with your customers
If your customers never hear from you, they're likely to forget your business exists. And, if your name isn't top of mind when they need a service provider again in the future, they may call a competitor instead of you.
Keep in touch with your customers even if they aren't actively hiring you for work. You could try:
While you certainly don't want to bother your customers with too many marketing emails, getting in touch every so often serves as a reminder that they've worked with you before. And, when they need a service provider again in the future, you'll be the one they think of.
READ MORE: 5 ways to write better customer service follow-up emails
3. Include upgrades and good, better, best pricing on quotes
Many contractors only offer a single price on their itemized quotes. This might be a common practice, but it's also a missed opportunity. Good, better, best pricing is when you give clients three pricing tiers on a single quote. This shows your customer what the service options are for different budgets.
For example ➡️ When you outline bronze, silver, and gold level pricing in your quotes and detail the differences in costs and services between them, clients get a better picture of what they'll get in exchange for their money based on what they can afford.
Clients who originally set a lower budget may be interested in bumping their contract up to the next tier because the benefits outweigh the costs. Or, customers who would have gone with a competitor because your pricing was too high will see that they have a lower-cost option with your company as well.
READ MORE: What to do when customers say your price is too high
4. Train your team for cross-selling and upselling
Upselling doesn't only have to happen after a job is finished. Sometimes, the most successful upsells take place while your team is out in the field. That's why it's so important to train your employees and contractors to identify opportunities to cross-sell and upsell while they're out on the job.
For example ➡️ If you run a cleaning business, train your employees to look out for ways to upsell to clients as they notice other potential jobs in client homes. This can include appliance cleaning, carpet cleaning, or decluttering.
Since your team members typically see clients and job sites in person, they'll have a better idea of what individual customer needs are and what they may be interested in.
READ MORE: Upselling techniques: How to upsell services without being pushy
6. Expand your service list and product offerings
Offering new products and services expands your customer base and helps to increase revenue. It also encourages existing customers to keep coming back for more.
Broadening your skill set and building up an extensive list of services and products is all part of business growth. If you don't add to your services every so often, you could start to lose your competitive edge and only be seen by clients as a single-service business.
Instead, stay up-to-date on new industry changes and trends to see what's up and coming in relation to the services and products you offer.
For example ​​➡️ If you own a residential painting business, pay attention to new home styling trends, popular interior colors, and new painting techniques. When it makes sense, add new services and products to your list to show clients that you're not just a one-trick pony.
7. Start a referral program to grow your client list
Just because your existing clients aren't in the market for services themselves doesn't mean you can't leverage them to find customers who are. By starting a customer referral program, you can use your existing customers to bring in new ones.
And, if you reward loyal customers for sending referrals your way, they'll be even more likely to use your services again in the future.
For example ➡️ If you offer a small discount or freebie for every new contract that an existing customer brings in, they're bound to want to work with you again when they need a service provider.
READ MORE: 15 brilliant customer referral program ideas (with examples)
8. Survey customers for their feedback
If you find that you don't have many repeat customers, it's important to find out why. A simple way to do this is by sending out customer feedback surveys. Asking the right questions will help you to pinpoint where you may need to improve your business.
Ask open-ended questions, such as:
What did you like the most about our service?
What did you like the least about our service?
If we could improve one thing about our service, what would it be?
Are there other services you need that you would like us to offer?
What made you decide to work with us?
Even satisfied customers can provide valuable insight, helping you to figure out how to grow and expand down the road.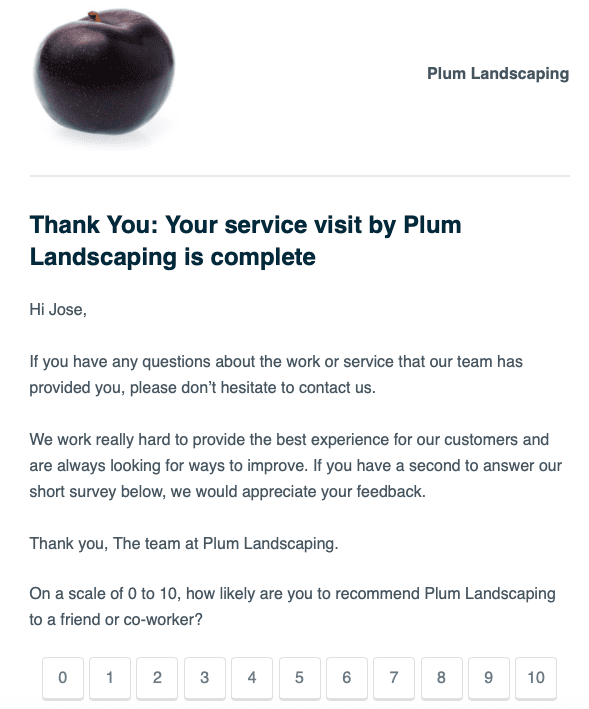 9. Thank your customers for their loyalty
Customers like to feel appreciated and acknowledged. After all, they chose to hire you to complete a job in exchange for their hard-earned money.
Showing them that you value them through promos, special offers, discounts, freebies, or even just thank-you notes is the perfect way to improve your customer experience and build brand loyalty. The more comfortable and satisfied a customer feels with your services, the more likely they are to hire you again—and sing your praises to their friends, neighbors, and family members.
10. Create a consistent 5-star customer experience
Customer service is a major part of every service business. The more supportive and easy it is to work with your business, the happier your current customers will be.
Increase sales by providing a seamless customer experience that includes:
Consistent customer support
Clear customer communication before, during, and after the job
Communicate your services and prices
Providing frequent and relevant training to staff
Using online field service software to manage clients and organize your work in one place
Repeat customers are your greatest revenue stream
While you may have focused mainly on new customer acquisition in the past, your existing customers are actually a major resource for increasing revenue. Leverage your current client base to find opportunities to:
Grow your business by adding services and products
Increase sales through on-the-job cross-sells and upsells
Build brand loyalty and improve your customer experience
Want to go even deeper on this topic? Listen to the Masters of Home Service podcast on How to Win Repeat Jobs.
This post was originally published in July 2016. It was last updated on January 2022.