Sales and Marketing
Why You Should be Advertising Your Service Business on Nextdoor
August 12, 2020
6 min. read
Donovan Quesenberry, owner of DIV Cleaning Service, has gotten over 50 new customers and 200+ recommendations from a single app. It wasn't Facebook or Homeadvisor or any of usual suspects—it's Nextdoor.
If you're a local service business owner, here's what you should know.
What is Nextdoor?
Nextdoor is a social network for neighborhoods and communities. Members join to discuss local events, find a last-minute babysitter, or connect with the people who live next to them.
According to the platform, 74% of members are homeowners, and 25% of all conversations revolve around recommendations for local businesses.
As a local service provider, you need to get in front of your local customer base to stay top of mind and win new leads.
You'd think it would be easy, with all of the advanced targeting on Facebook and Instagram ads.
But, you're competing with memes, influencers, family updates, and breaking news. Promoting your service business online can be like trying to attract a kid with broccoli.
Promoting your business on Nextdoor helps you cut through that noise and get in front of real, local homeowners who actually need your services.
If you're weary about joining yet another social platform, here's what you should know:
Nextdoor is hyper-local. Every single user is verified based on their postal code. That means you're guaranteed to reach real people in your area, not Joe from three states over.
Nextdoor is built on trust. The platform discourages blatant promotion, bullying, or trolling. The majority of posts are either genuine questions or helpful advice, and honest recommendations are highly valued.
Nextdoor is for real people, not robots. Forget scrolling through ads, bots, and influencer posts. Nextdoor's membership is primarily homeowners, and they're actively looking for local services, not self-promotion. Just take a look at some of the screenshots below: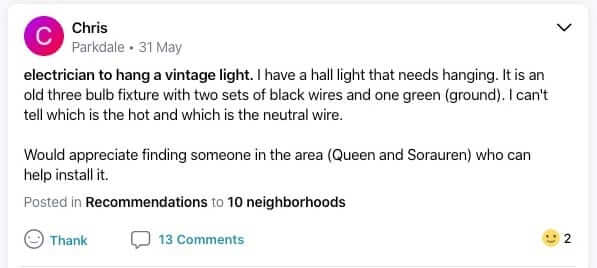 How Can Service Businesses Use Nextdoor?
There are a few ways you can use Nextdoor to promote your business in a genuinely helpful way:
Use your personal Nextdoor profile to:
Get to know their neighbors
Ask for advice or recommendations
Buy and sell used goods
Organize events
Post alerts
Use your Nextdoor Business profile to:
Introduce your business to the community
Answer questions with expert advice
Respond to recommendations
Post advertisements and deals
Monitor your local reputation by seeing what others are saying about you
So, advertising on Nextdoor: How do you do it?
Nextdoor has free and paid advertising options. But before you start, you need to set up your business listing:
Step 1: Claim Your Nextdoor Business Listing
Claiming your free business page on Nextdoor builds your presence and helps you get found when members search for local business recommendations.
Go to nextdoor.com/create-business and choose the professional business option.
You'll need a Nextdoor account to continue, so create one if you don't have one or sign in with your account information if you do.
Search for your business name and address. If your business isn't on the list, select Create a New Business Page with this name.
Follow the rest of the prompts and you'll receive a verification code to confirm your claim.
Nobody likes (or trusts) an empty profile. Update your business page with your phone number, email address, website, business hours, and physical address.
Next, add a profile photo and, at minimum, a brief description of who you are and what you can offer your community.
Step 2: Start Promoting your Business on Nextdoor
Now that you have a profile, use it to build up your business' online reputation:
Get Recommendations
A core idea behind Nextdoor is that recommendations from a real person in your neighborhood are more influential than a stranger on Google. It's hard to argue with that.
You can get recommendations by sharing your Nextdoor Business page on your invoices, email signature, and social profiles. Go to the "Your Reputation" tab and click "Get Recommendations" to get the links.
But the best way to get recommendations is to ask your customers after every single job.
Create Nextdoor Ads
Nextdoor offers three types of advertising for local businesses:
1. Neighborhood Sponsorships (monthly cost)
Neighborhood sponsorships let you create automated ad placements in zip codes you sponsor. These look like your typical social media ad, and have the word 'sponsored' next to them.
Currently, only general contractors, roofers, home builders, real estate brokers, and a few other select businesses qualify for these sponsorships.
Neighborhood sponsorships are a recurring monthly cost you can cancel at any time. To learn more about posting as a neighborhood sponsor, go here.
2. Local Deals (pay-per-ad)
Local Deals are a way to share promotions or discounts. These deals are available for smaller businesses across the US that have fewer than 10 employees.
Unlike neighborhood sponsorships, local deals are a one-time investment. Local deals can cost as little as $3, though the average is roughly $75.
For more detail on how to create and post your first local deal, go here.
3. Organic Business Posts (free)
Another way to promote your local business is to share information posts on the Nextdoor newsfeed.
These posts can give people updates, provide helpful information, or request feedback. They are about positioning you as an expert and providing helpful information. Do not use organic posts to blatantly promote your services.
"I've found a lot of success maybe doing one of those posts every few months, or especially when you first sign up for either a personal account or a business account," says Donovan. "I just let people know, "Hey, I own this business. I'm new at Nextdoor. I just wanted to give a shout out and let everybody know that I'm your neighbor.
Or if there's a hurricane coming through, I'd put up a messaging 'Hey, I own a gutter cleaning company. If anybody has wind damage and needs emergency help, feel free to reach out to me. If I can't help you, I'm putting together a list of other service providers that might be able to help in an emergency.'
People will see that, and then they appreciate the information that you're giving away."
At the time of this writing, you can publish up two free posts per month. To learn more about how to create business posts, go here.
Nextdoor Marketing Best Practices
Help First, Promote Later: The core of Nextdoor is about neighbors helping neighbors. Always try to add genuine value rather than outright promoting your business. Likewise, if you see an opportunity to recommend a fellow service provider, do it! They might return the favor later.
Ask for Recommendations: The more you ask for reviews and recommendations, the more you'll get. Period.
Track your Success: Nextdoor will track how many people clicked, viewed, and saved your paid ads, but that's only half the picture."To keep track of where clients come from, we have a custom field on our booking form that says 'How did you find us?' I can then run a 'client info' report to see their answers. I LOVE these reports in Jobber. I hope this helps someone!" – Donovan Q
A final tip? Have fun with it. Nextdoor is a great space to build community and brand awareness, which can help your business in the long run.
One of Donovan's most successful posts was a poll on picking a new logo design (it got 104 comments.) It got neighbors involved, engaged, and most importantly, aware of his business: