Sales and Marketing
9 Ways to Optimize Your Facebook Business Page
December 17, 2019
7 min. read
A Facebook business page can help your service business stay in touch with customers, appear in Google search results, and book more jobs.
But in order to get those results, you need to make sure it's well-optimized for your business' goals.
The difference between a regular Facebook page and an optimized Facebook page is like having an old work truck, and having a professionally-wrapped vehicle you keep sparkling clean for service calls.
You don't need to update your Facebook page every day, or even spend a lot of time on it, in order to optimize it.
Here's how.
Don't have a Facebook page yet? Get the No Excuses Guide to creating a Facebook page (in under 20 minutes!)
How to optimize your Facebook Business page: 9 steps
1. Set your page up correctly
First up, you need to make sure your existing Facebook page has all of the basics set up. Log into your Facebook now and check off the following:
Choose the right page type. Facebook gives you two options: Business or Brand or Community or Public Figure. Choose Business or Brand.
Add Basic business details. Make sure your business name, industry, address, city, phone number, and zip code are up to date. Don't skip this step. Having complete business information boosts credibility and professionalism, while helping your business appear in Google search results.
Choose a high-quality profile photo and cover photo. These two images are key to a positive and professional first impression. For your profile photo, use your logo instead of a headshot to build brand recognition. For your cover photo, select an image that reflects the work you do. For example, use a shot of a well-manicured lawn, a sparkling clean home, or a happy customer standing in their garden.
Invite your friends to like and follow. The more followers your Facebook page has, the more engagement it will receive, and the more likely it will be seen by others on Facebook. Invite your friends, even if they are not your customers.
2. Update your About section
Don't make customers visit multiple pages or websites just to find basic information about your business. Add as much detail as possible to your About section and keep it up to date.
In addition to your name, address and phone number, include your business hours, email, and the services you provide.
To update this information, visit your business page, select About in the left menu, and edit.
3. Highlight your team members
Your team members are representatives of your brand. You can add them to your Facebook business page to build trust with your clients and help your small business look bigger. Add them to the "About" section and include photos and videos of them on the job.
Important: Before adding your employees to your Facebook business page, make sure that you have their permission and that their personal pages contain appropriate content.
4. Turn on Facebook Messenger
Consumers today expect instant answers and are less likely to want to pick up a phone and call.
To serve their needs, enable Facebook Messenger on your business page.
Facebook Messenger makes it easy for customers to instantly communicate with you. It gives them an avenue to inquire about your services, ask questions, and report any issues.
You can also set up automatic replies during non-business hours so that clients know when to expect a reply.
To enable Facebook Messenger for your service business, follow these steps:
Select Settings in the top menu
Under General, scroll down and click Messages
Click the box next to "Allow people to contact my Page privately…."
Save your changes
Just remember that as impressive as a Facebook Messenger is at helping you communicate with customers, you'll need to be highly responsive when you enable it.
Do not set up and use Messenger if you don't plan to check your messages daily and respond promptly.

Online booking software lets customers add their contact details, provide details about the services they want, and schedule appointments. It's easy, straightforward, and gives you all the information you need to book the job.
The booking form is fully customizable and allows you to ask any questions specific to your service business. Plus, you'll get an instant notification once someone fills out the form so you can follow-up and close them.
Here's an example form you could link to from your Facebook page: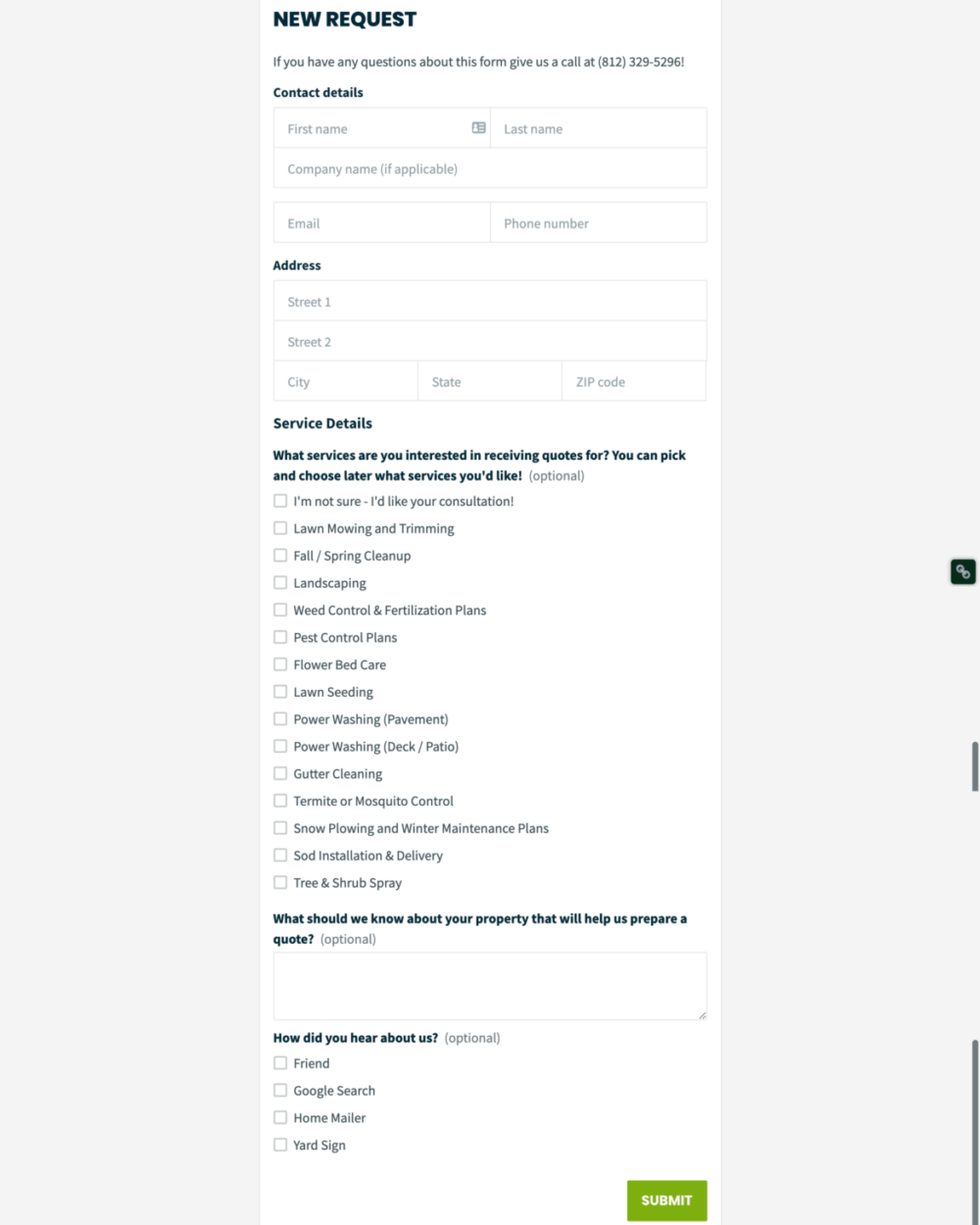 6. Post photos, not just text
Posting to your Facebook business page can be a lot of work. And unfortunately, you can spend a lot of time creating beautiful posts that never even get seen.
That's because the key to getting your Facebook posts seen is to get 'engagement.'
Basically, the more people like, click on, or comment on your post, the more Facebook will show that post to other people.
And the key to getting engagement is photos. Photo posts receive 53% more likes, 104% more comments, and 84% more clicks than posts with just text or links.
Optimize your Facebook page by uploading photos of your team, work, and reviews every chance you get.
For example, if the employees of your lawn care business just completed a big job, snap a pic of them standing next to your client in the garden. Then, write a short Facebook post where you introduce everyone, include a quote from the client, and attach that image.
You don't need a professional camera or fancy effects. A standard smartphone and short caption explaining what's in the photo goes a long way.
You can upload a photo post in just a few minutes, and get more engagement than a text post that took 20 minutes.
7. Add customer reviews
According to a Jobber survey, 52% of customers said they will not use a home service business if they have negative reviews. Online reviews are essential, and customers today rely on them when deciding who to hire.
Luckily Facebook helps you take advantage of this trend by adding Facebook review to your business page. Just follow these four steps:
From your Facebook business page, select Settings in the top right corner
Choose Templates and Tabs in the left menu
Scroll down to Reviews and choose Settings
Toggle the Show Reviews button On or Off and hit Save
Note: You can toggle your Reviews on your Facebook page on or off. The only time you would want to switch reviews off is if you have many negative ones. You can temporarily hide them while you determine what the problem is and find a solution to fix it.
By toggling reviews off, you will temporarily disable all reviews—both positive and negative.
To learn more about Facebook reviews and how to remove them, read 3 Ways to Remove Reviews from Facebook.
8. Boost a post with Facebook Ads
Facebook gives you several options to advertise your business. For a fee, you can promote your page or website, and even boost certain posts so they reach a wider audience.
Let's say you decided to boost a great before and after photo post. You would simply visit your Facebook page, find the post you'd like to promote and choose the blue Boost Post button located to the bottom right of the post.
From there, you'd complete all the details of your Facebook ad, including your audience, budget, duration, and payment method.
Facebook advertising may seem intimidating, but it's easy to set up. Learn more about how to boost Facebook posts here.
Pro Tip: Sync your client list with your Facebook and Instagram ads to expertly reach your target market.
9. Update your page regularly
Just as important as what you post is when you post.
Updating your page regularly keeps your followers informed, shows them you run an active business and ensures you remain top-of-mind.
Of course, you don't have to update your page every single day. That would be time consuming, and we all need more time.
We recommend posting on your Facebook business page 1-3 times per week.
These posts don't have to be mind-blowing or take long to write. You can keep customers informed with something as simple as:
Before and after photos of a finished job. For example, a carpet cleaning business who wants to share the before and after images of a rug you just cleaned.
A "thank you" message to tell clients you appreciate their business. A good time to do this is during the festive season.
Interesting articles about your industry. For example, if you're a pest control business, you could share a DIY article that someone else wrote about how to check for bugs in your house
Expert tips you share via video or in writing. A lawn care business could share houseplant or lawn watering guidelines. Or, if you run a house cleaning business, you may want to show them a trick that removes stubborn oven stains.
READ MORE: Get a month's worth of Facebook post ideas (for free!)