Meet the New Jersey Plumbers Whose Texas Relief Effort Has Saved 50+ Homes
March 11, 2021
5 min. read
When Texas was hit by a freezing winter storm in February, thousands of people were left with burst pipes, flooded homes, and no water for weeks.
Master Plumber Andrew Mitchell knew he could help.
Andrew, his wife and business manager, Kisha Pinnock, and brother-in-law turned apprentice, Isaiah Pinnock, loaded their truck with supplies and made the 22-hour drive from Morristown, New Jersey, to Houston.
As of March 6th, they've restored water to at least 55 homes and have founded a non-profit to offset the costs for homeowners and bring in more supplies.
We spoke with the family plumbing business about how a split decision has helped them save families, launch a non-profit, and put plumbing in the national spotlight.
How did you decide to drive to Texas? What was going through your minds?
Isaiah: My sister lives in Texas with her family. When the winter storm hit, they started to tell us how things were: displaced families, burst pipes, people living weeks without water. The line at Home Depot for supplies was wrapped around the block, and plumbing companies were so overwhelmed there was no relief in sight.
Andrew just kind of presented the idea: we have to go.
We went to our local supply house, grabbed a few thousand dollars worth of materials and the next day, we were in the car.
We had five or six jobs lined up the first day, but that quickly snowballed into a long list of customers. We've been working non-stop ever since.
Can you describe the situation when you arrived and the work you've done?
Isaiah: I could have never imagined that the situation would be so dire. We were pulling up to houses that had newborn children or elderly women who'd been going without water for weeks. And they were telling us the price to obtain a plumber is so astronomical and the wait could be three weeks or longer.
We had this one elderly man actually collecting rainwater just to flush their toilet. And water is very scarce down here as well. All bottled waters flying off the shelves. So it's really surreal to see these people living in these conditions. And these houses, the plumbing was inadequate to say the least.
So we've been trying to do what we can with what we have to get people the help that they need. And in almost all circumstances, we've been able to get them running water by the time that we leave. That's what keeps us going. Even last night, we were up until four o'clock in the morning, re-piping an entire house.
When you started your plumbing business, did you imagine this was the kind of work you'd be doing?
Isaiah: Not at all. I mean, we started by just doing drain cleaning and stuff like that in New Jersey. But I've always appreciated the fact that we were providing a skilled craft to these people.
To be able to extend that help to all of these people down here is just very, very heartwarming. But I never imagined that people would be equating us to heroes or lifesavers or all that type of stuff.
Andrew's had this vision from the start. He grew up surrounded by plumbers because his dad was one. Even while he was taking his plumbing exam, he knew he wanted to take this to the top. He knew that he wanted to make an impact. He knew that he wanted a big business. He had a very clear vision of success, where he could impact a lot of people with his craft. He's passionate about plumbing. It's moving to say the least.
From an operations standpoint, how are you managing all of this work?
Kisha: The book of business has been way greater than what we were handling in New Jersey. So we just needed to be more focused and stay organized, as always.
Sometimes our work goes late into the night, whether it's admin or if the guys are out in the field working late. But we just stay patient with everyone and pick up the slack when other people aren't doing too well or people need to sleep and others need to tap in. It's really a team effort.
Delegating is important, we try not to have one person taking on too many things. It's about being supportive and communicating with each other.
It can be challenging at the same time, but I think it's just great that as a team we trust each other and we can rely on each other.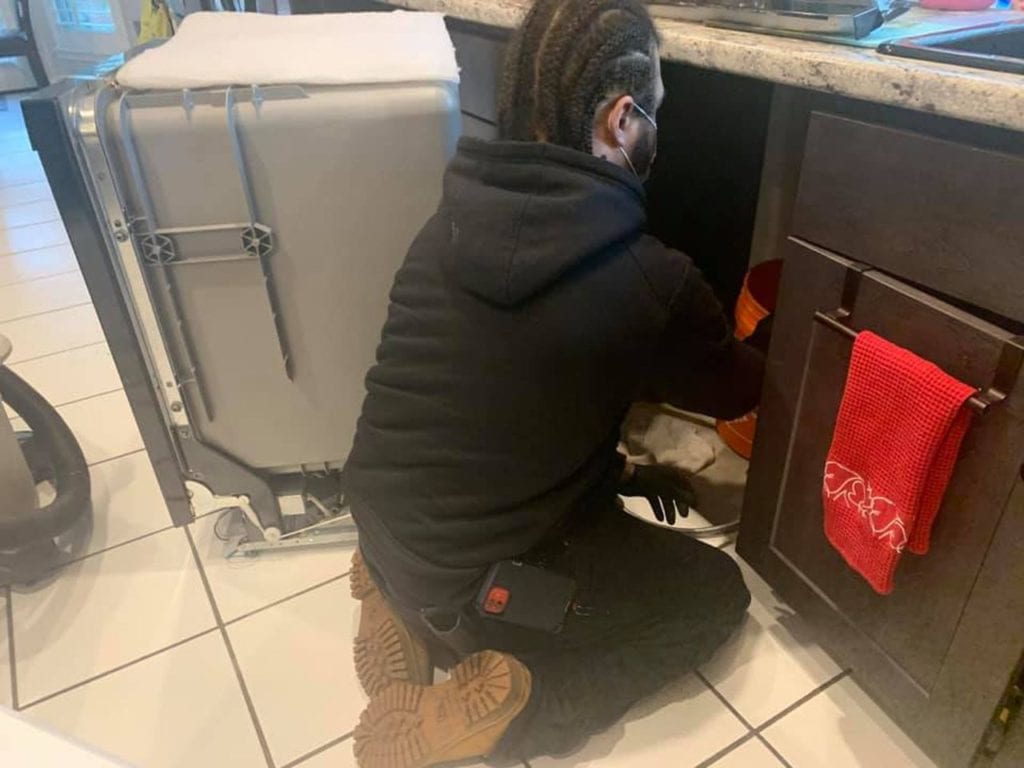 When did you get the idea to start a non-profit to help with relief efforts?
Isaiah: Before we came, we were able to connect with local plumbers through Facebook groups. They were saying how overwhelmed they were or what supplies they needed.
But ever since the national coverage, we've been the ones contacted by plumbers from around the state. They've been contributing in any way they can, whether it be sending materials for us, or sending their own teams out to help.
Then, we started getting support from around the nation.
We decided a non-profit would be the best way to concentrate these generous donations to where they needed to go. We're using them to help offset costs for people on fixed incomes, or in lower-income neighborhoods. And we're bringing more plumbers down here to continue providing relief.
Was community support always part of your plan? Where do you go from here?
Kisha: It's not exactly something that we intended on doing. It was the furthest thing from my mind. We're still a brand new company, we're figuring things out. But Andrew coming down here, it definitely left our mark. People trust us, and we're helping them.
When you get good service, whether it's a hair appointment, or a plumber, or a car mechanic, when someone treats you really well, you have a customer in them for life. So in that regard, Andrew really has left his mark here with Mitchell's Plumbing and Heating. You don't really get many chances to do that.
Learn more about Mitchell's Plumbing and Heating LLC Texas relief efforts and how you can help. 
Images courtesy of Kisha Pinnock, via NJ.com